A Moment In History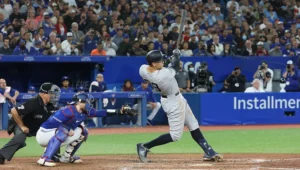 I'm not a Yankees fan. Most times if I watch a Yankees game it's to root for them to lose. But, I turned on the Yankees/Blue Jays game tonight. And I got to see a moment in history.
No record in baseball is as revered as the homerun record. You might have heard about steroids and names like Bonds, Sosa, McGwire setting single season homerun records while taking performance enhancing drugs. The thing about baseball is there are two leagues. Well, two major leagues. They are the American League and the National League. I won't try to explain the difference between the two leagues. Because starting this year there really isn't any difference. I'll just say that the National League Champion plays the American League Champion in the World Series.
But, each league has it's own set of records. There will be an MVP selected this year for the National League and a different person selected as the MVP of the American League. The Yankees (and my beloved Mariners) are American League teams.
Barry Bonds, Mark McGwire and Sammy Sosa all played in the National League. They were all three steroid users. And they all hit over 65 home runs in a season. The "record" is held by Barry Bonds at 73. The NATIONAL League record.
The American League record is 61 homeruns and it's be in place for 61 years. It was set in 1961. (Baseball fans love numbers that repeat.) In 1961, New York Yankee, Roger Maris hit 61 homeruns to break the old record that was held by another Yankee named Babe Ruth. Ruth hit 60 home runs in 1927. His record stood for 34 years before Maris broke it. And despite the steroid era of the early part of this century, no one in the American League ever hit 61 again.
Until today.
Today another Yankee, Aaron Judge hit his 61st homerun of the season. He tied Maris' record. The Yankees have seven games remaining. If Judge hits another homerun in the next 7 games he will be the single season homerun champion for the American League.
For baseball fans today was a pretty amazing event. It will literally become a "I remember where I was when" moment. Judge has done something that only one of the thousands of men to play baseball for American League teams over the past 100 years has ever done.
A New York business man offered the fan who caught Judge's 61 homerun ball $2,000,000. But, the ball didn't go into the stands. Instead it ended up in the Blue Jays bullpen where a relief pitcher caught it. Some officials from MLB showed up to take possession of it. The pitcher wanted to see some ID before he handed over a multimillion dollar baseball. Finally, one of the Yankee pitchers came over from their bullpen next door and took possession of it. (You can't be too careful.)
No doubt Aaron Judge will get the ball back. Hopefully it ends up in the Hall of Fame.
Remember how I said that baseball fans love numbers? Well, Roger Maris wore uniform #9. And Aaron Judge's number? Fittingly he wears #99.
A historic day. And one of the few times I found myself rooting for a Yankee.
Stay safe
Rodney M Bliss is an author, columnist and IT Consultant. His blog updates every weekday. He lives in Pleasant Grove, UT with his lovely wife, thirteen children and grandchildren. Order Miscellany II, an anthology including his latest short story, "The Mercy System" here

Follow him on
Twitter (@rodneymbliss)
Facebook (www.facebook.com/rbliss)
LinkedIn (www.LinkedIn.com/in/rbliss)
or email him at rbliss at msn dot com

(c) 2022 Rodney M Bliss, all rights reserved