My Entire Bucket List is One Item. . .With 30 Pieces
I've travelled all over the world for work and for pleasure. I've adopted kids from multiple foreign countries. I've been on a desert safari. I've walked on the Acropolis in Athens. I've stood in an ancient Scottish cemetery art up in the Highlands while someone played the pipes. I've published books. I've been on cruises. I've been married to the love of my life. I met my grandparents, a couple great-grandparents and I've gotten to meet multiple grandchildren.
My life has been good. Many of the items that people put on their bucket list, I've been fortunate enough to experience. There's only one item on my bucket list. Well, there's really like 30. But, they are all part of the same item.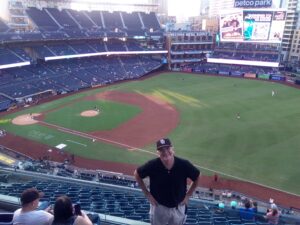 My bucket list is to see a baseball game at every major league baseball stadium. There are 30 baseball teams in the Major League. And, of course every team has a home stadium. I'm not terribly concerned with the difference between the Kingdome and T-Mobile Park (Both former homes of the Mariners) even though I've been to both. But, my bucket list doesn't involve keep track of specific buildings. I just want to watch a home game for each team.
This weekend I got to chip away at that goal. I've seen a home game for each of the following teams.
Atlanta Braves
Baltimore Orioles
Boston Red Sox
Chicago Cubs
Cincinnati Reds
Cleveland Indians (They weren't the Guardians yet)
Florida Marlins
Pittsburg Pirates
San Francisco Giants
Seattle Mariners
Tampa Bay Rays
Texas Rangers
Each time I attend a game I do two things. First I buy a hat. And second I buy a hotdog. I don't really keep track of how good the hotdogs are. I can't tell you where I had the best one.
This weekend I went to Petco Park home of the San Diego Padres. It was especially enjoyable because it was with my lovely wife. The Padres were playing the White Sox. We had great seats. They were on the 300 level along the first base line. I was wearing the Padres cap I bought so I was rooting for the home team. My lovely wife decided to root for the visitors. She got her wish.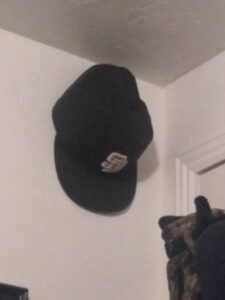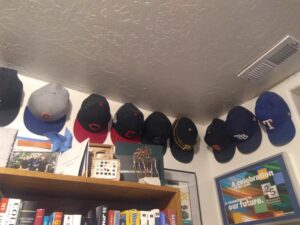 I'm now at 13 out of 30. Will I ever get to every park? Maybe. But, even if don't it's a fun goal to pursue.
Oh, the hotdog at Petco Park wasn't great.
Stay safe
Rodney M Bliss is an author, columnist and IT Consultant. His blog updates every weekday. He lives in Pleasant Grove, UT with his lovely wife, thirteen children and grandchildren. Order Miscellany II, an anthology including his latest short story, "The Mercy System" here

Follow him on
Twitter (@rodneymbliss)
Facebook (www.facebook.com/rbliss)
LinkedIn (www.LinkedIn.com/in/rbliss)
or email him at rbliss at msn dot com

(c) 2022 Rodney M Bliss, all rights reserved