False Fall Colors
Fall is my favorite time of year. The weather turns colder. Baseball playoffs. Football games. Holidays. And, of course, the fall colors.
I noticed a particularly bright leaf today. Our neighborhood, and my yard, are full of maples. And sometimes we get great color. Other times the trees go quietly into Winter's night.
But this leaf was stunning.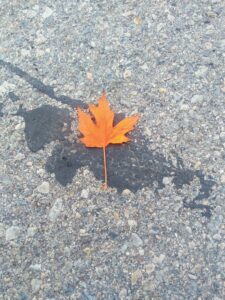 And yet, when I turned the leaf over it wasn't nearly as vibrant.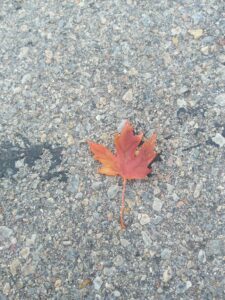 Still pretty, but not as much color as the opposite side. I then looked around and realized why the leaf had only one bright side. And it had nothing to do with the beautiful Fall weather.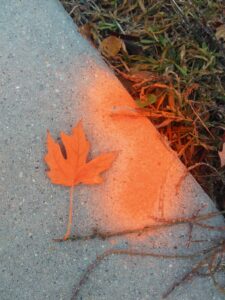 The internet crews were marking their lines and weren't too careful about overspray.
Still a pretty color. . .on the leaves.
Stay safe
Rodney M Bliss is an author, columnist and IT Consultant. His blog updates every weekday. He lives in Pleasant Grove, UT with his lovely wife, thirteen children and grandchildren. Order Miscellany III A Collection of Holiday Short Stories, an anthology including his latest short story, "You Can Call Me Dan" here

Follow him on
Twitter (@rodneymbliss)
Facebook (www.facebook.com/rbliss)
LinkedIn (www.LinkedIn.com/in/rbliss)
or email him at rbliss at msn dot com

(c) 2022 Rodney M Bliss, all rights reserved