A Brother I Only Knew For One Day
Ronald Price died last week.
You probably didn't know Ronald. He was 89 years old. Ronald was a brother to me. I met him for one day. In fact, only a short hour on that day.
See, Ronald was a Mason. He'd been a Mason for over 50 years. He joined Masonry in Wisconsin. But, in 2013 he petitioned my lodge, Story Lodge #4 of Provo, UT.
I'm the chaplain for my lodge. Last year our secretary did some work and suggested I go visit or at least call our 50 year members. Ronald lived in Saratoga Springs, just a few miles from my house. I admit I put it off for weeks. Finally I called him. Ronald was pleasant on the phone and was happy to invite me to come visit him.
I drove around his neighborhood twice before I finally stopped and went to the door. His daughter answered. Ronald lived with his daughter and son-in-law. She escorted me downstairs where I met Ronald. The house was busy with kids and adults getting ready for dinner.
We talked for awhile. I told Ronald about the lodge. He was too sick to attend. Cancer. Stage 4. Ronald knew he was dying. He seemed at peace with it. I was out of challenge coins so I took him a Story Lodge 150 year anniversary pin. I brought him greetings and warm wishes from the worshipful master. I told him that the lodge missed him and that as chaplain, I'd be sure to pray for his health.
I didn't stay long. And as I left I was very glad that I'd gone. Masonry was important to Brother Price. Even in his weakened condition he missed the opportunity to attend lodge meetings with us.
When he died, his wife knew that he'd want the lodge informed. But, she hadn't been part of our interview. She searched for the name of the lodge, but there are many Masonic lodges in Utah. Finally, she remembered that I'd given him a pin. She found the pin and identified the name of the lodge from the pin. She then contacted the lodge secretary and informed him of Ronald's passing.
Such a small thing, both literally and figuratively. To stop by and visit. Say hello. Share a memento of our anniversary year. And yet it made such a big difference. Ronald will no longer be on the roles of Story Lodge #4. He's laid down his working tools and gone to the Celestial Lodge.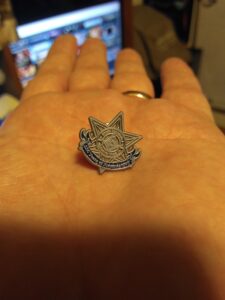 Until we meet again, brother.
Stay safe
Rodney M Bliss is an author, columnist and IT Consultant. His blog updates every weekday. He lives in Pleasant Grove, UT with his lovely wife, thirteen children and grandchildren. Order Miscellany II, an anthology including his latest short story, "The Mercy System" here

Follow him on
Twitter (@rodneymbliss)
Facebook (www.facebook.com/rbliss)
LinkedIn (www.LinkedIn.com/in/rbliss)
or email him at rbliss at msn dot com

(c) 2022 Rodney M Bliss, all rights reserved