Blatant Sales Pitch. . .(Seriously)
I want to sell you something. That's probably not a great opening line. I've never been very good in sales. I've typically been too direct.
I want you to buy DigitalFirst Leadership. You can get it from Amazon here. You can splurge for the hardcover at $24.95 or opt for the paperback, or even the Kindle edition at an economical $8.99. (That's a very reasonable price, wouldn't you agree?)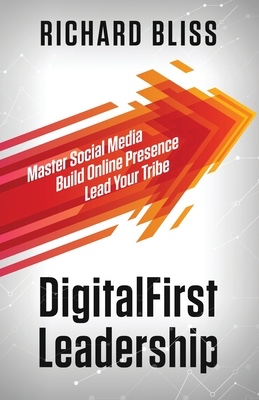 The book released today.
I've never asked y'all for anything before. (I don't think so. If I have it was probably something really valuable or important.)
Here's the sales blurb on DigitalFirst Leadership:
Today, your online reputation doesn't follow you-you follow it. In an increasingly virtual world, your digital presence defines who you are even before your physical presence. For business leaders-whether you're an executive, manager, consultant, or entrepreneur-this reality has created incredible opportunities, of which few leaders have taken advantage. There is no better way to do so than through social media tools and the under-appreciated power of LinkedIn.
DigitalFirst Leadership is full of real-life stories first-hand research, and countless conversations with business leaders from around the world. The principles and lessons will help you position yourself online to seize opportunities and respond to crises, all while increasing your online visibility and your organization's bottom line.
It's really good. It has 5 stars on Amazon. (Okay, there's only 2 reviews, but I didn't write either one. And since it hasn't actually shipped until today, more reviews will pour in.)
I can tell you that the lessons are excellent. The principles are learned from years of experience. I should know. I was there for many of them. Not directly. It's not my book. Instead it was written by my smarter, better looking, older brother Richard. (I'm the funny one, if you must know.)
So, if you want to help me help out a family member and get a really valuable and useful book, click on the link here. (It won't be as funny as mine. Actually, my book was a technical book and not particularly funny at all, so that doesn't work.)
I'll be doing a review next week. (Of course I bought a copy. He's my brother.) Amazon has them in stock.
Don't Delay! Buy Today!
(Told you I wasn't very good at sales.)
Stay safe
Rodney M Bliss is an author, columnist and IT Consultant. His blog updates every weekday. He lives in Pleasant Grove, UT with his lovely wife, thirteen children and grandchildren.

Follow him on
Twitter (@rodneymbliss)
Facebook (www.facebook.com/rbliss)
LinkedIn (www.LinkedIn.com/in/rbliss)
or email him at rbliss at msn dot com

(c) 2021 Rodney M Bliss, all rights reserved