Trusting Everyone Except Me
Fair warning. This is a geeky post. WordPress blogging geeky.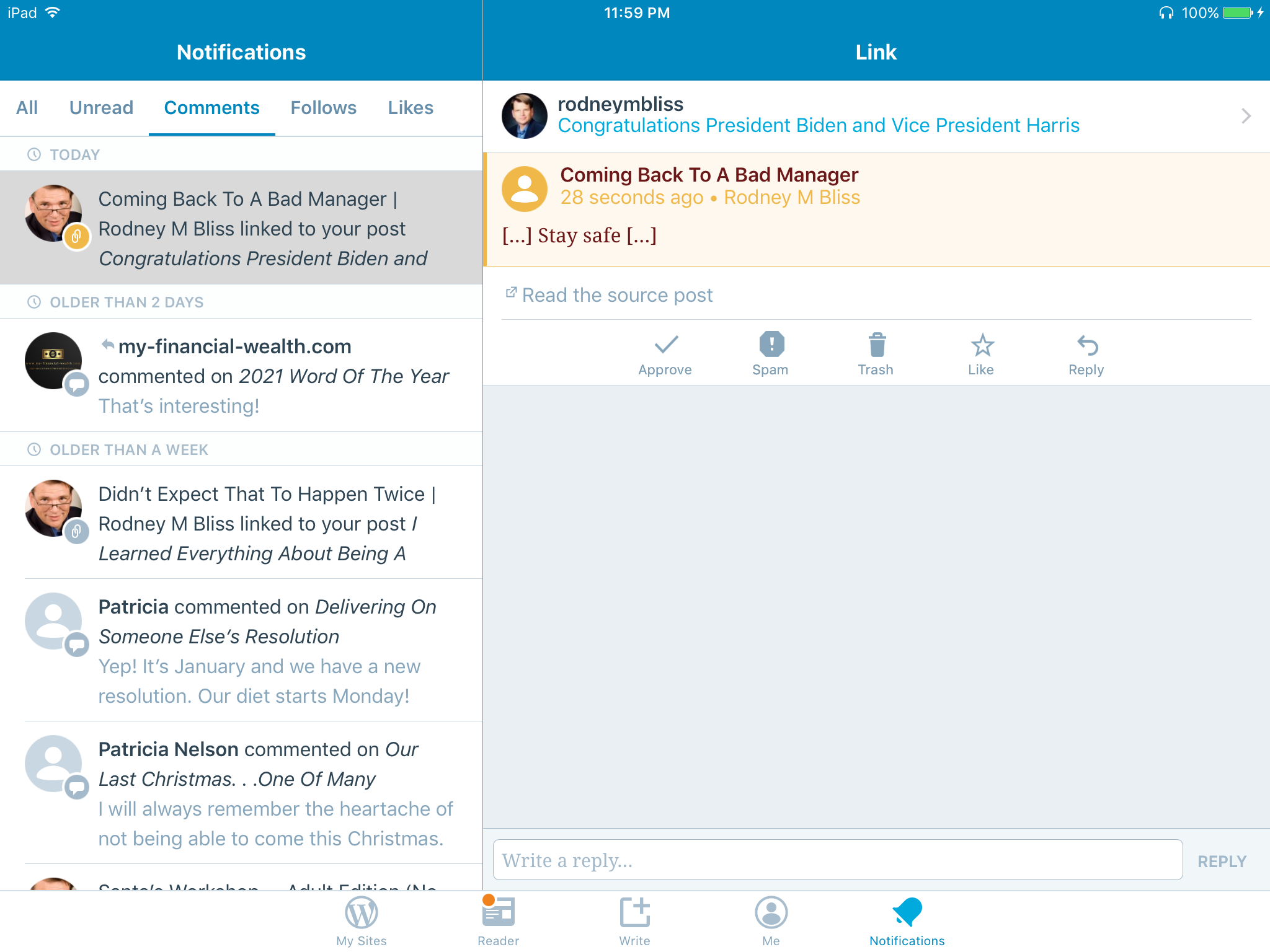 I scribble these posts each day on my iPad. I use the WordPress app to post them. You get to them either by pointing your browser to www.staging.rodneymbliss.com, or following a link from Facebook or Twitter, or even in your email.
And you can leave comments. But, I'm not a trusting person. The comments section is moderated. The first time you post a comment, I have to approve it. I appreciate comments. And the majority of them are great.
The second time you make a comment, WordPress remembers that I already approved your first one. And it just lets the second, and subsequent comments get posted automatically. Note to scammers, WordPress will let you put your scam comment, if you first write something reasonable. (I've seen too many scammers to worry they would ever be this patient.)
Sometimes I link to other entries. Like this link to yesterday's post congratulating the new President and Vice President. And the first time I link, it makes me approve that I want to link to my own writing.
And the second time it makes me approve the link.
And the third time it makes me approve the link.
WordPress can figure out that my dear mother should only need to be approved once and be allowed to comment on my posts. But, for some reason it refuses to give me that same trust.
As I said, I'm not a particularly trusting person. At times I wonder if maybe WordPress is right. Maybe I'm can't really be trusted to link to my own writing without someone validating that I'm not posting spam or something.
I mean, you guys trust me, right? Guys?
Stay safe
Rodney M Bliss is an author, columnist and IT Consultant. His blog updates every weekday. He lives in Pleasant Grove, UT with his lovely wife, thirteen children and grandchildren.

Follow him on
Twitter (@rodneymbliss)
Facebook (www.facebook.com/rbliss)
LinkedIn (www.LinkedIn.com/in/rbliss)
or email him at rbliss at msn dot com

(c) 2021 Rodney M Bliss, all rights reserved