Book Review: Choose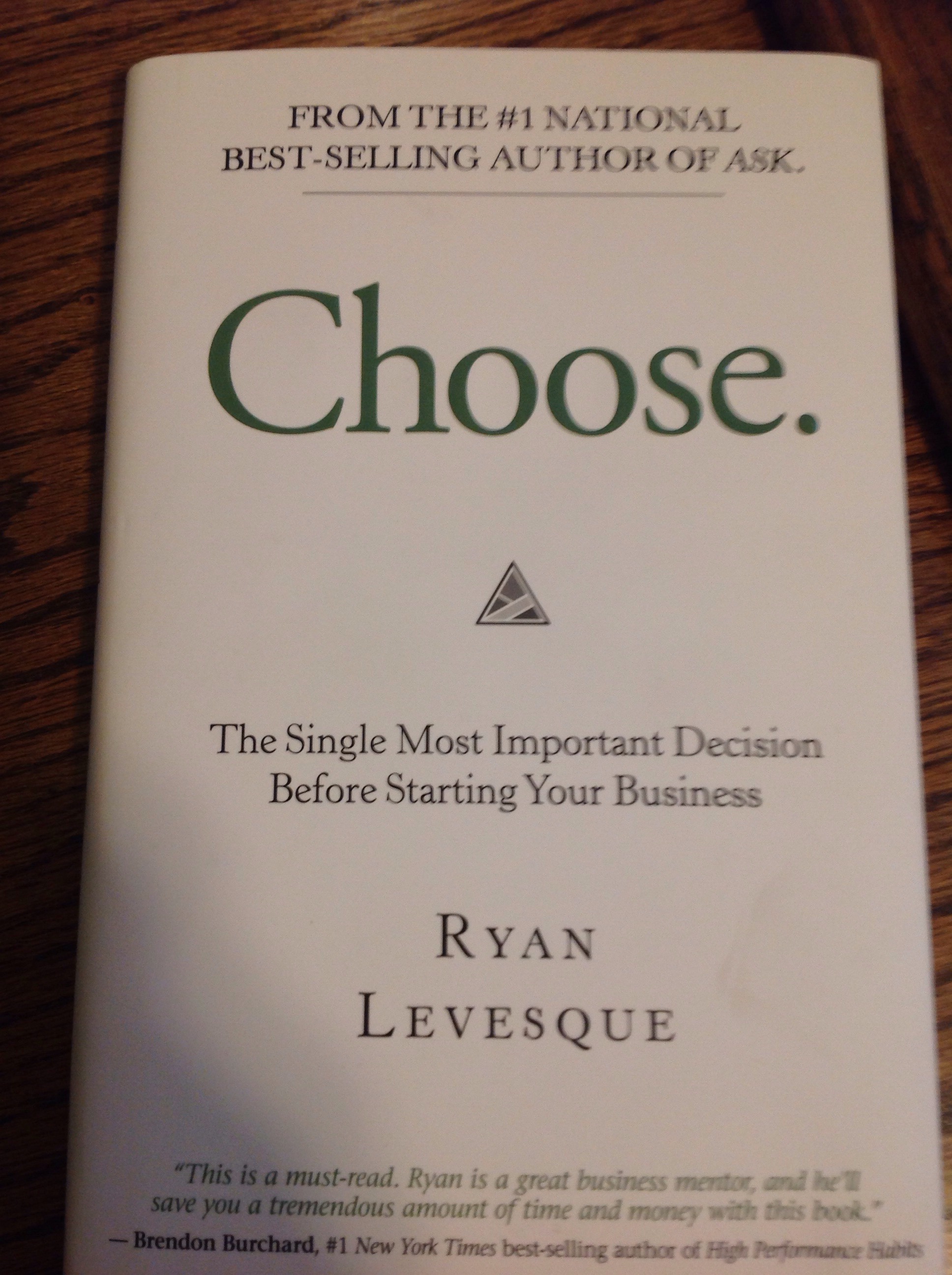 I got the book Choose for free. It was a giveaway at a conference I attended back when we were still allowed to attend in-person conferences. Honestly, I had never heard of the author, Ryan Levesque, nor his #1 Best-Selling book Ask. I would have never purchased Choose on my own. Certainly not for the suggested retain price of $24.99.
You know what? I would have missed out. Rarely have I been so surprised by my reaction to a book, and especially a free book.
Choose is aimed at entrepreneurs. They are the target audience and Levesque goes straight after them (you) in the opening. His prelude is called "Start Here" and opens with the question,
What's the single most important question you should ask before you start your business?
Don't worry, Levesque answer that question for you and then takes you through a simple method for answering the question. "Choose" is part autobiography, part tutorial and part cheerleader. Unlike many other similar books, the author doesn't claim some hidden secret knowledge. Instead he claims that through his experience he discovered how to identify markets and gauge competition and market size.
Levesque then lays out how to do each of these tasks. He also takes you through the process of establishing your market and a market strategy. One of the strategies he introduces you to is the concept of IN/UP/MAX. It's a process you see in many successful businesses. You have the IN product offering. That's what get's the business. Then, you have UP, that's your upsell. The extra offerings you can give to those who are willing to pay more to get more. Think of Patreon, or a leather-bound edition, or a video offering in addition to a printed book.
The third tier is the MAX level. This is for those customers who really want to pay for your expertise. A personal coaching session, a personalized experience, something unique.
Levesque offers examples from his own experience and numerous examples from his students and clients. Each of them appears completely reasonable and grounded in reproducable results.
What I Liked
Honestly, I liked a lot. His writing style is very easy to follow. Almost like a conversation. The writing is clear and grounded in everyday conversation. His examples are relevant and draw on tools readily available from Google and Amazon.
The book offers a step-by-step approach that is simple in execution, but brilliant in concept. Included are worksheets for each step and links to online resources. All available for the price of the book.
As I said, it was one of the most surpising books I'd ever read.
What I Didn't
Levesque is very optimistic. Sometimes overly so. Entreprenuership comes so easily to him that he seems incapable of identifying with those who are less inclined. Reading through Choose it appears that anyone could go into business and start and run a successful startup.
What It Means To You
It's possible that you are one of the the people who is interested in starting a business. If you are, then Choose is going to be an invaluable tutorial. As a writer who hangs out online with other writers, I realized that the concepts that Choose taught were also applicable to writers. IN/UP/MAX applies well to my friend Dave who runs a writer's group. The IN is buying one of Dave's books. Some are on writing. Most are fantasy. The UP is membership in Dave's writer's group. The MAX? Attend one of his in person workshops. Regardless of your business, there are lessons to be learned from Choose.
My Rating
Three out of four stars.
Choose is the only book I've reviewed that I sent to a family member
Stay safe
Rodney M Bliss is an author, columnist and IT Consultant. His blog updates every weekday. He lives in Pleasant Grove, UT with his lovely wife, thirteen children and grandchildren.

Follow him on
Twitter (@rodneymbliss)
Facebook (www.facebook.com/rbliss)
LinkedIn (www.LinkedIn.com/in/rbliss)
or email him at rbliss at msn dot com

(c) 2020 Rodney M Bliss, all rights reserved