Time After Time
I've worked in IT my entire career. I started as a telephony tech for WordPerfect Corporation back when there was a WordPerfect Corporation. I worked for Microsoft for nearly a decade. I'm old enough to be able to recognize analog modem startup sequences.
But, while I've worked with computers since the PC first became a thing, I'm not what you would call an early adopter. I'm often not even a late adopter. For example, I cannot ever imagine having a Google Echo, or Amazon Alexa in my house. Same for a Ring doorbell. Nope.
So, I resisted the move to smartwatches, for example. But, last year my lovely wife gave me a simple smartwatch for Christmas.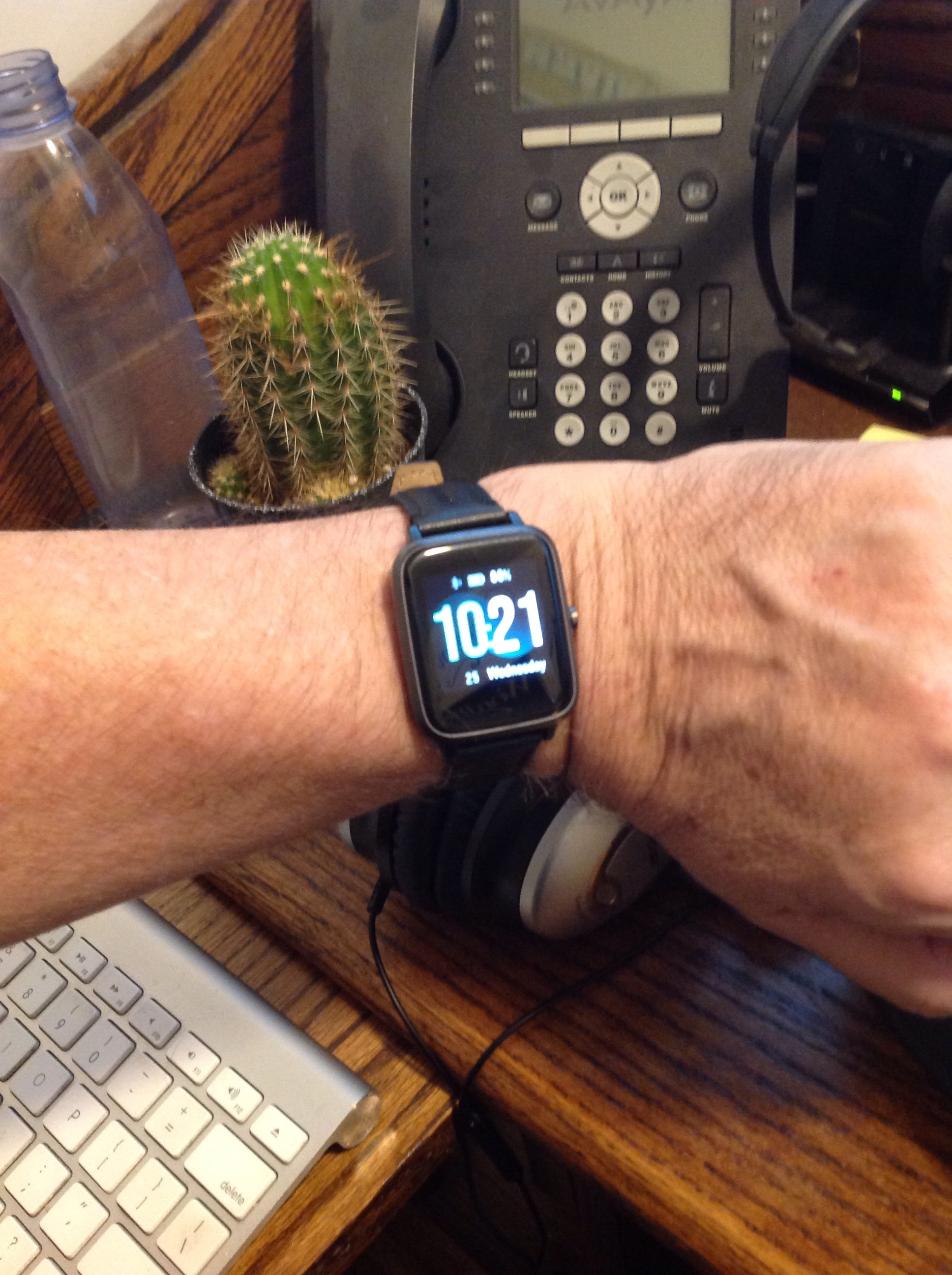 Mostly I use it to track my steps. My goal si 6000. I normally top out around 2500. Oh well. I don't use my watch as a watch too much. I use it occasionally, but mostly it makes a great flashlight for late night navigations.
I like clocks and watches. My home office is small. You might say cozy. You might even say closet-like. Okay, basically Harry Potter had more room under his stairs. The office is 4×7. And it's dominated by my old style rolltop desk which is 30″ by 50″. There's plenty of wall space and much of it is taken up with clocks.
I have this clock above an old picture of my lovely wife and two oldest children when they were our two only children.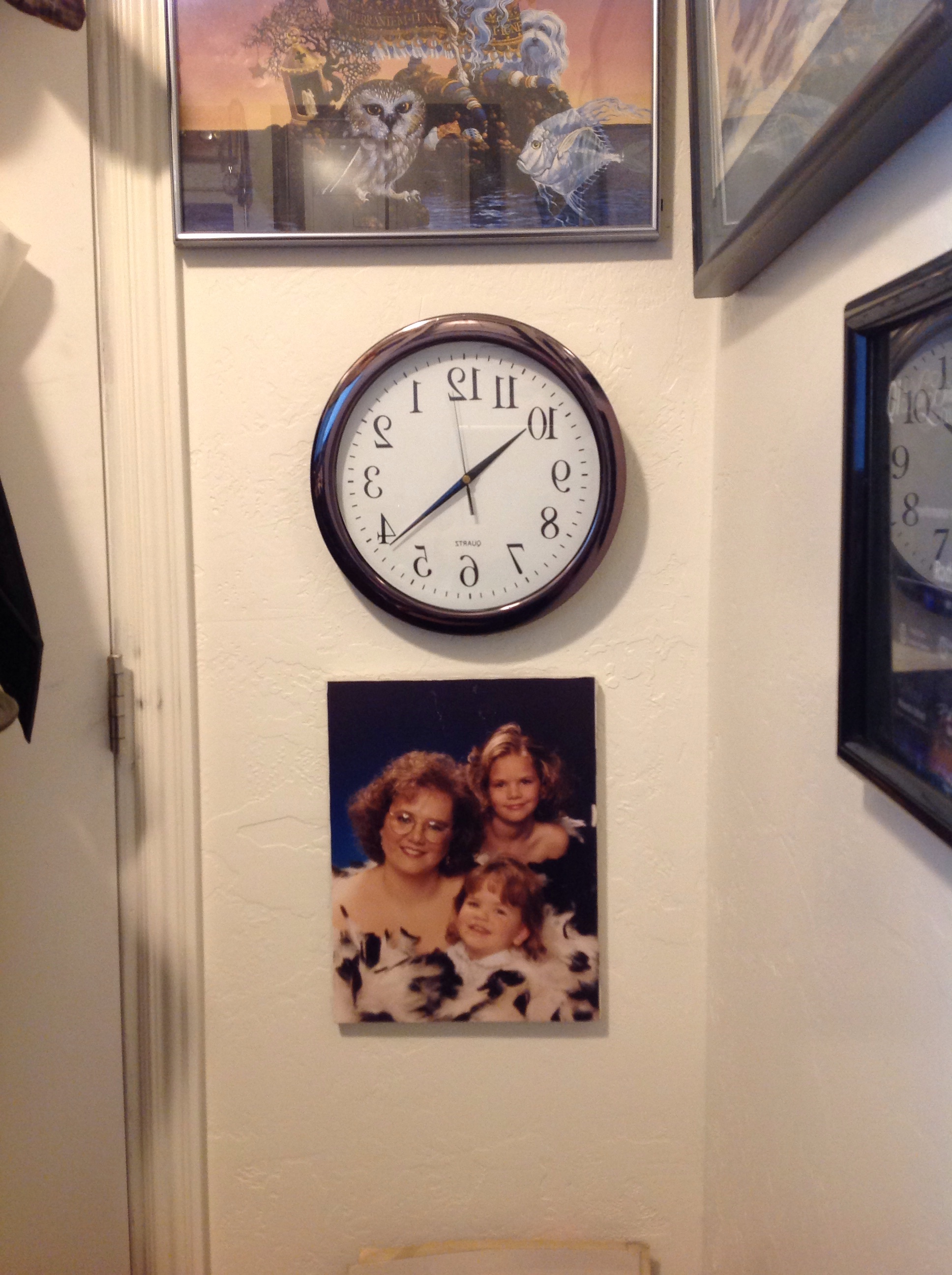 And in honor of Rear Admiral Grace Hopper, this clock runs counter-clockwise.
I work with sites across multiple times zones. These clocks represent Central Time on the left, Eastern Time Zone in the middle and Manila Time Zone on the right. That one I have to switch the AM/PM in my head when I'm talking to them.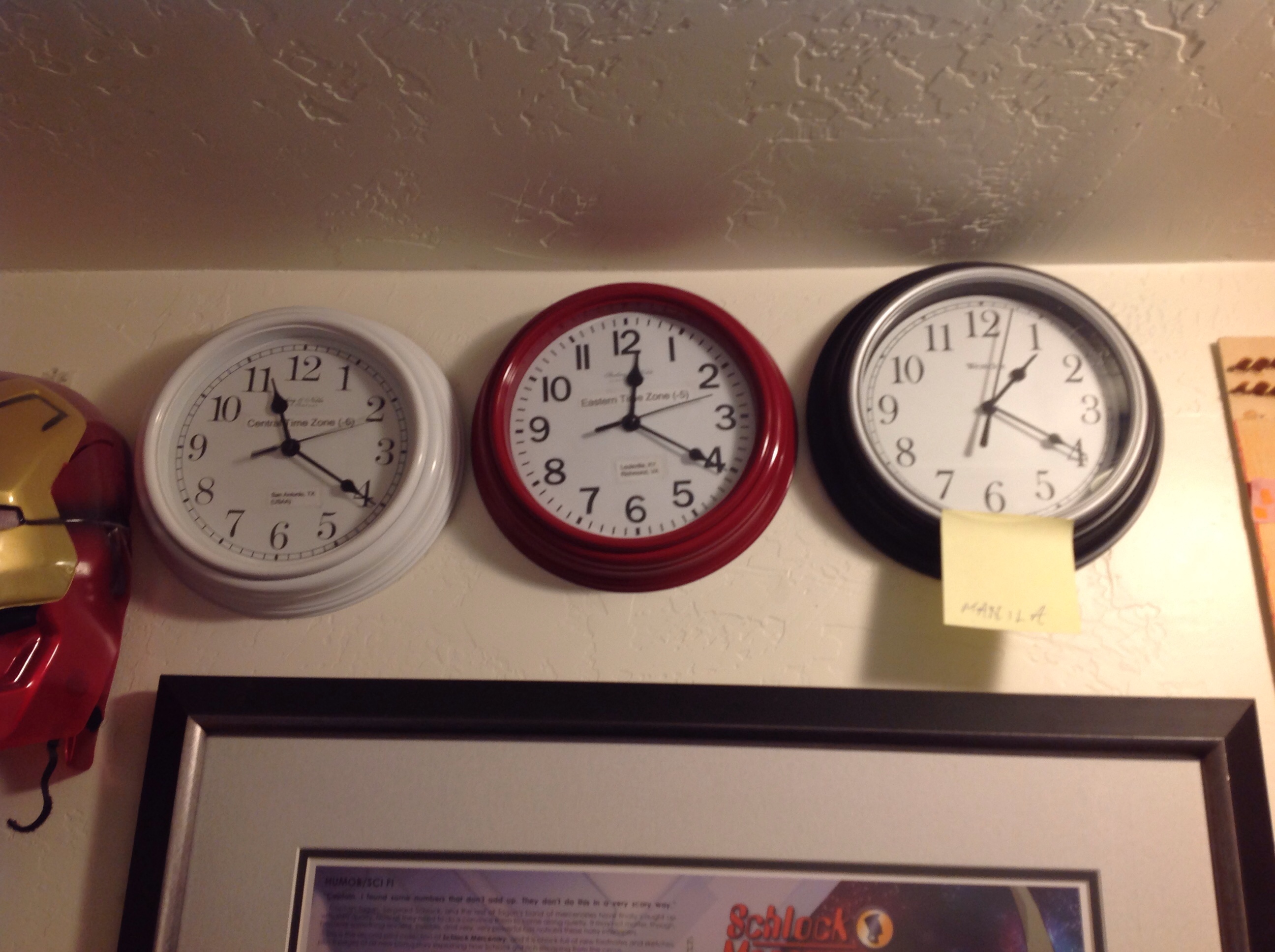 I have plenty of options for Mountain Time Zone, of course. There's my already mentioned smartwatch, then my computer and cellphone keep the time. Even my desk phone displays the time in MDT. But, my favorite choice is this tabletop grandfather clock that was made my my daughter. (She's the youngest one in the above picture)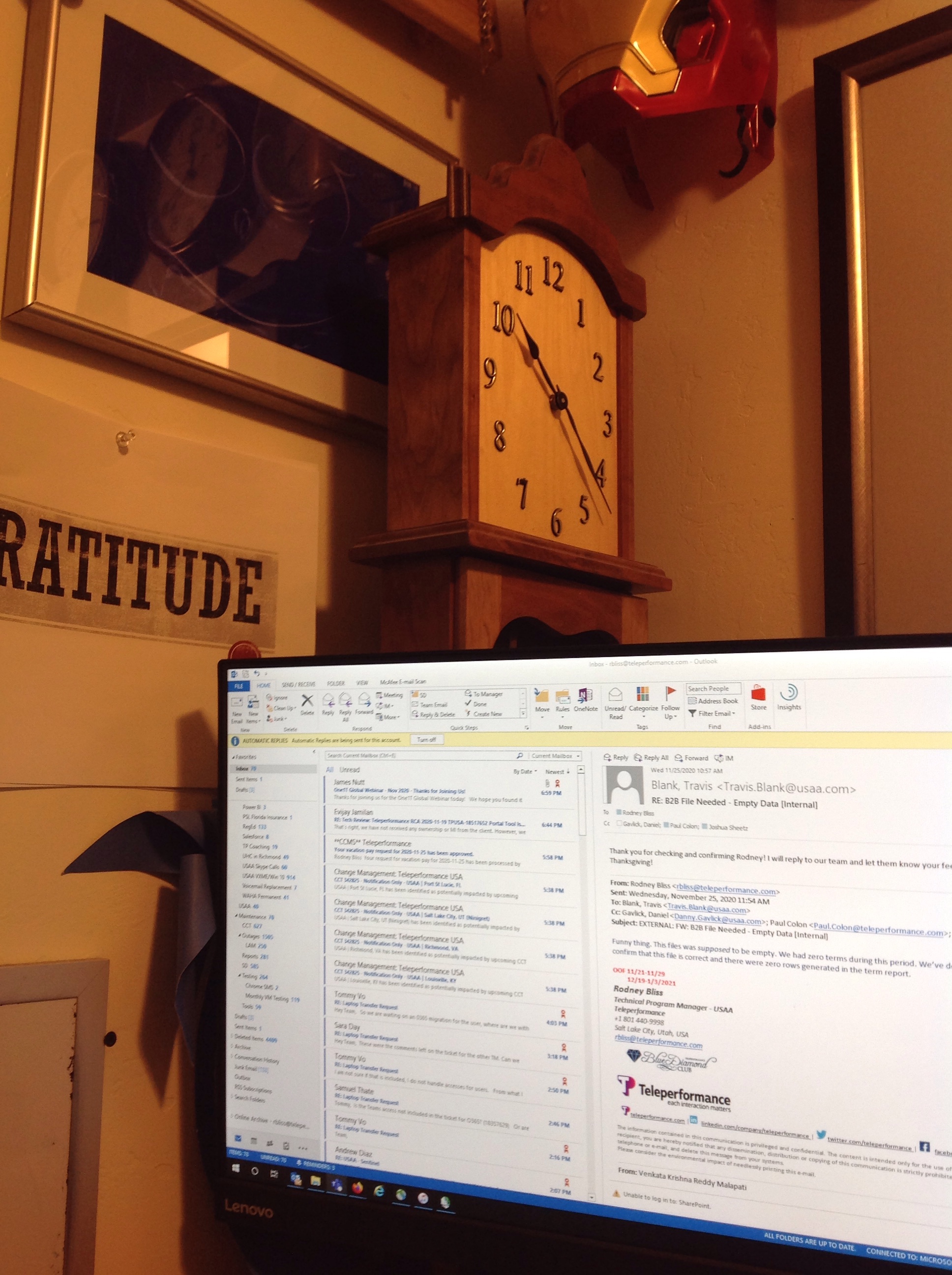 When she made it she was slightly older than the picture shows.
In addition to clocks, I like watches. I typically didn't wear one before my lovely wife got me the smartwatch.
In 1995 I was working for Microsoft during the company's 20 year anniversary. The company gave each of a watch to commemorate the event.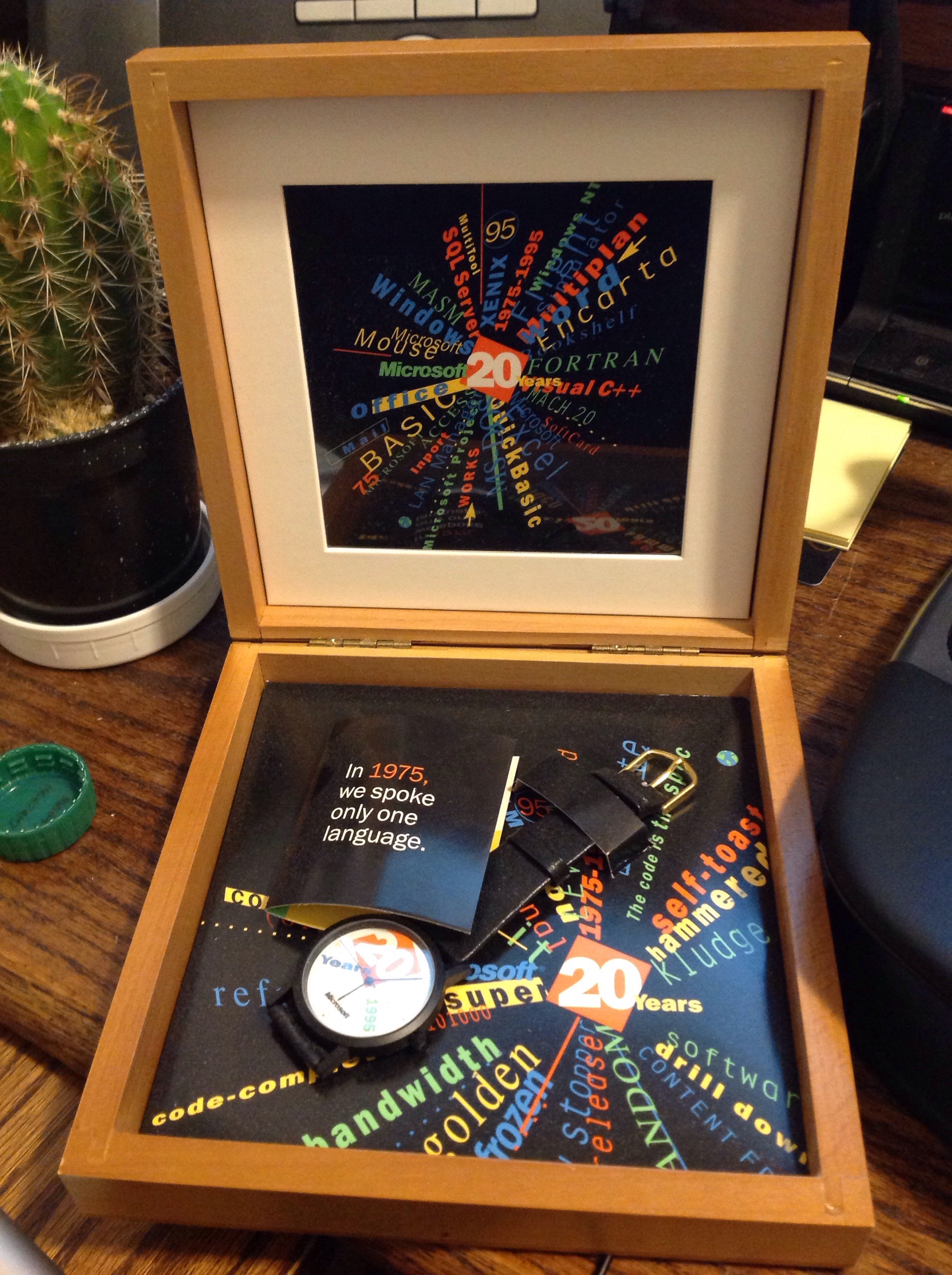 It was a nice gesture, but honestly the wooden box was nicer than the watch. Still, I kept it.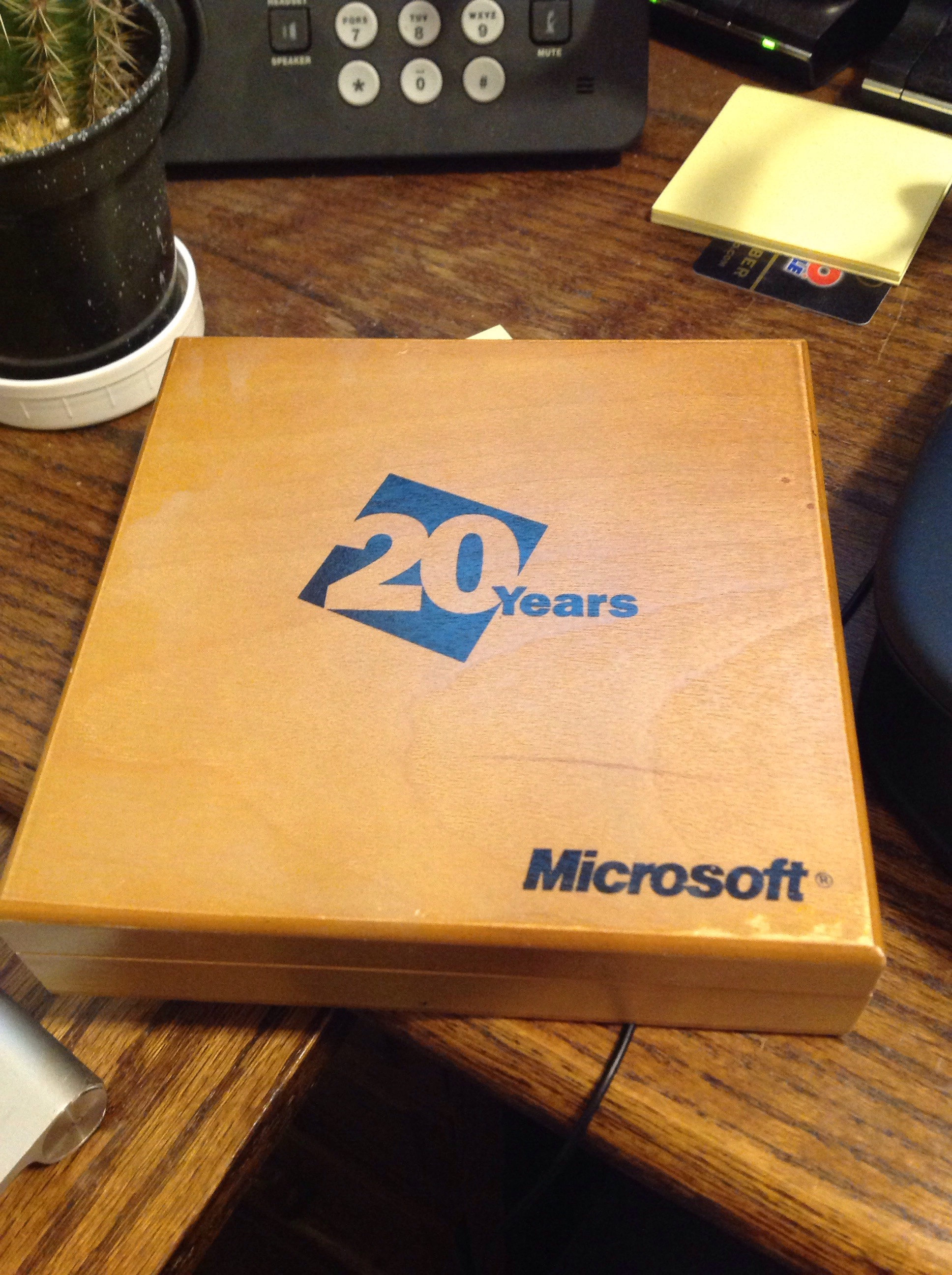 I also collect pocket watches. They fascinate me. This board (made by the same talented daughter that made the clock) contains pocket watches that belonged to my father, my grandfather, some of my old ones and one that belonged to my son.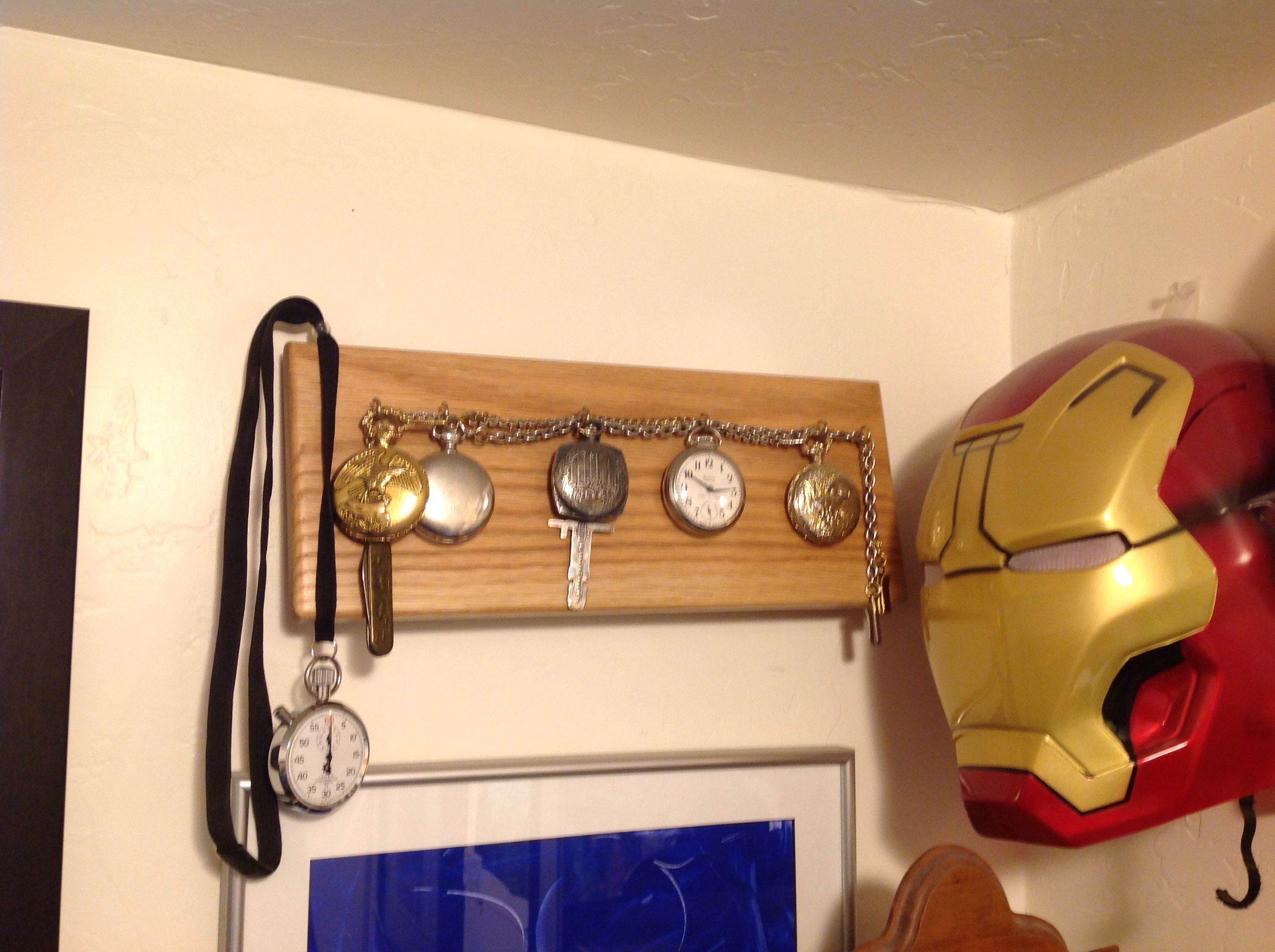 And yes, there is an old school stopwatch, because. . .it fits. And an Iron Mask because. . .Marvel. My second most prized watch is this one.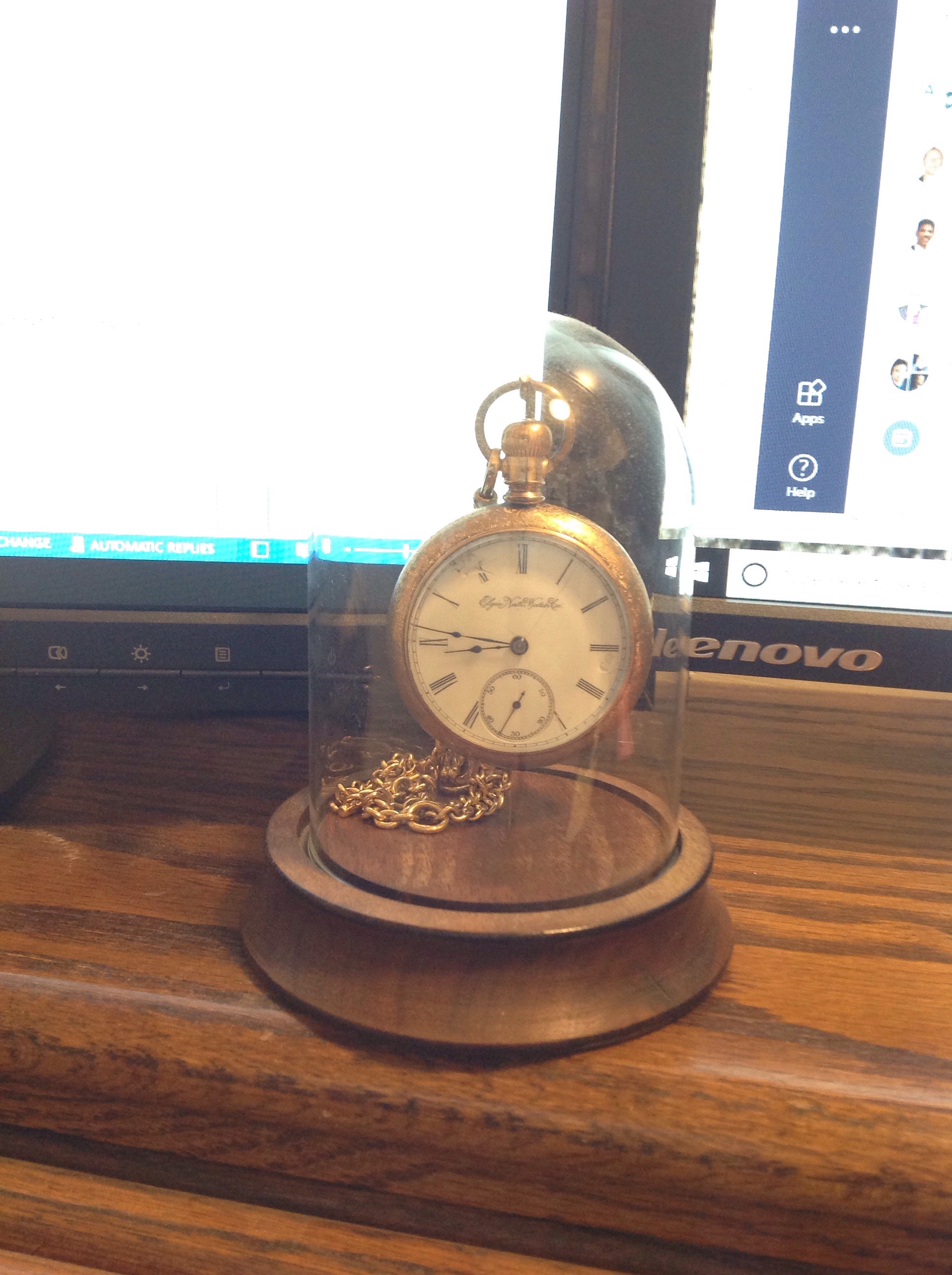 It belonged to my great-grandfather. It came to me from my uncle. It's probably about 125 years old. The watch works. It runs a little fast, ironically.
But, it's only my second most favorite watch. This is my favorite.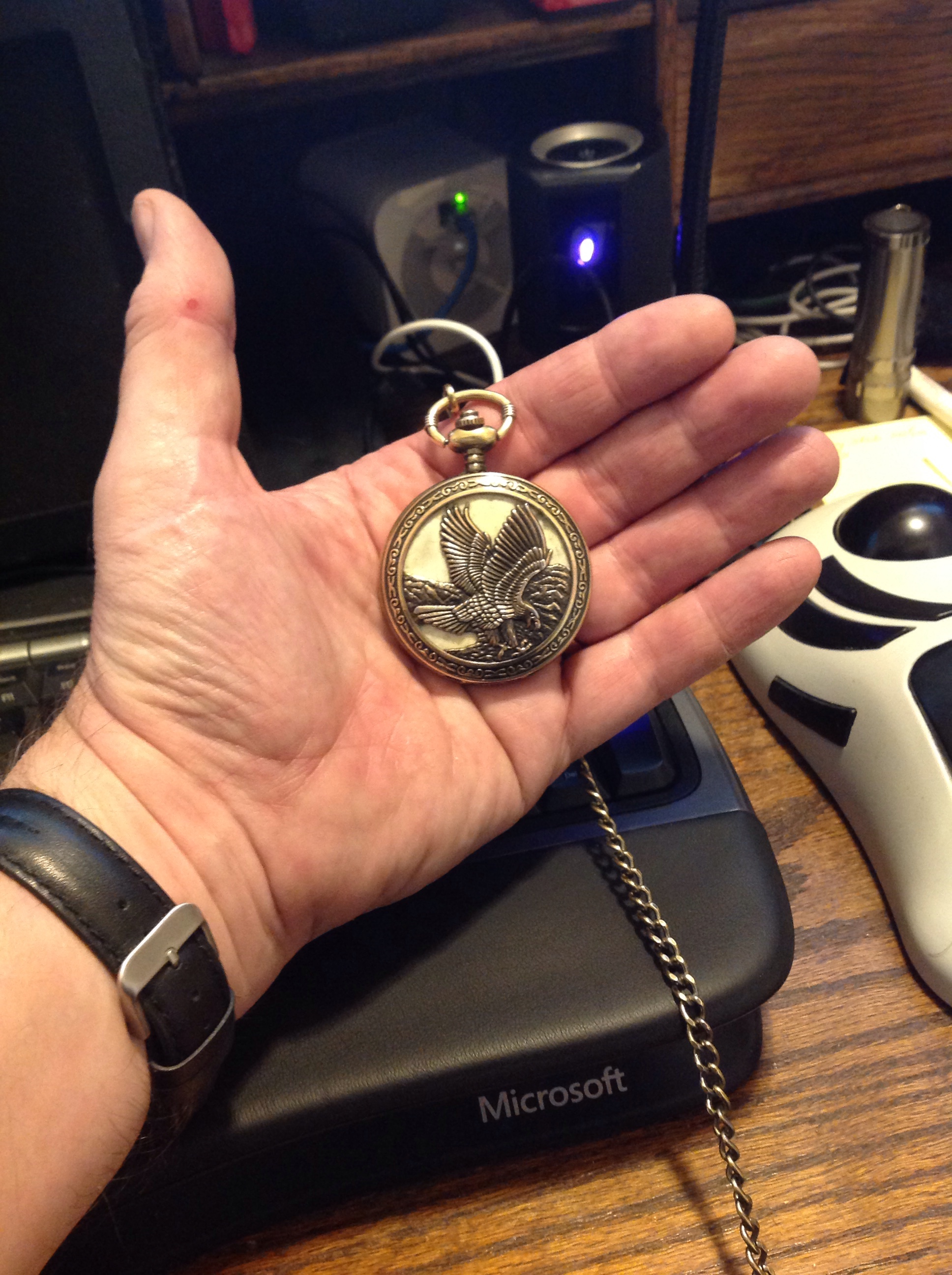 It's the watch I carry in my pocket. It was a gift from my son. A pocket watch can be useful.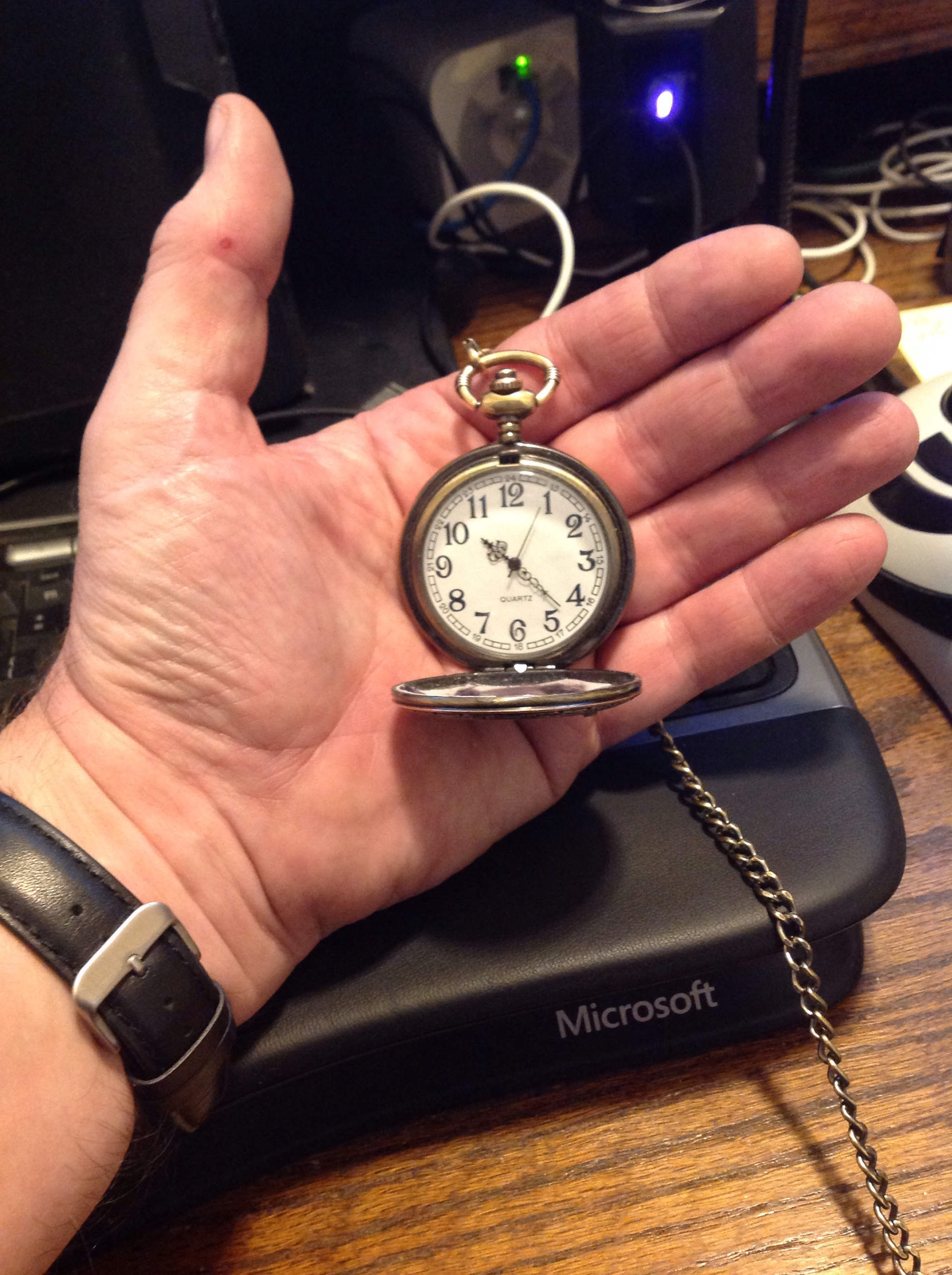 If you are lost you can use an analog watch as a crude compass. You point the hour hand at the sun and halfway between the hour hand and 12:00 is South. You're not going to earn any orienteering merit badge with it, but it's better than just guessing.
(I've never had to personally use my pocket watch as a compass. I have compasses for that.)
But, that's not why this is my favorite watch. It's not the fact my son gave it to me. It's not the cool eagle on the front. It's not even the old-school chic that it gives off. It's certainly not the fact that I can use it as a compass.
This.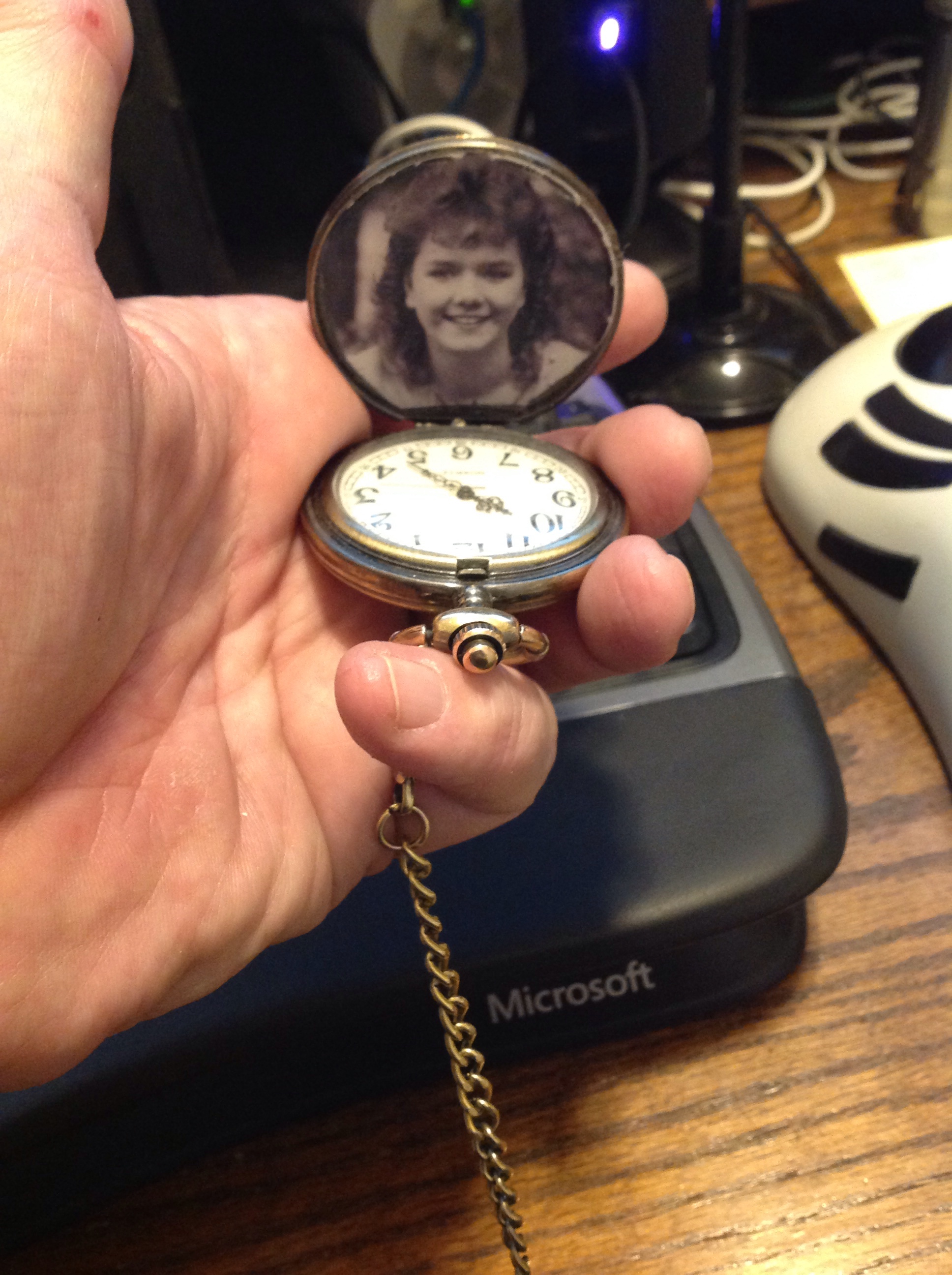 This is why it's my favorite watch. Like Captain America and a hundred different movie characters, I love having a picture of my girl on the inside of my pocket watch.
(But, the compass thing is kind of cool, too)
Stay safe
Rodney M Bliss is an author, columnist and IT Consultant. His blog updates every weekday. He lives in Pleasant Grove, UT with his lovely wife, thirteen children and grandchildren.

Follow him on
Twitter (@rodneymbliss)
Facebook (www.facebook.com/rbliss)
LinkedIn (www.LinkedIn.com/in/rbliss)
or email him at rbliss at msn dot com

(c) 2020 Rodney M Bliss, all rights reserved