Book Review: Crucial Conversations (Updated Second Edition)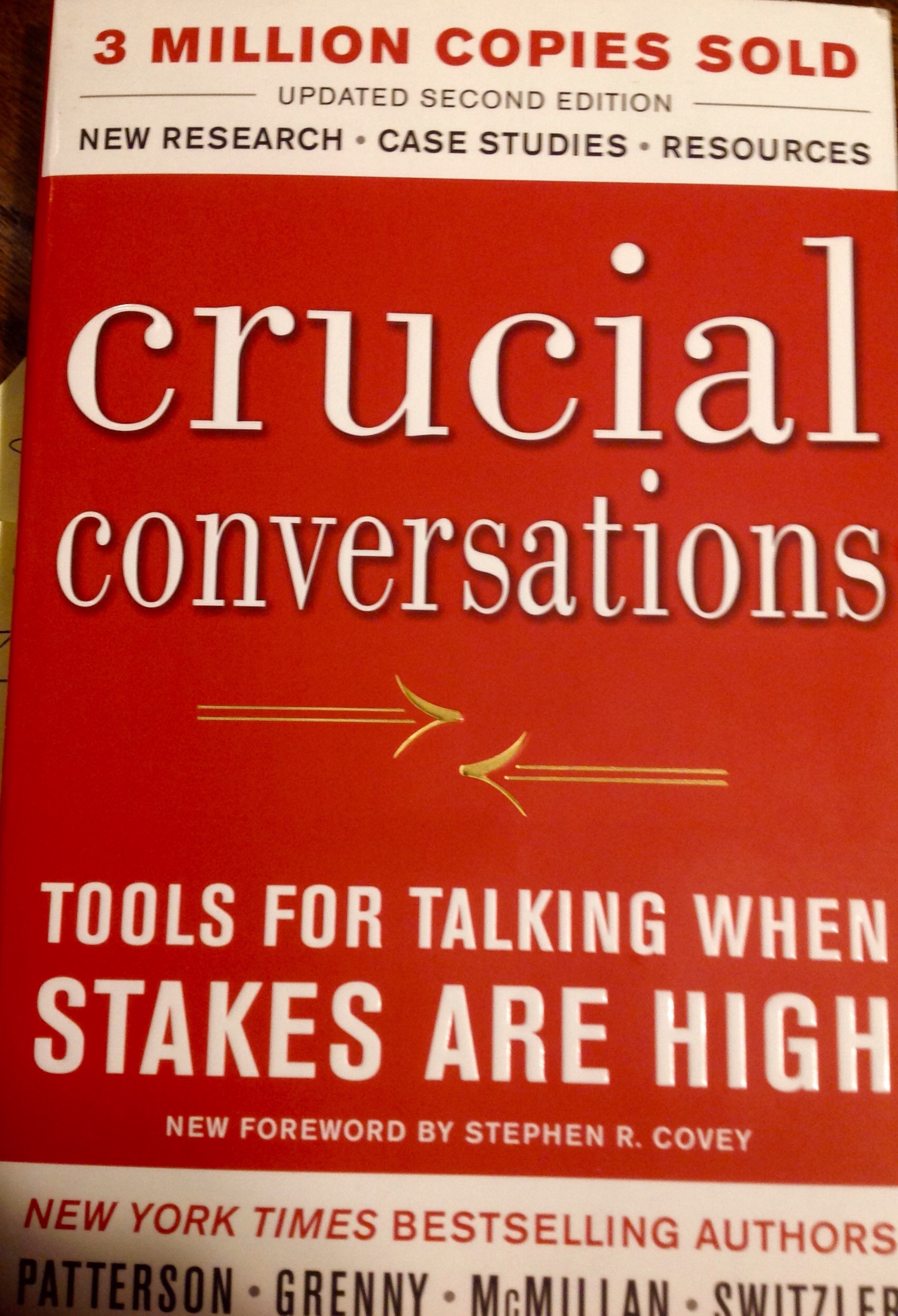 Crucial Conversations is one of the first business books I ever read. I'm not sure when I bought it, but my first edition was published in 2002. I reviewed it three years ago: Book Review: Crucial Conversations.
Recently I was given the second edition as a gift. It was updated in 2012. Yes, my previous review could have been done on the newer version. I didn't know it was updated. Besides, my first version is autographed.
It's been long enough since the last time I read this. That together with the new edition, was almost like reading it for the first time. It remains one of my favorite books of all time. The authors, have spent years studying the interaction between people. Crucial Conversations is really about conflict resolution. And more importantly, conflict avoidance. If you use the principles in Crucial Conversations you can avoid conflicts in the first place.
Crucial Conversations is built around seven principles
Start with Heart
Learn to Look
Make it Safe
Master my Stories
STATE my Path
Explore others' Paths
Move to Action
The beauty of the principles in Crucial Conversations is their applicability. They are as useful in business as they are in parenting. They apply equally well to deciding where to go to dinner as they do in resolving a feud between neighbors or satisfying a disgruntled customer.
What I Liked
I hadn't considered the old version dated, but reading the new version I realized the references were not really contempary. The updated edition keeps all of the value of the previous edition and adds some updated examples. The new edition, despite being slightly longer, is actually thinner. Better paper and updated formatting.
What I Didn't
When I first read this book over a decade ago, I didn't realize there was a training course that went with it. Having been through the training course, I realize many parts of the book are less useful without the training course. In addition, the new version has links to online resources. They are useful, of course, but when you are reading a hard copy (dead tree version as my friends say) it's disconcerting to feel like you're "missing" something.
What It Means For You
I cannot really add anything to my previous review. The book is literally for everyone. But, if your job involves influencing others, peers, supervisors, subordinates, this book is going to help. The second edition is even better than the first. If you have the chance to attend the training, it will add even more to your experience.
My Rating
Four out of four stars. One of the best business books in the world.
Rodney M Bliss is an author, columnist and IT Consultant. His blog updates every weekday. He lives in Pleasant Grove, UT with his lovely wife, thirteen children and grandchildren.

Follow him on
Twitter (@rodneymbliss)
Facebook (www.facebook.com/rbliss)
LinkedIn (www.LinkedIn.com/in/rbliss)
or email him at rbliss at msn dot com

(c) 2019 Rodney M Bliss, all rights reserved