Book Review: Crucial Conversations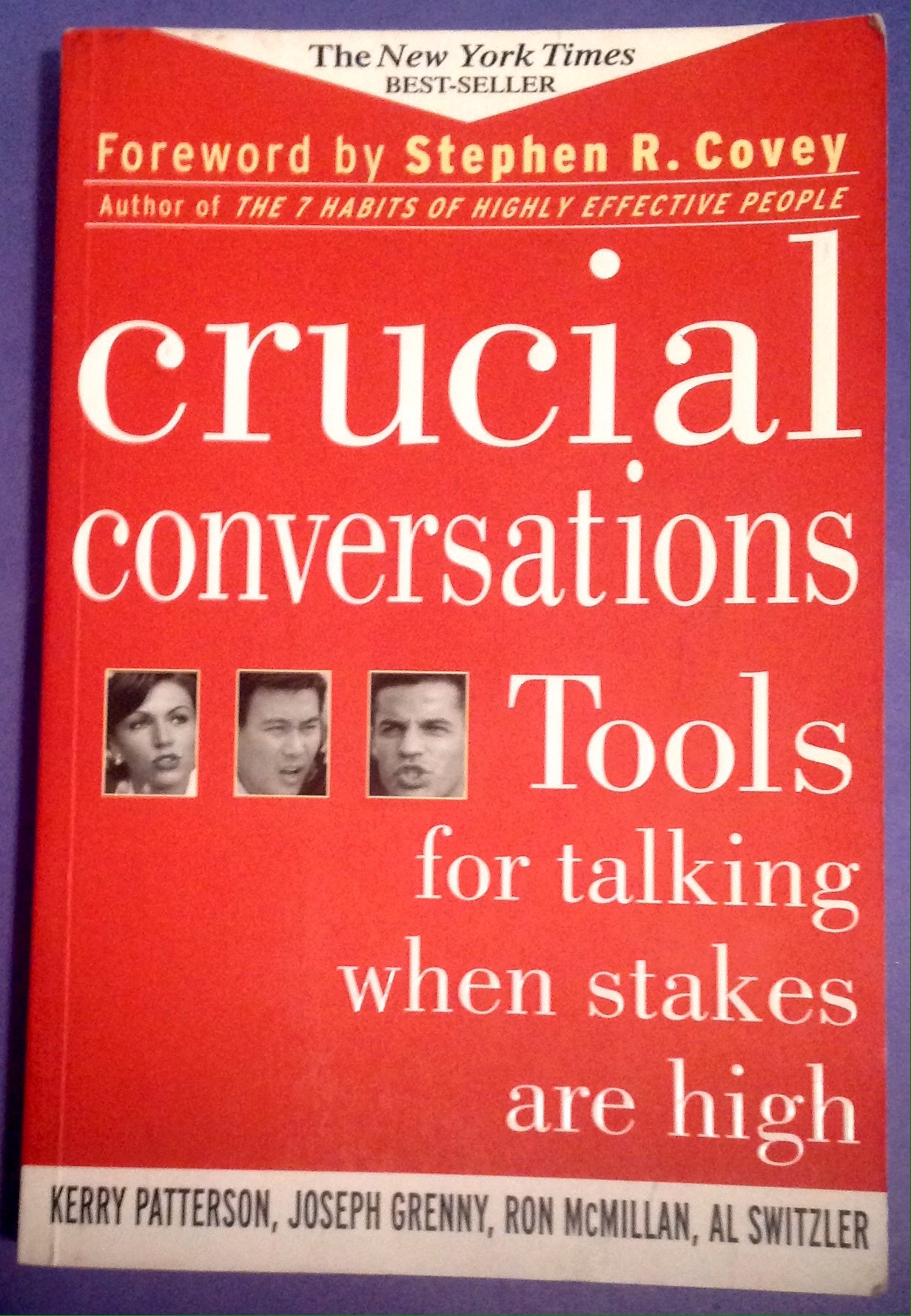 Tools for talking when stakes are high
For this review, of course, I read this 228 page book. It would hardly be a proper review if I didn't. And yet, I think I could have done a pretty good review without reading it over the past month. I've lost track of how many times I've read this delightful book. I wait long enough between rereadings that each time feels almost like the first time.
Simply put, Crucial Conversations is one of the best, and most important business books I've ever read. It's wrong to call it a business book, although that is certainly what it is. It's also a book for talking to your teenagers, to your spouse, to your neighbor, to the clerk at the store, to a car salesman, to that annoying uncle at Thanksgiving who wants to discuss politics.
We communicate everyday. Some of us have jobs that required us to talk a lot, some of us mostly work alone, but we all have to interact with our fellow humans at some point. And where there is interaction there is potential conflict. Most of us avoid confrontations. They involve pain and discomfort. And when it's over, someone has won and someone is hurt. And they are even sometimes the same person.
Crucial Conversations lays out a roadmap for navigating that tricky area where two people come together. It lays out in bite sized chunks, how to prepare for and then successful get through those interactions. It would be tempting to think about "successful" in terms of winners and losers. It there is a loser in a conversation then no one won. Think about it, do you actually want to compete with your spouse? Do you want the most important person in your life to leave a conversation with you feeling like a loser? Of course, not.
Crucial Conversation introduces the concept that change starts with you. The group of authors, Kerry Patterson, Joseph Grenny, Ron McMillan and Al Switzler give you tools for how to make it safe for others in a conversation. Only after you've made it safe for the other person to share their opinions can you move on to mutual purpose. The process, using the venacular of the book looks like this.
Start with Heart
Learn to Look
Make It Safe
Master My Stories
STATE My Path
Explore Others' Paths
Move to Action
The authors ackowledge the temptation to take this book and hand it to someone else so they can fix their communication issues. In acknowledging it, they also address it. Start with Heart might just as well be titled Start with Me. We cannot change others. We can only change how we react to them. This book helps train you in a method of responding that allows you both to come together for common purposes.
What I Liked
The material is immediately applicable. This is not a book of theory looking for an application. Reading this book and applying the principles can have a real impact on the interactions and especially conflicts you are currently experiencing. And the steps that the authors lay out do not require you to make huge changes. The material is more like a minor change of focus that immediately brings the entire picture into focus. In other words, it's very doable. And the results can be measured by "what's in it for me?" You will get much more out of your interactions than you have when you were trying to "win."
What I Didn't
While the authors acknowlege that you must start with yourself, a crucial conversation is a two way street. They provide tools for both listening and talking, but the fact remains that if you are the only one changing your approach, the conversation might still not progress to a mutual purpose. You don't need to get the other person to read the book to use the concepts and tools, but it would certainly help.
What It Means For You
This book is literally for everyone. But, if your job involves influencing others, peers, supervisors, subordinates, this book is going to help. In fact, it reminded me of the classic Dale Carnegie book, "How To Win Friends and Influence People." The advantage that Crucial Conversations has is that it's written more as a how-to guide.
My Rating
Four out of four stars. One of the best communications books ever written.
Rodney M Bliss is an author, columnist and IT Consultant. His blog updates every weekday. He lives in Pleasant Grove, UT with his lovely wife, thirteen children and grandchildren.

Follow him on
Twitter (@rodneymbliss)
Facebook (www.facebook.com/rbliss)
LinkedIn (www.LinkedIn.com/in/rbliss)
or email him at rbliss at msn dot com

(c) 2016 Rodney M Bliss, all rights reserved