The Longest Day. . .And It Was Cold
(No disrespect intended to the men who truly endured the longest day on June 6, 1944.)
My son is a runner. That means I've become a "track parent." I have another son who plays football. You're probably familiar with a high school football game.
You show up. You sit in the "old people" section on your portable stadium seats and warm blankets. One team kicks the ball off. The clock counts down to zero four times, whoever is ahead when the last countdown reaches zero wins. And then everyone goes home. The whole thing takes about 3 hours.
Attending a track meet is nothing like that. Nothing. My son had a track meet today. He runs the 400M sprint. That is almost a full turn around the track. A great high school runner can do it in about 50 seconds. An average runner at about 60 seconds.
The track meet started at 3:00pm. The kids got out of school early and took a bus down to Spanish Fork Utah. The 400M is about half way through meet.
I had to work until 4:30pm. My lovely wife texted me.
He thinks he'll be running about 5:00.
It's almost exactly 30 minutes from my house to Spanish Fork. I should be able to just make it in time for his race.
I got to the stadium a few minutes after 5:00. That's okay. There are typically multiple heats. I probably didn't miss him.
As I entred the stadium, the first thing I noticed was that there were a lot of schools here. They each had a portable pavilion set up. A football game is your kid's team against someone else's kids team. There's no concept of 3, 4 or 9 other teams that you're competing against.
I found a schedule of the events for today's meet.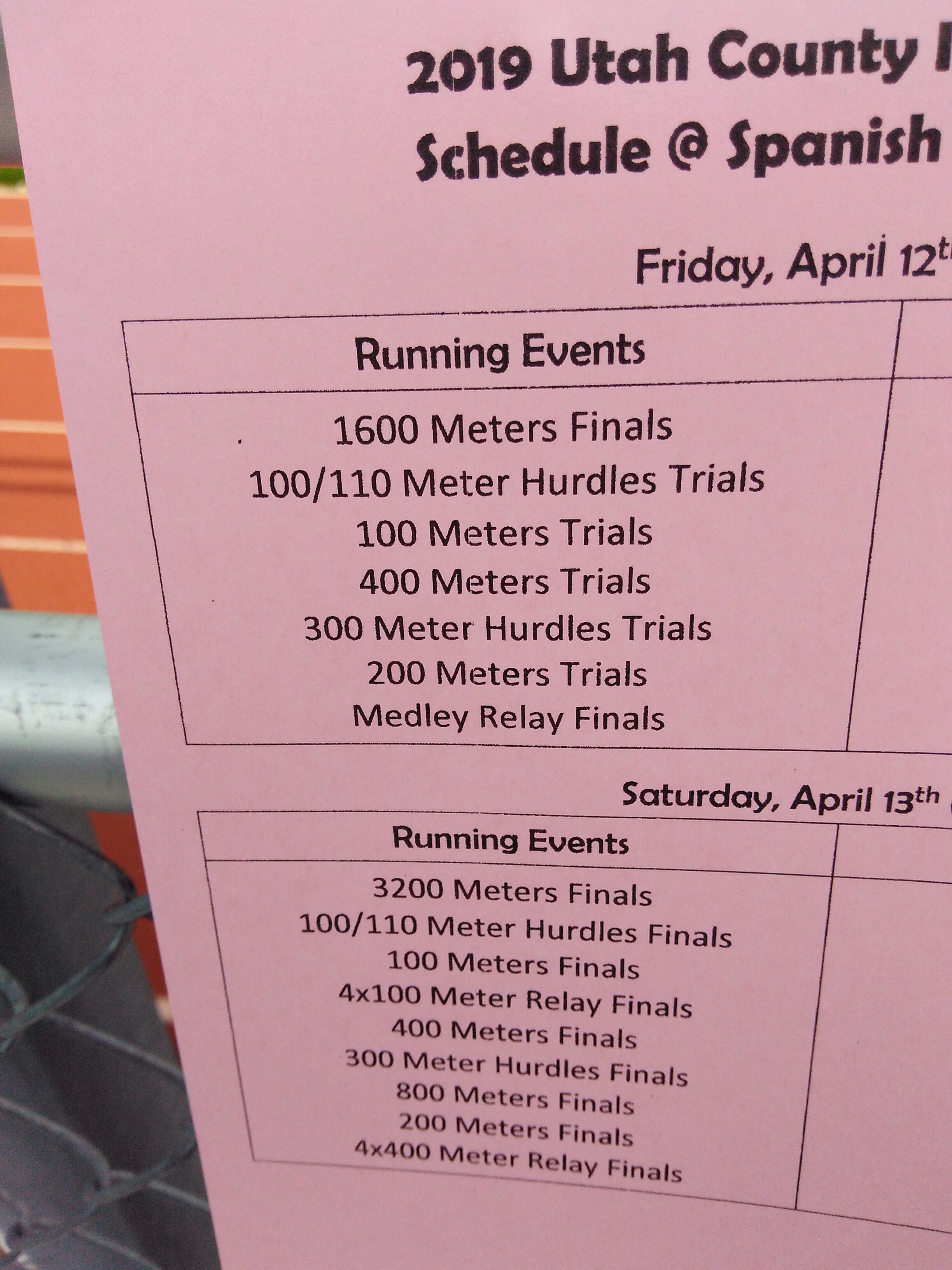 Okay, great. I just need to figure out what event is currently running. It was hurdles. Uh oh. I might have been too late. Except that there were not enough hurdles set up. They were only along one side of the track. Just about 100 meters worth. And the girls were running.
Each track event has boys races and girls races. The girls run first. I didn't miss it. I was early. Way early. And that's another difference. If you show up to a football game about an hour after it starts, you know there's probably an hour or two left.
I settled into the bleachers with my portable stadium seat. I'd brought a book. (I never take a book to a football game.) After a while I noticed my son walking across the field. I yelled down to him.
Hey! Bliss!

Oh, hey Dad.

What heat are you in?

Eighth.
Okay. I looked up at the partly cloudy sky and the brightly sunlit mountains. I wondered if he would be running under the lights.
Like I said, I had a book.
The meet slowly crawled through the schedule. This was a qualifying meet. Times counted for state qualifying. That explained why there were so many schools. And with that many schools, there were plenty of runnings. Each event had at least a half dozen seats. Some, like the popular 100 meter dash had at least ten.
And the organizers had issues with the finish line camera. That delayed us. They many heats that would start with the crack of the starting gun only to be quickly followed by a second shot indicating a false start, and they'd have to set up everything all over again.
The sun slipped behind the mountains to west and painted the mountains to the east with splashes of gold over the snow covered slopes.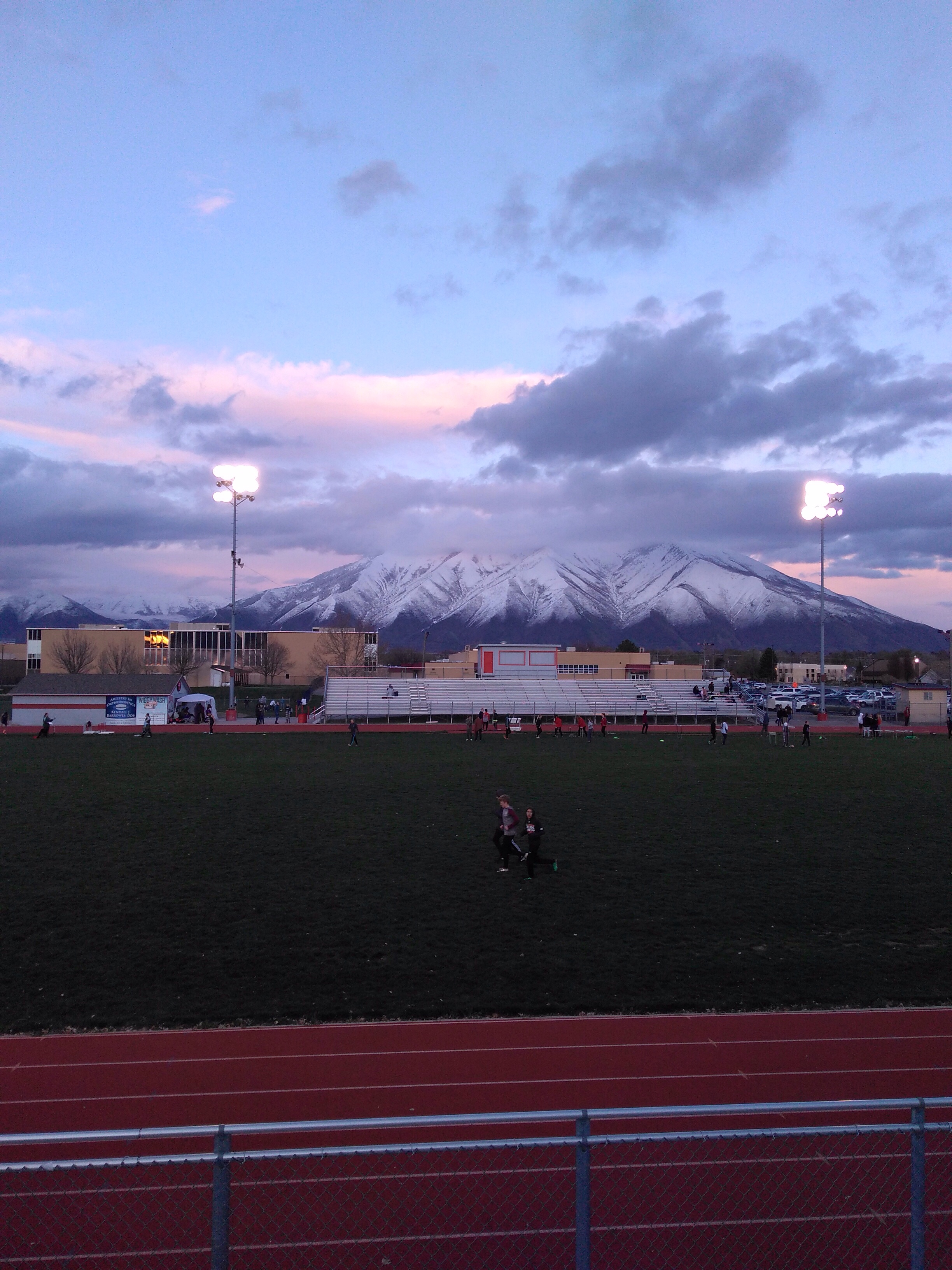 As it did, the temperature, which had been holding in the low 50's started to drop. A slight wind and splashes of scattered rain pushed the temperature lower. The folks I sat next to were from California and Florida. I, at least, was prepared.
My son finally ran at 7:45pm.
He ran strong in the first 300 meters and started to fade in the last 100 meters. He collected his gear and we chased the shadows back to the car. Behind us the stadium lights were on in full force.
I'd arrived at 5:00pm and left at 8:00. that was 180 minutes, for 60 seconds of race. My son at left school at 2:00pm. He had spent six hours, or 360 minutes so that he could race for 60 seconds.
And the meet wasn't over.
I love baseball. One of the attractive things about baseball is that there is no clock. The game could go on forever. I used to think it was the only sport like that. I've changed my mind. Track fits into that category too.
And at the end of a football game, or a baseball game, as you file out of the stadium a glance at the scoreboard will tell you who won and who lost.
So, how did you do?

I don't know. I think I took fourth in my heat.

Who was ahead in the meet?

We never know that until a couple of days later.
I'm really looking forward to the start of football season.
Rodney M Bliss is an author, columnist and IT Consultant. His blog updates every weekday. He lives in Pleasant Grove, UT with his lovely wife, thirteen children and grandchildren.

Follow him on
Twitter (@rodneymbliss)
Facebook (www.facebook.com/rbliss)
LinkedIn (www.LinkedIn.com/in/rbliss)
or email him at rbliss at msn dot com

(c) 2019 Rodney M Bliss, all rights reserved