Fully Committed To My Halloween Costume
Today was Halloween. Probably the strangest holiday that we celebrate. Adult men and women dress in costumes along with the children. Teenagers enjoy an unseasonable warm Fall evening to run around with their friends. Some TP gets thrown. Some pumpkins gets smashed.
Each year I tell my children that my costume is of a father of 13. This year, I decided to dress up. Kind of. I can't say my costume was particularly original. I put on a set of blue overalls, black work boots, and nitrile gloves. I then held some tools.
By no small coincidence this is the exact costume I wore while replacing the fuel pump in my 1994 Dodge Dakota. The fuel pump went out yesterday while I was having lunch with a friend in Provo.
We had to tow the truck back. I have wonderful friends and neighbors. They came to help me, spending hours of their day.
I bought a new fuel pump and installed it today. To install the fuel pump on a truck, you typically take the bed of the truck off the frame. It feels like something that shouldn't be possible by simply removing a few bolts and disconnecting a couple of wiring harnesses. The bed weighs about 250 lbs. My sons and neighbors helped remove it.
We did one final test of the wiring before starting on removal and verified the fuel pump was bad. After replacing the pump on my sons car where I had to drop the tank, this was simplicity itself. In fact, the entire job was mostly done and we were in the middle of reattaching the truck bed when my daughter and her family showed up for trick-or-treating at 6:30.
Come around to this other side of the truck. My feet are over there, but my head is over here.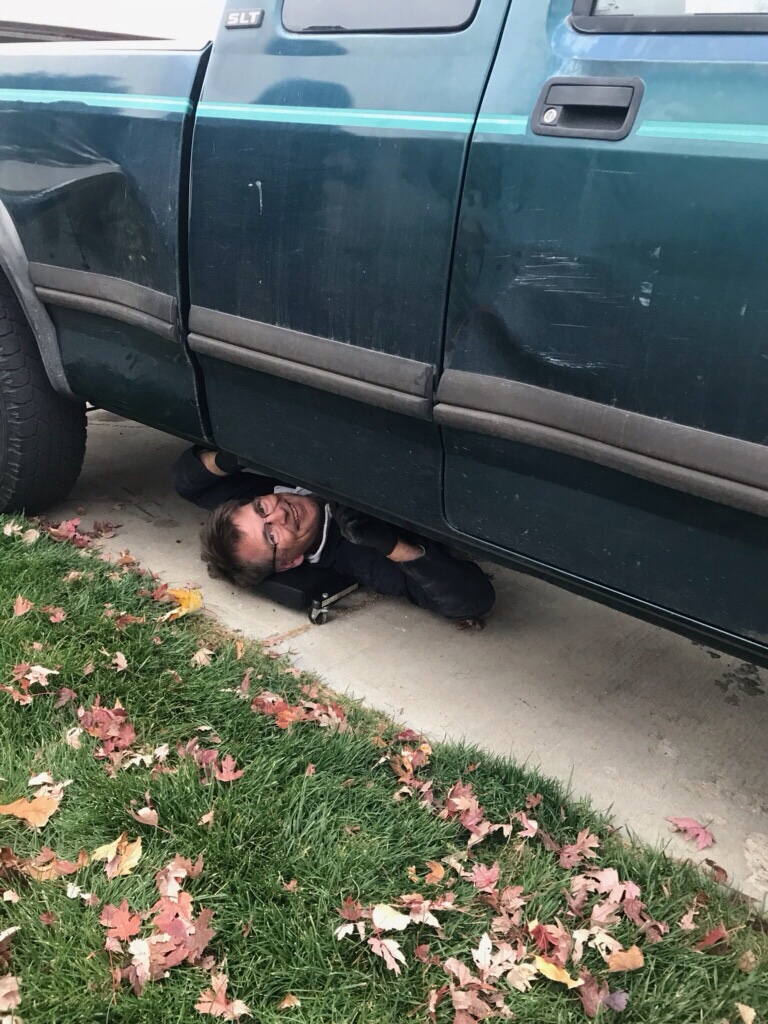 My feet stuck out the driver's side of the truck while My head and hands were on the passenger side. I was reattaching the bolts that hold the bed on.
My daughter's family were dressed as characters from the Nightmare Before Christmas. As I've never seen the movie, the significance of the costumes was lost on me. But, the costumes were very well done. And my grandkids were very cute.
My costume met with great approval from my grandkids. My daughter cast a knowing eye on the authenticity of my outfit. The dirt and grease were real. The tools were not mere props. In fact, I was using them as they walked up and after they headed off to other family, I went back to using them.
Yes, I have to say I definitely fully committed to my costume this year.
(And my truck is back on the road with a new working fuel pump.)
Rodney M Bliss is an author, columnist and IT Consultant. His blog updates every weekday. He lives in Pleasant Grove, UT with his lovely wife, thirteen children and grandchildren.

Follow him on
Twitter (@rodneymbliss)
Facebook (www.facebook.com/rbliss)
LinkedIn (www.LinkedIn.com/in/rbliss)
or email him at rbliss at msn dot com

(c) 2018 Rodney M Bliss, all rights reserved