How To Win A Customer For Life
A couple of months ago I wrote what some considered a harsh post about How To Lose A 3rd Generation Customer. In it, I called out a local business for not doing enough to win, or keep my business.
Today, is the opposite of that post. I want to tell you about a business that has gone so far above and beyond my expectations, that even if I didn't enjoy their product, I would still feel obligated to frequent them. Fortunately, I love their product, but it was their service that won me over.
I travel a lot. In fact, tomorrow I head off to Louisiana for a security audit at one of our call centers there. I also go camping a lot. If we get enough snow, we'll build snow caves later this month up American Fork Canyon. The one thing those two activities do not have in common is knives. It's important to always take a knife when you go camping. It has a thousand uses. It is equally important to not take a knife when you go to board an airplane. The TSA will take it away and not give it back.
You know where else you cannot take a knife? Most concert venues. It was only a small knife. Last Thursday night, I was at the Brad Paisley concert in Salt Lake City's Vivant Smart Home Arena (This Is Country Music.) My daughter and I rode the train for an hour up from our home in Utah county. As we went to enter the venue, the guy at the metal detector informed me that I couldn't bring the knife into the arena.
Now what? The concert was starting in a few minutes and it was three hours or more to try to go home.
It was a really nice knife. A few years ago I decided to see if I could tell the difference between a $5 knife and a $50 knife. This was the $50 knife. The manufacture is Kershaw. It's the Leek model. I've carried it for years.
As I collected up my metal from the bin, I stepped back outside. Brad Paisley being a major celebrity, all the local radio stations were doing remote broadcasts from outside the arena. My daughter looked at me quizically,
What are you going to do?

I have an idea.
We approached one of the radio trucks, it happened to be for 101.5 The Eagle.
Excuse me, I was wondering if you could do a favor for me?

Sure, what do you need?

I forgot I couldn't take a knife into the venue. I was wondering if you wouldn't mind holding it for me.

Sure, but we won't be here after the concert.

No?

But, I'll give you the address of the station and you can pick it up at the front desk tomorrow.

Thank you very much. I really appreciate it.

No problem. You're not the only one it's happened to.
I handed over my trusty knife and wrote my name and phone number on a piece of paper. Would I ever see my knife again? Maybe not. But, I was positive if I handed it to the security guard it would be gone for good. This was better than nothing.
The concert last Thursday went great. Today I went to 50 W 300 South in Salt Lake City to retrieve my knife.
I'm sorry, I have some good news and some bad news. Which do you want first?

Better give me the bad news.

We can't find your knife.

Well, that's okay. I was the one who screwed up and brought it in the first place. What's the good news?

Well, we wanted to offer you a $100 gift card to Morgan Valley Polaris. They're an outdoor rec store. Maybe they will have a knife to replace yours.

You didn't have to do that.

And we are giving you two tickets to Shania Twain's concert in July.

Wow. You really didn't have to do that. It was my mistake.

It's our pleasure.
I felt bad about losing my knife. And make no mistake, I lost it. It wasn't the radio station's fault I screwed up and brought a knife to a concert. The fact that they attempted to "make it right" even though it wasn't their fault was amazing. I listened to their station previously, but now they have a listener for life.
I checked and Morgan Valley Polaris doesn't sell knives. They mostly sell snowmobile gear, and high end lawn equipment. I don't snowmobile, but my friend Kenny does. I sold him the gift card for $50. I figured that my good fortune should also be his. When I went to give him the card, he asked,
Do you shop at Harbor Freight?

Sure.

Here's a Harbor Freight gift card that I'm never going to use. I think it has about $30 on it.
So, to recap: I screwed up and forgot to leave my knife at home. In return I got $50 to replace my knife, a $30 Harbor Freight gift card, a net-gain $50 gift card that my friend Kenny will use and two $100 seats to a Shania Twain concert.
Today, things definitely went my way.
Thank you to the staff at 105.1 The Eagle. You didn't have to do what you did. I'm grateful.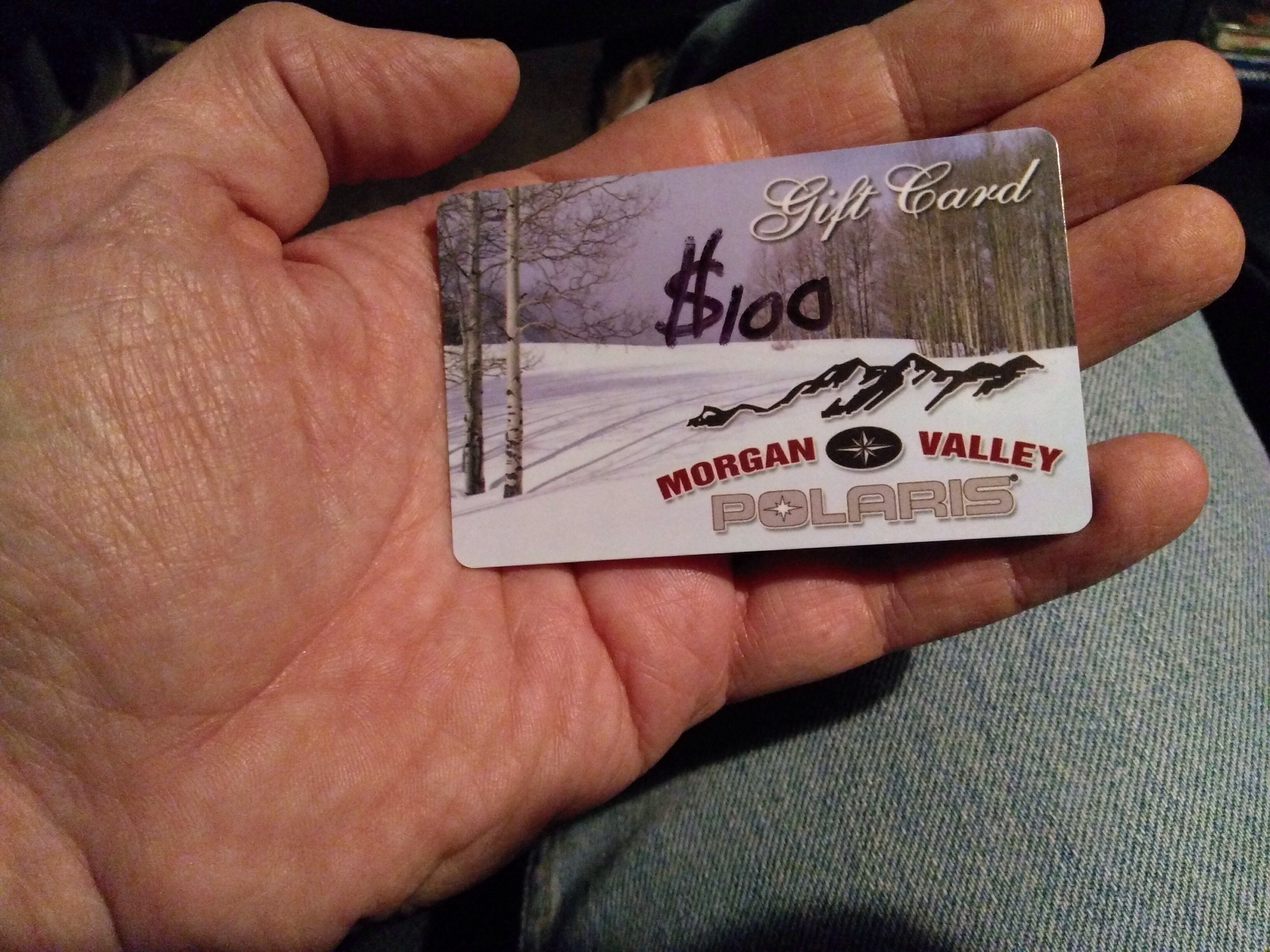 101.5 The Eagle gave me a gift card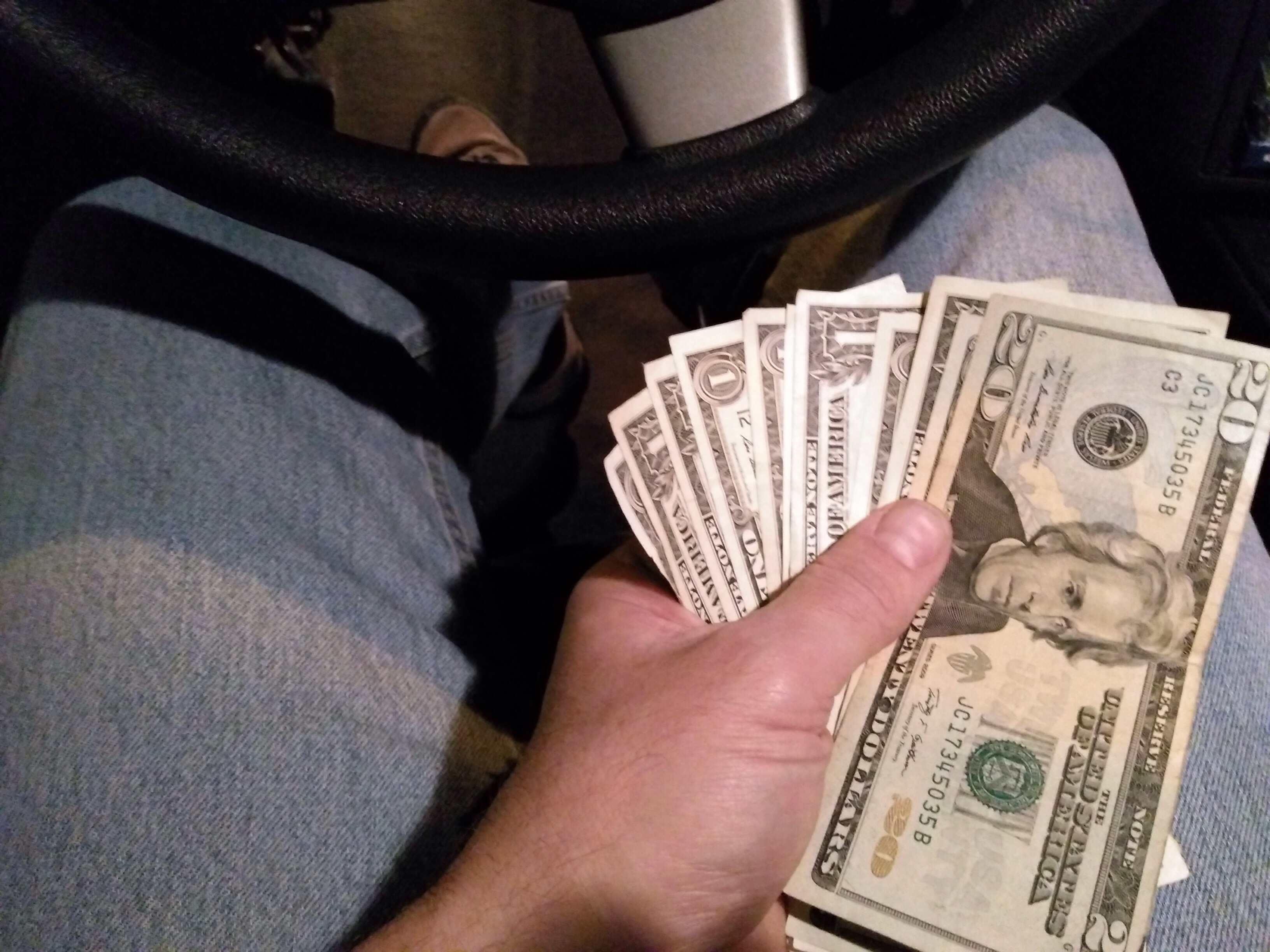 I split it with my friend who gave me cash to replace my knife…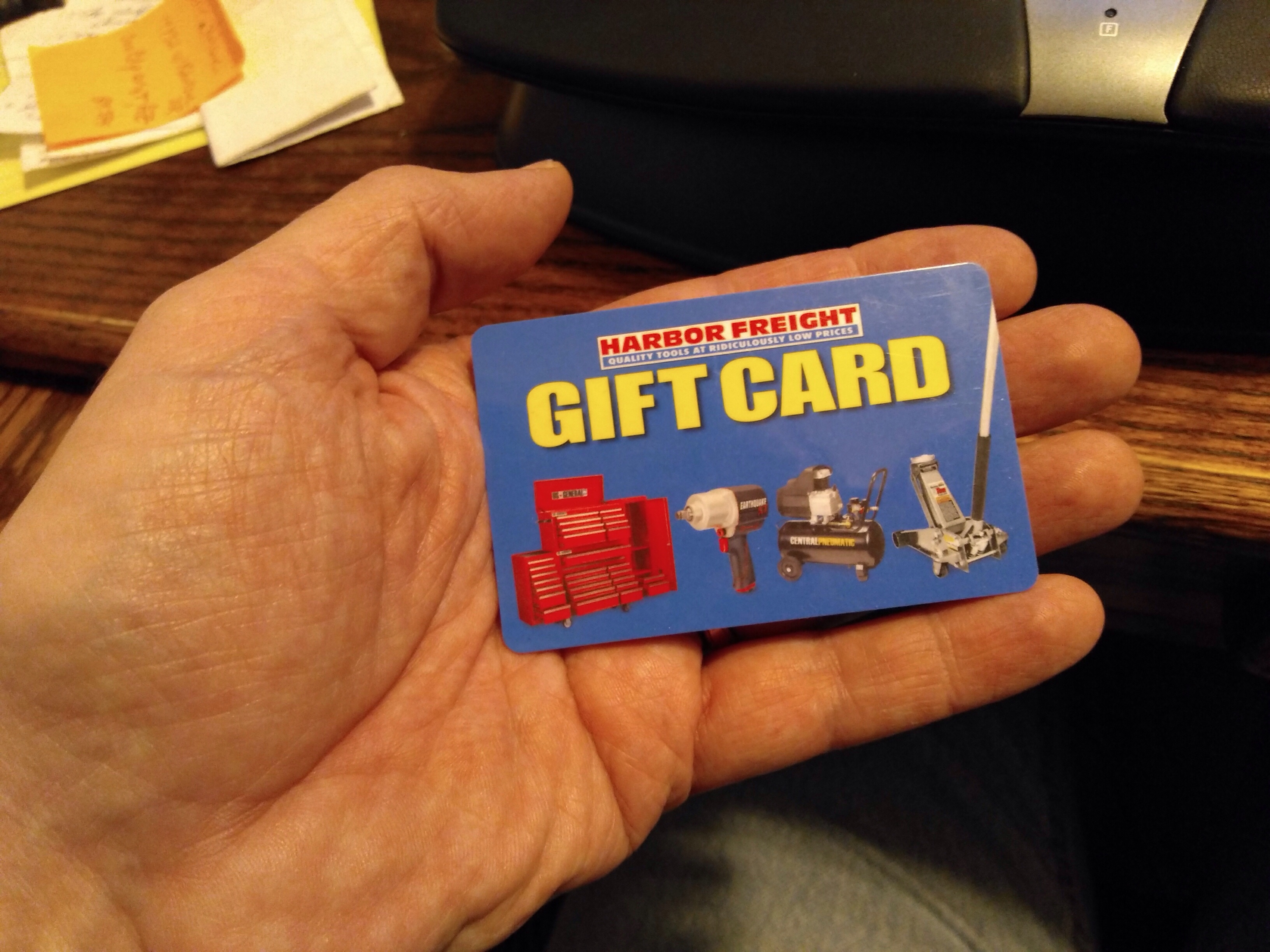 And another gift card.
I replaced the knife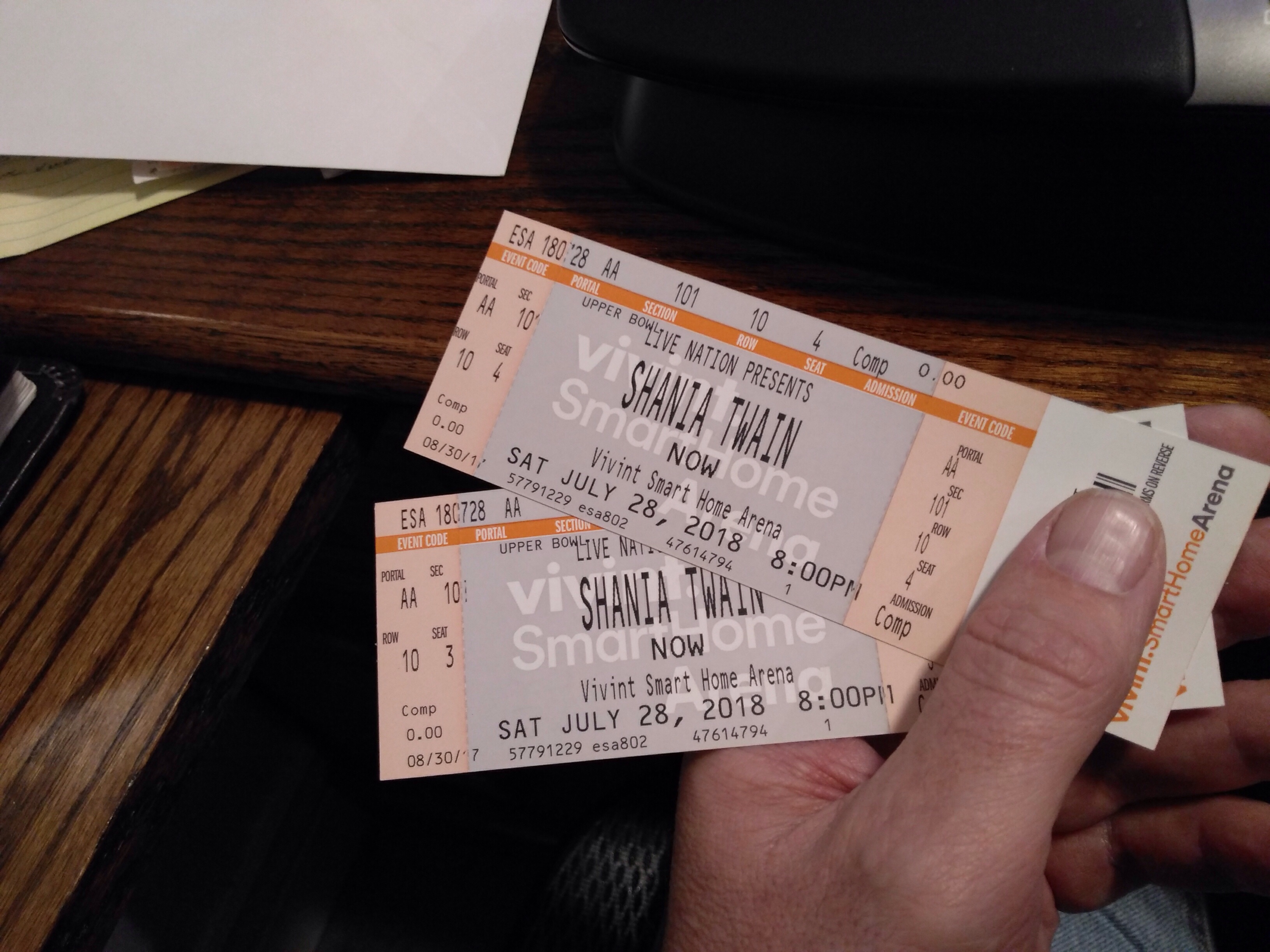 And I'll be seeing Shania in July.
Rodney M Bliss is an author, columnist and IT Consultant. His blog updates every weekday. He lives in Pleasant Grove, UT with his lovely wife, thirteen children and grandchildren.

Follow him on
Twitter (@rodneymbliss)
Facebook (www.facebook.com/rbliss)
LinkedIn (www.LinkedIn.com/in/rbliss)
or email him at rbliss at msn dot com

(c) 2017 Rodney M Bliss, all rights reserved