What Microsoft Taught Me About Whale Watching
I almost got stranded in Juneau, Alaska yesterday. Juneau is only accessible by sea and air. We arrived on a cruise ship about 1:00PM. We had a full afternoon planned. As we prepared to disembark, the captain reminded us that we needed to be back on board by 8:00PM and the gangplank was going to be raised at 8:30.
The day in Juneau was very fun. I'm on this cruise with my mother, my stepfather, my brothers, sister-in-law, brother's girlfriend and my sister. Let's just say I'm here with my family. We all had the same shore excursions planned.
We started with a tour of the city of Juneau. Juneau is a small town. There's not a lot to do in Juneau, and with four cruise ships in port, the town's population doubled. The city tour driver was entertaining. He's a native Alaskan. He is an artist who carves totems and paddles. He works at Tesoro "turning on the pumps" during the winter. He also works as a plow driver. In the summer, he drives a tour bus. His name was Fred. Well, except he explained his native name translated as "Makes Wind." Yep. He went there.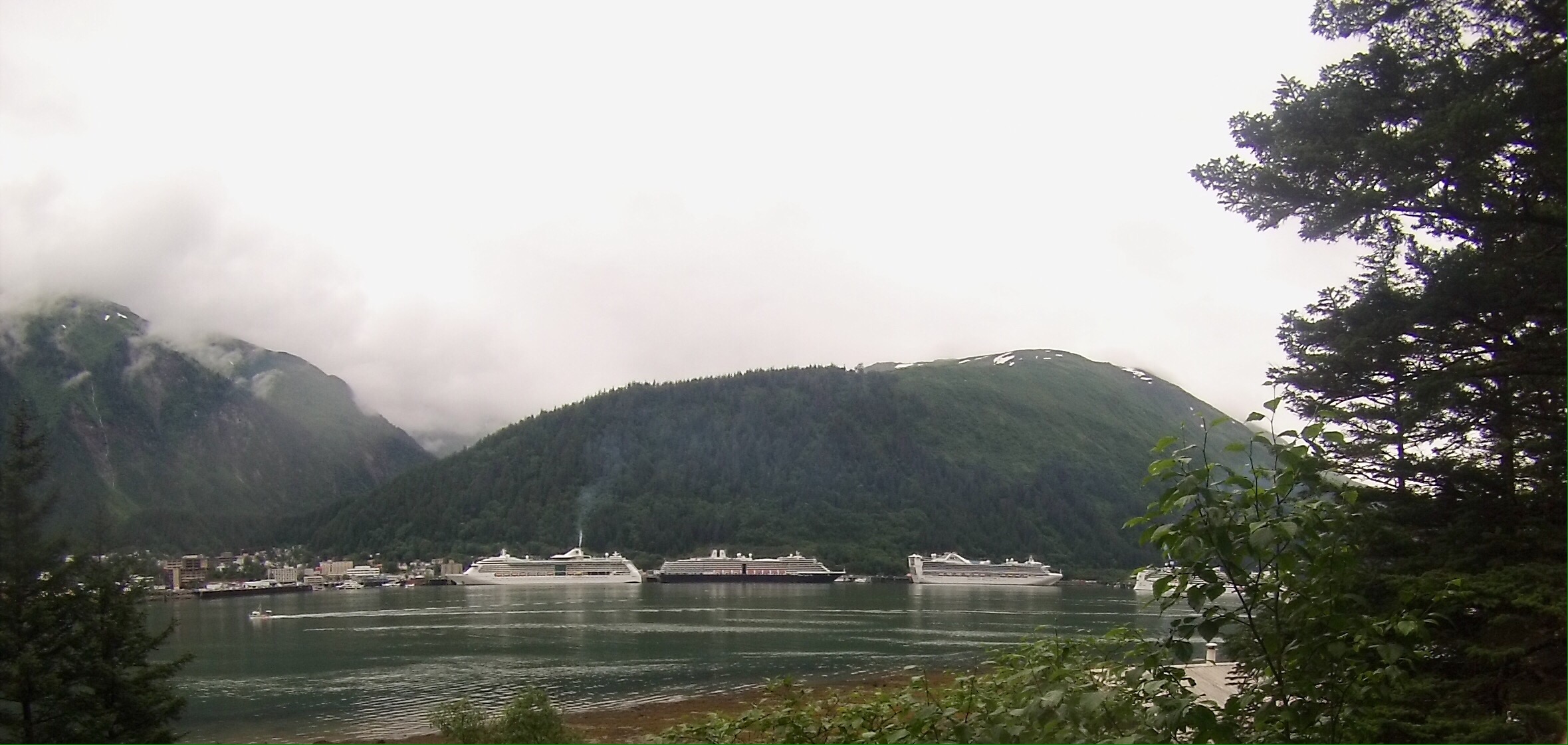 The city used to be a mining town. They took 70 tons of gold out of the mountains around Juneau. It's the capital of Alaska and probably one of the smallest state capitals in the country. Juneau has no roads that connect it to the rest of . . .anything. The farthest you can get out of town in Juneau appears to be about 30 miles and then you run into the Juneau Ice Fields, 1200 square miles of glacier maker.
The city tour was an excuse to get us on a bus that eventually dropped us off at Mendenhal glacier. There's nothing special about this glacier, except that Mendenhal is the closest glacier to Juneau, so it's the one that the tour takes you to. The glacier is named for some physicist. I couldn't find anything explaining why a glacier in Juneau Alaska is named for a physicist from Ohio.
After the glacier was the highlight of the day, whale watching. We got on another bus that took us to the waterfront where we boarded a boat captained by Jason and crewed by Jeremiah, and Carter. Jeremiah explained that we would be seeing humpback whales. Unlike the Orca, or Killer whales that I was familier with growing up, humbacks are bigger and tend to travel alone. They are in Alaskan waters right now getting fat for the long trip South.
We saw two whales in our tour. The most impressive sight was the tail as it dove in the Alaskan version of the fjords. It was amazing to think these creatures are 45 feet long and weigh literally tons.
We turned for shore about 7:00. It was about an hour back to shore. Several passengers asked about making it back to their respectrive ship in time. The ride from the dock the tour ended on to the ship was about an 18 minute ride by bus. The tour had obviously gone long and now we worried about the ship sailing with out us. Well, I should say, they worried. Personally, I wasn't the least bit concerned.
You might find this a strange attitude. Why wouldn't I care that I was potentially going to be stranded in Juneau Alaska?
Microsoft.
Microsoft taught me not be concerned with being left. I worked for Microsoft for almost a decade. During that time I travelled a lot. I went to United Arab Emerites, Greece, Mexico, Brazil and other countries, spending anywhere from a few days to a couple of weeks in each country. But, how did this help me not stress over getting stranded?
Because, during that time of travel, several things came up that might have thrown my trip off schedule. In every circumstance, I knew that Microsoft was only a credit card swipe away. I had a corporate AMEX card. If anything went wrong, I could fix it with my Microsoft credit card. Stolen wallet? No problem. A few calls and I'd be back up and running? Missed flight? No worries. I just book a new one and figure it out after the trip.
It made my international travel almost stress free. I still had to be careful, but mostly, I could relax knowing that if something happened, I was prepared. Generally, anything that might go wrong was out of my control. If I cannot control it, why bother worrying about it? I didn't.
As we sat on the bus yesterday, waiting for the second boat to come in and realizing that if we sprinted from the bush we'd still miss the 8:30 gangplank being pulled up, we'd still be too late, I thought about my time at Microsoft. I asked myself some questions,
Are we going to make it back on time?

Probably not.

Can I do anything to get us there quicker?

Not a thing.

No need to worry, I can't change it.
I was completely at peace with our trip back to the cruise ship docks. I was not just pretending to be okay with the delay, I really was. I didn't consult my watch once. We eventually made it back to the ship at about 8:31. The gangplank was still down and there were no lines since nearly everyone was already on board.
We had a late Dinner on the Lido deck and finally at about 9:10PM we felt the ship shudder and pull away from the pier. I never assumed they were going to leave us anyway. The fact we left 40 minutes late simply confirmed my suspicion that the cruise ship wasn't going to let us be stranded in a strange city with no where to go.
No more than Microsoft would have left me stranded in some other country rather than buy me a ticket home.
I'm feeling the Zen.
Rodney M Bliss is an author, columnist and IT Consultant. His blog updates every weekday. He lives in Pleasant Grove, UT with his lovely wife, thirteen children and grandchildren.

Follow him on
Twitter (@rodneymbliss)
Facebook (www.facebook.com/rbliss)
LinkedIn (www.LinkedIn.com/in/rbliss)
or email him at rbliss at msn dot com

(c) 2017 Rodney M Bliss, all rights reserved