My  Brother The Rock Star
?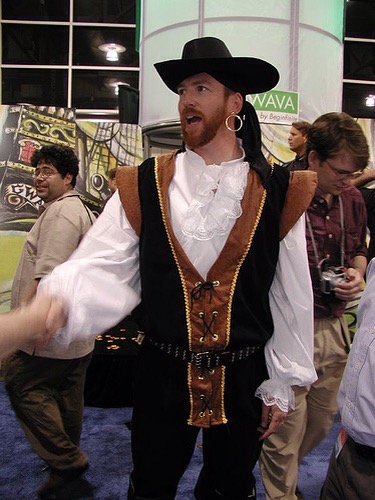 ?
Okay, so I know he looks like a pirate, but trust me, he was a rock star. He worked for a company named GWAVA. You can see their logo behind him. We were at BrainShare, Novell's tech conference in Salt Lake City. The conference was supposedly about Novell and Novell products, but really it was about GWAVA and Richard Bliss was the face of GWAVA.
There's a reason for the pirate garb and I'll get to that. Richard is the most brilliant marketer I've ever met. He and I will be talking and while I'm thinking through topic A, he's already processed A and moved on to B through K. He understands things organically that I struggle to grasp by experience.
Before he worked for GWAVA, he worked for an anti-virus company in San Francisco. He had a small budget for Comdex, a big computer show in Las Vegas and wanted to make a big impression. He rented Hummers, the civilian version of the military ones and he offered the press free rides. Cab rides in Vegas during Comdex are tough to get. Richard got tons of great press for his company with a little ingenuity.
Some of his marketing efforts were truely gurilla marketing. Some stories will have to wait for him to tell.
He once changed the name of his company because the new name worked better for the company. The owners were pleased, but asked him to check with them prior to making any naming changes in the future.
He was once faced with not being able to sell out a conference during a down economy. He realized that for $50,000 he could pay for all the attendees. But, no one wants to attend a free show. So, he approached a major sponsor and asked them to take credit for paying for people's attendance. The sponsor got great publicity for no added cost. The attendees were falling all over each other to attend. And he got a sold out conference. He made way more than the $50,000 it cost him.
He was once arrested for being a spy in Russia. . Oh wait, that was a different Richard Bliss.
He wrote a book called "Stealing The Show." The idea is that it doesn't matter who sponsors the show, you have the ability to make the show your own. And that brings me back to the picture of him as a pirate.
Brainshare has a theme every year. The year the picture was taken the theme was "Pirates of the Carribean." GWAVA makes an anti-virus engine for Novell GroupWise. The GWAVA booth looked like a ship, and Richard was the captain. He teamed with other vendors to give away $500 in "gold" coins. Bags of dollar coins. He also gave away a big screen TV and several other prizes. But, in watching the show, and it really was a show, the attendees weren't there for the big screen TV or the coins. They were there for Richard. He had the entire floor chanting his company's name.
At a key point in the presentation extras in the audience dressed in black t-shirts which said
came running up to attack the good ship GWAVA. The imagary was perfect. Your network will be attacked by viruses, porn and spam. And just like Richard and GWAVA can protect the good ship GWAVA from the volunteers working for the free t-shirt they got to keep, GWAVA and Richard will protect your network too.
He now writes a blog on forbes.com where somehow he gets paid to hang out with football players and write interesting stories about how Big Data gives teams an advantage on the field.
He's my big brother and I'm really proud of him.
Rodney M Bliss is an author, columnist and IT Consultant. His blog updates every weekday at 7:00 AM Mountain Time. He lives in Pleasant Grove, UT with his lovely wife, thirteen children and one grandchild.
Follow him on Twitter (@rodneymbliss)
Facebook (www.facebook.com/rbliss)
LinkedIn (www.LinkedIn.com/in/rbliss) or email him at rbliss at msn dot com