When Just Playing The Game Is Winning
Microsoft has a hockey team. Actually, they have multiple hockey teams. Over the past 15 years those hockey teams have earned $4.3M.
Yesterday I explained how in business it's a bad thing when you get too wrapped up the extra-curricular sports events. (When Winning Is Really Losing.) I think I made a pretty good argument for why being the Intel Western Regional foosball champion is not something to aspire to.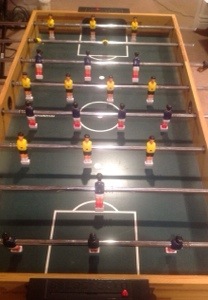 Today I'm going to explain that sometimes it's not enough to just play the game. But, going all out to play the game represents a huge win, and if you have a chance to achieve it, you absolutely should go all out.
Back in 1998 I was working for Microsoft in the Microsoft Exchange team writing courseware. The Vice President over Exchange was a guy named Brian Valentine. Brian was a great leader. And he was always looking for a way to motivate his team to become even more passionate.
In 1998 he decided he'd do this by challenging the Windows development team to a hockey game. I'm not sure why Brian picked hockey. He wasn't much of a hockey player himself. But, the challenge was issued and the two divisions, two of the biggest at Microsoft (not counting the Office division) decided it would make sense to put on pads and smash into each other on the ice.
The two VPs also realized they had the opportunity to generate a little good will. They arranged to play their game on the home ice of the Seattle Thunderbirds hockey team. They'd sell some hockey sweaters and donate the money to the Ronald McDonald house.
I bought a sweater, actually I bought a couple.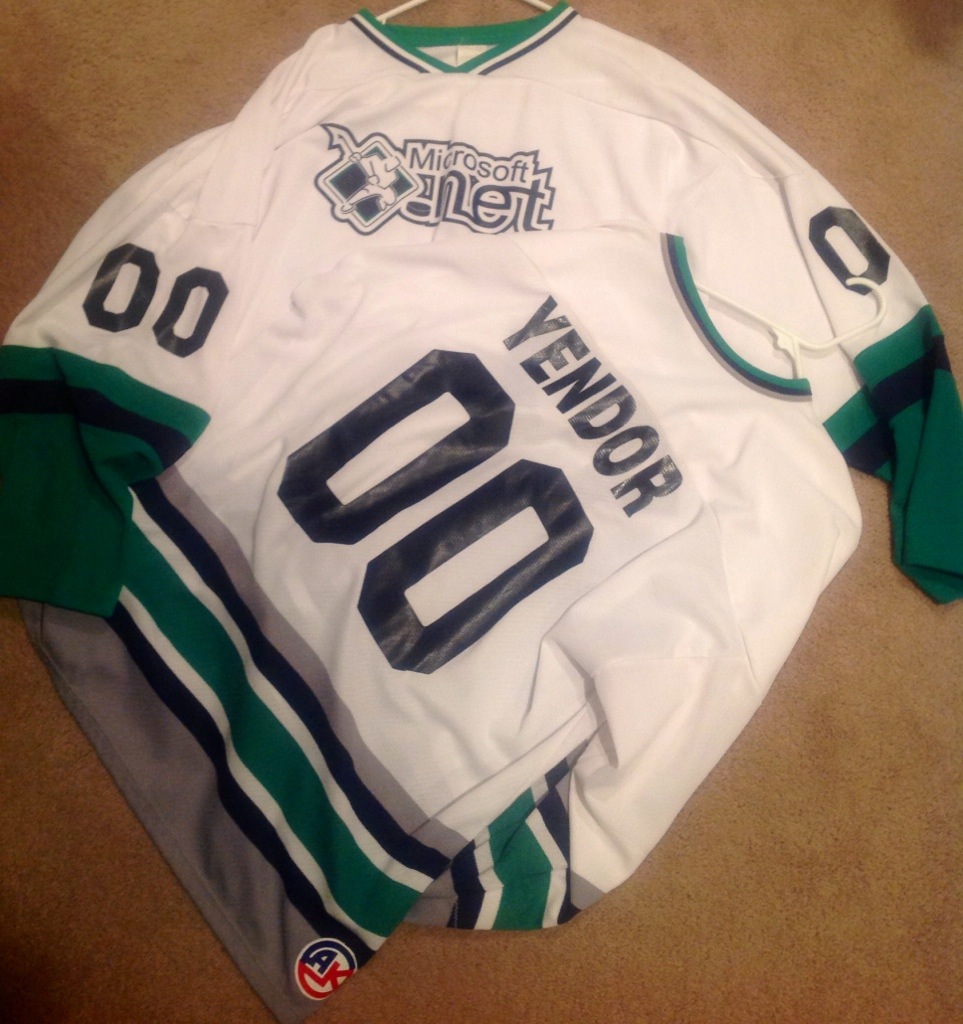 And I talked trash to my counterparts in Windows. I didn't attend the game, but I'm pretty sure Exchange took the inaugural game. The Windows team accused Exchange of hiring some sale reps out of Canada for their skating prowess rather than their selling skills. Never heard if it was true or not, but even it wasn't, just the rumor gave Exchange an edge.
The merchandise sales were above everyone's expectations. Brian V and his counterparts realized that rather than beat up on each other, it would be more fun to beat up on other companies. The Hockey Challenge was born. Over the years, they invited teams from Sun Microsystems, Oracle and other tech companies. Each year the event got bigger than the year before. And the money kept flowing to the Ronald McDonald House charities.
Last Saturday was the 15th annual Hockey Challenge. I've been gone from Microsoft for a lot of years. But, it looks like the tournament is bigger than ever with over 10 teams competing and a celebrity all-star game. Oh, and apparently the Seattle Thunderbirds play in there too.
Microsoft has no natural connection to hockey. But, because Brian was looking for something to fire up his team, it became a charity outlet for the entire company.
According to their website, it costs $3.4M per year to operate the Ronald McDonald house in Seattle. In the 15 years of the Hockey Challenge Microsoft has helped raise $4.3M. All the proceeds of the Hockey Challenge go to the charity.
I've never been to the Ronald McDonald House in Seattle, but several years ago my daughter needed a series of surgeries at Shriners hospital in Sacramento. (What Would You Do? On A Long Lonely Highway, With A Dead Car, A Young Child And Night Falling?) Ronald McDonald House was a huge help.
So, while I still don't recommend aspiring to become the Intel Western Regional foosball champion, if you get a chance to raise money for charity by hosting a hockey tournament you might just find that you start a 15 year tradition that helps sick kids and their families.
Rodney M Bliss is an author, columnist and IT Consultant. He lives in Pleasant Grove, UT with his lovely wife and thirteen children.
Follow him on
Twitter (@rodneymbliss)
Facebook (www.facebook.com/rbliss)
LinkedIn (www.LinkedIn.com/in/rbliss)
or email him at rbliss at msn dot com