What Do You Think, Rodent?
(photo credit mastermadefeeds.wordpress.com)
He meant me.
I'd been at Microsoft for about 3 years and I was transitioning into a new position. . .and Mark was transitioning out of it.
Mark had been writing courseware for Microsoft for years. He wasn't moving far. In fact, his office would stay on the fourth floor of the Microsoft Exchange development building, and he was going to start writing Microsoft Official Curriculum: same content, different audience.
Also, Mark was brilliant. Most of what I knew about Microsoft Exchange I had learned from him. Most of what ANYONE knew about Exchange they had learned from him.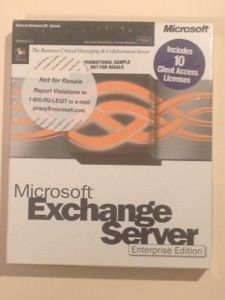 My new customers in Support LOVED Mark. They didn't even know me.
Rodney who?

Are you sure Mark can't stay?
Because our offices were on the same floor and we would both be writing curriculum, Mark did more than the usual, "I'm leaving. . .call me if you have any questions. . .but I hope you don't" that I was used to when taking over for someone.
My first day we discussed how we would handle the transition.
I'll keep fielding the questions for a while and I'll add you to the distribution. That way I can introduce you to the customers and when you feel comfortable just let me know and I'll drop out.
That was the plan. It ran up against two technical issues. It started fine. Mark got a question from our group of customers and decided to introduce me. He added me to the email thread. Then he answered the question and at the end put
. . .What do you think, Rodney?
Early versions of Outlook spellchecker didn't include the name "Rodney" as a correctly spelled word. It showed up with that squiggly red line under it. Outlook offered alternatives. The first was, you guessed it, "Rodent." It even kept the capitalization. The second problem was that Exchange did not have the ability to recall a message. So, Mark's attempt at introducing me to the group was by asking me "What do you think, Rodent?"
He felt terrible, of course. I try not to hold grudges. So, I renamed our shared printer. For the next two years whenever Mark printed a document, Windows would tell him,
Now printing to the Rodent.
(We remain friends and laugh about it now.)
Rodney Bliss is an author, blogger and IT manager. He's been in the IT field longer than he can remember. He lives in Pleasant Grove, UT with his lovely wife and their 13 children.