Did Anyone Order Subway?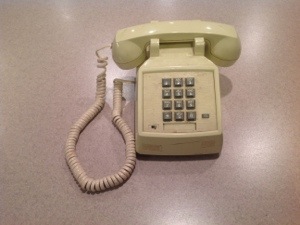 With any new system there are bound to be glitches. This one turned out to be mild. . .and tasty.
We had recently setup Cisco MeetingPlace as our conference call system. Being part of the messaging team, we went out of our way to use it as often as possible, so that we could become familiar with the features.
One of the nice features was that the system would actually call your phone number at the start of a meeting. This was handy for people who were traveling for example, or on a cell phone. You just had to press a key to join the meeting. Assuming you entered the correct phone number.
I remember one meeting about a week after we'd set up the system, where we were discussing the performance of the email system. Between those in the conference room and those on the call we probably had about a dozen people. Ten minutes into the meeting someone on the phone spoke up.
Ah. . .could you guys tell me why I'm here?

Who is this?

This is Jake Smith.
I didn't know a Jake Smith, but I was new to the company. Looking around the conference room I got back blank stares and shrugged shoulders.
Ah. . where are you Jake?

I'm at Subway in Orem.

What are you doing at Subway, Jake?

I work here.
The looks in the conference room turned to confusion.
How did you get on this call, Jake?

Well, the phone rang and when I picked it up, it said to press "1" to join the meeting, so I pressed "1."

Jake, I don't think you need to be here. Sorry about that.

Oh, okay. I wasn't sure.

Jake, why didn't you say anything before now?

Well, I didn't want to interrupt.
Sometimes the tools are part of the problem.
I was planning to post a book review of "The 4 Hour Work Week." Look for that sometime next week. It's taking me longer than I expected to wade through it.
Rodney Bliss is an author, blogger and IT manager. He's been in the IT field longer than he can remember. He lives in Pleasant Grove, UT with his lovely wife and their 13 children.