Would All The Writers Stand Up?
December 13, 2022
I have a deadline this week. I've known about it for weeks. Like many writers, I'm a great procrastinator. I wasn't procrastinating. I was hurting. Literally.
Sciatica. Literally a pain in the butt.
It's getting better. What's not getting better is the pain from sitting. I decided I needed to make a change. A few 2x2s and a sheet of 3/4″ plywood and I had my new standing desk.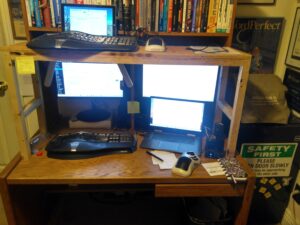 The lower system is a Dell laptop with two external monitors, an external camera, a Plantronics 810 wireless headset, a Microsoft ergonomic keyboard and a really expensive crazy ergonomic mouse.
The upper system is a Microsoft Surface with the same keyboard and mouse setup as the bottom, and another camera.
I use Dropbox to share files between the two. I sit when it's comfortable and when it gets too painful, I stand up.
Louis L'Amore said that he could write with his typewriter propped on his knees in the middle of Santa Monica Boulevard. This isn't a typewriter and my office is a long way from Santa Monica. Writing isn't about finding the perfect setup so you can write. It's about figuring out how to write despite the challenges that life sends your way.
I finished the story I was writing and I'll send it in tomorrow. With a whole day to spare before the deadline.
Stay safe
Rodney M Bliss is an author, columnist and IT Consultant. His blog updates every weekday. He lives in Pleasant Grove, UT with his lovely wife, thirteen children and grandchildren. Order Miscellany III A Collection of Holiday Short Stories, an anthology including his latest short story, "You Can Call Me Dan" here

Follow him on
Twitter (@rodneymbliss)
Facebook (www.facebook.com/rbliss)
LinkedIn (www.LinkedIn.com/in/rbliss)
or email him at rbliss at msn dot com

(c) 2022 Rodney M Bliss, all rights reserved
Tell your friends about this!