Utopia Comes To Pleasant Grove
What if your car could suddenly double its top speed? Or triple? Of course, if your car could suddenly go faster it wouldn't do you much good since there are speed limits on the highway.
Fortunately no such limits exist on the internet, what was once called the information superhighway. You can go as fast as your internet connection, or ISP will allow.
Today I got a major speed boost.
My little town of Pleasant Grove recently installed fiber throughout the city. It's been rolled out in waves. Each part of the city was given a schedule when it would be available. Originally my neighborhood was supposed to have fiber installed sometime around March of 2023. But, the program has been greatly ahead of schedule.
Utopia, or Utopia Fiber was installed at my house today. You might think it would be complicated to switch from an over-the-air wireless connection to a fiber connection.
It was not.
The installers were done in about 30 minutes. At that point All I had to do was switch my firewall computer from it's connection to the wireless router to the fiber router.
My son was playing a video game. The internet switch didn't even disrupt his game.
The real question was, "Did it work? Did the speed increase?"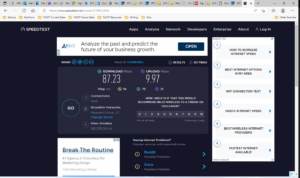 Yeah, just a little.
Stay safe
Rodney M Bliss is an author, columnist and IT Consultant. His blog updates every weekday. He lives in Pleasant Grove, UT with his lovely wife, thirteen children and grandchildren. Order Miscellany III A Collection of Holiday Short Stories, an anthology including his latest short story, "You Can Call Me Dan" here

Follow him on
Twitter (@rodneymbliss)
Facebook (www.facebook.com/rbliss)
LinkedIn (www.LinkedIn.com/in/rbliss)
or email him at rbliss at msn dot com

(c) 2022 Rodney M Bliss, all rights reserved