Miscellany II: Interview With Author Amanda Luzzader
January 11, 2022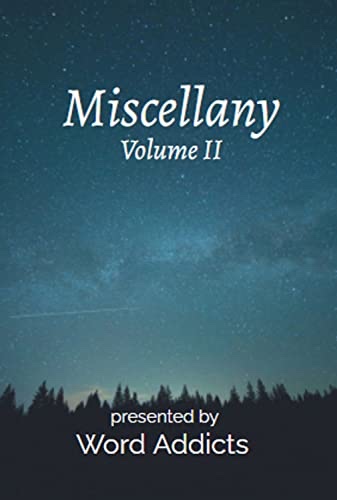 Miscellany Volume II ships tomorrow. I had a chance to talk to one of the authors, Amanda Luzzader.
[RMB] Your work, both the adult series Among These Bones and your series for younger readers, A Mermaid In Middle Grade, Hannah Save the World, A Magic School for Girls, and the Princess series all focus on female protagonists. What led you to choose to tell your stories from a female point of view? What kind of feedback have you gotten from readers who see themselves in your stories?
[Amanda Luzzader] I didn't set out to only write books with female protagonists. Those are just the characters and stories that came to me at the time. I'm currently working on several new stories that feature male protagonists. But I do relate to female protagonists, because I'm one myself. In my A Mermaid in Middle Grade series, for example, the main character, a mermaid named Brynn, falls behind in her schoolwork. That happened to me when I was a kid, and readers have reached out to me to say they related to that experience, too. We are all alike in some ways, so when I write, I'm hoping others will say, "Hey, I've felt that way, too." And other things that readers may not relate to themselves, but perhaps, through the story, can develop empathy.
[RMB] New writers might look at your publishing history of over 20 novels and numerous short stories and think, "Amanda is a writer who has 'made it.'" Can you describe a little about what got you to this point and also address the idea that at some point a writer has "made it"?
[AL] What new writers should be told is that every single writer who has "made it" was once a writer who had not made it. Every writer is a beginner at some point. Every writer has things to learn and improve. What making it means can be different for different people as well. Maybe that means selling a certain number of books or being able to retire or pay for a car or just simply publishing your novel. For me, I wanted to be able to write for a living and to make enough to cover my living expenses. I am fortunate to now be working as a full-time writer and to be making a living at it, but it took a while to get here. I'm certainly not rich or famous, but I get to do what I love, and it pays the bills. I know many other talented individuals who pursued writing and have now given up. To me, the primary difference between those who "make it" and those who don't is that those who make it do not give up. These writers finish one book and then they start another. They may get poor reviews or have a failed launch or sell fewer copies than they expected, but they keep moving forward.
[RMB] Your adult fiction is much different than your children's books. Other than publishing under different spellings of your name (Amanda Luzzader for post-apocalyptic fiction, A.M. Luzzader for children's book) do you find it difficult to write in two genres that are so different? Have you ever had someone who knows you from one genre "discover" your work in the other genre and what was their reaction?
[AL] I do write on two opposite ends of the spectrum. My books for adults have focused on post-apocalyptic and short horror. Many of my books for children have been about mermaids and princesses. I don't find it too difficult at all to write in different genres because everything I write comes from a part of me. There is a side of me that is fun and whimsical, which I tap into when I write my children's books. Then there is another part of me that loves exploring darker themes, which is perfect for the adult books. There is some cross-over, however. I just released the first installment in a new series called, Arthur Blackwood's Scary Stories for Kids Who Like Scary Stories, which is short horror stories appropriate for ages 8–12. I loved reading Scary Stories to Tell in the Dark when I was a child, and this is my homage to that. I wrote my adult books first, and there were some readers who were disappointed when I began writing children's books instead of more post-apocalyptic books, but we all have to write what interests us. I'm really enjoying writing middle-grade books and chapter books right now, so I'll stick with that for a while, but I could easily go back to writing for adults in the future.
[RMB] As a fulltime writer, what advice would you offer new authors who are balancing part-time writing vs non-writing responsibilities?
[AL] This is a tough question. Trying to launch a full-time writing career while working a day job is a big challenge. I took some financial risks and quit my full-time job to write full-time. But it's still a struggle. The advice I would give is to realize even small efforts will pay off in the long-run. Fifteen minutes a day of writing is better than zero minutes. Sometimes we get stuck thinking that unless we have hours of time to set aside for writing, it's not worth bothering, but that's not true. I wrote and published twelve novels last year. They were all chapter or middle grade books, so these are much shorter than novels for adults, but it would be the equivalent of three or four novels for an adult market. Even as a full-time writer, I usually only spend an hour a day writing. The rest of my time is spent on business tasks—book-keeping, social media, appearances, inventory management, etc. It is possible to write books in five-minute bursts. Consistency and moving forward are critical. If you can only write a little bit in one day, that's fine, maybe the next day you have a little bit more time. But use the time you have. Make time if you must. But get words down every day.
[RMB] Without giving too much away can you tell us a little about the story you have in Miscellany II?
[AL]My contribution to Miscellany II is a short story for adults called "Of Crayons and Angels." It's about a mother experiencing a faith crisis while her son is battling cancer. It's the only thing I've ever written that has made myself cry (and it made my husband cry, too, which is no easy task). I got the idea for the story when I was going through some difficulties in my own life, and the son in the story is based loosely on my own youngest son. The story is sad. I submitted it to a different anthology before I submitted it to Miscellany II and it was rejected for being too sad. I personally think it can be good to read sad stories sometimes. Feeling sorrow helps us to know we are alive and to appreciate the people and circumstances of our own lives without having to actually experience sad things firsthand. I hope that people who read it will think of their own families and cherish being alive.
[RMB] Where can people find out more information about your upcoming books and possible appearances?
[AL] I mainly post about appearances on my Facebook page (facebook.com/a.m.luzzader). You can also check my website at www.amluzzader.com and sign up for my newsletter there. If you'd like to inquire about having me do a school visit or presentation, please contact me through my website.
Amanda Luzzader
Stay safe
Rodney M Bliss is an author, columnist and IT Consultant. His blog updates every weekday. He lives in Pleasant Grove, UT with his lovely wife, thirteen children and grandchildren. Pre-order Miscellany II, an anthology including his latest short story, "The Mercy System" here

Follow him on
Twitter (@rodneymbliss)
Facebook (www.facebook.com/rbliss)
LinkedIn (www.LinkedIn.com/in/rbliss)
or email him at rbliss at msn dot com

(c) 2022 Rodney M Bliss, all rights reserved
Tell your friends about this!