Fanning All Kinds Of Blue
Today was one of the "last times for everything."
. . .
Running out on the field for the senior game wearing number 17
There's a last time for everything.
– "Last Time For Everything" Brad Paisley
Except for my son it was number 41, not number 17. Tonight was the last football game of the season for the Pleasant Grove Vikings. It was the first round of the playoffs. Pleasant Grove vs Bingham.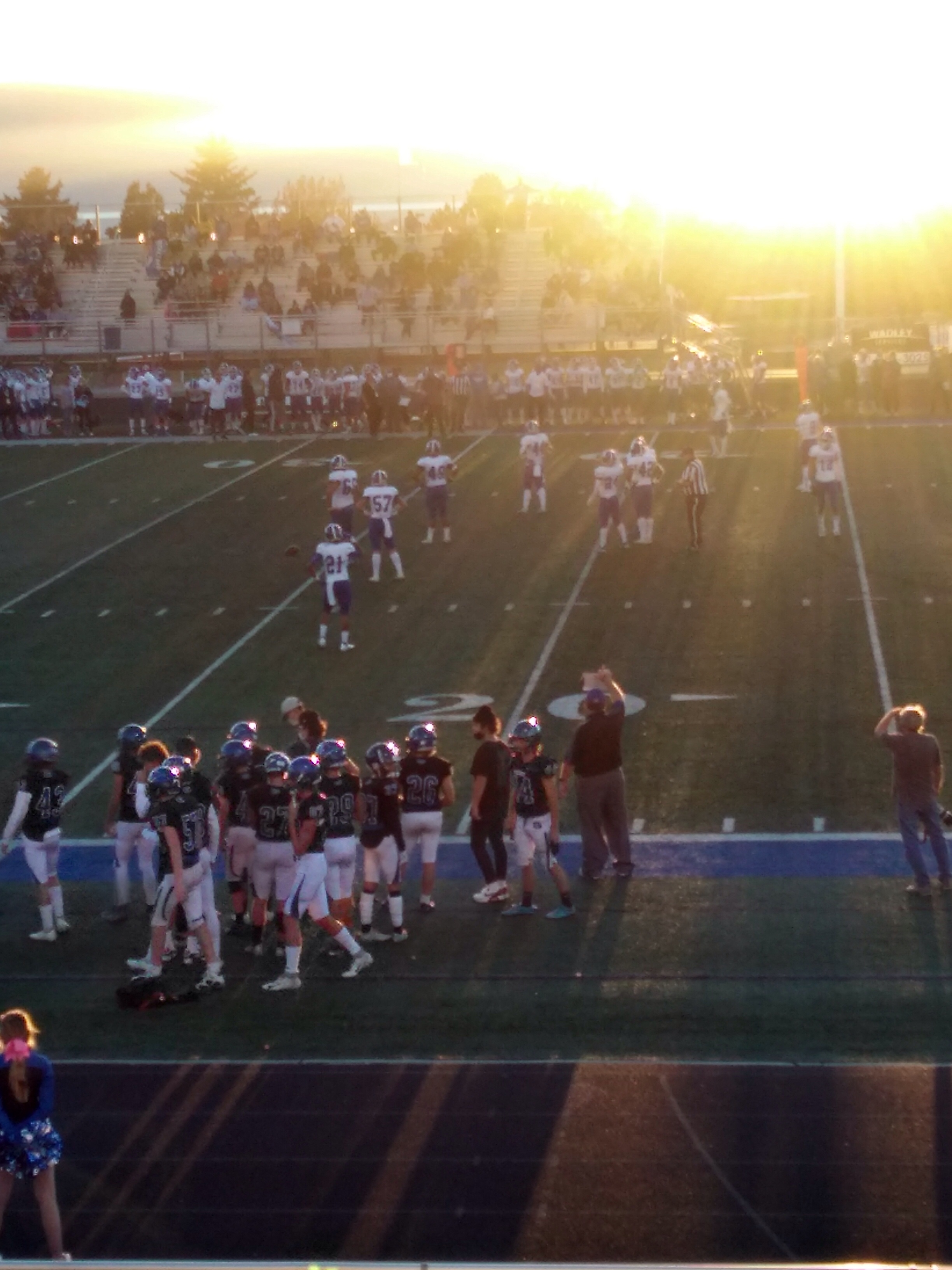 Football, like everything in 2020 was different this year. Social distancing, masks and each boy got five tickets. Often we didn't even use all five. Today, it was my lovely wife and me there to watch our son's final game.
We had to buy tickets in advance. Everything is online and paperless. Coming into the high school stadium we headed up to get our phone scanned. The ticket taker asked us
Are you BYU fans?

Excuse me?

I mean Pleasant Grove.
It was an honest mistake. I was wearing a classic blue and white BYU sweatshirt. We all came wearing sweatshirts, and coats. It's been cold in Utah recently. Not today. It was warm. Sitting in the home field stands on the East side of the stadium we had a great view of the 4:00 sun.
The sweatshirt didn't last long. Underneath I was wearing a classic blue and white Pleasant Grove Vikings T-shirt. Many fans were in classic PGHS colors. One of the cheers that Viking cheerleaders use is
Blue. . .and white
Fight, fight, fight
Blue. . .and white
Fight, fight, fight
At least I think that's what the cheer was. Cheers like Army marching cadances are not particularly complex.
My lovely wife pointed out that Bingham's colors were also blue and white.
It was a great high school game, although my son didn't get a chance to play. The score back and forth. And Bingham won it on a last second field goal. The tournament is single elimination, so Bingham will move on and PG will turn in their uniforms. Their blue and white uniforms.
As we gathered our stuff and exited the stadium I thought about rooting for the blue. It's the catch phrase for the Seattle Mariners who's colors are blue and teal.
I should know. It was the cap I word to the game.
Stay safe
Rodney M Bliss is an author, columnist and IT Consultant. His blog updates every weekday. He lives in Pleasant Grove, UT with his lovely wife, thirteen children and grandchildren.

Follow him on
Twitter (@rodneymbliss)
Facebook (www.facebook.com/rbliss)
LinkedIn (www.LinkedIn.com/in/rbliss)
or email him at rbliss at msn dot com

(c) 2020 Rodney M Bliss, all rights reserved