I'm Sorry I Was Late. . .But, I Didn't Want To Come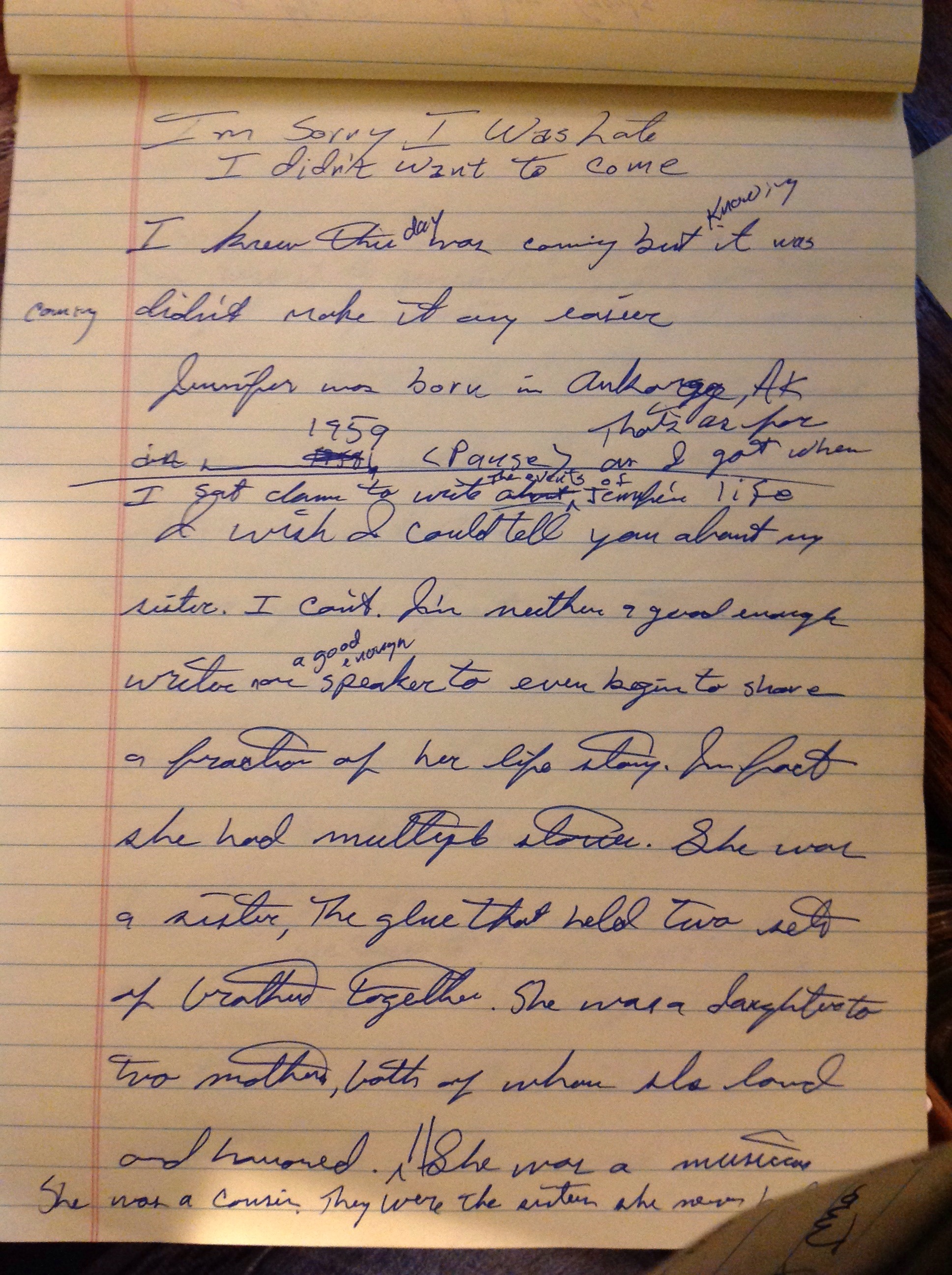 These are the remarks I delivered at my sister's funeral on Saturday September 12, 2020 in Olympia, Washington.
===============================
I knew this day was coming. But, knowing it was coming didn't make it any easier.
Jennifer Bliss was born in 1959 in Anchorage, Alaska.
. . .
That's as far as I got when I sat down to write the events around Jennifer's life. I wish I could tell you about my sister. I can't. I'm neither a good enough writer nor a good enough speaker to even begin to share a fraction of her life story. In fact, she had multiple stories.
She was a sister, the glue that held two sets of brothers together.
She was a daughter to two mothers. Both of whom she loved and honored.
She was a cousin. They were the sisters she never had.
She was a musician. Her hands were too small to play the violen or piano. She played them anyway. She passionately pursued her goals. No matter where they took her. She got a degree in and taught music.
She was a daughter of God. Sharing her faith with her brothers and staying loyal to it throughout her life.
She was a traveller. After high school she earned enough money for a two week stay in England. She returned three years later. Just recently she accompanied her mother to Germany. She was planning at least two trips when she died.
She was a teacher. In addition to music, she taught 5th grade. She taught at the Dragon School at Oxford. . .although, not to actual dragons. She taught her brothers to drive, and how to be better men.
And in the last several years she was an advocate. Her former colleagues speak at length of the impact she had in the Washington Mental Health field and on each of them.
She was a mother to three beautiful daughters and a grandmother to six precious grandchildren.
She was an aunt and a great aunt (in more ways than one) many times over.
And she suffered, struggled with mental health issues throughout her life. We feared at times that would be what killed her. But, she vanquished her demons. . .at least for a time. Mental illness never really goes away. She would be the first to acknowledge that. It was her mental health journey that led her to become an author. She wrote "Make bright The Arrows," chronically the ups and downs of her journey to recovery. As her brother it was hard to read those stories at times.
She was also a friend. We've all experienced her advice, her advocacy, her help and her love.
This is supposed to be a life sketch and as I started trying to write down where she'd been and grew up and when she moved and where, I realized those dry pieces of data aren't Jennifer. Her life was so rich, full and diverse, there was no way I could do justice to even one of her many life stories and certainly not all of them. And like an overly long Academy Award speech, I would certainly miss people, events and stories that are crucial to who she was. . .So, I'm not going to try.
She was the only sister I've ever had. I miss her terribly. I never wanted to be giving this speech. I didn't even really want to be here. Because being here means she is not. My sister loved everyone I suspect.
I know she loved me, my brothers, our parents, her cousins, her daughters and grandchildren. And having read some of the messages you've written, I know she shared that love with you too. And that's the legacy she'll leave to all of us; have love and compassion for those around you.
Thank you for the opportunity to share with you a little about my sister. While I appreciate the opportunity, I really didn't want to be here.
Rodney M Bliss is an author, columnist and IT Consultant. His blog updates every weekday. He lives in Pleasant Grove, UT with his lovely wife, thirteen children and grandchildren.

Follow him on
Twitter (@rodneymbliss)
Facebook (www.facebook.com/rbliss)
LinkedIn (www.LinkedIn.com/in/rbliss)
or email him at rbliss at msn dot com

(c) 2020 Rodney M Bliss, all rights reserved