Book Review: Garth Brooks The Anthology|Part 1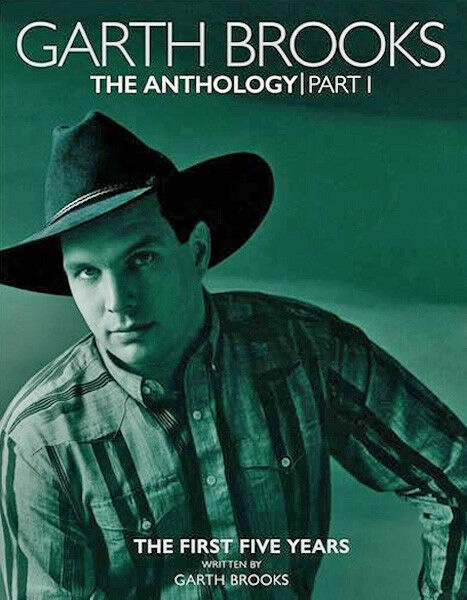 Garth Brooks The Anthology | Part 1
The First Five Years
– By Garth Brooks
I'm a Garth Brooks fan. Most people who are willing to shell out $28 dollars for a collection of songs he already owns, is probably a fan. The fact that the songs came wrapped in a 237 book of pictures and stories was a bonus.
I wasn't sure what to expect when I started reading through this coffee table style book. The book is pretty simply organized. It goes through the background of the writing of each song. And it talks about each album.
About half-way through I realized the format. I mean, I could have looked at the table of contents. But, even that ToC seemed random. But, at about the 105 page mark, as the book started talking about Robing The Wind, I realized that Garth was taking us through the songs on each album. Suddenly the format made a lot more sense.
One of the most surprising things about the book was realizing that Garth Brooks is a writer. I had noticed his name on many of the songs, but assumed that he had added a word or a phrase, and that was the extent of his contribution.
In fairness, I think I was unduly influenced by the live version of Brooks' hit song, "Friends In Low Places." The second verse includes the lines:
Hey, I didn't mean
To cause a big scene
Just give me an hour and then
Well, I'll be as high as that ivory tower
That you're livin' in
During his live show, Garth sings a third verse. It contains the lines:
Hey I didn't mean
To cause a big scene
Just wait 'til I've finished this glass
Then sweet little lady
I'll head back to the bar
And you can kiss my ***
I thought, "I he wrote that third verse I'm not impressed. I don't know if he wrote the third version or not, but after ready Part 1, I've come to realize that Brooks is an exceptional song writer.
The other educational information was learning exactly how a team puts an album together. It's not just finding nine or ten songs and sticking them on a CD.
It will be interesting to see if the album format will survive streaming and online sales. Albums used to be events. And to some extent they still are. But, who ever hears the six or seven songs that never get released as singles?
What I Liked
The book was extremely entertaining. I found myself, especially after I figured out the format, looking forward to the next album, the next year.
Being a Garth Brooks fan, it was wonderful hearing the stories behind my favorite songs. I especially enjoyed learning the stories of the less famous songs.
It was also enjoyable to get to know more about Garth's collaborators and producers. The people and their stories are as intersting as the music stories.
Finally, it was wonderful to hear how a young kid from Oklahoma became the biggest thing in country music.
What I Didn't
I've already metioned the issue I had with the format. While the pictures added a much fuller picture, many of them weren't captioned. Many of the pages included pull quotes. The information in these pull quotes was also included in the body of the text. The format works well for browsing the books, but when trying to read they were very distracting.
Honestly though, these are minor points.
What It Means To You
If you are a Garth Brooks fan, this book is an excellent contribution to your library. However, if you are an aspiring song writer, or singer, or producer, this book is actually a great story of what it looks like when it all comes together. It won't make you a successful recording artist. But, it will show you what a successful artist looks like before they become famous and how the road to success is partly luck, but mostly a lot of hard work and deliberate decisions.
My Rating
Four out of four stars. I really enjoyed this book and was surprised to find that I learned things I didn't even know I wanted to know.
Stay safe
Rodney M Bliss is an author, columnist and IT Consultant. His blog updates every weekday. He lives in Pleasant Grove, UT with his lovely wife, thirteen children and grandchildren.

Follow him on
Twitter (@rodneymbliss)
Facebook (www.facebook.com/rbliss)
LinkedIn (www.LinkedIn.com/in/rbliss)
or email him at rbliss at msn dot com

(c) 2020 Rodney M Bliss, all rights reserved