Encounters With Greatness
I'm sorry. I don't mean to interrupt, but can I ask you question? Did you drive the 43 car?

Yes, I did.
I was standing in the middle of Atlanta's Hartfield airport. I just got off the plane from Salt Lake. I'd noticed him in the gate area in SLC. It's hard to miss him: black cowboy hat, feather hat band, sunglasses, bushy black mustache with black boots and jeans and a huge belt buckle with the letters "RP" on it.
It was either him, or someone that was trying really hard to impersonate him.
He was the G.O.A.T. Most sports have one.
Swimming? – Michael Phelps
Basketball? – Michael Jordan
Hockey? – Wayne Gretzky
Boxing? – Muhammad Ali
Some sports don't have one.
Baseball? Could be Ruth. Could be Mike Trout. Could be Mariano Rivera. Could be Griffey Jr or Ichiro. (Could NEVER be Bonds or Clemens.)
Football? Maybe James Brown. Maybe Manning. Maybe Walter Payton
His was NASCAR.
Is it a sport? 500,000 people watching the Daytona 500 think it is. And he won there 7 times. He won 200 NASCAR races. The next closest? David Pearson won 105. He won the Winston Cup Championship trophy 7 times, tied with Jimmie Johnson and Dale Earnhardt.
He transcended generations. To my uncle's generation, he was a race car driver. To my kids, he's the voice of Mr The King in the Pixar Cars movies. The thing is, he really was the king. Before LaBron James or Felix Hernandez adopted that nickname, there was Elvis and the driver of the #43 car.
I didn't ask to take a picture. I didn't want to bother him and honestly, in person he looks just like his picture.
It was only a brief encounter in an airport. It shouldn't make a difference to my state of mind. And yet, knowing I'd just shaken the hand of the greatest driver ever made me smile all through my next flight.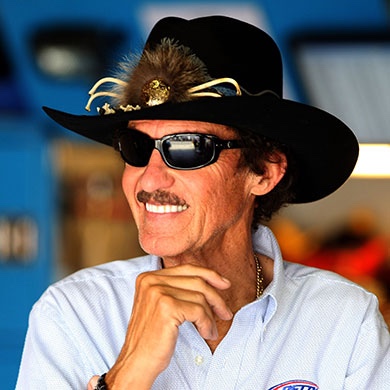 King Richard Petty. The best there ever was.
Rodney M Bliss is an author, columnist and IT Consultant. His blog updates every weekday. He lives in Pleasant Grove, UT with his lovely wife, thirteen children and grandchildren.

Follow him on
Twitter (@rodneymbliss)
Facebook (www.facebook.com/rbliss)
LinkedIn (www.LinkedIn.com/in/rbliss)
or email him at rbliss at msn dot com

(c) 2019 Rodney M Bliss, all rights reserved