Made A Plan. Didn't Follow It. Worked Great
I went to the woods because I wanted to live deliberately.
-Thoreau
David Thoreau never stayed at the KOA campground in Hurricane Utah. (BTW, you pronounced it wrong. It's HERR-i-kin. Welcome to Utah.)
What kind of vacations do you take? Do you plan your outing to the last minute? Schedule to ensure you get the most value for your vacation dollar/time?
Or do you have a general destination in mind and then see what the day brings?
The problem with the second version is what if the day brings nothing? What if the day brings a lot of sitting in your room staring at the walls?
But, sometimes it doesn't happen that way.
About 20 years ago, I had a chance to go to Athens on business. I scheduled an extra day in the city because. . .it's Athens! I didn't have anything specific in mind. Sure, I wanted to visit the Acropolis. And friends had told me I had to experience the Placa, the large market at the base of the Acropolis. But, other than that, I didn't have a plan.
When it came time for dinner, I wandered around the area of the city I was in. As I walked down a set of stairs I realized two things. First, these stairs were actually part of a street. And two, the "street" bisected a restaurant. Some tables were on one side of the street and more were on the opposite side of the street. I had no idea what the name of the restaurant was.
I was shown to a quiet seat in a corner. I think it was obvious I was an American, despite my best efforts to not stick out. My waiter looked exactly like you would expect him to look. Very Greek. Very friendly.
What can I get you, sir?

I've never been to Athens before. I wonder if you could recommend some uniquely Greek menu items.

I know just the things. Leave it to me.

I am in your hands.
I don't remember what I ate. But, it was delicious. And the fact it was served by a charming Greek man in a endearing Greek restaurant that span a set of stairs that were actually a street, made it a memory that hasn't dimmed after 20 years.
I couldn't have planned it better. I didn't plan it at all.
My kids and I are on vacation. (Not Getting Away. Not Letting Go.) We are in the St George area. Last year my lovely wife brought them and I couldn't make it. This year, she wasn't able to come. But, my oldest son is getting ready to leave on a two year mission. My daughter is a senior and planning to head down the road to BYU next fall. Her older sister is saving her money to prepare for a mission.
I won't have this group home again. So, off we came. We're in a KOA Kampground. KOA is camping. . .with amenities. Showers, pool, wifi, electricity. All six of us (two younger sons as well) are crammed into a pop up tent trailer. So far it hasn't been too bad trying to get everyone to settle down quietly. The freeway noise from a quarter mile away, not so much.
Today we headed over the St George Temple for the Church of Jesus Christ of latter-day Saints. After that, our schedule was open.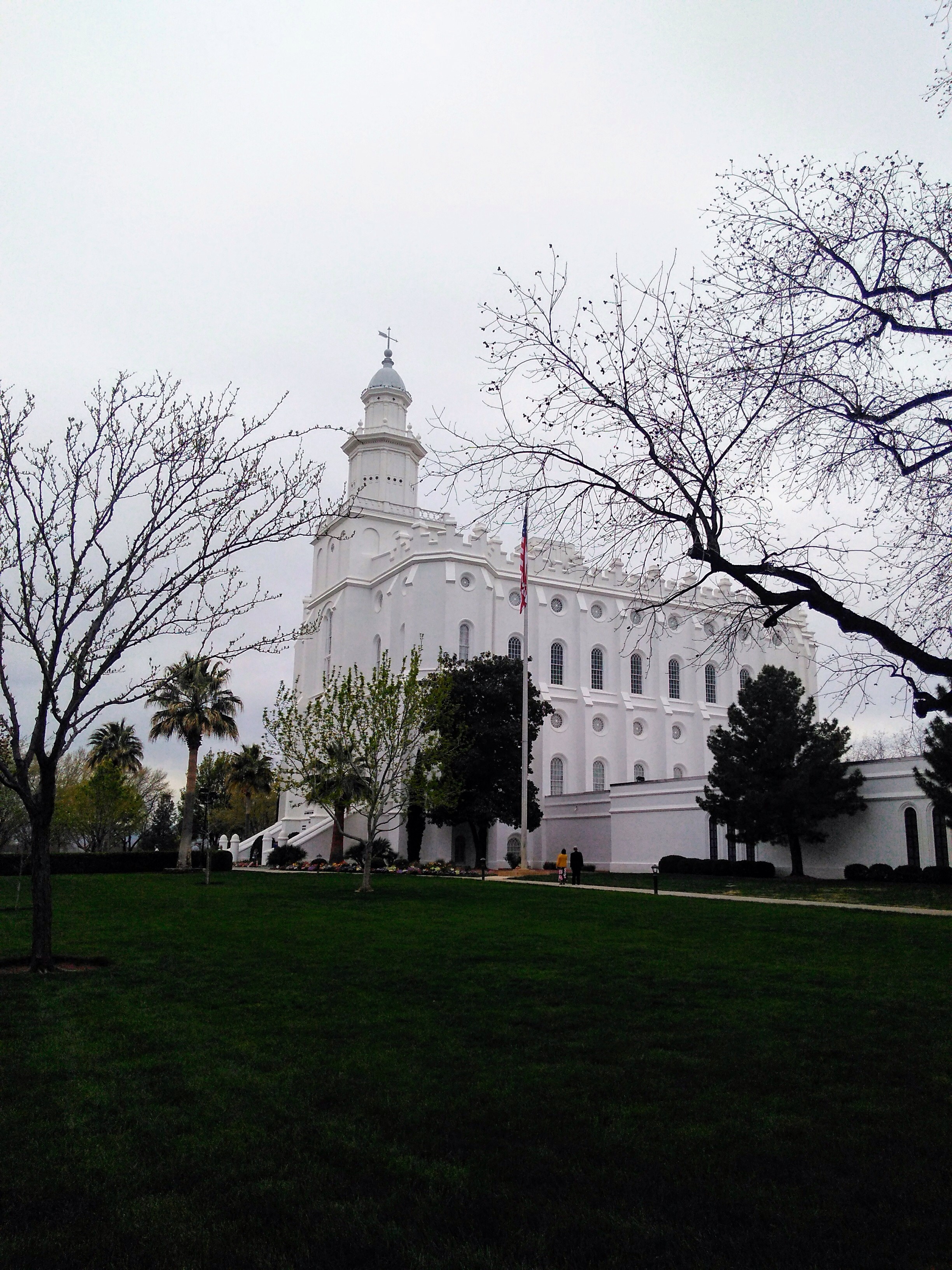 We tried to find the "Harrisberg ghost town." It must actually be a ghost, because Harrisberg isn't that big and we couldn't find it. We tried to find the Silver Reef museum. There were signs all over for it. We couldn't find it. (I think it was actually pointing at a strip mall.).
My son wanted to find a field and play football. . with his two brothers. My daughter wanted to go to the mall. So, we found out park and my boys threw a football around. And then we went into St George and went to the mall. On the way out of town, my older daughter saw an outlet for the store she works at in Utah county.
Daddy, can we stop at DI?

Sure.
Was it on the schedule? Nope. Did anyone care? Nope. Did we drive four hours to go to the mall and toss a football around? Yep.
Was it worth it?
Oh yeah.
And, of course, work called.
Rodney M Bliss is an author, columnist and IT Consultant. His blog updates every weekday. He lives in Pleasant Grove, UT with his lovely wife, thirteen children and grandchildren.

Follow him on
Twitter (@rodneymbliss)
Facebook (www.facebook.com/rbliss)
LinkedIn (www.LinkedIn.com/in/rbliss)
or email him at rbliss at msn dot com

(c) 2019 Rodney M Bliss, all rights reserved