G.O.A.T.s At The Airport
I spent the week in Louisville Kentucky. It's one of my favorite cities. It's home to the Louisville Slugger Museum (…But Sometimes I Get Lucky.) It's also home of the Kentucky Derby. And the third star in Louisville's crown of achievements is the Muhammud Ali Center.
The champ was born and died in this northern Kentucky town. The city is justifiably proud of their native son. While I was in town this time the city made the announcement that the airport will be renamed Louisville Muhammad Ali International airport.
I would imagine they will still shorten it to Louisville, and the designation will no doubt remain SDF. But, I do wish that the change was more widespread. It would be fitting to hear, "Welcome to Muhammad Ali's airport." Or to have my luggage show
SLC –> ALI
Regardless, it's wonderful to see the man continue to be honored. He had his detractors, certainly, but he is one of my American heroes.
I met him once. Ironically, it was at an airport. It was North Bend, Indiana, I think. I was flying back from a trip and was at the airport on a Wednesday. Not a busy travel day.
As I checked in at the Delta counter, the ticket agent was unusually chatty.
Bet you can't guess who just checked in?

Huh?

Muhammad Ali. He's over in terminal two.
I had to decide. Did I want to be that guy? Celebrities are people. They don't want to be bothered in public. I mean really, how many celebreties would I be interested in meeting in person, just to say I'd shaken their hand.
I did the math in my head. I rolled through the TV and movie actors of the day. No.
Political figures? Nope.
Active athelets? Not really.
Retired atheletes? Just one.
Honestly, he was the only person I could think of. And if I passed on the chance would I care in 5 years? Ten? Twenty? Yes, yes I would. I headed for Terminal Two.
He was sitting with a group of four or five. No one else was in the terminal.
Excuse me, I don't mean to bother you. But, I just wanted to say how much I respect you.
Parkinsons had robbed his speech and age had slowed his responses. But, he was still the consummate professional. He slowly stood and shook my hand. We posed for the obligatory awkward photo.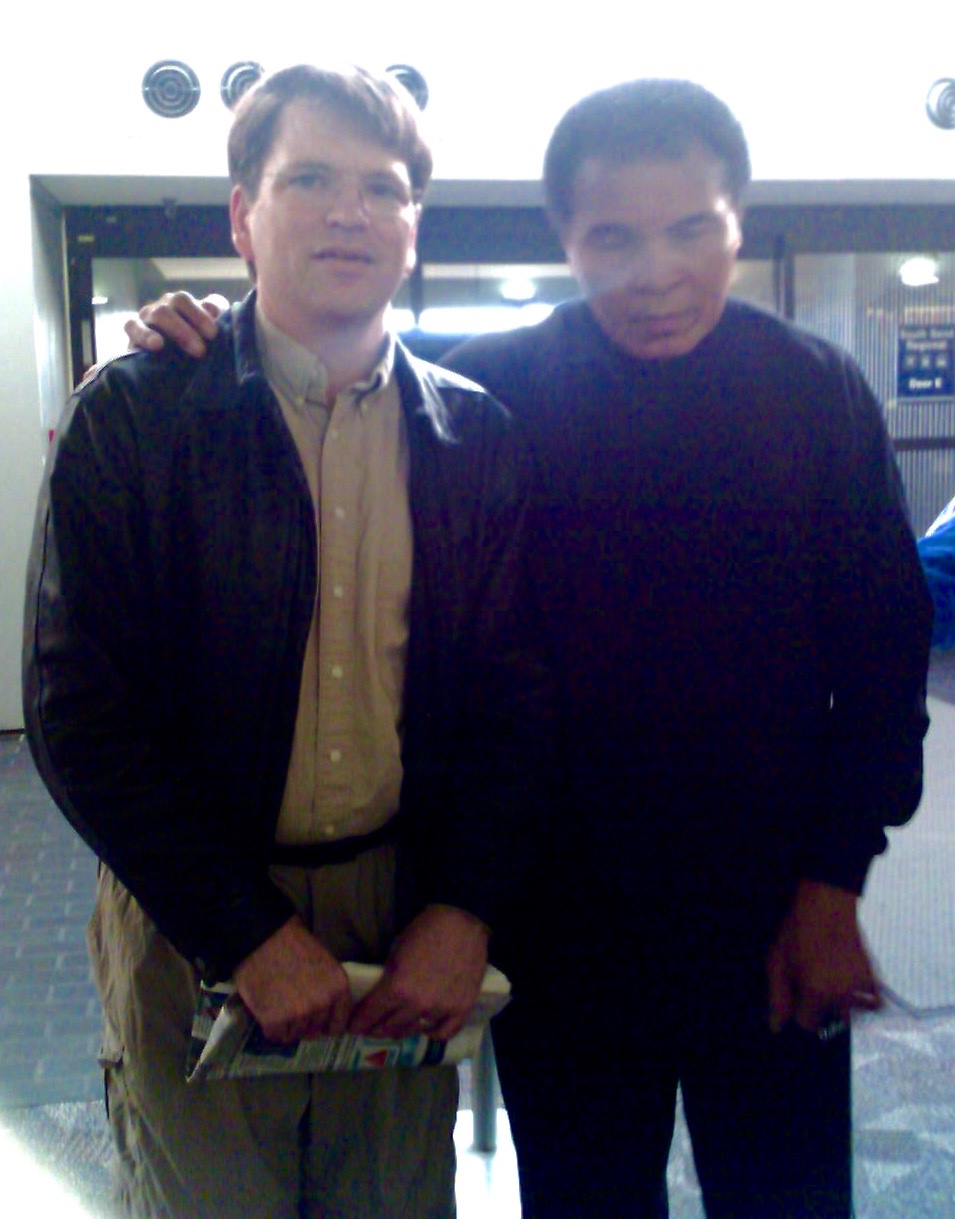 It was obvious the encounter was complete and he moved to return to his seat.
Thank you. My wife and I recently adopted a sibling group of black children. Some of them want to be athletes. I just want to say that as they grow I hope they attempt to model themselves after you and your daughter Laila.
And at those words he reached out his hand to shake mine a second time. Other people had by now stopped by to shake his hand and get an awkward picture.
It's been many years, maybe as many as twenty. Do I care that I went up and bothered a celebrity at the airport?
Yes I do.
It isn't everyday you get a chance to meet the (G)reatest (O)f (A)ll (T)ime.
RIP champ. It will be a pleasure to fly into your airport.
Rodney M Bliss is an author, columnist and IT Consultant. His blog updates every weekday. He lives in Pleasant Grove, UT with his lovely wife, thirteen children and grandchildren.

Follow him on
Twitter (@rodneymbliss)
Facebook (www.facebook.com/rbliss)
LinkedIn (www.LinkedIn.com/in/rbliss)
or email him at rbliss at msn dot com

(c) 2018 Rodney M Bliss, all rights reserved