Best of 2018 #2: A Day That Definitely Did NOT Go According To Plan
The second most popular post from 2018 had a very patriotic theme to it. One of the coolest things I got to do all year was be involved with the Follow The Flag organization. They displayed the largest free flying US flag in the world across the mouth of Grove Creek Canyon.
Well, that was the plan. It didn't go according to plan.
Originally posted July 4, 2018
===========================================
My feet hurt. You are supposed to break in new boots before you go hiking in them. I went on a fairly agressive hike today. But, I didn't mean to. I also didn't mean to be hiking up Grove Creek Canyon in a long line of men, boys, women and girls hauling a 450 lbs flag. No, today, definitely didn't go according to plan. My little town of Pleasant Grove, Utah dreams big. Three years ago, a local man named Kyle Fox decided to surprise the community by flying a flag on the Fourth of July . That might not sound so suprising, except he was flying it suspended 600 feet over the mouth of Grove Creek canyon. You might think it would be hard to see a flag that high off the ground. To compensate for that, Kyle got a big flag. A really big flag. In fact, at 75 ft by 155 ft, it's the largest free flying United States flag in the world. That's a big flag. What started as an amazing gesture to his community has turned into a weeklong series of events directed by the Follow The Flag Organization. (followtheflag.org.) The main event is the unfurling of "Big Betsy" as the sun peaks over the tops of the Rocky Mountains on July 4th. Things didn't go according to plan. The flag failed to unfurl fully. The problem is the canyon winds beat at the flag in it's compromised state. It ripped. It tore. It literally twisted itself into knots. And then, it came down. Actually, the volunteers brought it down. The town held it's breath as the volunteers assessed the damage. One challenge was how do you manage to lay out a flag that large? Well, you turn a blind eye to the "flag shouldn't touch the ground" rule and you use the local high school football field.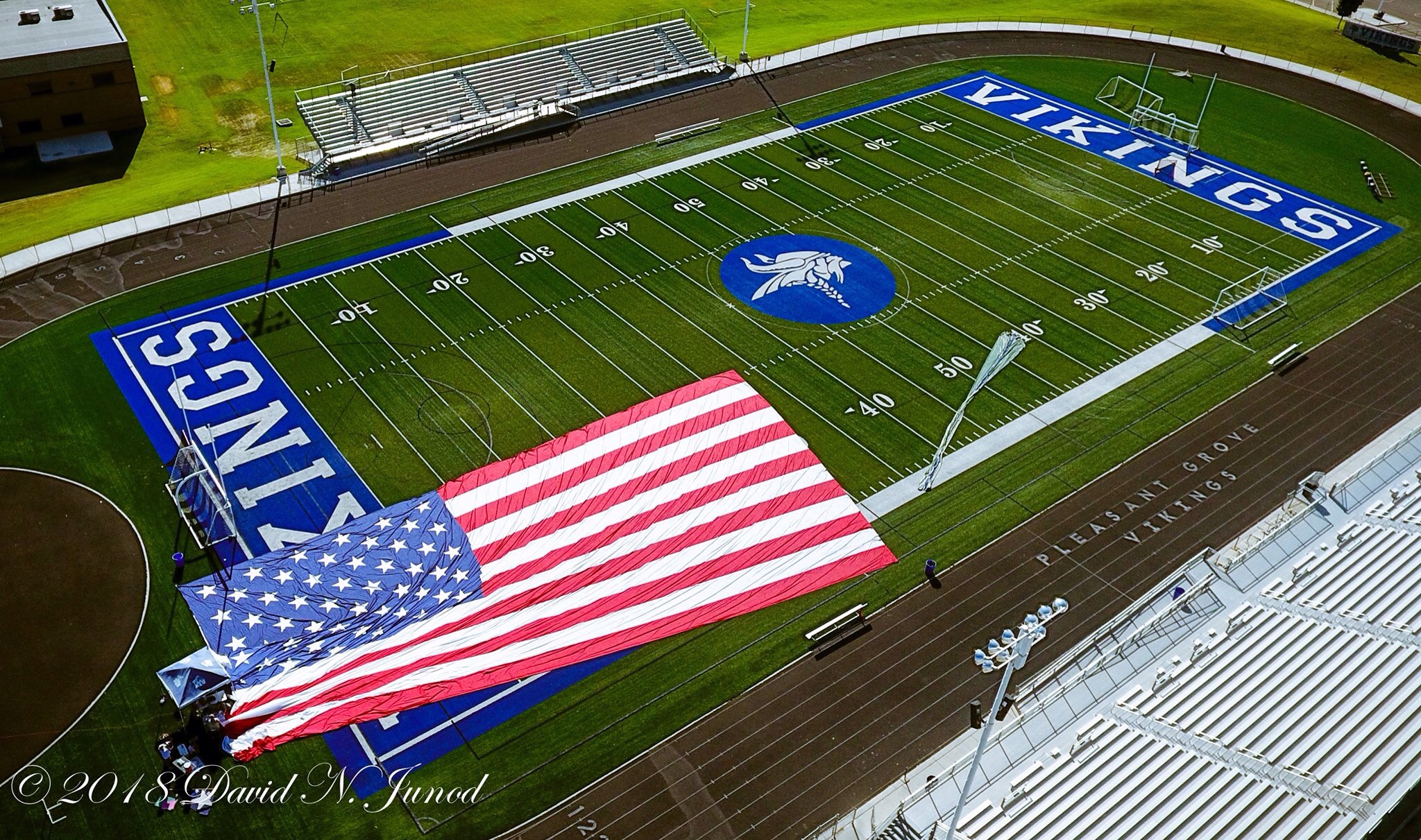 (Photo Credit: David N Junod)The rips were not as bad as at first feared. Three seamstresses were called in to work their magic and like Rumplestiltskin, spin treasure. But, these ladies didn't have all night, they had three hours. Kathy Sweat ran a professional Brother sewing machine.Gaylyn Dalley ran a 1932 Pfaff machine that looked like your great grandmother might have used it. Liz Vincent provided expert direction drawing on her years of experience, much of it working with Kathy and Gaylyn at Pykes many years ago.Pleasant Grove Vikings football is a pretty good team, but these ladies were a literal all star team. I know this because I watched them repair one of the 5 foot tall white stars. When the sewing was done, it was time for the packaging. Twenty five people line the edge and slowly pull the flag toward them, one 2 foot wide fold at a time. When it's finished, it's wrapped in it's green carry case and like a giant anaconda, snakes it way, supported by volunteers to the waiting truck. Next, it's off to the mountains. Typically, the team spends from July 1-July 3 prepping the flag for display. Today, we had a couple of hours. It was still early enough in the day that we appreciated the "shady" trail as we formed a human train. On one shoulder was the flag, in the other hand was my walking stick. My knees are bad and that's not an easy trail. We went up the South side of the canyon switched back toward the West as we crested the top 1000 feet above the canyon floor. We then came down another 400 feet on what might someday become a trail for goats. I love my little town. We turned out to enjoy a free show and then many of use ended up working. And working hard. However, I didn't hear a single complaint. I didn't hear a single cross word even. This was our celebration at risk and we each felt that it was our responsibility to fix it. We may end up a day late displaying in the world's largest free flying American flag. That's okay. The day might not have turned out the way we planned, but that's also okay. And I now have blisters on my feet from hiking in new boots. But, considering the cause, I guess that's okay too.
Rodney M Bliss is an author, columnist and IT Consultant. His blog updates every weekday. He lives in Pleasant Grove, UT with his lovely wife, thirteen children and grandchildren.

Follow him on
Twitter (@rodneymbliss)
Facebook (www.facebook.com/rbliss)
LinkedIn (www.LinkedIn.com/in/rbliss)
or email him at rbliss at msn dot com

(c) 2018 Rodney M Bliss, all rights reserved