Book Review: for one more day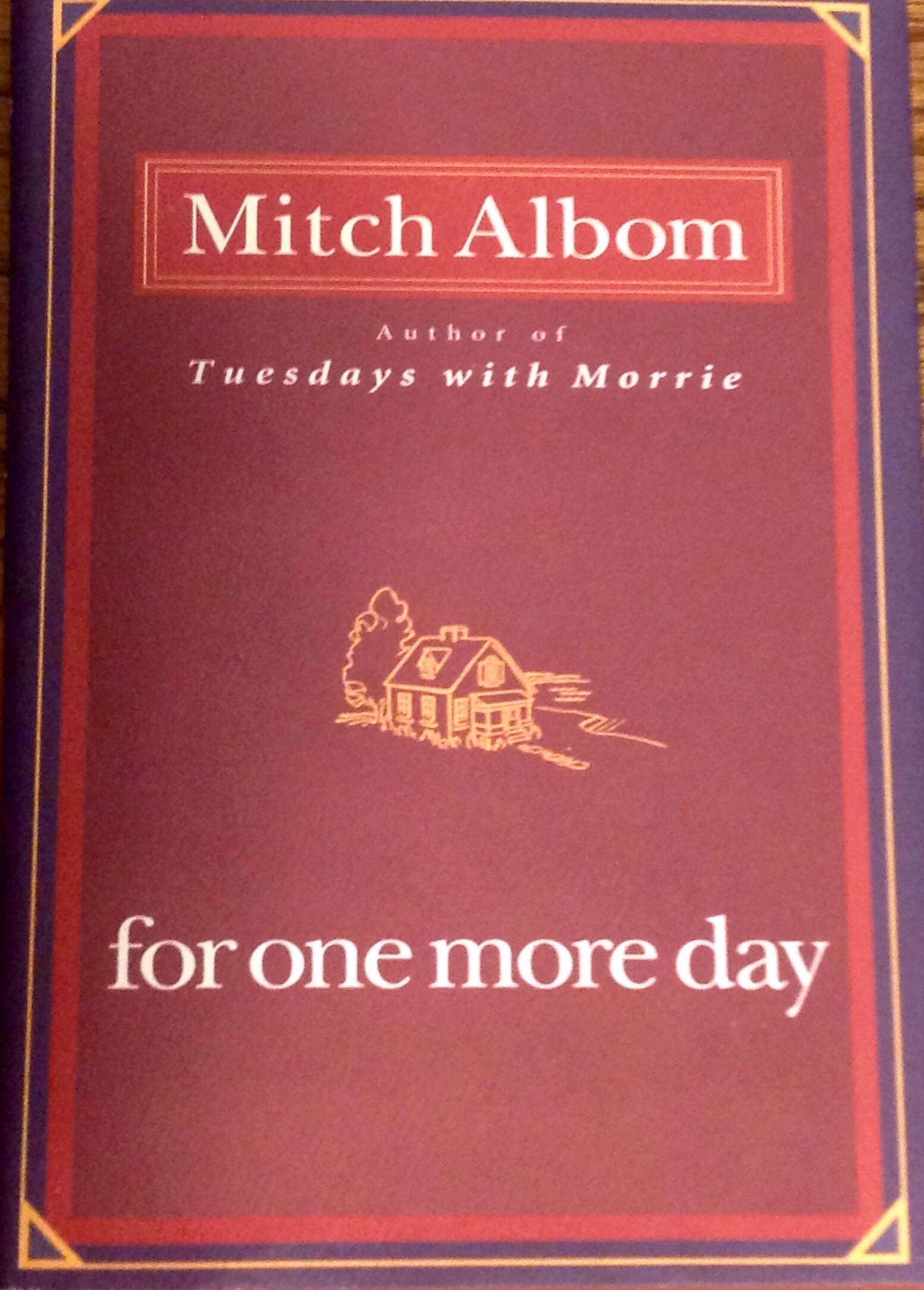 You've probably never heard of "for one more day." (The title is specifically lower case, so I'm trying to honor that.) It's by Mitch Albom. That name is familiar to some of you. If I told you he wrote "Tuesdays with Morrie," you've probably heard of that book. Albom also wrote "The Five People You Will Meet In Heaven." "for one more day" is the only one of the three I've read.
I don't much care for "message books." Books that use a story to teach you a principle. For example, "Who Moved My Cheese" is a business book about change. It uses the story of mice in a maze to tell the point. The book is interesting enough, but when I finished it I thought it could have easily been titled "Change happens: deal with it."
I can see I've backed into this book review completely backwards.
Let me try again. I don't know if "for one more day" is a message book or not. It's just short of 200 pages. So, it's a quick read. The story is about Chick, a former professional baseball player who has just a brief taste of the pinnacle of baseball success: playing in the World Series, and spends the rest of his life never quite living up to that standard again. In the process he destroyes his relationship with his mother, his wife, his daughter, and ultimately his father, although only because he cannot ever measure up to his father's goals for him.
Ultimately, Chick tries to kill himself. Even in that he fails. In the process, through the magic of the story, Chick gets one more day with his mother. Of course, she was already dead, but that didn't stop her from picking up right where she left off with him.
The book is ultimately about redemption, forgiving yourself and appreciating those around you. As a huge baseball fan, I enjoyed the chance, via the narrator to hear about what it's like to finally get to the major leagues and the World Series. It's not a baseball book, and I suppose Chick could have really had any profession, but the fact it was baseball, this time of year when Spring Training has just started, was a wonderful addition for me.
You might think that Chick's extraordinary circumstance would make his redemption story hard to relate to. He went from the highest of highs (for a baseball fan) to the lowest of lows. But, it speaks to Albom's skill as a writer that the message of the book comes through clearly. All of us have mothers. Most likely we could have all been better sons and daughters. If your mother has passed on, it's not hard to imagine the desire to spend just one more day with her. What would you say? What would you ask?
What I Liked
Obviously the baseball references, but really I enjoyed the flow of the story. Albom takes the reader back and forth between the past, the afterlife and the messy here and now. The transitions are smooth and flow naturally with the writing. While Chick was reconciling with his mother, I spent time thinking about my mother. She's in great health and we talk often. But, still I had the urge several times to put down the book and call her. And at the end of the book as Chick goes to say goodbye to her, the right way this time, Albom brings us to that same place emotionally.
What I Didn't
Chick wasn't a very nice person. He takes some getting used to. It's important for the story for us to not only like, but to identify with Chick. Albom accomplishes it, but not without some periods where Chick's self reflection forces our own self reflection. I didn't think the book would make me think about my feelings this much. Was it a good thing, ultimatly? Sure. Doesn't mean it was always pleasant.
What It Means To You
Honestly, I cannot imagine anyone who wouldn't like the book. The "message" if there is one is delivered with such a light touch that it's easy to simply focus on wonderful storyteling. It will definitely make you want to call your mother.
My Rating
4 out of 4 stars
Rodney M Bliss is an author, columnist and IT Consultant. His blog updates every weekday. He lives in Pleasant Grove, UT with his lovely wife, thirteen children and grandchildren. 

Follow him on
Twitter (@rodneymbliss)
Facebook (www.facebook.com/rbliss)
LinkedIn (www.LinkedIn.com/in/rbliss)
or email him at rbliss at msn dot com

(c) 2017 Rodney M Bliss, all rights reserved