A Real Life Field Of Dreams Story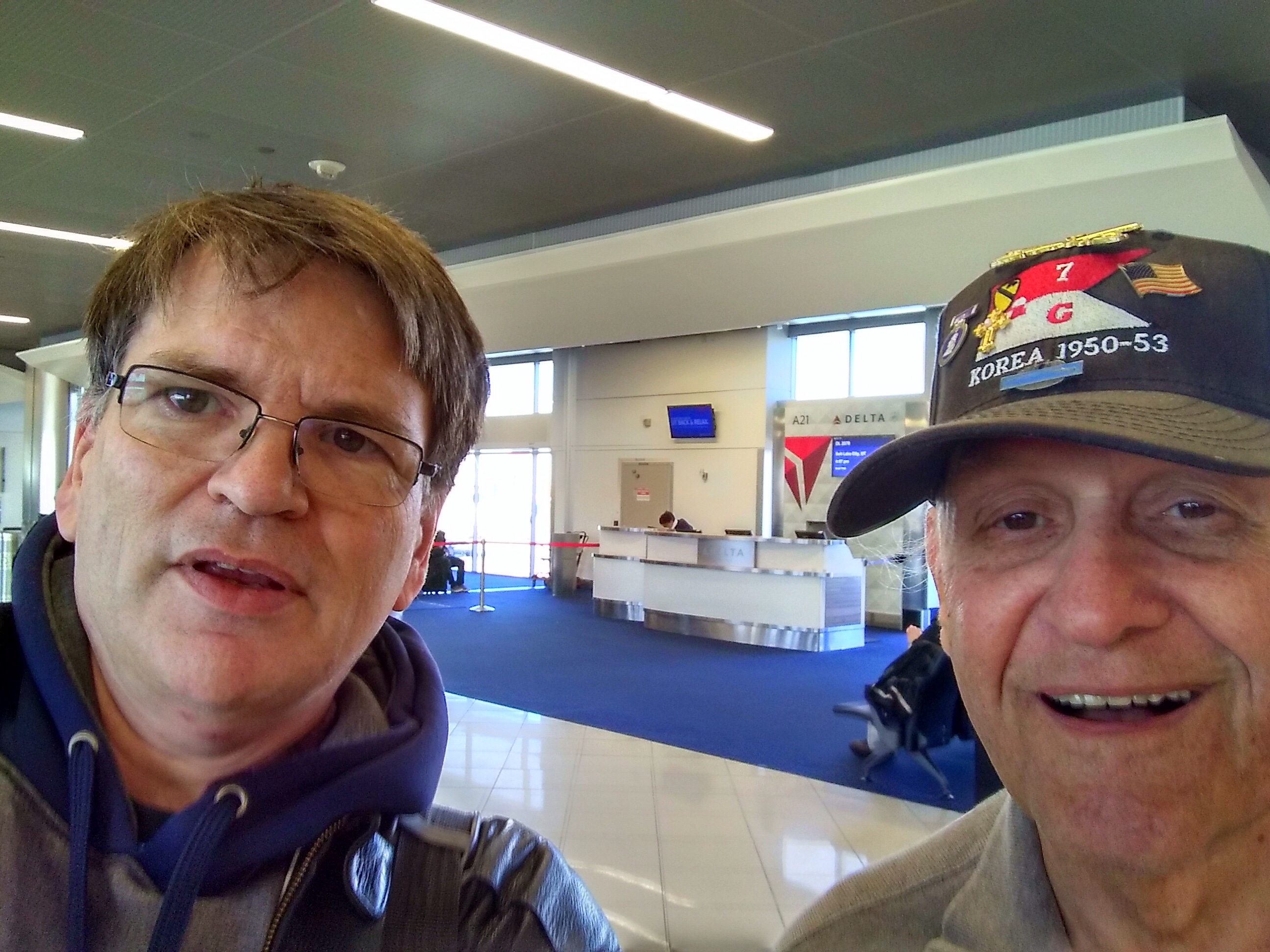 This is George Choma (pronounced Coma.) He's 88 years young and we had lunch together in Atlanta. Actually, we happened to be sitting next to each other at lunch. And it was at Atlanta's Hartsfield-Jackson airport. We were both waiting to catch a flight to West Palm Beach. He was headed there to visit his 96 year old sister. I was headed to check out our newest call center.
I typically travel very light and very quiet. In other words, I'm not that guy that's going to talk your ear off waiting for the plane. Instead I tend to put my head down and work at not being seen. It's not a phobia, I just don't engage a lot while traveling. I made an exception on that Tuesday afternoon, and I'm glad I did.
It didn't matter that I wasn't talking much, George did enough talking for both of us. Not that he was obnoxious about it. It was just clear that George liked people. He was talking to the bartender when I sat down next to him. What caught my ear was his mention of baseball.
See, George used to play professional baseball. It only took a listening ear to get him to share the story. He was a 3rd basemen in the Cubs organization. He played one season, in 1950. He batted .225 with 91 singles, 9 doubles, one triple and no homeruns. For my readers that aren't baseball fans, that's not an impressive line. But, it's also not terrible, especially for a rookie in the minors.
But, George had skills. At one point he was recruited by the Yankees, the Cubs and others. The great Cardinals pitcher Dizzy Dean scouted him for St Louis. In fact, he had an invitation to the 1951 Cubs training camp with a shot at playing 3rd base opposite the great Earnie Banks.
So, how come we've never heard of him? Even baseball fans would be hard pressed to recall George's forgettable 1950 season playing for the Union City Greyhounds.
Prior to that one season with the Cubs organization, George had been in the Army. He did a two year stint from 47-49. The war had been won, but we still had an army and a need for soldiers. George spent his two years playing basketball and baseball for the Army.
I remember one time we were here in Atlanta to play at Fort McPherson. It was a small army base in downtown Atlanta. The locals told us that the prettiest girls would walk up and down Peach Street. Well, we played and afterward you know what? We sat there and watched Peach Street, and there were no girls!
It was after that game that Dizzy Dean came looking for George. In two years in the Army, George batted .550.
And you know our fields weren't lit the best.
In his modest way, he was pointing out that he could have hit even better. Again, not all of you are baseball fans. Batting .550, means that for every 100 times that George got to the plate. He hit safely 55% of the time. (It's a little more complicated than that, because a walk, hit by a pitch or a sacrifice doesn't count as a plate appearance.) However, I can tell you that anything above .300 is considered very good. Hitting above .400 in the Major Leagues is nearly impossible. The last to do it was Ted Williams in 1941 for the Boston Red Sox.
George could play.
After his two year stint was up, George had his pick of any of the teams. He turned them all down.
I hadn't been home in over a year. I wanted to go home to Pennsylvania. And you know what? It's a good thing I did. I got home the 3rd week of August and my mother passed away suddenly from a heart attack in the beginning of September. If I'd taken any of those offers, I'd be playing ball and would have missed the funeral and the whole thing.
That casual acceptance of life's curveballs seemed to be how George lived his life. He eventually signed with the Cubs and played a year in the minors. He had his invitation to Spring Training and the chance to finally make it to the Majors.
And then his Uncle Sam came knocking again.
I told them down at the draft board. There was this lady. I don't remember her name, big fat woman, and I said, "You can't take me. I'm not in the reserves. I did my tour." Well, she said they were going to take me anyway. I said, "What about all them guys down at the pool hall? They're just loafing with no jobs." I had a letter from the Cubs. It didn't make no difference to her.
So, George was back in the service and headed to Korea. "Basica Training" consisted of 10 days of drills.
I didn't really train. They'd just post a notice on the bulletin board saying, 'Today we're practicing low crawl." I didn't need that. I went to the library and read a magazine or something.
George was shipped out with the 7th Cavalry. That's General Custer's old unit. They landed in Korea and went straight to the front.
They said, "We're going up this hill." Hill? It was a small mountain. Anyway, we got to the top and there was a squad there. They said, "Glad to see ya, fellas. We're rotating out. Y'all got your ammunition?" Well, I didn't have any ammunition. The seargent said, "Here, take mine." And then they pulled out.

I was a pretty lousy soldier.
It was during his tour that George got wounded in the arm. And just like that, his baseball career was over. But, like most things in life, George saw the positive.
It's good I got hit in the arm. It was really close to my heart.
George got out of the Army, for good this time, and like many in his generation, started a family. He eventually ended up in Long Beach, California where he became a journalist and printer. He worked for a paper in Long Beach for 43 years. He finally retired ten years ago at 78 years old.
George's wife passed away in 2005. Now, he splits his time between Long Beach and West Palm Beach. The first in California, the second a continent away in Florida. George comes down every two months. He comes in January and then he'll be back in March for Spring Training.
They let me in the games for free. They seat me right behind home plate. I get to sit with the scouts.
I asked him if it bothered him that he missed out on a professional baseball career?
You're kind of like Moonlight Graham in the movie "Field of Dreams."

What do you mean?

Well, in the movie Archie Graham was a player who only got to play a half inning in the majors. He later became a doctor in a small town. He never got to play more than that one day of a professional baseball career.

Not sure I've ever seen that movie. My granddaughter tells me I got a raw deal. I tell her that if I'd played in the Majors, I wouldn't have met her grandmother. She wouldn't even be here, so no, I don't regret it.
It sounded a lot like Field of Dream's Doc Graham. "A tragedy? No. Now, if I'd only gotten to be a doctor for one day, that would be a tragedy."
You can see George's 1950 stats for the Union Town Greyhounds here.
Rodney M Bliss is an author, columnist and IT Consultant. His blog updates every weekday. He lives in Pleasant Grove, UT with his lovely wife, thirteen children and grandchildren. 

Follow him on
Twitter (@rodneymbliss)
Facebook (www.facebook.com/rbliss)
LinkedIn (www.LinkedIn.com/in/rbliss)
or email him at rbliss at msn dot com

(c) 2017 Rodney M Bliss, all rights reserved