Flying Back In Time
It's the start of another week, I'm on another airplane. On my most recent flight, I flew back in time. Fortunately, the issue that I had last month haven't returned. (All Of A Sudden I Couldn't Breath.)
Our corporate travel office books my travel. I submit a request and they handle all of the arrangements, including seat assignments. For this trip to Virginia, I got my request in a little late. (Okay, it was a lot late. I got my final travel docs on Friday for a Sunday flight. When I went to check in it told me that for my SLC -> Atlanta leg, I was on Standby. Fortunately, I had all day to get there.
Of course, my shuttle to the airport had to pick me up at 6:00AM for a 9:30 flight. I got to the airport an the automated kiosk told me that I would have a seat assigned at the gate. It also didn't want to print out my boarding pass for my connecting flight in Atlanta. I had questions. Have you ever tried to ask an automated kiosk questions? Yeah, it's responses are pretty limited.
I got a nice seat near the gate and sat down to wait for the gate agent to arrive. My anxiety (I wasn't really anxious, maybe just a little concerned) was unnecessary.
How can I help you today?

Yeah, my name is Rodney Bliss. Um, my company booked the trip and it said I was on the standby list?

Let me check. . .No. You have a ticket for seat 28G. Here's your boarding pass.

Can I get a boarding pass for the next flight out of Atlanta, too?

Sure. Here you go.
On this particular flight row 28 is a bulkhead row.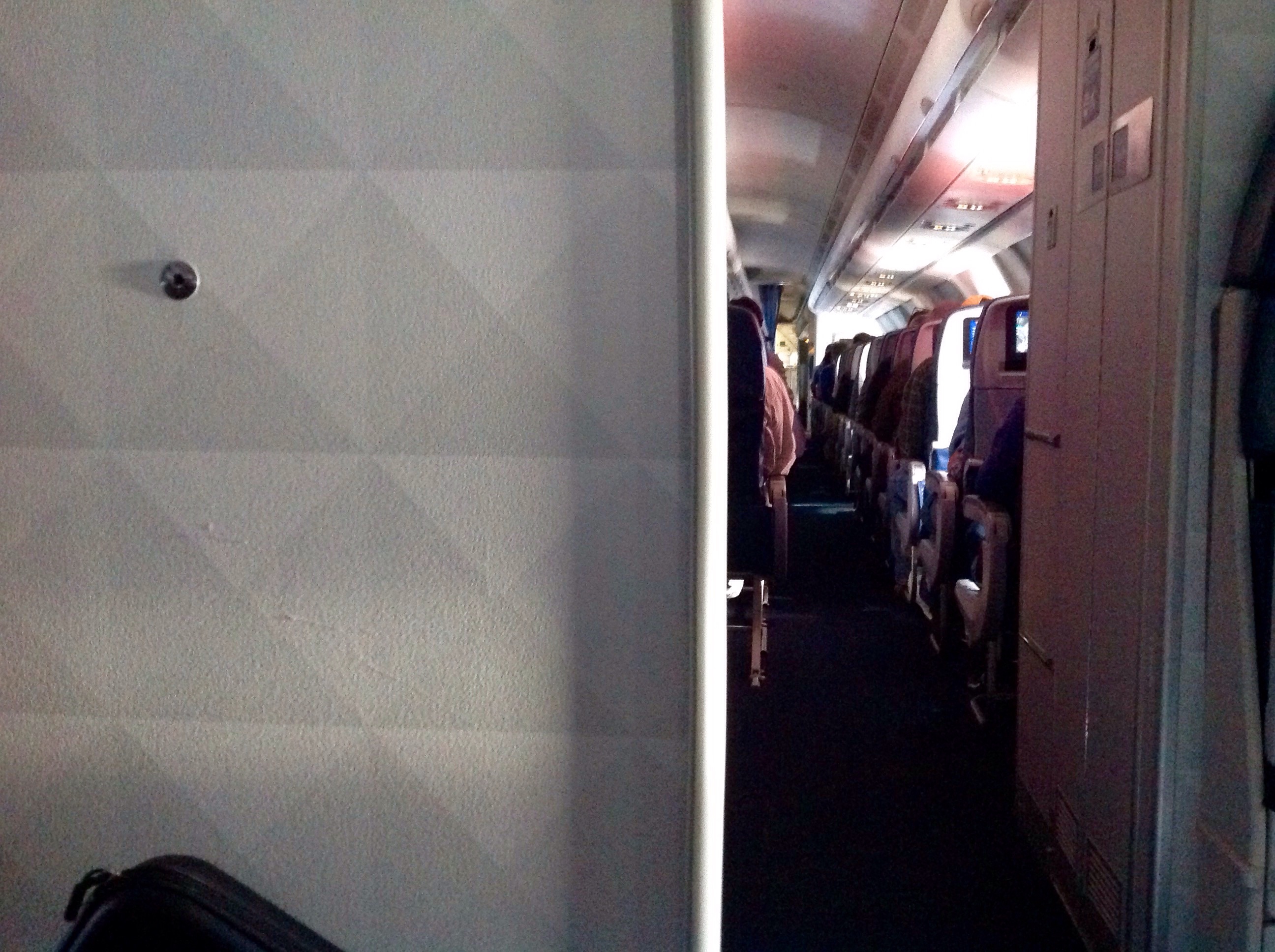 The bulkhead row means that you don't have another seat in front you. Instead you have a wall. As I took my seat, I noticed the wall and was immediately transported back in time 14 years and a half a world away.
See those three silver spots on the wall?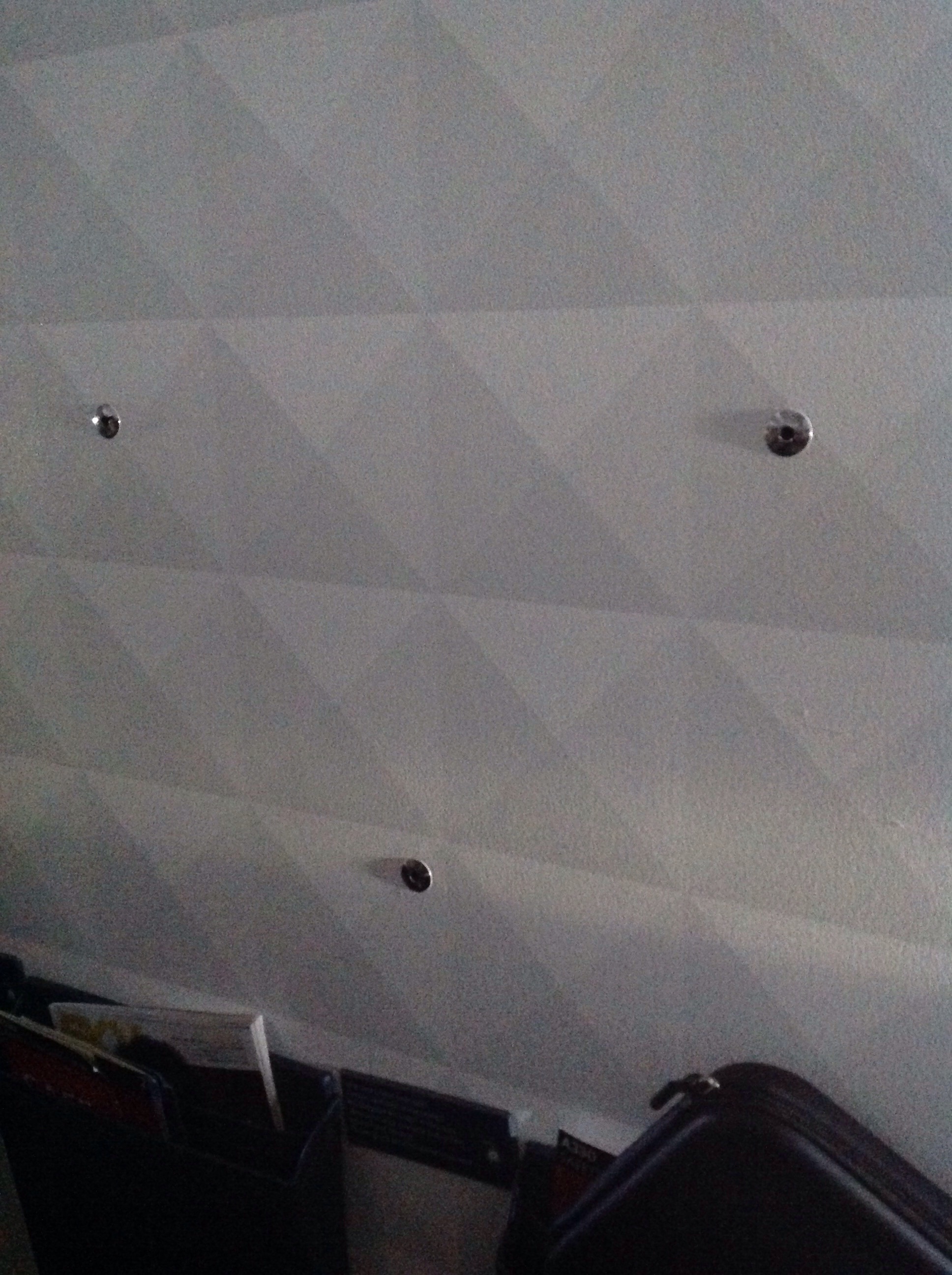 They have a purpose. A wonderful purpose. They are clamps for a bassinet. An airplane baby crib. I know this because 14 years ago, my lovely wife and I were returning from New Delhi, India. Accompanying us was the newest member of our family, an 18 month old little girl.
It takes about 19 hours to travel from New Delhi to Seattle. That's a long time on a plane. It's an especially long time for a scared little girl, just learning to love her new mom and dad. We flew on Singapore Airlines. The flight attendents went all out to make sure we were looked after and our new daughter was made as comfortable as possible. That included making sure that we were sitting in the bulkhead row and we had a bassinett for our little girl.
It's a little more than a 3 hour flight and about 2500 miles from Salt Lake City to Atlanta. But, on this day the flight took me 14 years and a half world world away.
Rodney M Bliss is an author, columnist and IT Consultant. His blog updates every weekday. He lives in Pleasant Grove, UT with his lovely wife, thirteen children and grandchildren. 

Follow him on
Twitter (@rodneymbliss)
Facebook (www.facebook.com/rbliss)
LinkedIn (www.LinkedIn.com/in/rbliss)
or email him at rbliss at msn dot com

(c) 2017 Rodney M Bliss, all rights reserved