The Story Of A Painting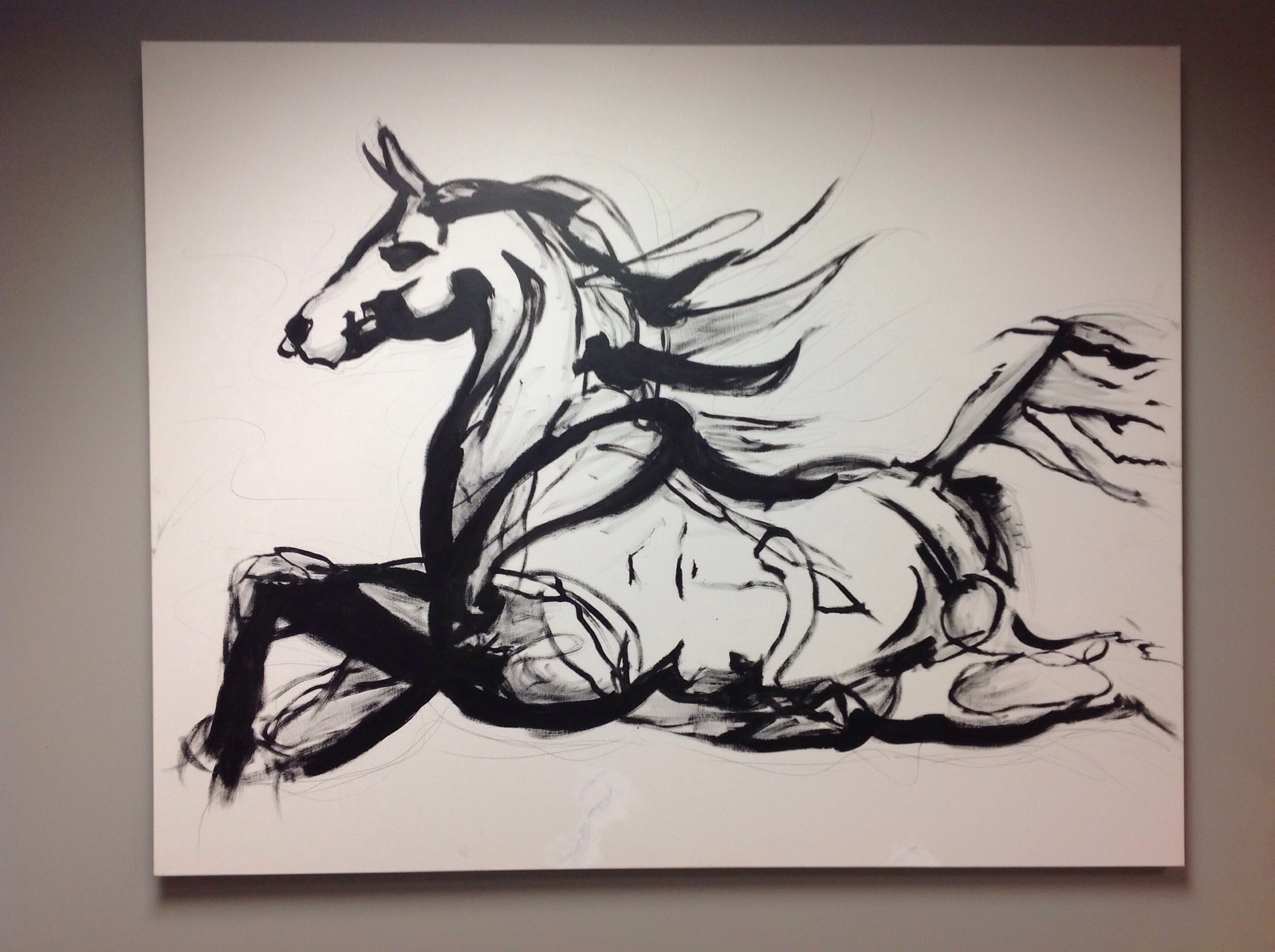 The four foot wide picture was striking. Black paint on white canvas. The brush strokes were bold and vibrant. A black horse in full stride. The legs a blur and even the head and mane were indistinct. The brush strokes evoking the feel of speed and power, an animal at one with the wind.
It hangs in our office in Louisville, Kentucky, the home of Churchill Downs. The famous racetrack where the Kentucky Derby is run every May. Our office is stocked with images of Kentucky thoroughbreds. But, the simple black on white painting is easily the most striking.
Yeah, Michael painted that.

Seriously?

Yeah.
Michael is not the person I would have guessed was an artist. And certainly not one to paint something as bold as the painting I was looking at. Michael and I are friends. He's already a study in contrasts. He's a former Marine who has a side job teaching self defense. In person, he very unassuming.
He's moved to another location, but I wanted to hear the story of the horse painting. It came out over a couple of phone calls and chat messages.
Hey Michael, I saw your painting.

Oh, the horse?

Yeah, that's amazing.

Thanks. It was actually something I kind of threw together.

What do you mean?

Well, the company president was supposed to be in next day and we wanted a painting, so I just had to sketch something super quick.

So, you did that in one night?

Oh, shorter than that. I sketched it on a piece of paper in and then projected up on the canvas. Probably about 15 minutes.
I trust my friend. But, I found his admission hard to believe.
It's Rustoleum.

What?

The painting. It done with Rustoleum paint.

Like the spray paint?

No. It was the only paint we had on site. It's the liquid kind that we use to touch up handrails and stuff. In fact, the next day it was still super wet. I told people to not stand too close it was still giving off fumes.

That's amazing.

You're on site, right? In Louisville?

Yeah.

So, I heard they moved it by the bathroom?

Well, it's closer to the bathroom, but actually it sits in a perfect spot outside of the conference room.

That's nice.

And hey, even if it's by the bathroom, at least it won't rust.
Michael laughed the easy laugh that he has. Like I said, a man of contrasts.
Rodney M Bliss is an author, columnist and IT Consultant. His blog updates every weekday. He lives in Pleasant Grove, UT with his lovely wife, thirteen children and grandchildren. 

Follow him on
Twitter (@rodneymbliss)
Facebook (www.facebook.com/rbliss)
LinkedIn (www.LinkedIn.com/in/rbliss)
or email him at rbliss at msn dot com

(c) 2017 Rodney M Bliss, all rights reserved