Book Review: Seventy Maxims Of Maximally Effective Mercenaries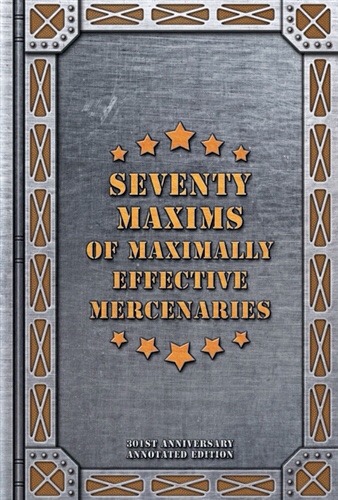 It's a real book based on a fake book based on a real book. . .by a different name.
I really like Seventy Maxims Of Maximally Effective Mercenaries. And not just because everytime I mention Seventy Maxims of Maximally Effective Mercenaries my word count goes up by six. It's a fun book that is just serious enough to be interesting, not so serious as to be pretentious, and absolutely hilarious.
Seventy Maxims is a book that came out of the wildly popular web comic Schlock Mercenary. The book is literally a "how-to" guide for people whose primary job is hurting people and breaking things. The book was original titled "Seven Habits of Highly Effective Pirates." (More on that in a minute.) At under a hundred pages (it's right around 70, for some reason) it's a quick read. The stated author is Link Weimar. However, considering his "Introduction" is dated June 12, 2700, it's safe to say that he's not the real author. Howard Tayler, the brilliantly funny creator of Schlock Mercenary gets that credit.
The book itself is a collection of 70 rules, or maxims (but not habits) that mercenaries should live their lives by. Well, if the mercenary was mostly concerned with doing the maximum damage and getting paid for it. The maxims themselves are short and pithy. Many of them are twisted takes on familiar sayings.
Familiar saying: Cheaters never prosper
Maxim 31: Only cheaters prosper

Familiar saying: When the going gets tough, the tough get going
Maxim 36: When the going gets tough, the tough call for close air support

Familiar saying: Two wrongs don't make a right
Maxim 59: Two wrongs is probably not going to be enough
Other maxims are completely original.
Maxim 11: Everything is air droppable at least once

Maxim 37: There is no "overkill." There is only "open fire" and "reload."

Maxim: 46: Don't try to save money by conserving ammunition
Tayler wrote the maxims over the 17 years he has been creating Schlock Mercenary. Typically they were introduced as the punline in a joke. Maxim 20, for example, "If you're not willing to shell your own position, you're not willing to win," was the final coda on a story about two neighbors playing "war games" with garden gnomes and live ammunition. The winner was victorious by sacrificing his own gnomes in an artillary strike that also destroyed his neighbor's gnomes.
And yet, as silly (and funny) as this story was, Maxim 20 resonates in real life in the story of American serviceman Lt John Fox. On December 26th, 1944 in Sommocolonia, Italy Lt Fox and a group of eight Italian soldiers called in an artillary strike on his own position to stop a German advance. The strike worked. The strike slowed the German advance enough to allow the Allies to organize a counter-attack that retook the town. Fox was killed in the barrage. For his efforts, Lt Fox was awarded the Medal of Honor. Not all of Tayler's maxims have such a direct real life application.
Originally the sayings were collected in a book called "The Seven Habits of Highly Effective Pirates." You have no doubt noticed the similarity in name to Steven Covey's widely popular "The Seven Habits of Highly Effective People." The Covey people noticed the similarity too. They threatened to sue Tayler despite the fact that his first reference to "The Seven Habits of Highly Effective Pirates" actually predates Covey's use of the similar title. Howard changed the name rather than fight it out in court.
When asked what he would have done had he gone to court and won, Howard explained, "I would have wrung every concession possible out of them and then I would have changed the name anyway."
What I Liked
Being a long time Schlock Mercenary Fan, it was a delight to see the maxims all collected in one place. Each maxim is a single page and includes "scholarly" commentary on the background of the maxim. Howard stays in character the entire time, as the future writers and scholars debate each maxim. The tone is light and conversational. No one is at risk of taking the advice in the book too seriously, but we can enjoy the tongue-in-cheek references to "hurting people and breaking things."
What I Didn't
Howard had to walk a fine line between giving fans of the comic what they wanted and still creating a book that would stand alone. At times the narrative drifts away from the core story. I can understand his reasoning and I think he does the best job possible. But, it still, at times it feels too generic for a fan and too specific for someone who's never heard of Schlock. However, I think the compromise still gives both groups enough to make the book entertaining.
What It Means To You
If you are a Schlock Fan, you will love this book. In fact, you probably already have a copy. If you are in the military, you will swear that Howard served with your unit. He perfectly captures the humor in a military organization. For the rest of you, it's a clever book that will make you laugh at least once, even if you don't understand the context in which it was written. The final maxim has advice for everyone.
Maxim 70: Failure isn't an option. It's mandatory. The option is whether or not to let failure be the last thing you do.
My rating
3 out of 4 stars
Rodney M Bliss is an author, columnist and IT Consultant. His blog updates every weekday. He lives in Pleasant Grove, UT with his lovely wife, thirteen children and grandchildren. 

Follow him on
Twitter (@rodneymbliss)
Facebook (www.facebook.com/rbliss)
LinkedIn (www.LinkedIn.com/in/rbliss)
or email him at rbliss at msn dot com

(c) 2017 Rodney M Bliss, all rights reserved