That Doesn't Go There – The Long Delayed Picture Essay
This is the final installment in a multipart post about some minor car trouble that I had a couple of weeks ago that involved my Honda Civic, Bennion Creek and a REALLY muddy road.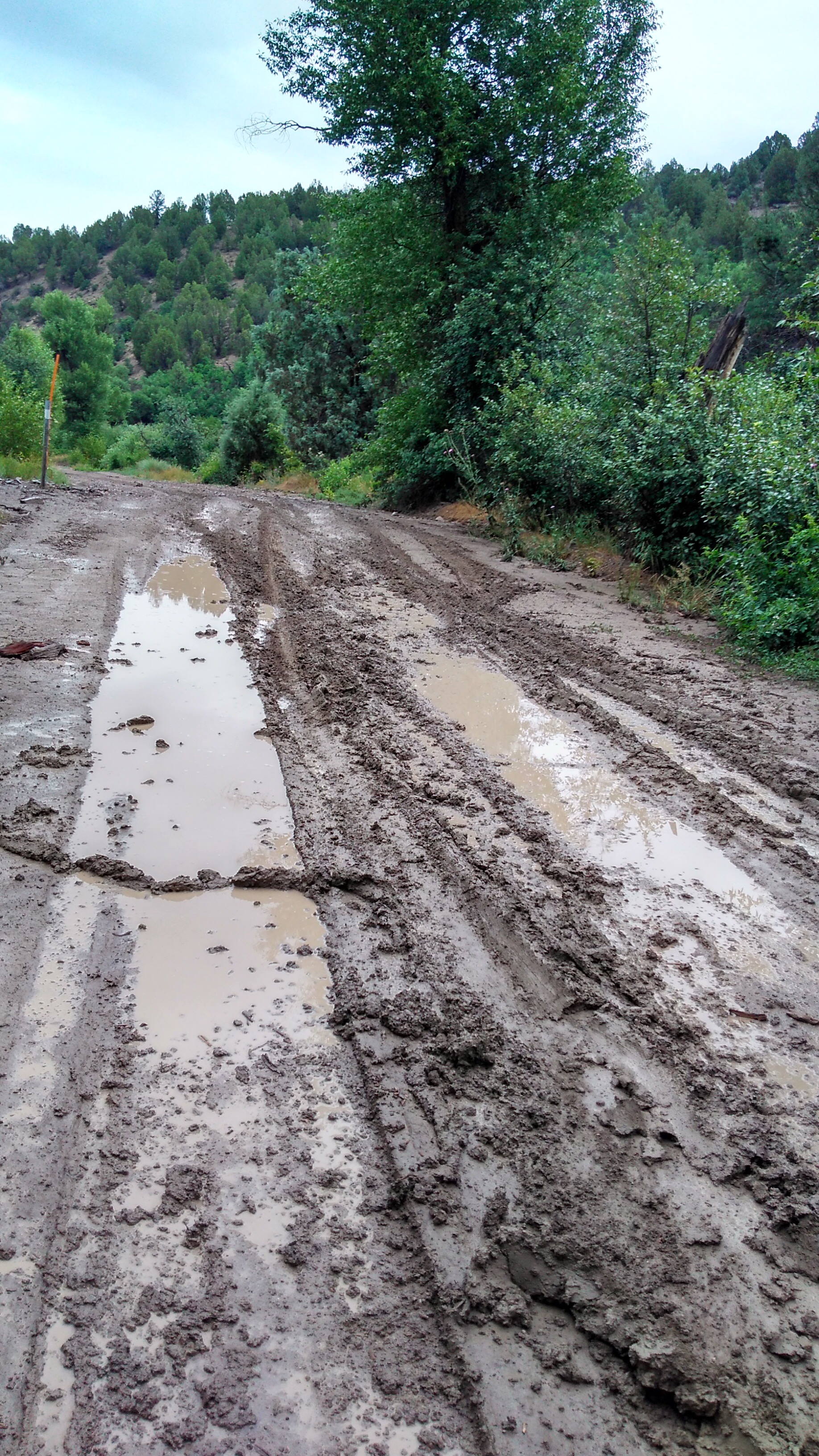 The road was really muddy. My plan was to drive until I couldn't go anymore and then pull over to the side and hike.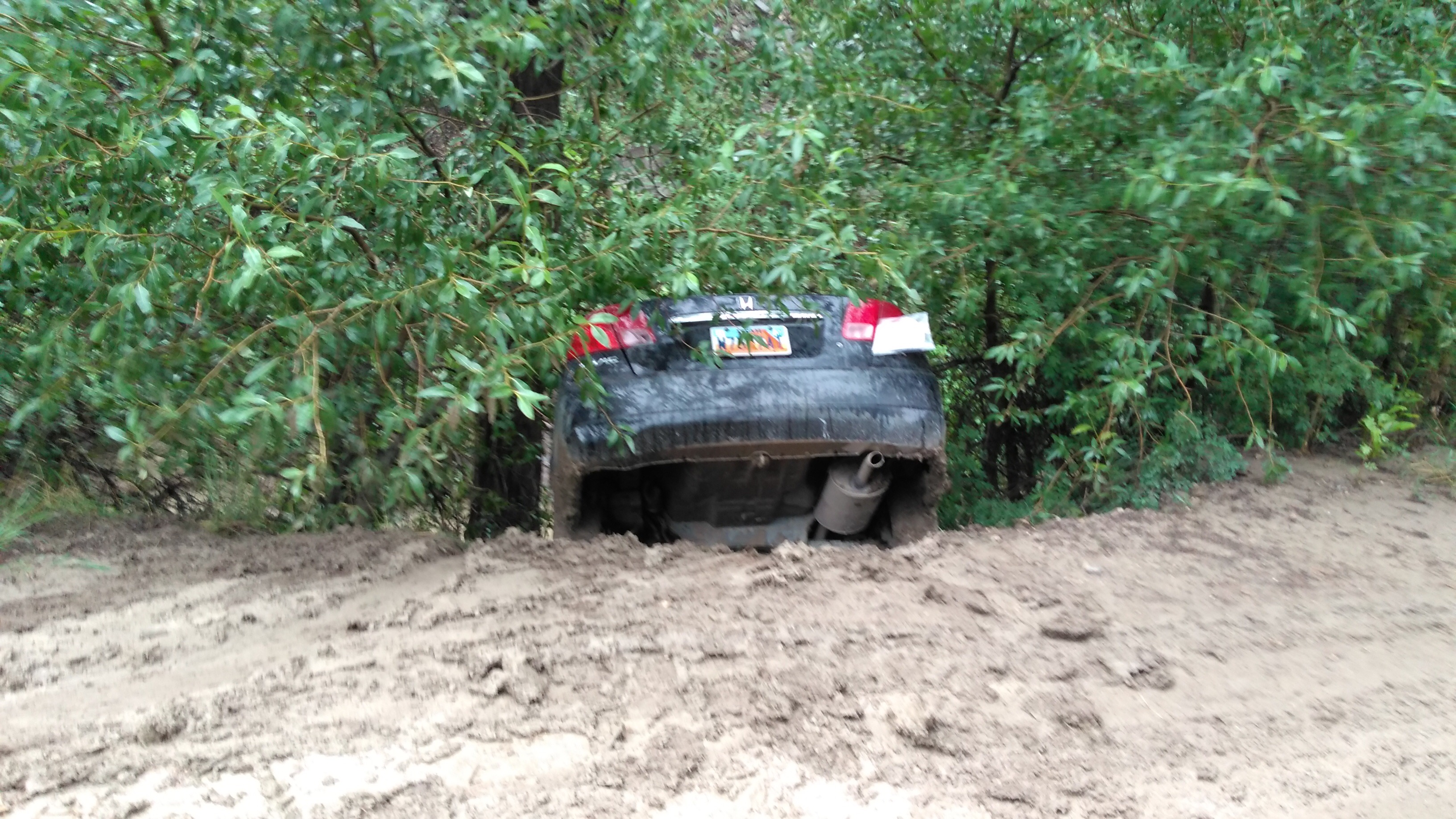 Well, I wasn't wrong. I mean, I did end up on the side of the road. But, that really doesn't go there. And I did start walking. (I wasn't injured.)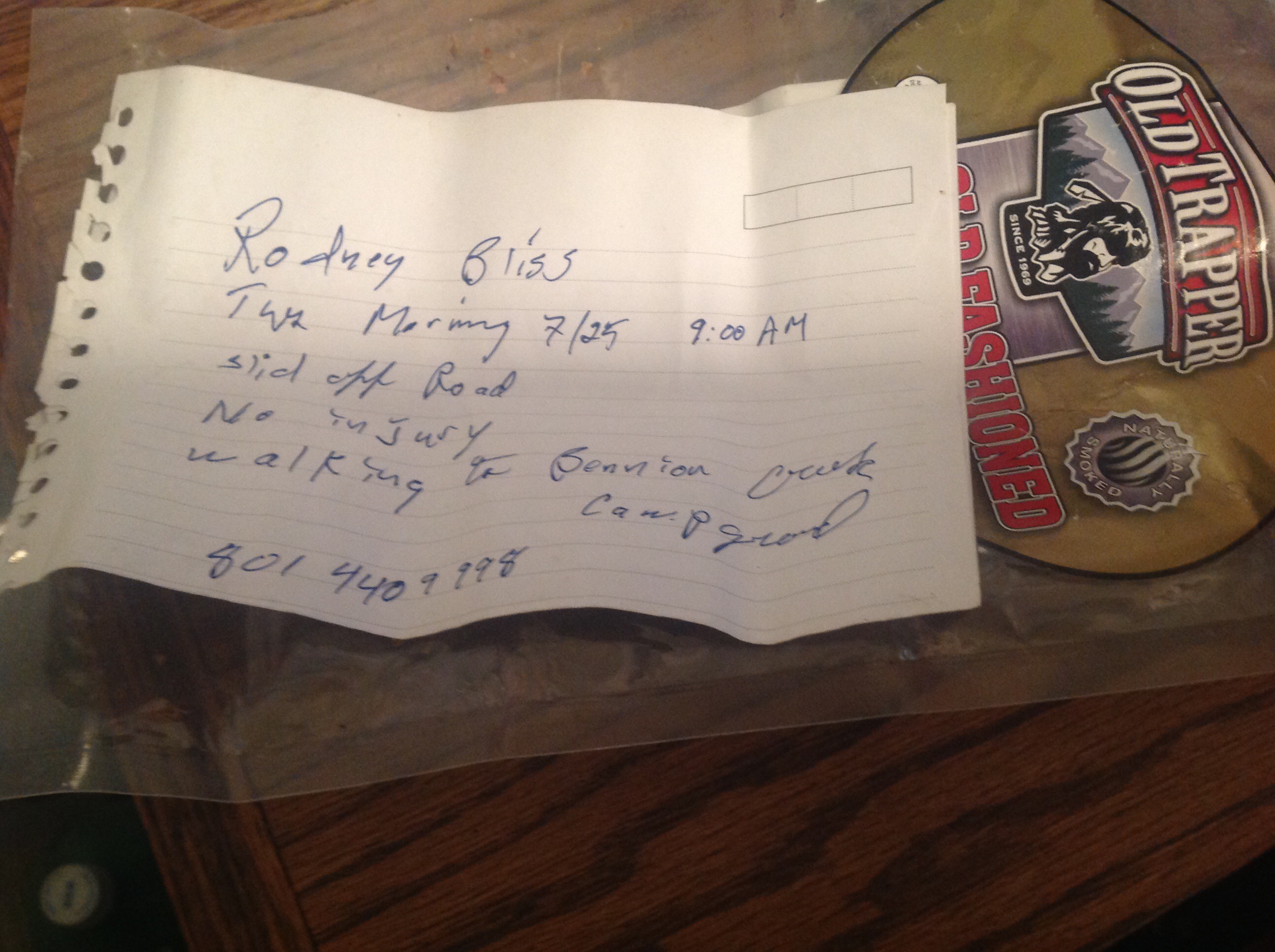 I left a note just in case someone came by. I didn't want them worrying I might be trapped in the car, or wandered off dazed and confused.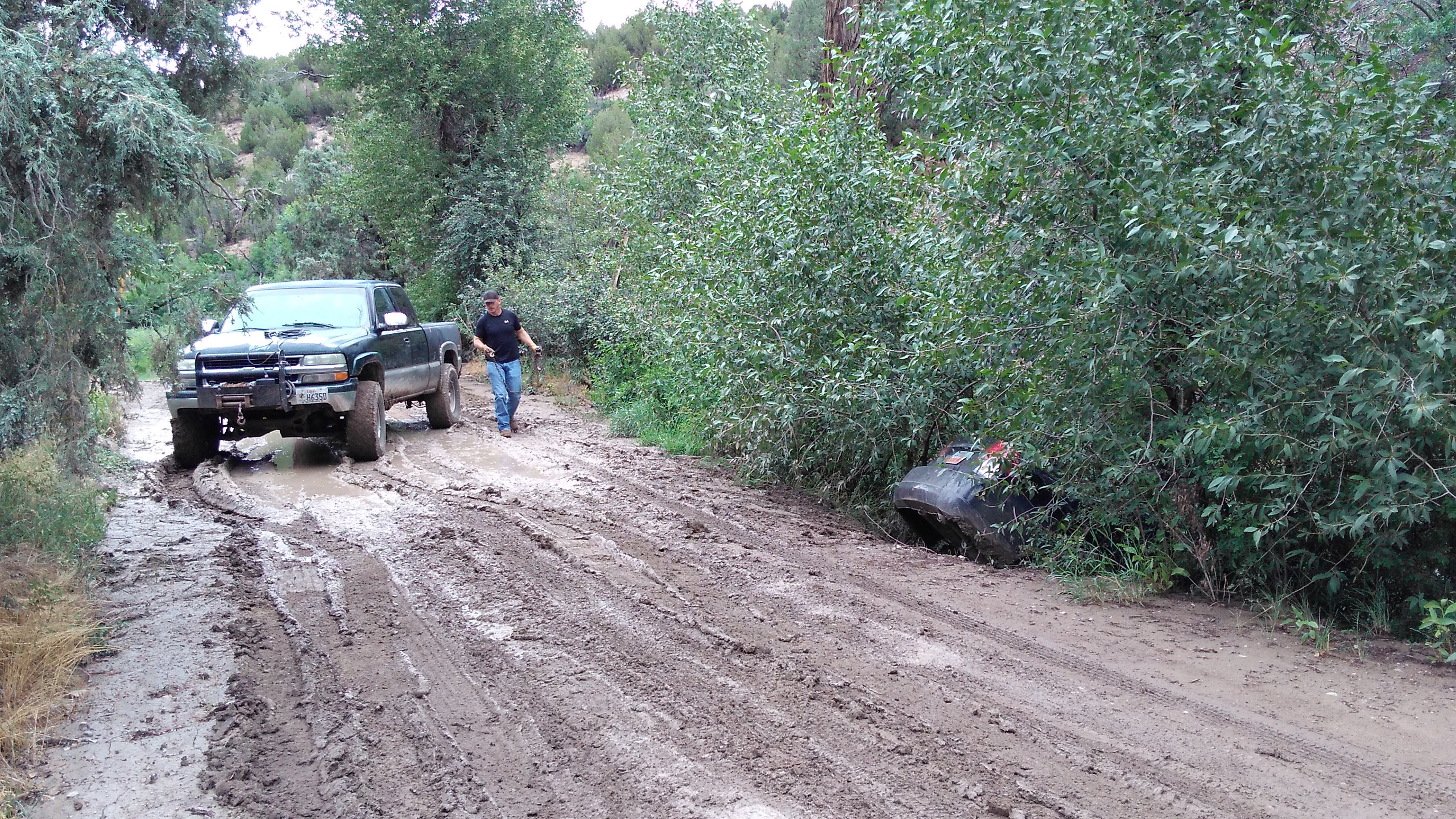 It may not look like it, but that is a $150/hour professional tow truck. If you slide off a mountain road, your options are limited, and Andy is one of the few people who will even take the job. ($300 to pull it out.)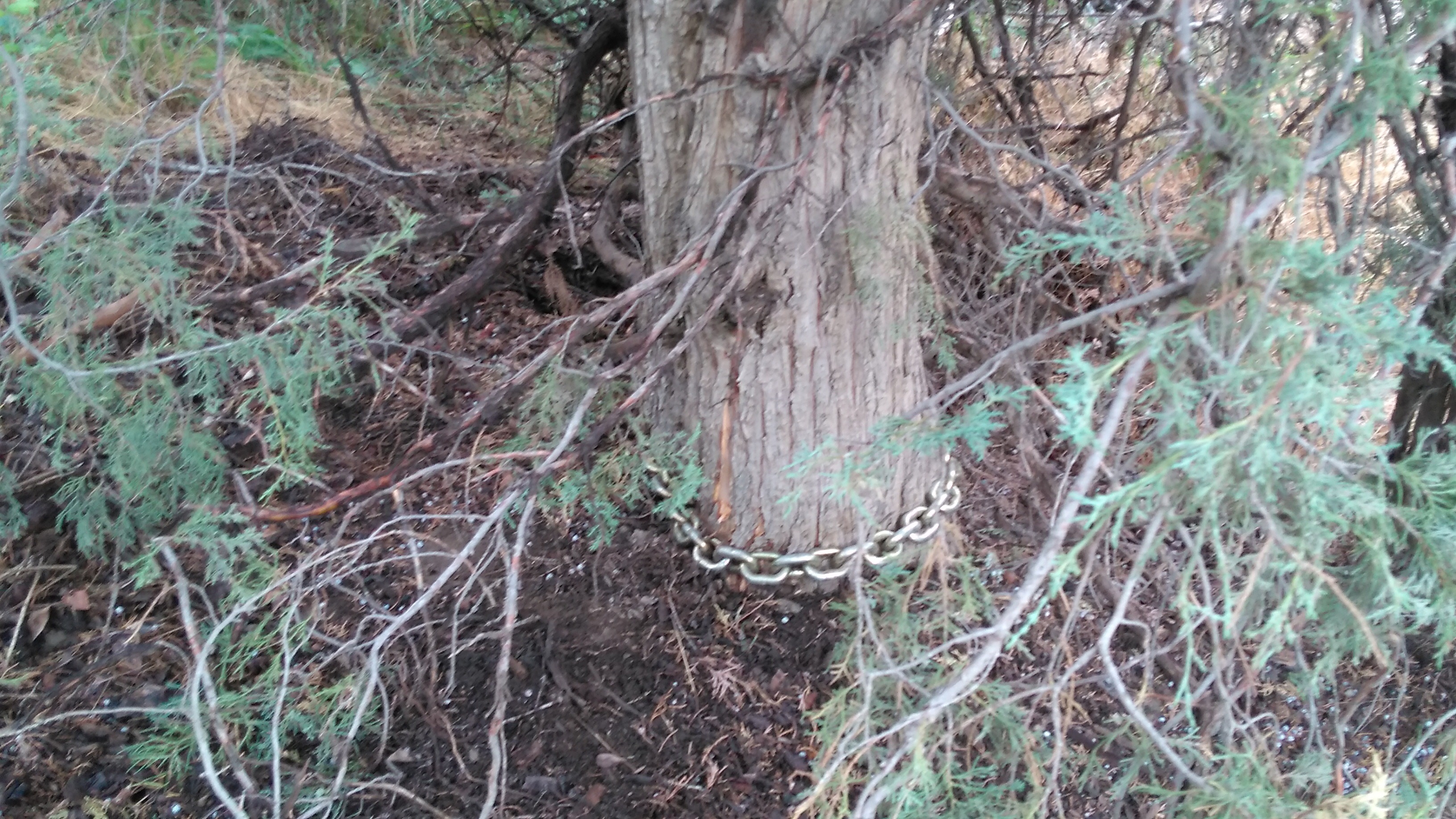 He anchored his gear to a tree. It was still tough going and we weren't certain the tree wasn't going to come over on top of us.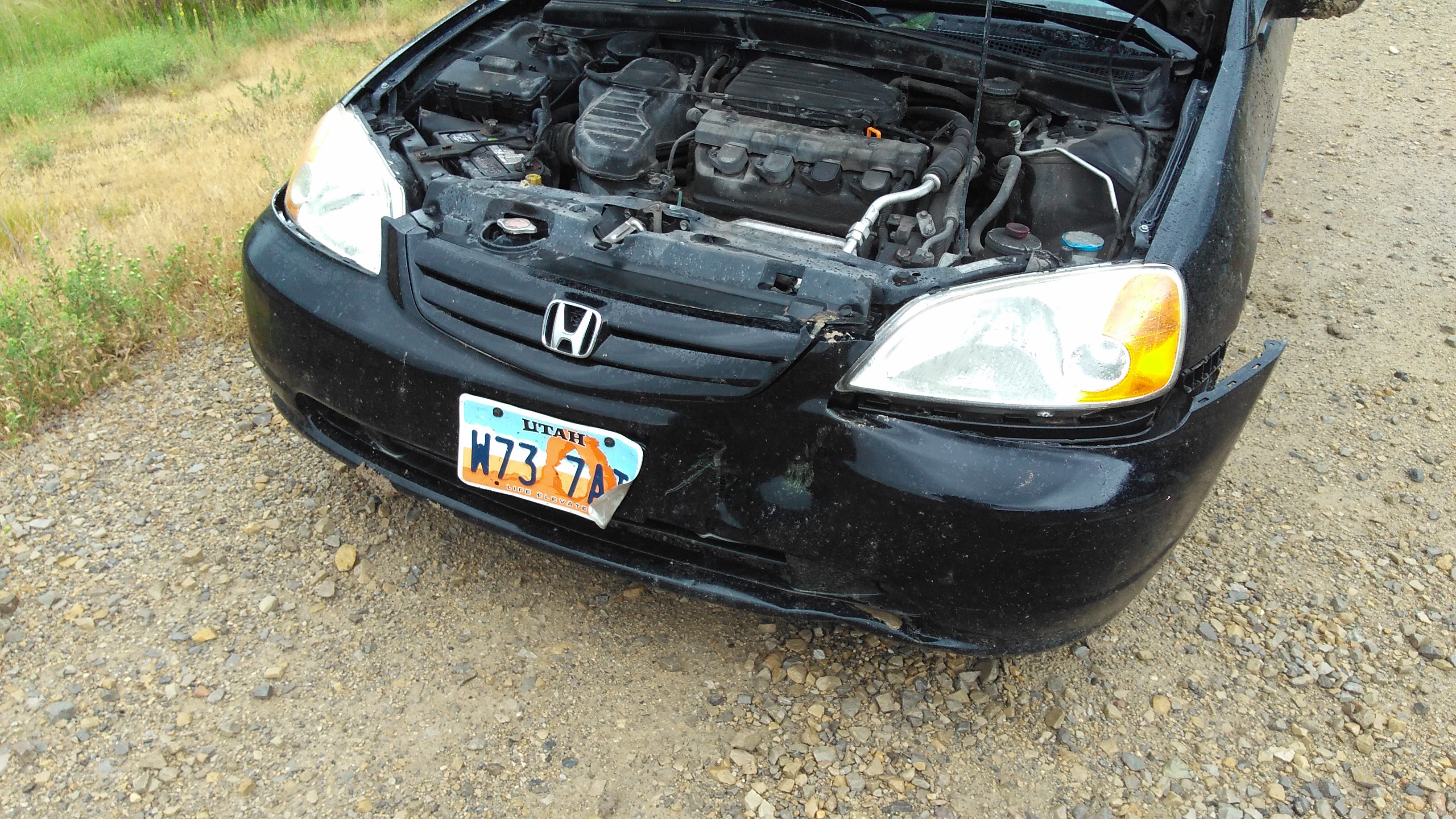 It doesn't look too bad. I drove it down to the highway. Andy towed it to Pleasant Grove for me. (Another $200, which was a discount because he was already involved.)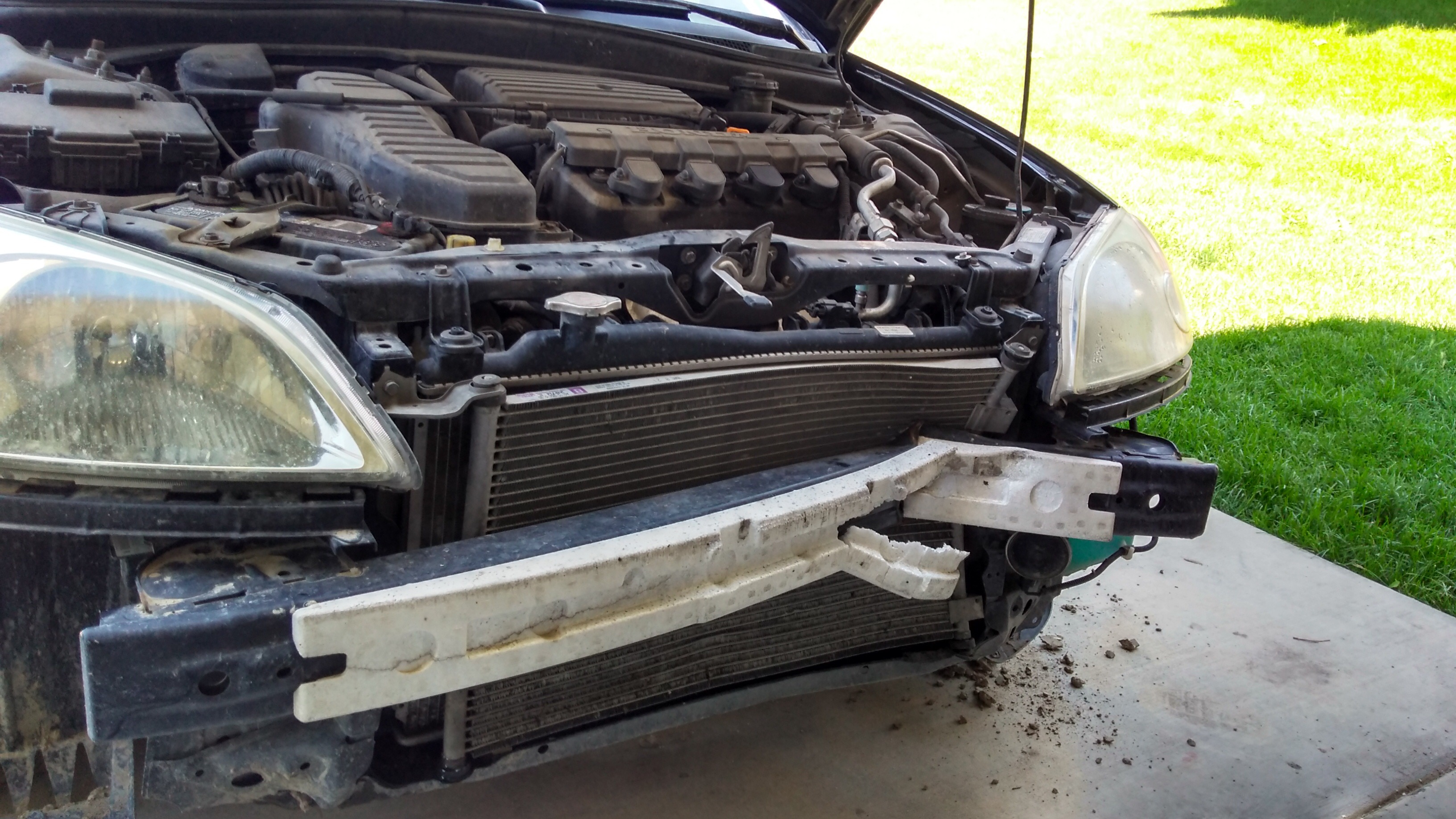 It could be worse. I'm not saying it's great, but considering it went swimming a little, this isn't terrible.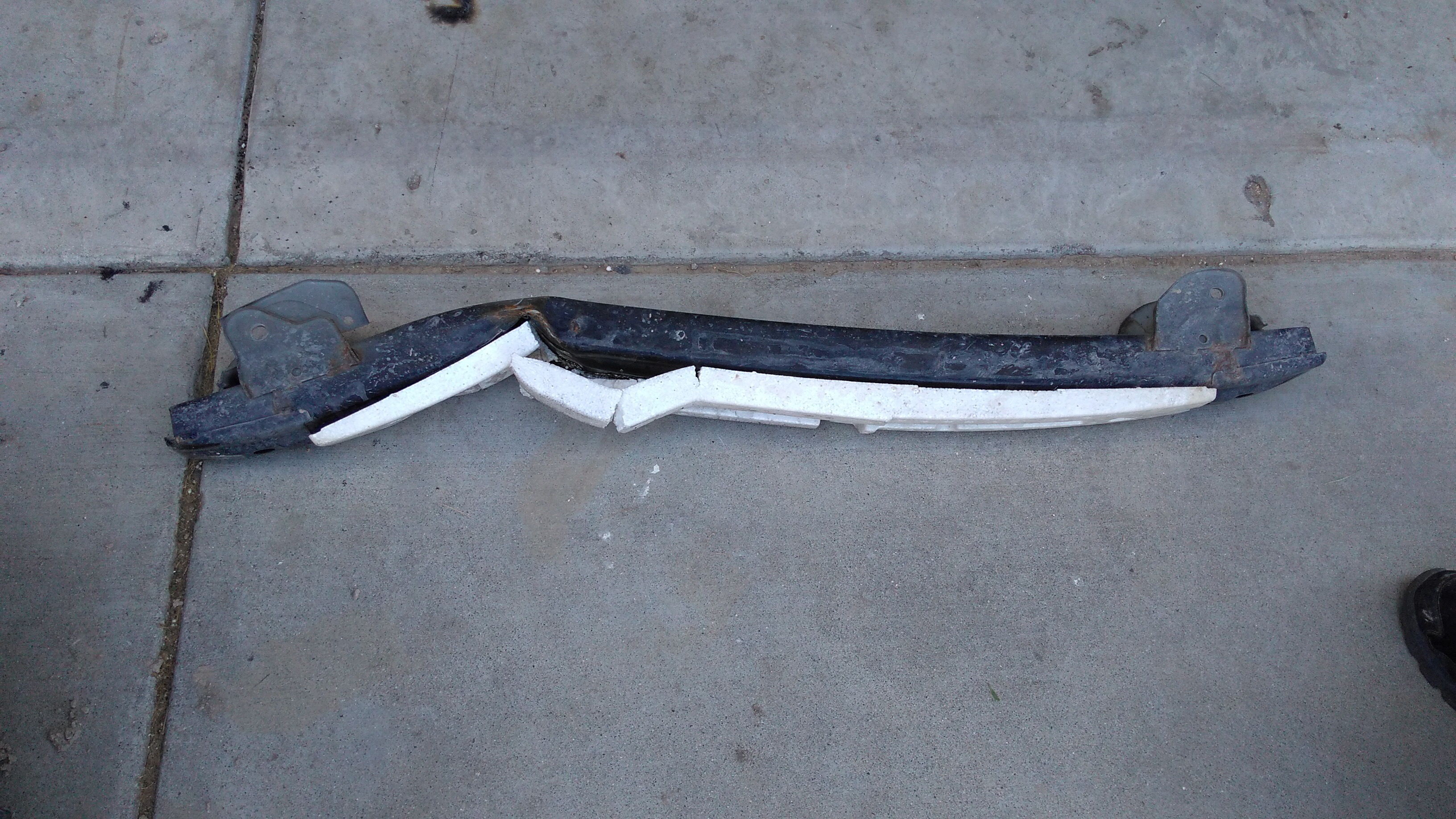 The plastic cover isn't your bumper. This is the bumper. Its job is to take the brunt of the force when you hit something. It did its job. It has to be replaced.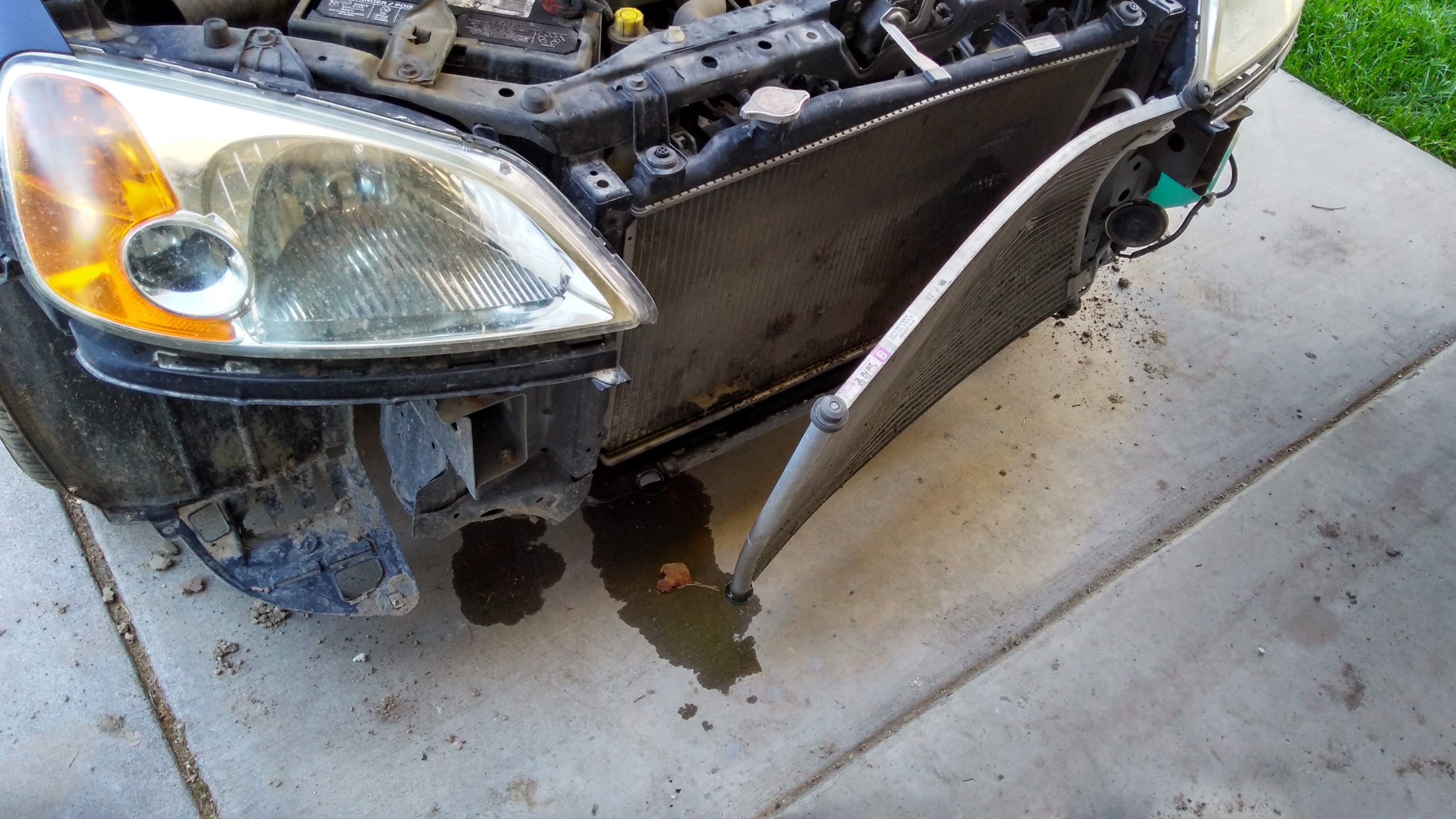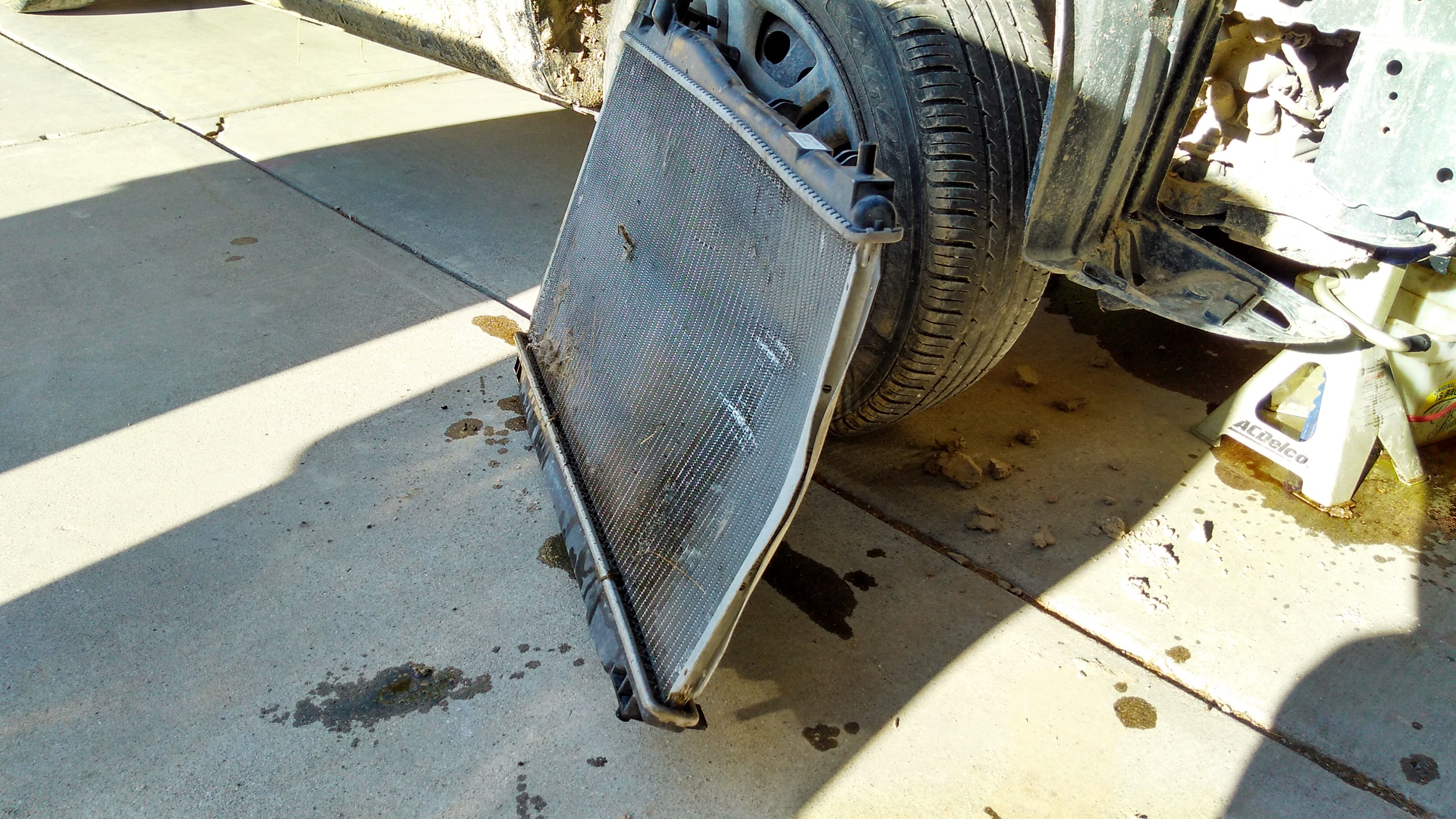 That's the condenser. It's what helps the air conditioning work. Yeah, it's not salvageable either. The radiator had to be replaced as well.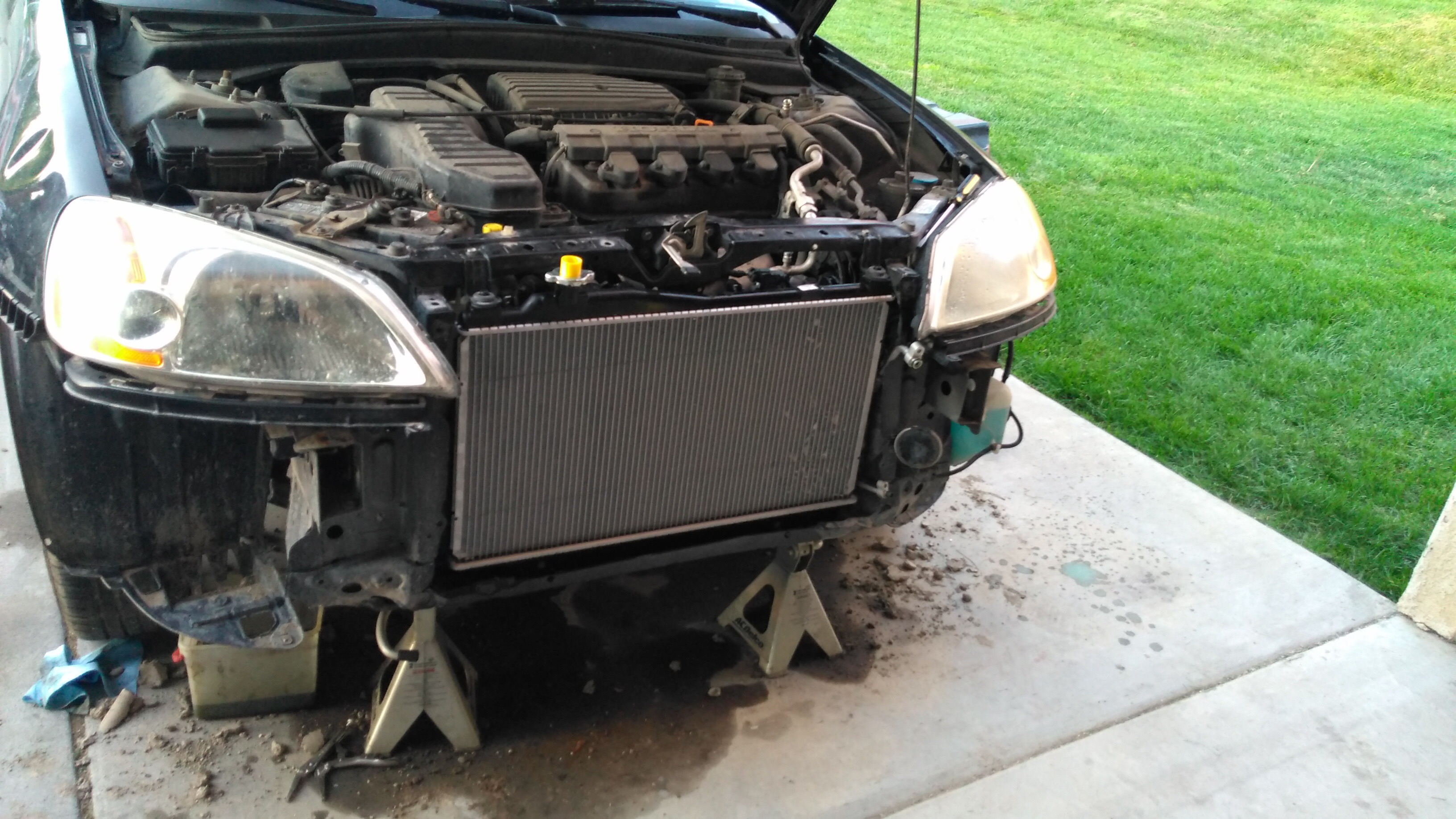 The wheels had to come off, but here we see the condenser and the radiator back on.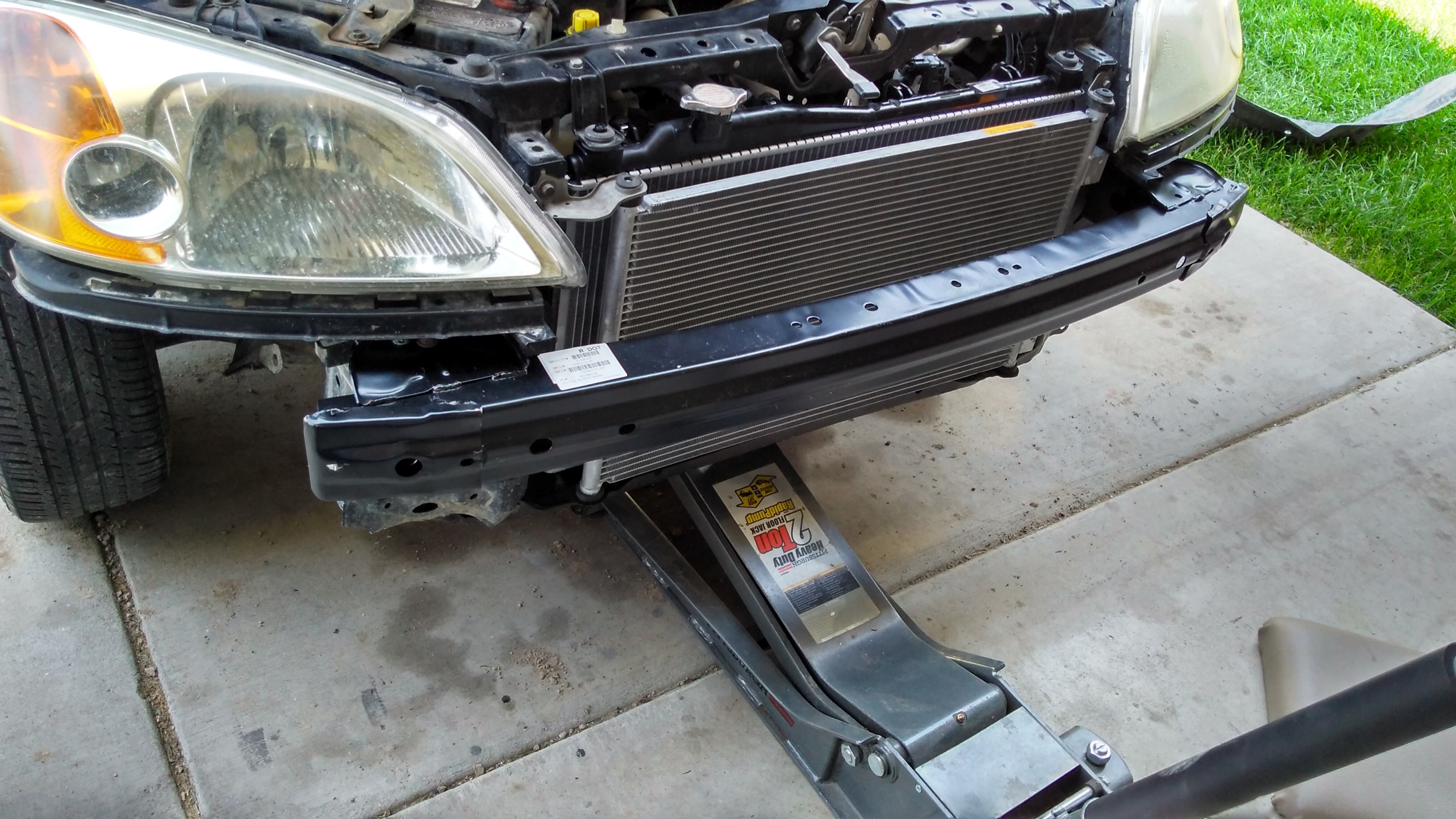 The bumper went back on with just a little bit of help from a crowbar and a drill. The frame, fortunately, wasn't bent. . .much.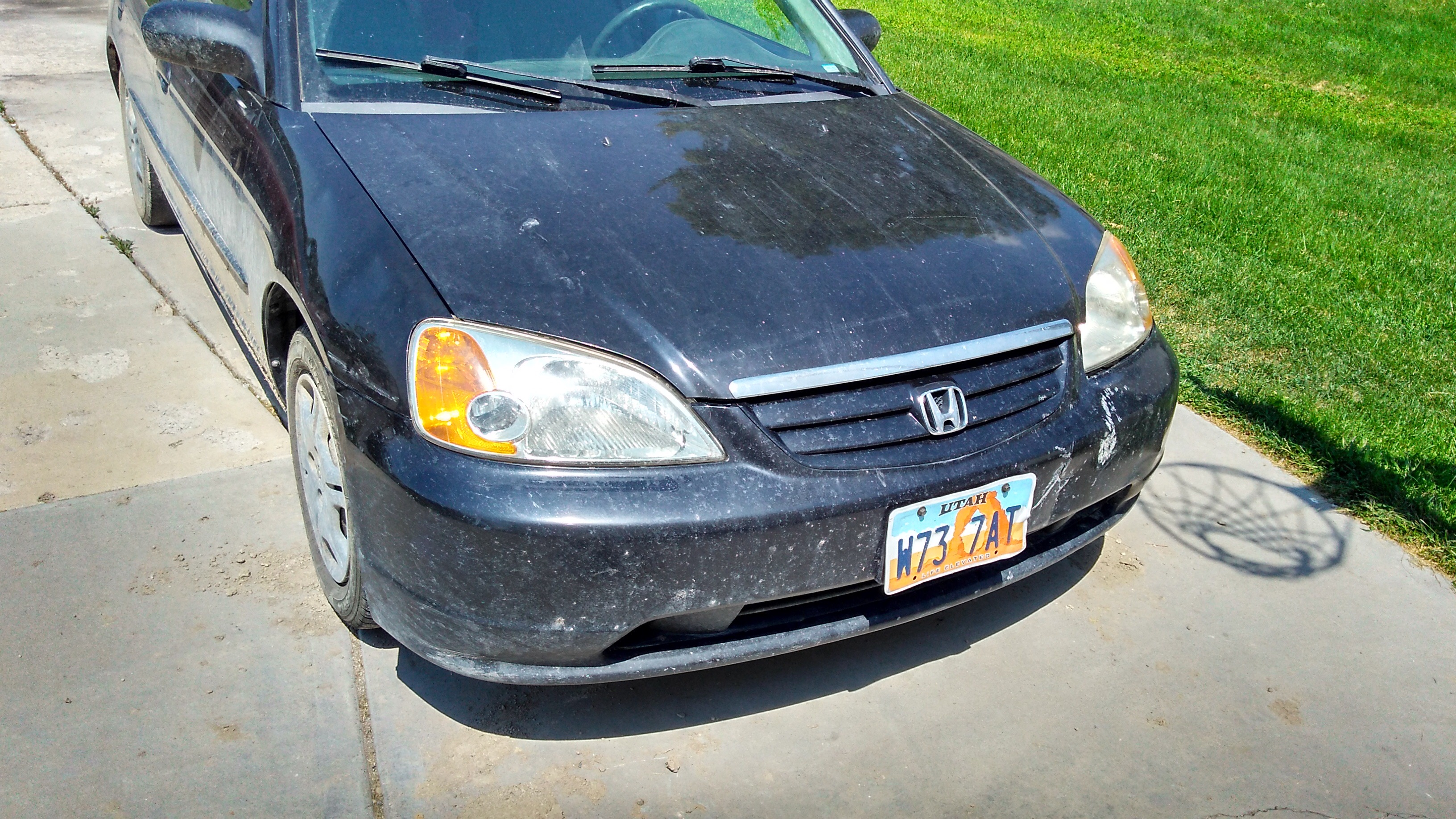 It's going to look better when it's had a shower, and it will always have a scar there on the driver's side. But, considering where it started from, I was pleased.
Here are the other parts of the story
I'm Okay. I'm Okay. . .I'm Not Okay (Sliding off the road)
If The Good Lord is Willing And the Creek Don't Rise (Yup, it ended up in the creek)
It's What We Do (Okay, NOW what do I do? I figure out how to get out of it)
Maxim 32: Anything is Amphibious If You Can Get It Back Out Of The Water (a hat tip to my friend Howard Tayler, who wrote the headline)
That Doesn't Go There – The Long Delayed Picture Essay
Rodney M Bliss is an author, columnist and IT Consultant. His blog updates every weekday. He lives in Pleasant Grove, UT with his lovely wife, thirteen children and grandchildren. 
Follow him on
Twitter (@rodneymbliss) 
Facebook (www.facebook.com/rbliss) 
LinkedIn (www.LinkedIn.com/in/rbliss)
or email him at rbliss at msn dot com
(c) 2017 Rodney M Bliss, all rights reserved