Riding The Streetcar Around The Ship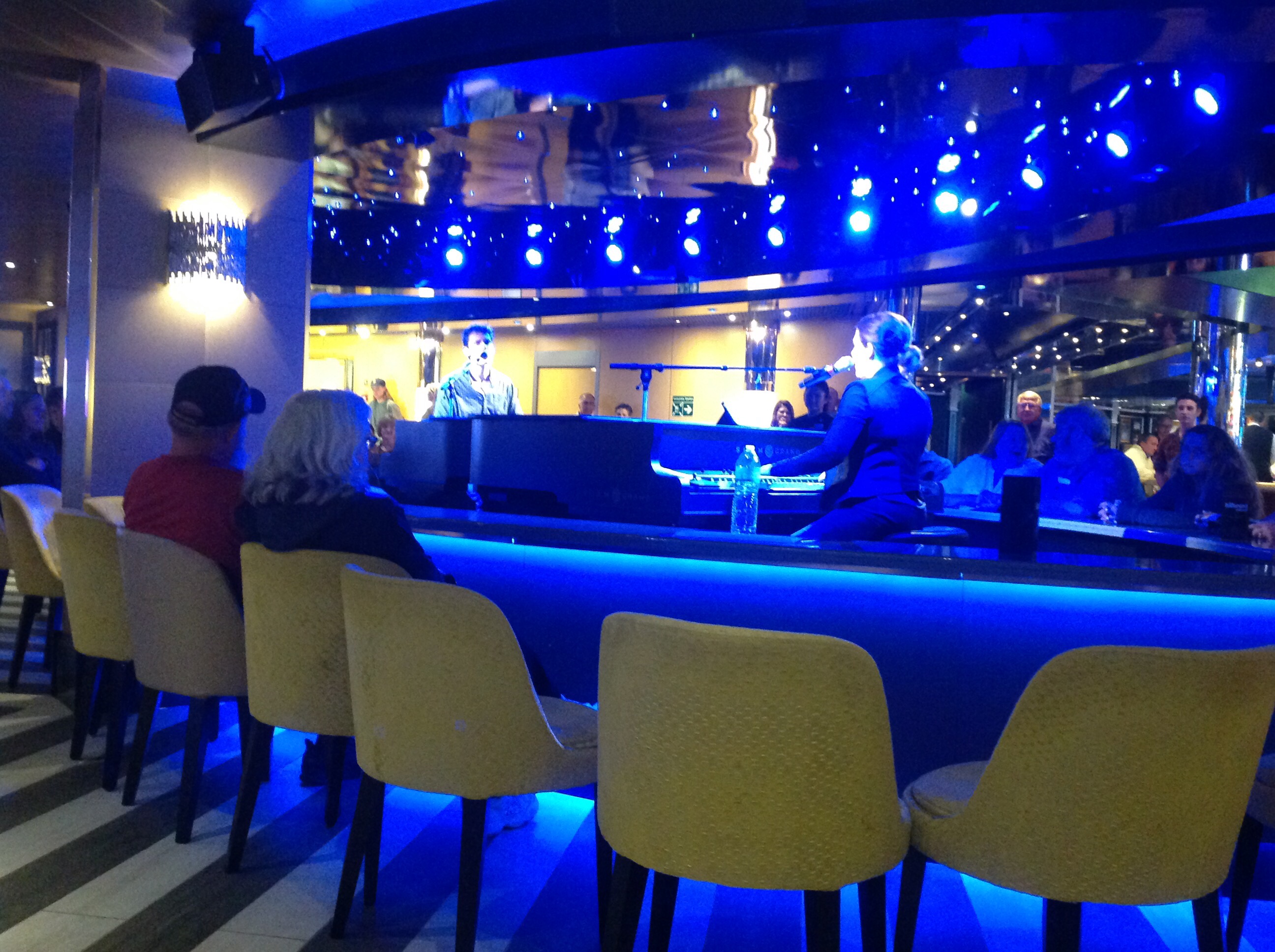 There's a Garth Brooks song about Papa Loves Mama. I can't remember how it starts.
Papa drove a truck. . .

Of course, you would know that, Rodney.
We were sitting in a piano bar on board the cruise ship Oosterdam. It was actually a dual-piano bar. The piano-players (pianists?) were Pierson Keating (@PiersonKeating) and Rachel Solomon (Rachelsolo.com). Pierson was getting ready to play a song during their "Salute to Country" night. A few minutes earlier Rachel had played the intro to Dolly Parton's "9 to 5" but couldn't remember the opening line.
Tumble out of bed and stumble to the kitchen. . .
Thanks, Rodney.
I felt uncomfortably like some 50+ year old groupie. The fact that Pierson and Rachel both knew my name was evidence of the amount of time I'd spent sitting in a chair at the bar between the two pianos. A cruise ship is a floating city. There's a movie theater. There's a performance stage. There are tons of shops. There's a pool. There's a spa. There's a blues bar. There's a classical music performance area. There's walking on the deck. There are tons of free movies in your cabin, and there is lots and lots of food. I mean, all-you-can-buffets hang their heads in shame at the sheer amount of food available on a cruise ship. And, of course, there's a piano bar.
The cruise director (ours was a wonderful young lady named Erin) is responsible for finding stuff to keep 1900 passengers entertained during the days at sea and each evening after we leave port. And yet, I found myself spending most of my down time simply sitting next to a piano nursing a soft drink. ($2.55. FOOD, not drinks are free.) I got to thinking of why.
When I was 12, my parents took my brothers and me to Disneyland. The same two brothers I was on the cruise with. My dad passed away years ago, but my mother was on the cruise with my wonderful step-father. When we were at Disneyland, my parents let us three brothers loose with the instruction that we could go on any rides we wanted, but we needed to stick together. My younger brother and I promptly ditched my older brother on Tom Sawyer Island. As we were sneaking away, my younger brother slipped away in the crowd. Yes, he was 8. No I'm not proud that I contributed to the delinquincy of an eight year old. He was fine.
I soon grew tired of standing in line for rides. I hit the big ones, but an hour of line standing for a 4 minute ride seemed like a poor bargain, no matter how exciting a ride. I found myself eventually on the horse-drawn streetcar. You could hop on or off the streetcar at any point. At first, I simply sat in seats like everyone else. But, eventually, I was invited to sit with the driver. He didn't really drive the streetcar. It was on rails. The horse had made the circuit around Main Street enough times that the driver was really only needed to let him know when he was done and to keep him from running over guests.
I sat and talked to that driver for hours. Even now, 40 years later, I can recall the conversation. The driver was hired personally by Walt Disney to work in the themepark. He talked about how Walt knew every person's name, even down to the janitors and concession workers.
I don't remember how much my parents paid for the all-day passes all those years ago. I think they were in the $150 range, although that was probably for two days. Whatever it was, I'm sure it was a high price to pay for a ride on a streetcar.
Nothing against Disneyland. It's a wonderful place with many interesting and exciting attractions. But, I can honestly say I remember the day and a half on that streetcar as a highlight of my childhood. I thought of that experience as I sat and listened to Rachel and Pearson work their way through classics such as Great Balls of Fire and Folsom Prison Blues, and new songs from Justin Beiber and Selena Gomez. Some I didn't know, others I could sing along to every word. The highlights were on the first day when Pearson played my all time favorite Billy Joel song, Summer Highland Falls, and at the end when Rachel played an original composition from her CD, Right On Time.
Sitting at the piano bar was easy. I set my iPad up on the bar and typed blog entries between sets. I enjoyed the other cruise activities. And getting to spend a week with my wife and my family was a rare treat. But, when the rest of the activities were winding down, I found myself back at the bar with my iPad keyboard, a coke and maybe a request slip with Devil Went Down To Georgia written on it to hand to one of the people at the keyboards.
Rachel and Pearson meet a lot of people, I'm sure. Their act requires them to be personable and approachable. The key to a successful piano bar performance is to connect with your audience. Most times, I wasn't necessarily interested in them connecting with me. I wasn't part of the act, and I felt no need to be included in the show. Again, visions of "creepy old guy groupie" sprang to mind. But, I enjoy getting to know performers. I work in IT, but could certainly see myself taking a different path and ending up a performer. Still, I tried to not let familiarity confuse me into thinking I was more than just one more enthusiastic fan in the crowd.
I realized I'd struck the proper balance, or at least avoided the "creepy old guy" tag as we were standing in line to be processed through customs in Seattle after disembarking for the final time. A voice from behind me said,
Rodney, so good to meet you.
Pierson! Where are you off to now?

A flight to LA.

When do you next perform onboard?

I really don't know. They'll call and if my schedule is open, I'll be back.
With that, we took a quick picture, exchanged contact information and he disappeared back into the crowd. You can find Pierson's twitter account here. And you can find Rachel's music here, or on iTunes.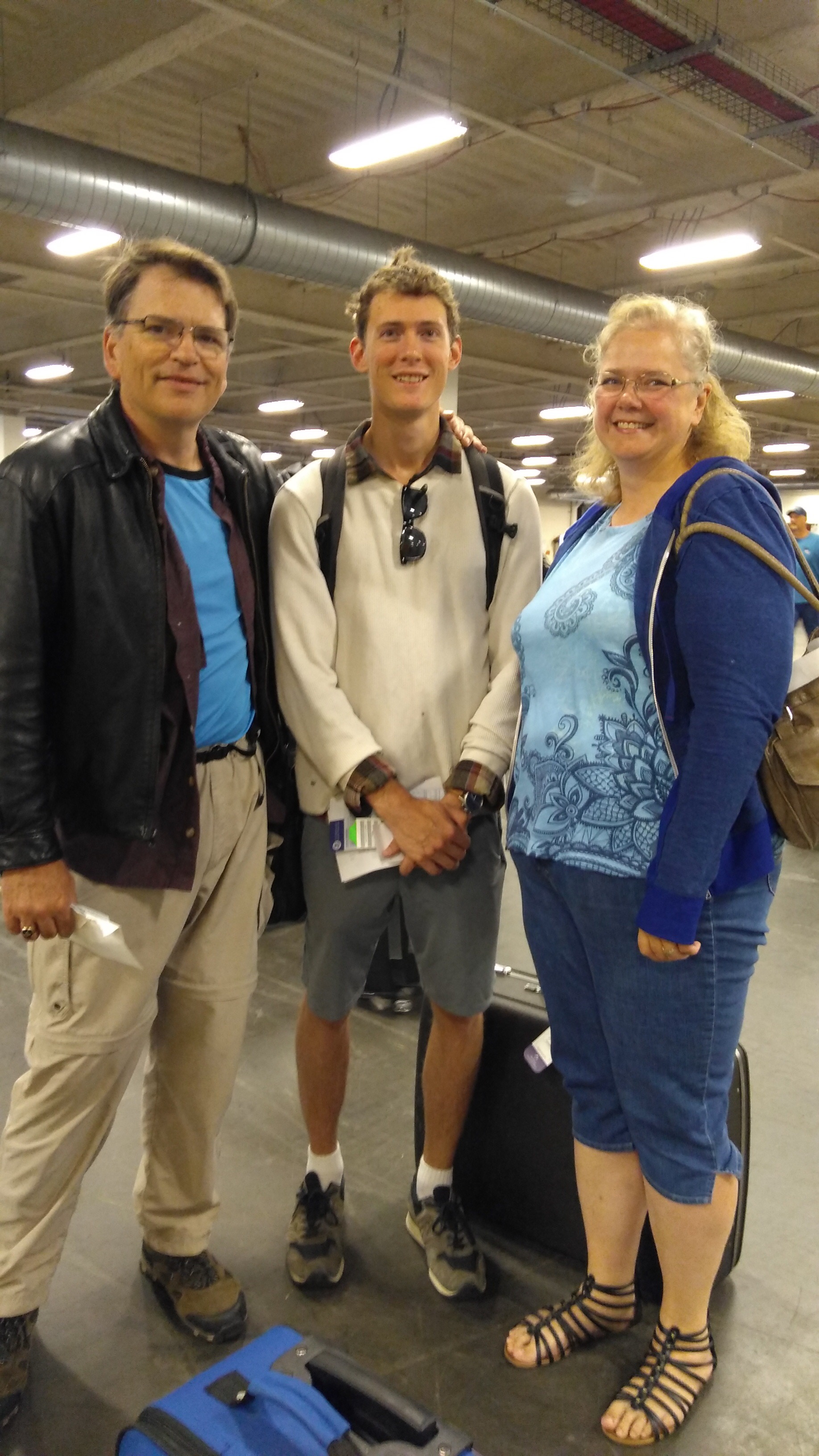 Me, Pearson Keating and my Lovely Wife
I very much enjoyed riding that horse-drawn streetcar this week. Thanks, Rachel and Pearson.
Rodney M Bliss is an author, columnist and IT Consultant. His blog updates every weekday. He lives in Pleasant Grove, UT with his lovely wife, thirteen children and grandchildren. 
Follow him on
Twitter (@rodneymbliss) 
Facebook (www.facebook.com/rbliss) 
LinkedIn (www.LinkedIn.com/in/rbliss)
or email him at rbliss at msn dot com

(c) 2017 Rodney M Bliss, all rights reserved