Why I Don't Vote For Myself…Even If It Means I Lose
The winner of today's best Toastmaster's speech is Katey. Please join with me in congratulating her.
Yesterday I gave a speech at my Toastmasters club.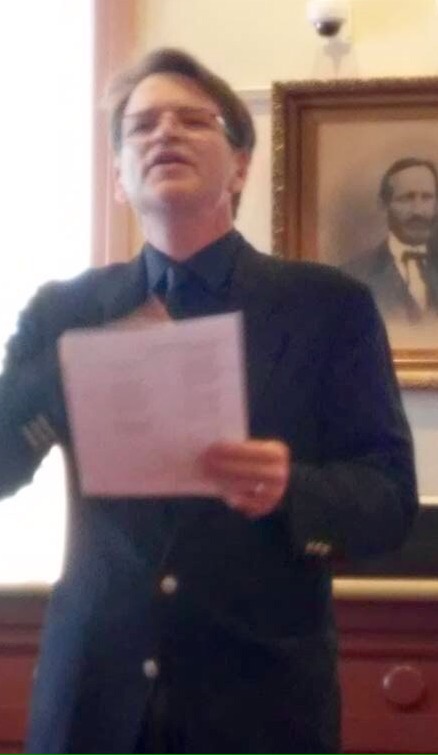 (Photo Credit: Olympic Orators Facebook Page)
Actually, it was a dramatic poetry reading. More on that in a minute. It went well. Toastmasters clubs really enjoy two things; applauding and voting. We applaud every thing. We applaud whenever someone walks to the front of the room. That happens four times in the first five minutes, and can happen as many as 15-20 times in an hour long meeting.
We also vote. . .a lot. We vote for best speech. We vote for the person who evaluated the speech the best. We vote for the best extemporaneous speaker during an event called Table Topics. Getting voted best doesn't have any lasting meaning, but you do get a ribbon.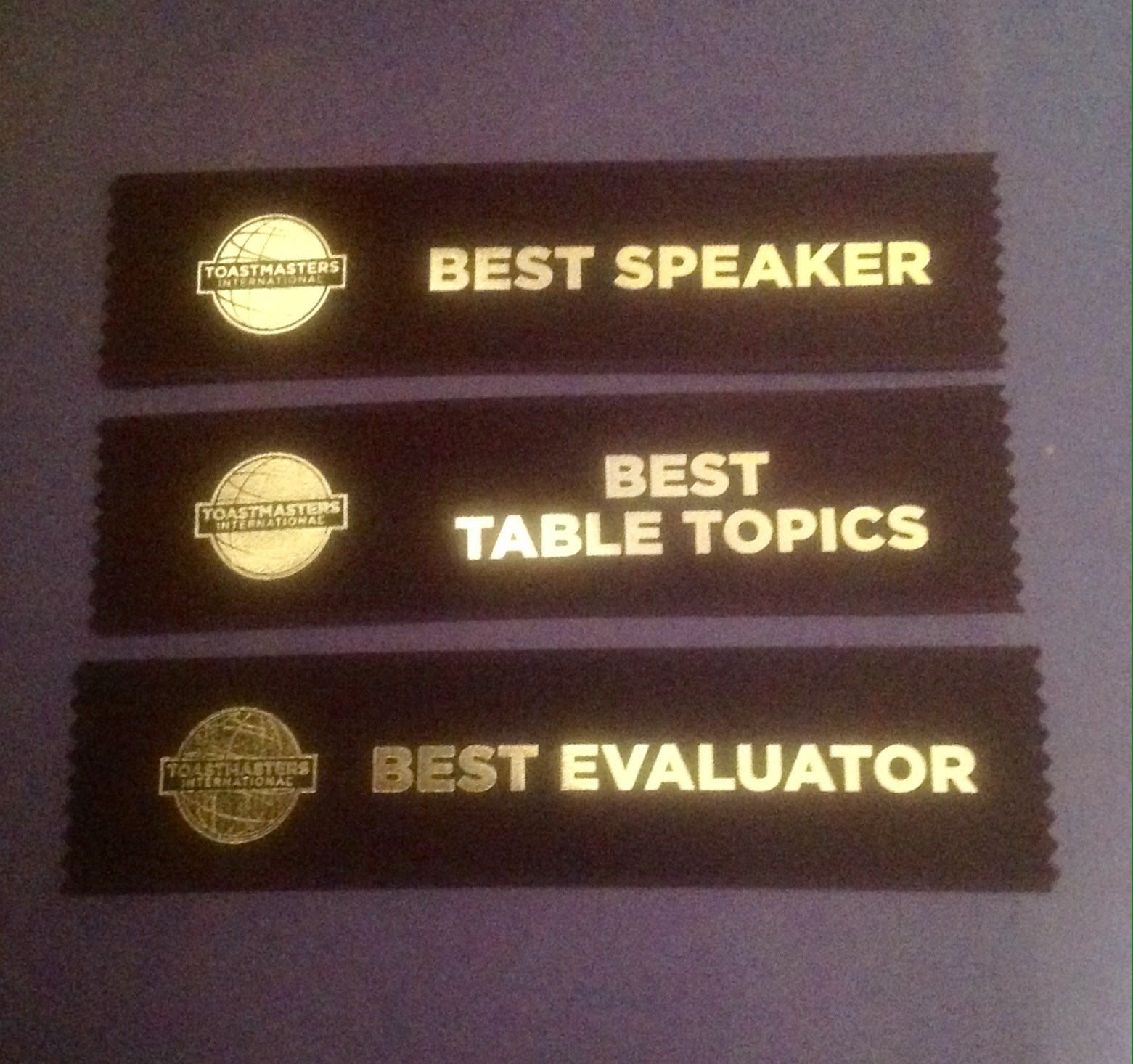 Generally a Toastmasters meeting will have three speakers. Each speaker will speak for anywher from 5-12 minutes depending on the speech. Mine today was scheduled for 6-8 minutes. I took 6:18. The club members clapped when I was done.
However, had I gone over time in my speech, had I taken longer than the allocated 6-8 minutes, I would be ineligible for the voting. In fact, one of the speakers yesterday went too long. He was out of the voting. It was between me and Katy. The winner gets a ribbon.
I think I gave the better speech. I voted for Katy. She won.
In Toastmasters you deliver five speeches on a particular theme. I'm working on the Interpretive Reading manual. Today's assignment was to read a poem. I enjoy poetry. And I've always liked "The Charge Of The Light Brigade," by Alfred, Lord Tennyson. It tells the story of a devastating cavalry charge by a British Light Cavalry brigade against entrenched Russian artillery positions. It's a study in contrasts; the brave soldiers (Ours is not to wonder why. Ours is but to do and die) vs the incompetence that had led them there (the soldier knew someone had blunder'd.)
I read through it in about 3 minutes. With some dramatic pauses, I could maybe stretch that to four minutes, but nothing past that. But, while researching te poem and the Battle of Balaclava on which it was based, I discovered another poem. "The Last of The Light Brigade" is set 40 years after Tennyson's 1854 poem. Rudyard Kipling wrote of the last remaining twenty soldiers from that terrible charge. The destitute men call on Tennyson to ask him to write a "to be continued" story. "You wrote that we were heroes once, sir. Please, write we are starving now."
The two poems together we're just over six minutes. Perfect. I would have time to pause in the reading without worrying about time. I hate the idea of going long. I practiced both poems several times before yesterday's noon meeting. Interpretive reading is designed to be read, not memorized. I felt well prepared. I was the first speaker.
I was struck by my reaction to the words written so many years ago about a battlefield that I honestly couldn't find on a map. My pauses went from being scripted to being genuine efforts to compose myself as I described first the astounding sacrifice and then the harrowing deprivation of these men dead more than a century ago. The cracks in my voice were real. The performance was one of my best.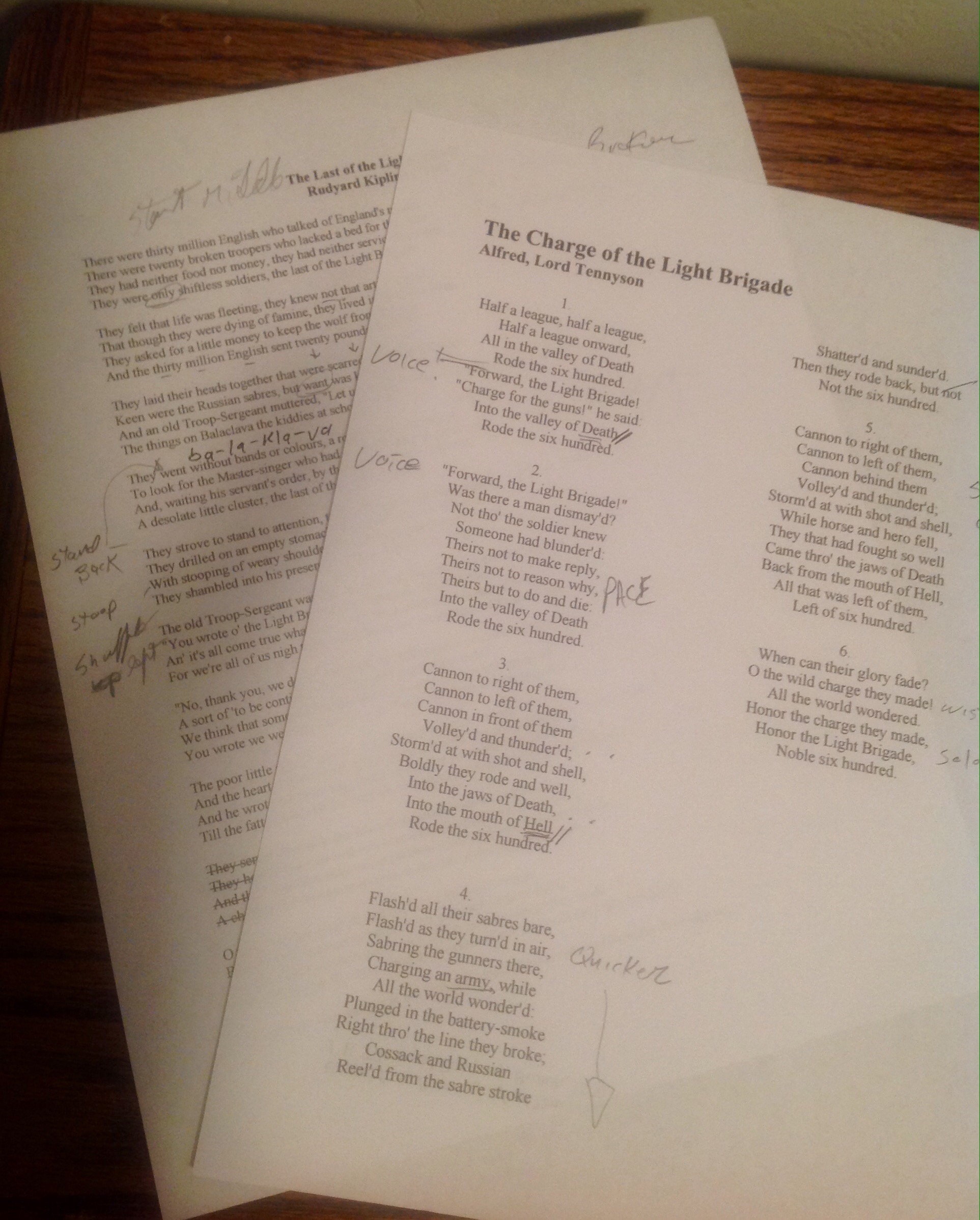 Katy did a wonderful presentation on how to comfort so who are suffering. Her voice didn't crack. She didn't have any purposeful pauses. When it came time to vote, I felt I'd done a better job. I still voted for Katy, because I always vote for the other speaker. I rarely even vote for the person who evaluates my speech for best evaluator.
I don't know what the results of the voting were. By that I mean I don't know how many votes Katy beat me by. But, had I lost by a single vote, I would not have regretted my vote.
It's a poor performer who is his own cheerleader.
If I have done my preparation correctly, I should always think I deserved best speaker. Why wouldn't I? I understand the work that went into my performance. I know about the rough drafts, the efforts to tease out the emotion in a text. I know the depth and energy I put into it. I don't understand that about anyone else. I am judging not only my performance, but my preparation. Evaluated against someone else's performance, my perception is biased.
And I enjoy winning. No doubt about it. I was disappointed when Katy's name was ready. But, I don't want to be rewarded by default. I want to be the best speech of the day. I give speeches to entertain. Today more than most days was a performance. The ribbon doesn't make any difference to how well I perform. The ribbon is handed out afterward. My winning it or not winning it has no reflection on my speech.
Knowing my vote is going to the other speaker makes me that much more determined to do well. Like spotting someone 1 point at the start of the game., I want to make sure that if the club picks me, I know I earned it. If I don't win, I know that I can get better. I'm speaking next week again.
Time to get better.
Rodney M Bliss is an author, columnist and IT Consultant. His blog updates every weekday at 7:00 AM Mountain Time. He lives in Pleasant Grove, UT with his lovely wife, thirteen children and grandchildren.

Follow him on
Twitter (@rodneymbliss)
Facebook (www.facebook.com/rbliss)
LinkedIn (www.LinkedIn.com/in/rbliss)
or email him at rbliss at msn dot com

(c) 2016 Rodney M Bliss, all rights reserved

Here are the poems
The Charge of the Light Brigade

Alfred, Lord Tennyson (1854)
1.
Half a league, half a league,
Half a league onward,
All in the valley of Death
Rode the six hundred.
"Forward, the Light Brigade!
"Charge for the guns!" he said:
Into the valley of Death
Rode the six hundred.
2.
"Forward, the Light Brigade!"
Was there a man dismay'd?
Not tho' the soldier knew
Someone had blunder'd:
Theirs not to make reply,
Theirs not to reason why,
Theirs but to do and die:
Into the valley of Death
Rode the six hundred.
3.
Cannon to right of them,
Cannon to left of them,
Cannon in front of them
Volley'd and thunder'd;
Storm'd at with shot and shell,
Boldly they rode and well,
Into the jaws of Death,
Into the mouth of Hell
Rode the six hundred.
4.
Flash'd all their sabres bare,
Flash'd as they turn'd in air,
Sabring the gunners there,
Charging an army, while
All the world wonder'd:
Plunged in the battery-smoke
Right thro' the line they broke;
Cossack and Russian
Reel'd from the sabre stroke
Shatter'd and sunder'd.
Then they rode back, but not
Not the six hundred.
5.
Cannon to right of them,
Cannon to left of them,
Cannon behind them
Volley'd and thunder'd;
Storm'd at with shot and shell,
While horse and hero fell,
They that had fought so well
Came thro' the jaws of Death
Back from the mouth of Hell,
All that was left of them,
Left of six hundred.
6.
When can their glory fade?
O the wild charge they made!
All the world wondered.
Honor the charge they made,
Honor the Light Brigade,


The Last of the Light Brigade

Rudyard Kipling (1890)
There were thirty million English who talked of England's might,
There were twenty broken troopers who lacked a bed for the night.
They had neither food nor money, they had neither service nor trade;
They were only shiftless soldiers, the last of the Light Brigade.
They felt that life was fleeting; they knew not that art was long,
That though they were dying of famine, they lived in deathless song.
They asked for a little money to keep the wolf from the door;
And the thirty million English sent twenty pounds and four!
They laid their heads together that were scarred and lined and grey;
Keen were the Russian sabres, but want was keener than they;
And an old Troop-Sergeant muttered, "Let us go to the man who writes
The things on Balaclava the kiddies at school recites."
They went without bands or colours, a regiment ten-file strong,
To look for the Master-singer who had crowned them all in his song;
And, waiting his servant's order, by the garden gate they stayed,
A desolate little cluster, the last of the Light Brigade.
They strove to stand to attention, to straighten the toil-bowed back;
They drilled on an empty stomach, the loose-knit files fell slack;
With stooping of weary shoulders, in garments tattered and frayed,
They shambled into his presence, the last of the Light Brigade.
The old Troop-Sergeant was spokesman, and "Beggin' your pardon," he said,
"You wrote o' the Light Brigade, sir. Here's all that isn't dead.
An' it's all come true what you wrote, sir, regardin' the mouth of hell;
For we're all of us nigh to the workhouse, an' we thought we'd call an' tell.
"No, thank you, we don't want food, sir; but couldn't you take an' write
A sort of 'to be continued' and 'see next page' o' the fight?
We think that someone has blundered, an' couldn't you tell 'em how?
You wrote we were heroes once, sir. Please, write we are starving now."
The poor little army departed, limping and lean and forlorn.
And the heart of the Master-singer grew hot with "the scorn of scorn."
And he wrote for them wonderful verses that swept the land like flame,
Till the fatted souls of the English were scourged with the thing called Shame.
O thirty million English that babble of England's might,
Behold there are twenty heroes who lack their food to-night;
Our children's children are lisping to "honour the charge they made – "
And we leave to the streets and the workhouse the charge of the Light Brigade!