My Boys Job Shadowed: Dad, Your Job Is Boring
Can we job shadow you for an assignment at school?

Sure, when?

Tomorrow.
My company has a very strict visitor policy. It's strictly "as needed." There are no casual "drop by the office" visits allowed. The security guards are kind of sticklers about it.
My 7th grade sons job shadowing me meant I had to work from home. Not normally a problem, except that this is my home office.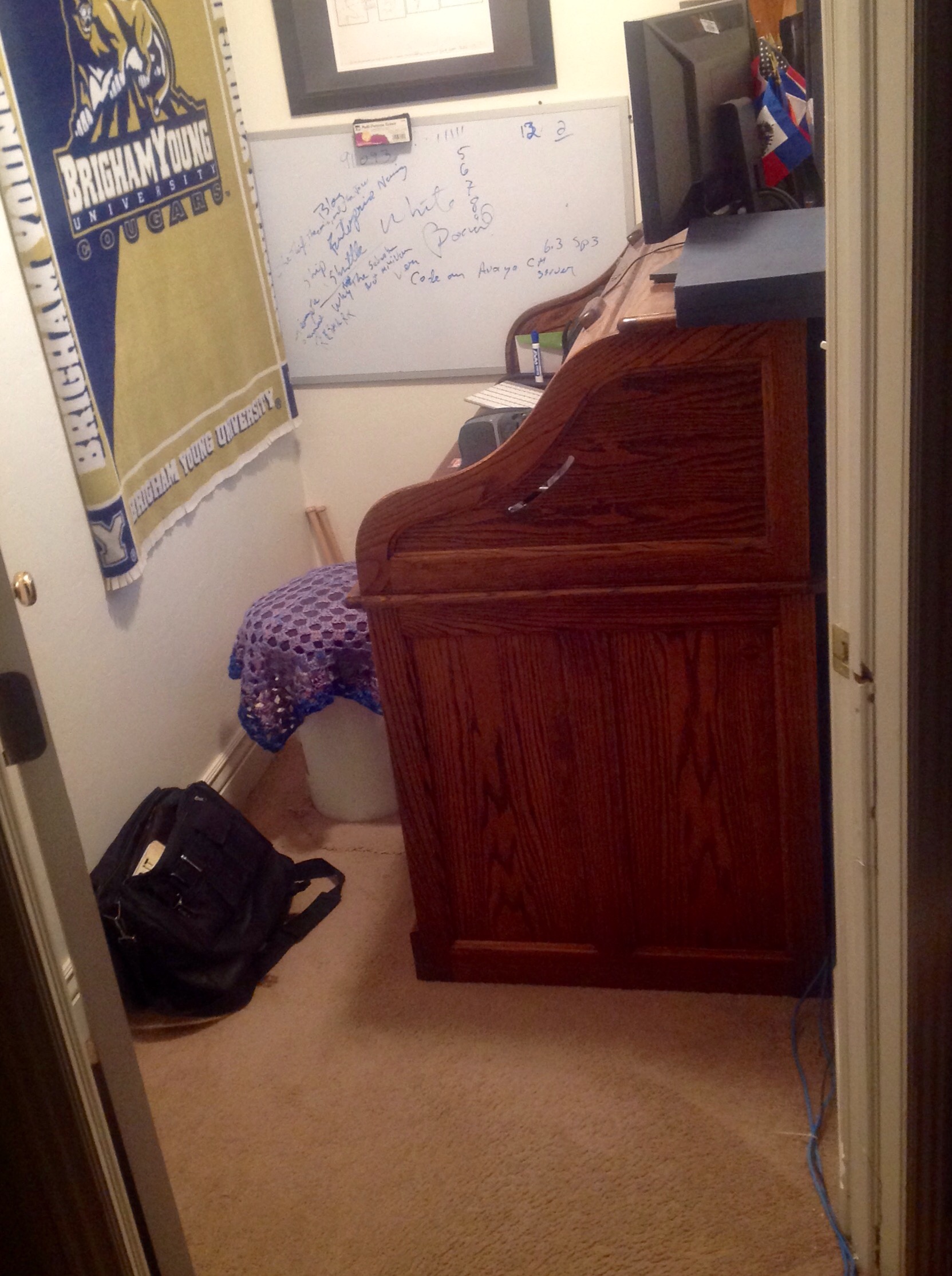 Yes, it is as small as it looks: 7′ x 4′ with no windows, not enough room for a chair, and don't stand to the right of the desk or you can't shut the door.
I work on multi-million dollar projects. I can make my job look interesting to a couple of 13 year olds, right?
Right?
I should explain the office setup. I'm actually thrilled with my office. Seriously. Every job I've had, and during the times when I was between jobs, I've always had a home office. Typically it's been in the garage. I throw up some walls, install a door, and bake in the summer and freeze in the winter.
When we made on offer on our current house, like a lot of Utah homes, it had an unfinished basement. Unlike most Utah homes, this basement used to be finished. An unoccupied house and a broken sprinkler head resulted in a 6″ wading pool in the entire downstairs. By the time we were looking at it, the damage was long past, but there were some walls, but no carpets or baseboards.
I'm normally terrible at real estate. I've lost one home to foreclosure. I've lost a few hundred thousand dollars on a "dream home" that we built at the exact wrong time. However, this time I hit it just right. Three years ago the market was bottomed out and sellers were getting creative.
Our sellers offered a $10,000 bonus to finish the basement. We carved up the basement to give each child their own bedroom with a door and a window. And we carved a few feet off the family room to give me an office.
As a writer, in addition to a Program Manager, I love the intimate space. The walls are full of original art and kids pictures. The wall acts as the "back" of my chair. I can close the door and there's not enough room to lose much. I really like the small space. Except on job share day.
When I work at home, I literally spend all day at that desk. Now, I have to figure out how to make job shadowing meaningful without forcing my sons to stand next to the desk all day.
Ultimately we decided on an interview. They each had to come up with five questions to ask about my job. Right out of the gate?
How much money do you get paid?
Okay, let's talk about how to ask questions.
How much education do you need?

What do you like best about your job?

Do you work with interesting people?

What's the hardest part of your job?
They surprised me with their insights. They actually came up with more than five questions. As I worked through their answers it helped me see the pieces of my job that don't involve sitting behind a desk. Finally, I invited them to squeeze past my desk and I took them on a tour of my computer desktop.
First stop? Email. I explained how Outlook worked. The 24 unread messages in my Inbox and the various folders to store email. We moved on to other tools and processes. As we ended I came back to Outlook. In the twenty minutes we'd been on our tour, my unread messages had jumped to 51.
Fortunately the job shadow only needed to last an hour. My boys were bored well before that. They love playing with computers, they don't think a job in the computer industry is very interesting. It's hard to blame them.
I realized that just because it's hard to make a job look interesting, that doesn't mean it's boring to do. It's just boring to watch.
Rodney M Bliss is an author, columnist and IT Consultant. His blog updates every weekday at 7:00 AM Mountain Time. He lives in Pleasant Grove, UT with his lovely wife, thirteen children and grandchildren.

Follow him on
Twitter (@rodneymbliss)
Facebook (www.facebook.com/rbliss)
LinkedIn (www.LinkedIn.com/in/rbliss)
or email him at rbliss at msn dot com

(c) 2015 Rodney M Bliss, all rights reserved