Trains, Planes and Automobiles (Without The Trains)
I was just minding my own business driving to work on a Friday and here it was Tuesday night and I'd gone from:
Working car. . .
to . . broken car. . .
to. . .blown engine will cost $5000 to replace. . .
to. . .we can swap it ourselves. . .
to. . .nah let's partially rebuild the one we have.
I have no idea really how I got here. What do I know about rebuilding an engine? Nothing. Seriously, I'm not even sure what the term means. (I've been informed we are only doing a "partial rebuild." That doesn't make me feel any better.
But, my neighbor Jonathan is the very picture of confidence.
We'll just pull the head of the engine from the spare red Lexus, and we'll put it on your gold Lexus.

So, you've done this before?

Well, I helped a friend of mine do it on his car.

But, you were the lead, right?

Nope. I just watched him.

Oh. . .Wait. What?

I just need to get my laptop.

You're going to google how to rebuild an engine?
I began to wonder how long I needed to wait before I could declare defeat and just go buy a car? I figured I had to give my friend Jonathan at least until the weekend.
Wednesday we worked on pulling the seized engine out of the gold Lexus. And we started to pull pieces apart. We had two tables set up in my garage. It resembled a blue collar operating room.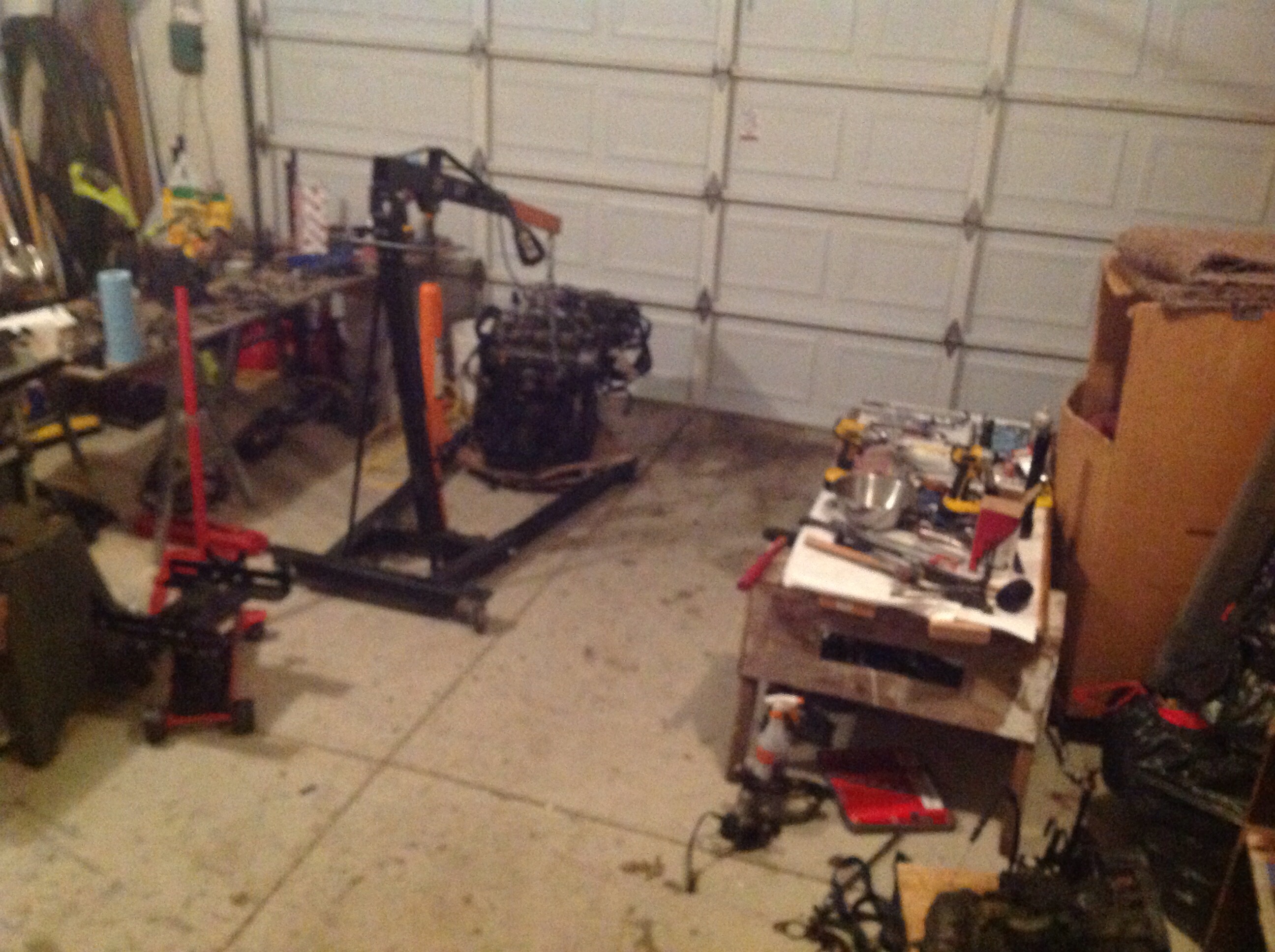 The one on the right had our tools laid out on it. Sockets were set in neat rows, with the size written on the paper. (All metric.) We had wrenches, screw drivers, mallets. Everything was in it's place. The table to the left was used for keeping track of how things came apart. As we disassembled a part, we would place the screws and any removable pieces on the table and label it: "air intake," "ABS system," "transmission bolts." And in the middle of the garage we had the two engines and two transmissions.
And we started stripping the engines down. A modern engine has a lot of pieces to it. And to get everything to fit, the components are packed as closely as possible. To get the seized head off my engine, we had to remove the air intake system. Then, we had to remove the fuel injectors. Next the valve cover had to come off. Finally we were able to take off the head.
A head is the part of the engine that sits on top of the pistons. So, at this point we were looking into the very heart of the engine. As pulled the head off, we exposed the camshafts. And we noticed something worrisome.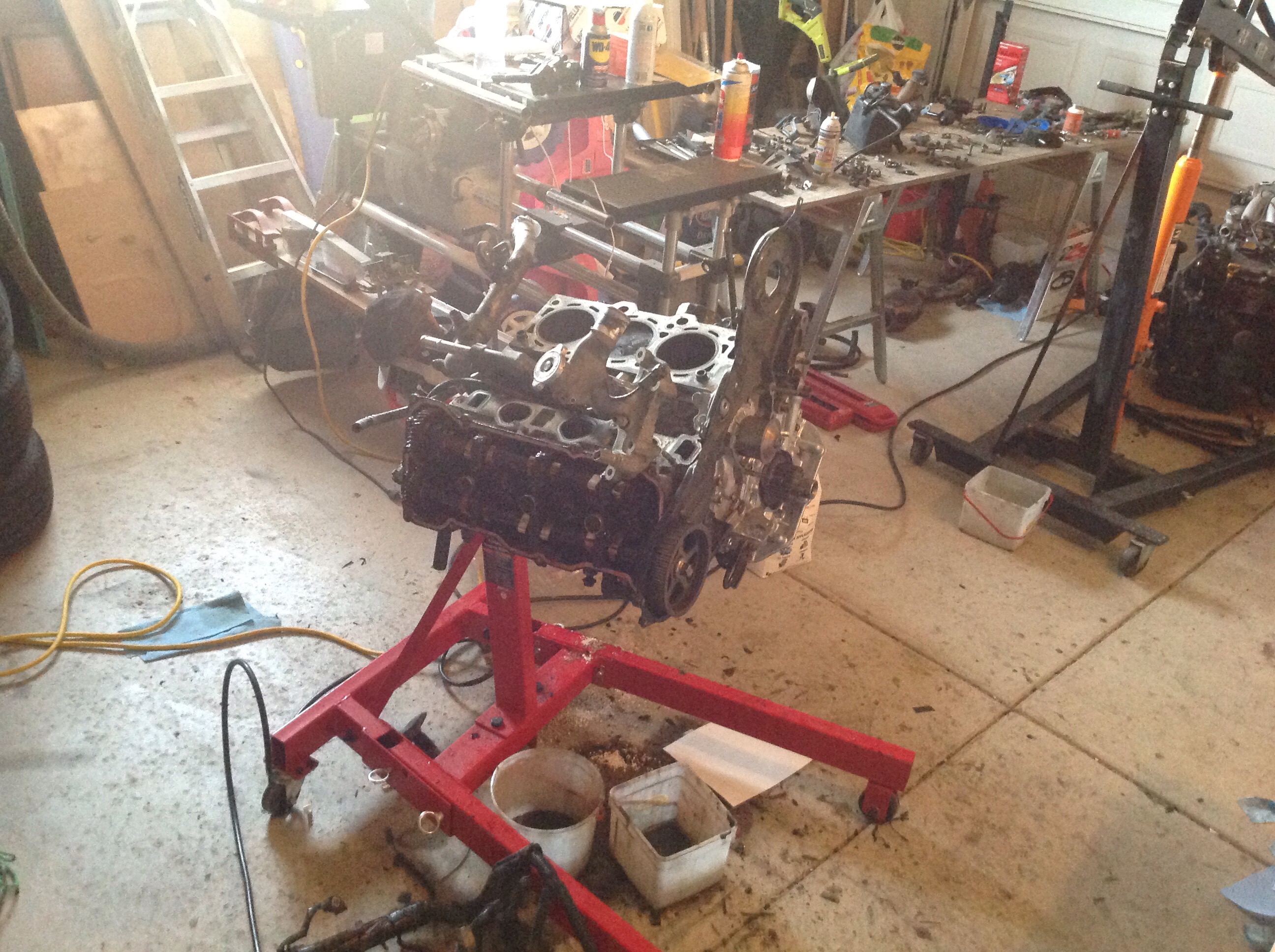 The cam shafts weren't seized up. They didn't look too bad actually. I pushed aside the idea that maybe my entire problem had been a weak pulley that simply decided to shatter.
Cam shafts have a huge amount of stress put on them. You know when your dashboard says that your engine is spinning at 3000 rpms? That means the cam shaft is spinning 50 times per second. We didn't worry about the "bad" one. But, when we went to pull the replacement head, we had to be very careful how we removed it from engine A and how we installed it on engine B. The order the bolts get turned is critical. We made a map.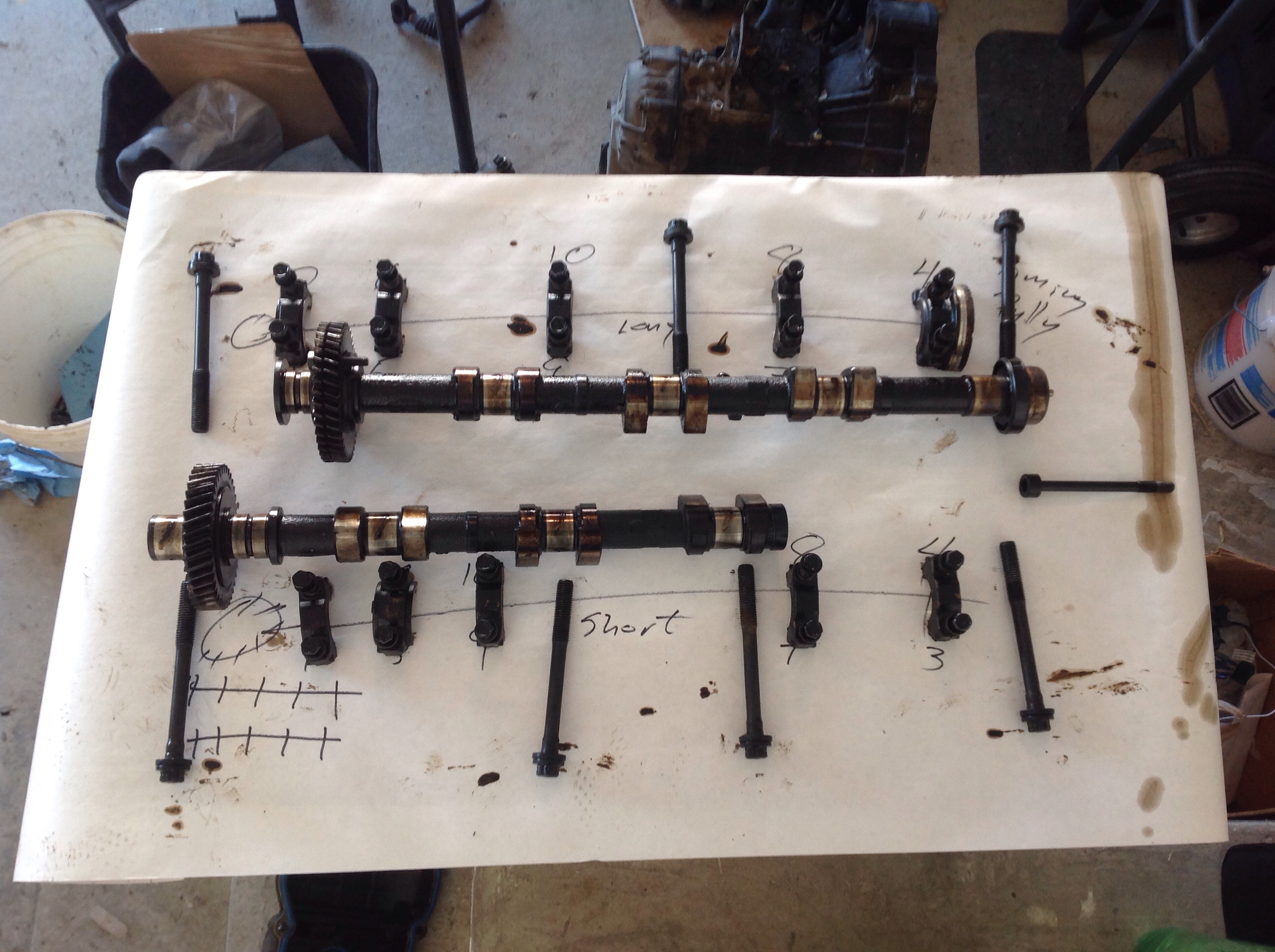 Thursday was a regular work day. I borrowed my wife's car and went to work to try to keep too many things from blowing up. By the time Friday rolled around we were ready to start reassembling the engine and put it in the car.
Have you ever taken something apart that you really didn't know how to put together?
When I was about 14 years old, my older brother had a gas powered airplane model. It was in the days before radio controlled planes. This plane had two strings that attached to a handle. You would "fly" the plane by starting the engine and then spinning around holding onto the string. Yeah, you'd get pretty dizzy.
Anyway, the engine on this plane didn't work.
Hey, Rodney do you want my plane?

Sure.

It doesn't work.

I don't care. I'll fix it.
So, I took his plane and completely disassembled the engine. I cleaned all the parts and put it back together. I had no idea what I was doing. I just put it back together in the same order I took it apart.
It started up the first time. My brother was impressed. Unfortunately I was a better mechanic than I was a pilot. The first time I flew it, I crashed and snapped the plastic body in half.
That's what we did with this engine. Sure we wwere referring to the official engine manual, but for a lot of it, we just kept track of how we took it apart and tried to put it back together the same way. We have another neighbor who watched our efforts with curiosity. He would come over everyday after work and get an update. I don't think he believed we could make it work. It was in a lot of pieces.
I was afraid he might be right. What if we got it all back together and it didn't evewn turn over? I would have just wasted a week and I'd still be out of a car.
I tried to put those thoughts aside as we spent most of Saturday putting the finishing touches on the engine, reattaching the transmission and then trying to muscle the engine back into the engine compartment. For some reason even though we had a half ton jack, we still ended up lifting the engine at time.
Finally the engine was in and bolted to the frame. We hooked up anti-lock brake lines, power steering lines, brake lines, axles, tie rods. We walked our way back down our parts table installing one piece after another. Most importantly we didn't seem to have any extra parts. We poured gallons of fluids in..
We all four stared at the car.
Well, I guess someone should try to start it.

Jonathan, you did most of the work, you give it a try.
I was shocked when the engine purred to life like it had never been sick. And even more shocking, the CHECK ENGINE light didn't come on.
Should we take a test drive?

Rodney, you should drive.
The test drive took about 20 minutes. At 15 minutes the temperature gauge maxed out. The engine was burning up. I coasted the last two blocks back to my house.
The internet is your friend. we googled:
LEXUS TEMPERATURE OVERHEATING
It was either a bad thermostat or air bubbles in the cooling system. We had replaced the thermostate a few months earlier and it was a pain to get to.
Given how tough it is to replace the thermostat, I vote we try the air bubbles solution.
No one disagreed. To clear air bubbles you literally "burp" the car. No one had to pick it up. You get a special funnel and let the car run while the funnel is full of anti-freeze.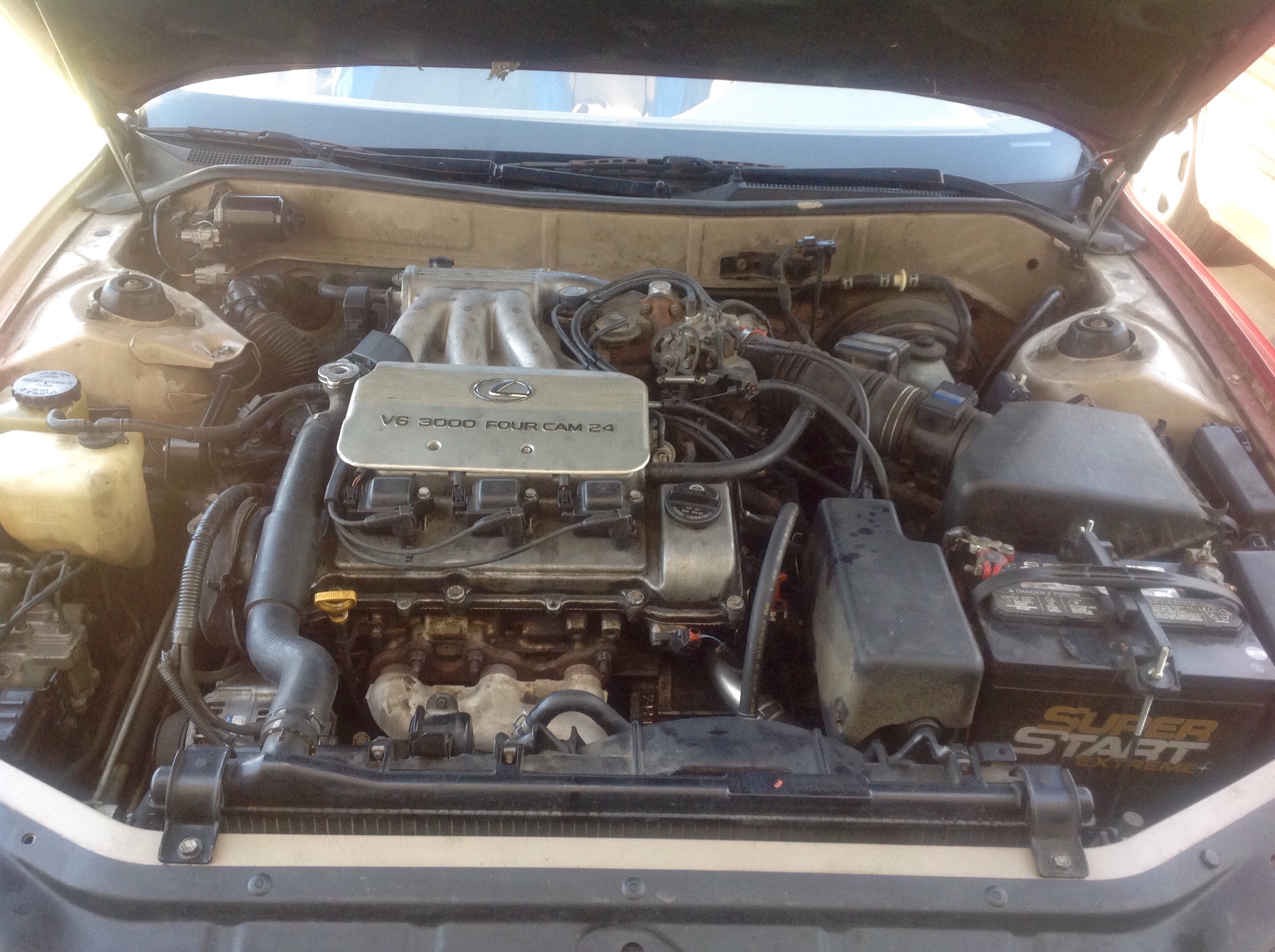 And that was it. Well, there's a leak somewhere in the exhaust system that makes the six cylinder Lexus sound liek a big V-8 muscle car. We'll fix it eventually.
There was just one unfinished part to the story. While my neighbor was doing much of the engine work, I was doing some body work. If you look at the picture above you will notice that the fenders are two different colors.
Tomorrow I'll explain how I turned my car into a super hero and I will never again "lose" it in a crowded parking lot. Plus, I'll let you know how much the adventure cost me. Was it worth it to do a partial rebuild ourselves and avoid the $5000 for a new engine?
Rodney M Bliss is an author, columnist and IT Consultant. His blog updates every weekday at 7:00 AM Mountain Time. He lives in Pleasant Grove, UT with his lovely wife, thirteen children and one grandchild.
Follow him on Twitter (@rodneymbliss)
Facebook (www.facebook.com/rbliss)
LinkedIn (www.LinkedIn.com/in/rbliss) or email him at rbliss at msn dot com