Is There Ever A Good Time For Your Car To Break Down? . .Yes!
It was a shudder. Hardly noticable. It might have been a slight pothole in the freeway, but it wasn't. Like the presence of a single drop of water appearing on the page of a book, it was something that didn't belong there. In the car's defense the the Check Engine light did come on. I think it gave me about about 30 seconds warning before things went really bad, really fast.
Yesterday I talked about how I'm Afraid Of My Car. . .But I Have A Good Reason. My car is old. It has a lot of miles. And I decided on a whim to take it on a 1900 mile journey from Pleasant Grove, UT to Olympia, WA. It was Wednesday and I saw a post my younger brother put up on Facebook. It was announcing a surprise 70th birthday party for my mother. My younger brother and my mother both live in Olympia. I called my older brother in California.
Hey, I just saw a post that John put up. They are having a surprise birthday party for Mom on Sunday.

Oh?

Let's go. Let's just not tell anyone we're coming and show up. What do you say?

Okay.
And that was how we decided. Now, I've had my car for about a year. I commute 80 miles a day. One of the things about it is that it drinks oil pretty bad. So, I made sure to check the oil, and all the fluid levels before taking off. There is a lot of loney highway up I-15 and over I-84 and I-82.
Saturday I left Utah at noon. It's about a 13-15 hour trip to Olympia. I drove as far as Pendleton, OR on Saturday. I stopped for dinner and the night. First day's travel was about 600 miles in 8 hours. The freeway speeds through Northern Utah and Southern Utah are 80. If you typically drive ten miles per hour over the speed limit, you are flying across the Rockie Mountains at a rate of 3 miles every 2 minutes. . .and it puts a lot of strain on your car.
In Pendleton, I also added a quart of oil. Typically the car didn't drink it quite THAT quickly, but it wasn't anything unexpected. Three hundred and fifty miles to go. The party was scheduled for 5:00 PM on Sunday. I figured I had plenty of time.
As an IT guy, my computer is my primary tool. Well, that and my phone. But, my technology tools are what let me do my job. Without them I'm stuck. Computers are like cars in many ways. Instead of checking the oil and anti-freeze level, instead we backup our data. Or, we should at least. But, we always think, "No, it's not a danger. It'll be fine. It was fine yesterday. Why wouldn't it be fine today?"
I know I do.
Breakfast Sunday morning in Pendleton was gorgeous. The early Spring was turning Eastern Oregon into a little bit of Ireland.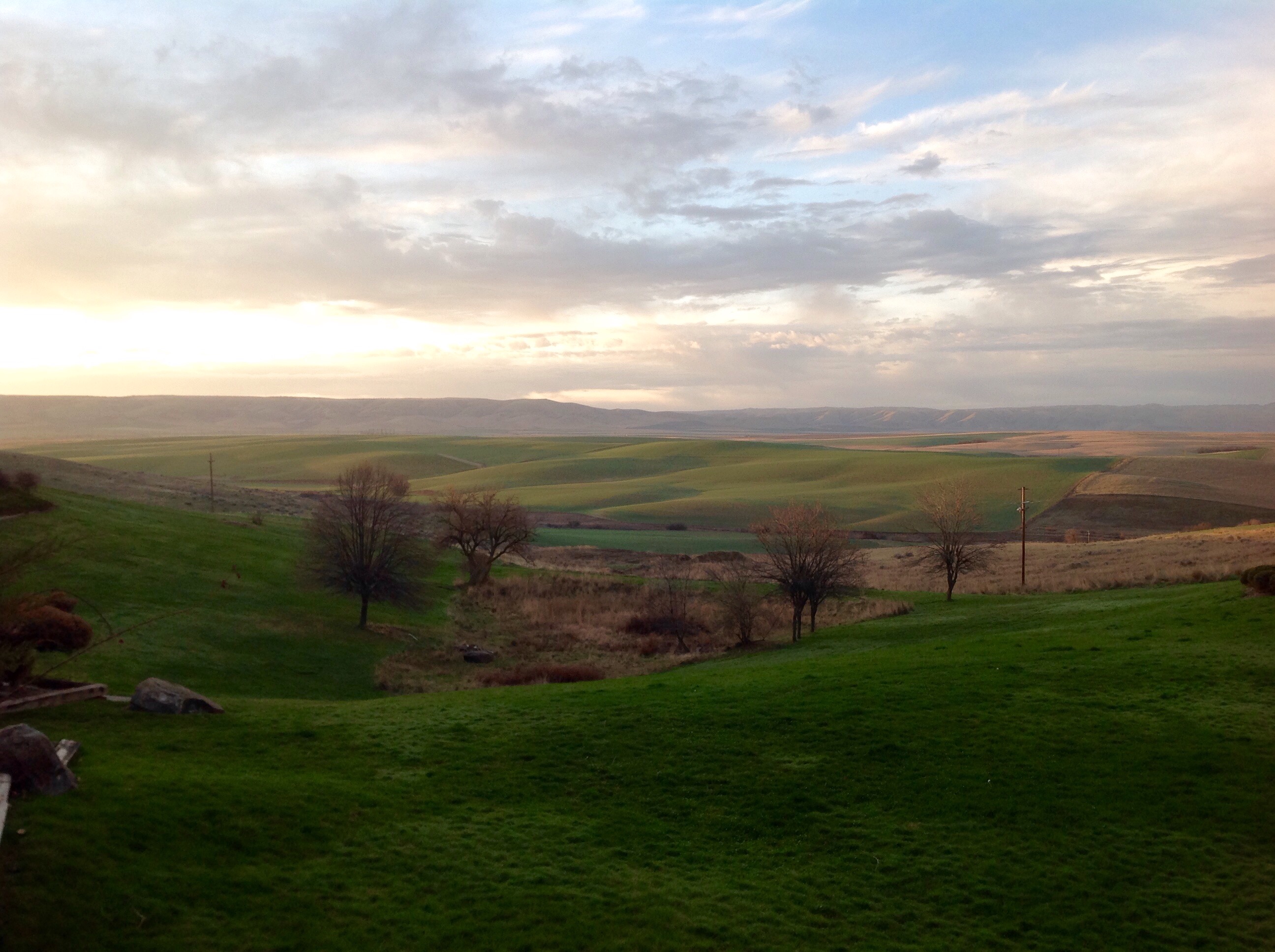 I turned North at Umitalla and headed up through Yakima. If you've ever made the trip from Utah to Washington, you know you have a choice: river or mountains? While the Columbia is a beautiful river, it rolls through some really ugly country. No trees. Lots of rocks and dirt. Unless there's a risk of snow, I always take the Northern route through Central Washington.
After a couple of hours I hit the Cascade Mountains. I live in the Rockie Mountains, but the Cascades are some of the prettiest in the world. As you start the trip up the Eastern slope, you progressively go from pine to fir to cedar and hemlock. It even started to rain, something we've missed in Utah this winter.
I arrived about 2:00 pm and hung out at my brother's house. We all headed to Mom's country club about 3:30 to set up. The party was a huge success. I Made My Mother Cry. . .And I'd Do It Again. The surprise was utter and complete. We made some speeches, ate too much cake and had a great time.
That night I stayed at my Mom's house and got up early Monday morning to head home. Thirteen hours to get there, probably thirteen to get home and about 19 hours in Olympia. Worth it? Absolutely.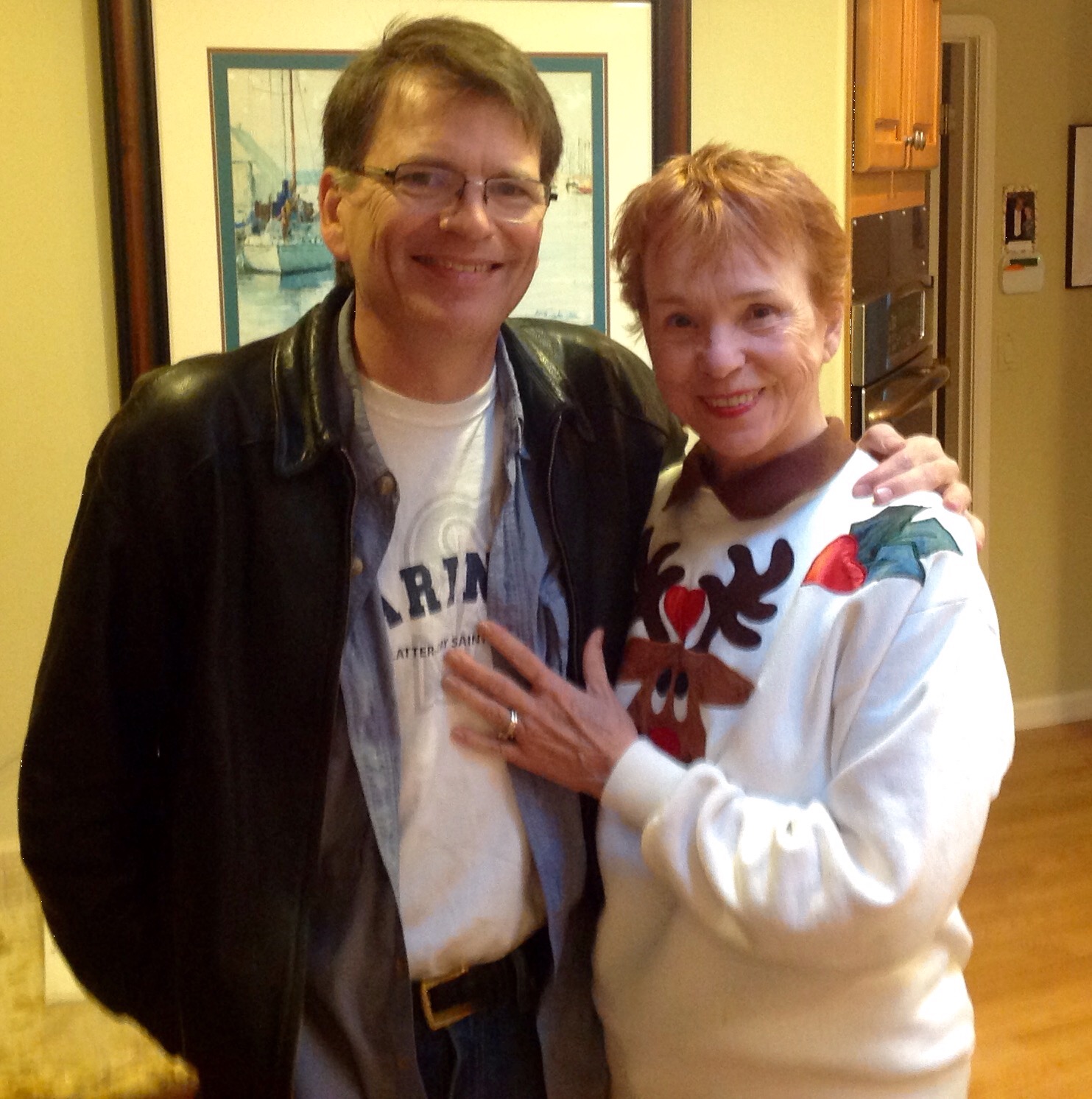 However, my car needed oil again. The engine sounded strong, but it was burning through the oil at a worrisome rate. For my trip back, I took White Pass. It was snowing at the summit. Something else we've missed a lot of this winter in Utah. No breaking up the return trip. I had to be back at work on Tuesday. My brother gave me a 9 CD set of Lord Of The Rings. It helped the time to pass. It wasn't lost on me that I was ALSO headed East. Of course, I was going 90 MPH and not headed toward Mt Doom. . at least not intentionally.
Well, about 17 hours later I pulled into my driveway about 2:00 AM. Safe, right? My car is doing pretty good if I can up and decide to make an unscheduled 2000 mile trip. And it had rolled past 250,000 two days before my trip. Yep, I really started to trust it.
Tuesday I worked from home.
Wednesday I drove back and forth to work. The car blew a little blue smoke, but nothing out of the ordinary.
Thursday I headed back to work. Eighty miles round trip through construction zones with no shoulder.
Friday I got a late start. I headed out at 7:00 AM. I made it to a spot called Point of The Mountain. It's where the construction zone is. It's also where the warning light on my car came on. . .30 seconds before the engine blew up. I didn't know it blew up at the time. In fact, I managed to coast down off Point of the Mountain and to an offramp.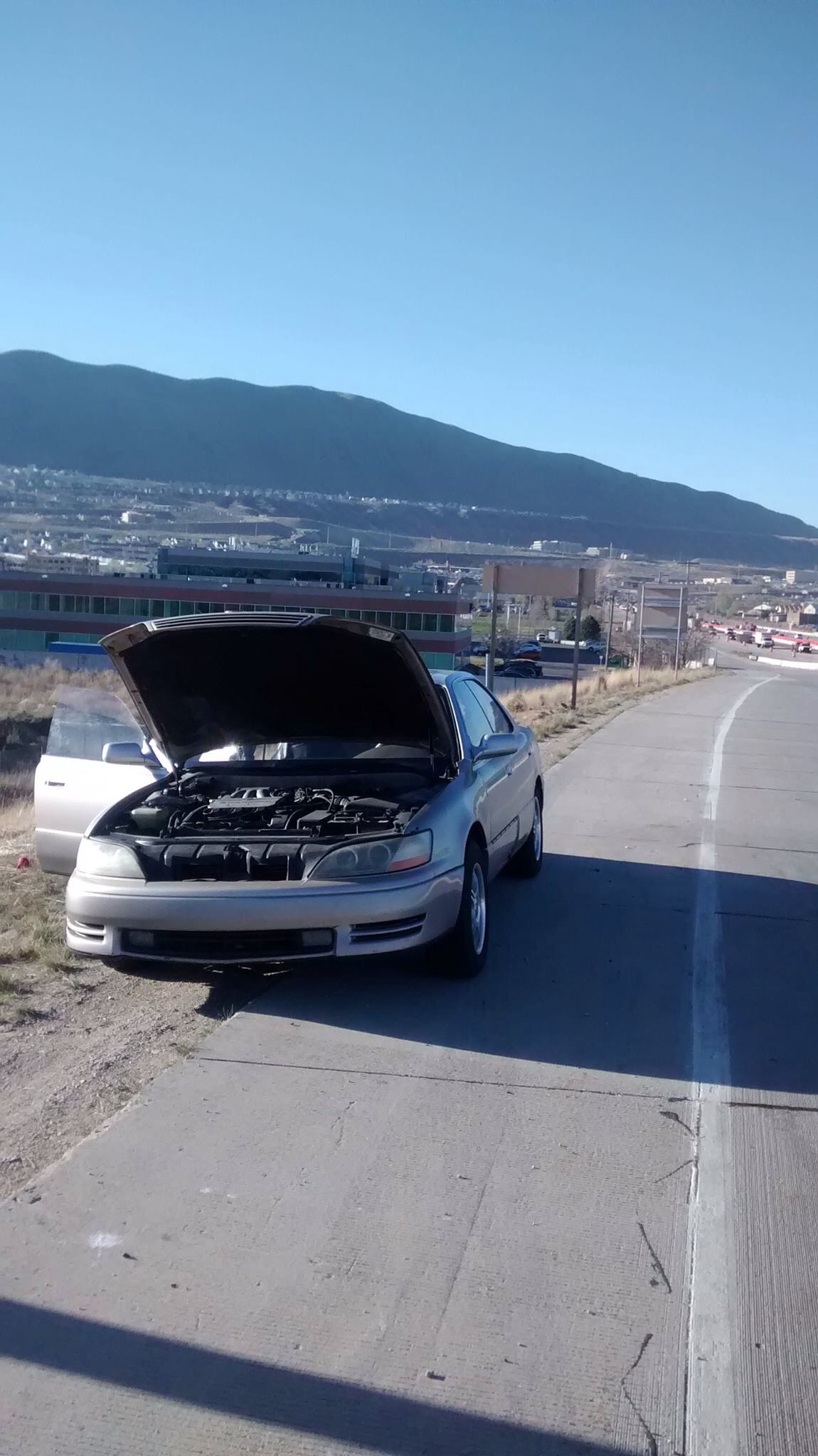 And there I sat. The car was deader than dead. Unfortunately my mechanic is south of my house and I work North of my house. The tow truck ride was $165. (Not the last or most expensive cost in this story.) After hours in the mechanic's shop they finally had some news for me.
We think we know what the issue is, but we have to show you.
A piece was broken. Literally a plastic pulley housing was shredded and the pulley was a jumble of metal confetti inside.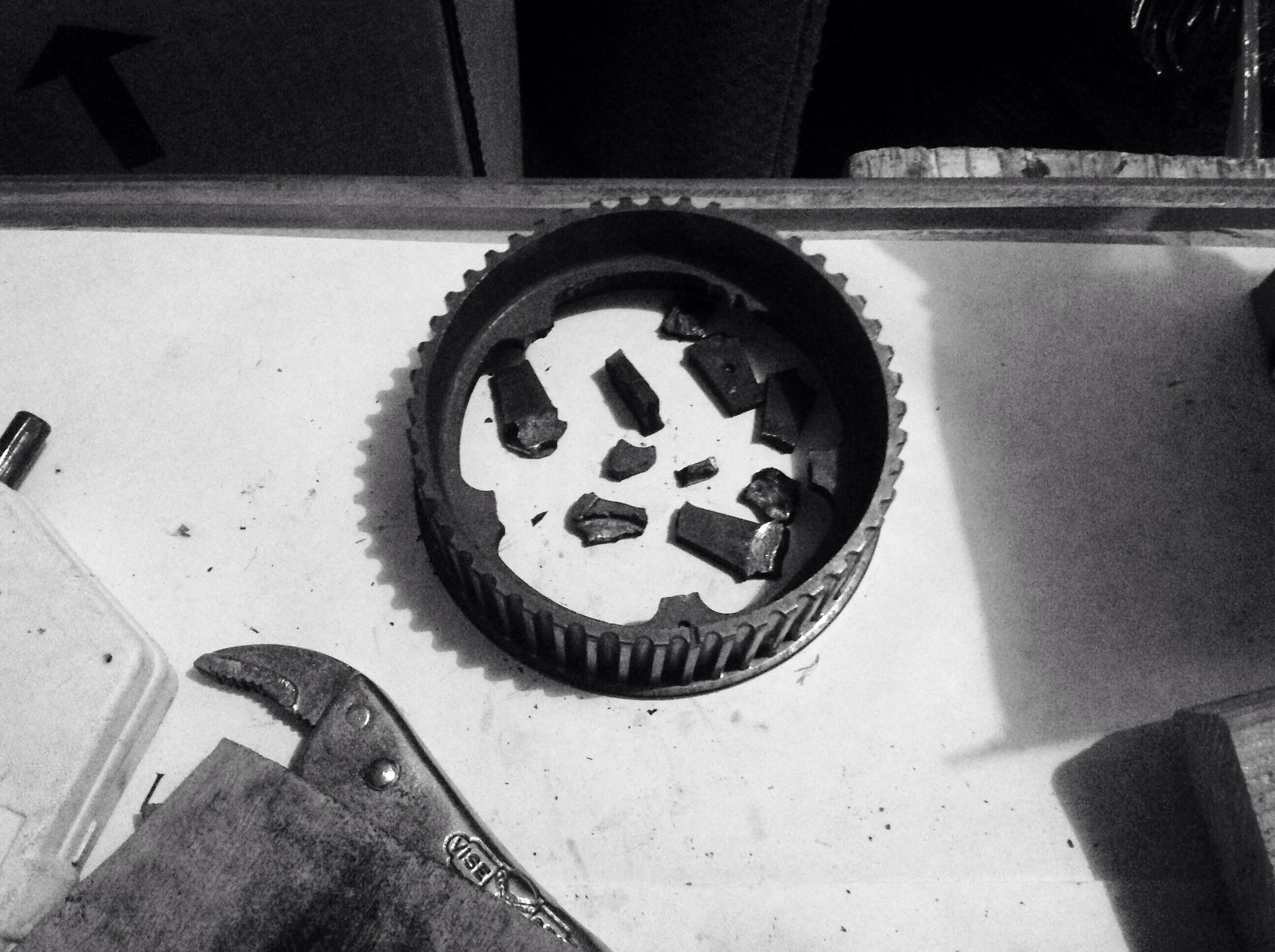 So, what's it mean?

We think the pulley broke because the engine seized up. The broken pulley is actually a good thing. If the pulley hadn't shattered, something else would have tried to. And you might have come to a screeching halt going from 60 MPH to 0 in the middle of the freeway.

What do we need to do to fix it?

You need a new engine.

How much is that?

Well, we can't say for sure until we locate a used one.

Ballpark.

$3500 – $6000
Two thoughts crossed my mind.
First, I had just gotten a call from my accountant while sitting in the wating room. My refund was bigger than I expected. How much bigger? About $5000.
The second thought was "Is there ever a good time for your car to break down?" YES! And 1000 miles from home on a lonely stretch of mountain highway, possibly in the snow isn't that place.
I'd gotten lucky. If you can call a blown engine lucky. But, now what do I do? Pay for the new engine? Or get a new car? Or maybe I could think of another alternative.
Tomorrow I'll explain how the decision kept taking "Just One More Day."
Rodney M Bliss is an author, columnist and IT Consultant. His blog updates every weekday at 7:00 AM Mountain Time. He lives in Pleasant Grove, UT with his lovely wife, thirteen children and one grandchild.
Follow him on Twitter (@rodneymbliss)
Facebook (www.facebook.com/rbliss)
LinkedIn (www.LinkedIn.com/in/rbliss) or email him at rbliss at msn dot com