You Can't Make Old Friends
Thirty one years. That's how long it had been since Mark and I had seen or spoken to each other. Today, I was chasing him across Oregon and was 90 minutes behind. From the time I hit Umatilla we'd been texting back and forth. Each gas stop was an update as we travelled the same road displaced in time by an hour and a half. What had led us to this 70 MPH chase was a lifetime of friendship.
See, Mark and I met in the 5th grade. We were ten. I was the new kid in school, he was the self described "geeky fat kid with glasses." We attended Mr Michalak's 6th grade class at Nisqually Middle School. Our friendship was cemented in an incident that I have long forgotten but Mark never has. As he tells it,
I was getting picked on by an 8th grader in the lobby, next to the office. Even though he was also a 6th grader, Rod stuck up for me. The older kid then picked him up and threw him through the lobby window. Fortunately it was plexiglass, but the older kid got away with it and we got in trouble for breaking the window.
We've been friends ever since.
We helped each other get into various amounts of trouble in high school. After HS, I ended up living at Mark's house for a few months while preparing to go on a mission for the LDS Church. I'd had a fight with my parents. I ended up at Mark's which may not have been the best environment for a future missionary. Eventually, the bishop decided that I should move in with a church member. Mark remembers "the guys in the white shirts" came and took me away. That was the last time we saw each other. . until last Monday.
We hadn't intended to not see each other for three decades. Like many people, facebook brought us back together, at least online. We both have a passion for politics, although we couldn't be more opposite in our opinions. We were debating the Person of the Year choice a few yeas ago. The choices had been Julian Assange, the Wikileaks guy who is currently hiding in the Ecudarian Embassy in London, or Mark Zuckerberg, the billionaire inventer of facebook. Zuckerberg was selected and Mark felt they made the wrong choice.
I don't know Mark. We haven't seen each other decades and now we talk nearly everyday thanks to facebook. You might say that Zuckerberg had more influence on the world than Assange.
The problem was that while we talked on facebook, we lived 100 miles away. He's south of Seattle about 3 hours and I'm in Utah. Each time I'd visit my mother in Olympia, WA I'd email him.
I'm going to be in Olympia over the weekend. Any chance we could get together?

I'm teaching a kayaking class on Sunday and then I'm leaving for Idaho first thing Monday morning.

Where in Idaho?

Twin Falls.

I'm right through there. Maybe we could get together for a few minutes.

Sure.
It makes sense really. I live in Utah, he lives in Washington, Idaho is half way in between.
And now I was approaching exit 182 in Twin Falls, ID. As I pulled into the motel parking lot, I immediately knew he'd be the guy driving the Subaru wagon. Even before the final text saying, "Here now" He was opening the door to unit 18.
They say that friends, really good friends, can go months without speaking. Then when they finally see each other, they pick up right where they left off. I can assure you that it's not just months, it's years and decades too. Last time we'd been in the same room, we were both young, single guys. Now, we are both old guys. He had his daughter with him. I told him about my children and grandchildren.
We drove up the hill to the truck stop to catch up over dinner before I had to drive another 4 hours home. I have been friends with Mark longer than anyone else on earth. I expect that I may not live long enough to be friends with someone that long again.
This blog is about business and leadership. And those are important. We move between companies multiple times during our careers. We keep contact with some coworkers, others drift away. Although, they are always going to be a LinkedIn connection.
This week I've tried to focus on the human side, the "life" side of the work/life balance. And no aspect of it is bigger than the idea that creating and cultivating a few deep and abiding friendships is one of the keys to a happy life.
I don't know if it will be 31 years before Mark and I see each other again. If it is, it will be his turn to buy dinner in 2046 when we are in our 80s.
You cannot make old friends. They have to be grown.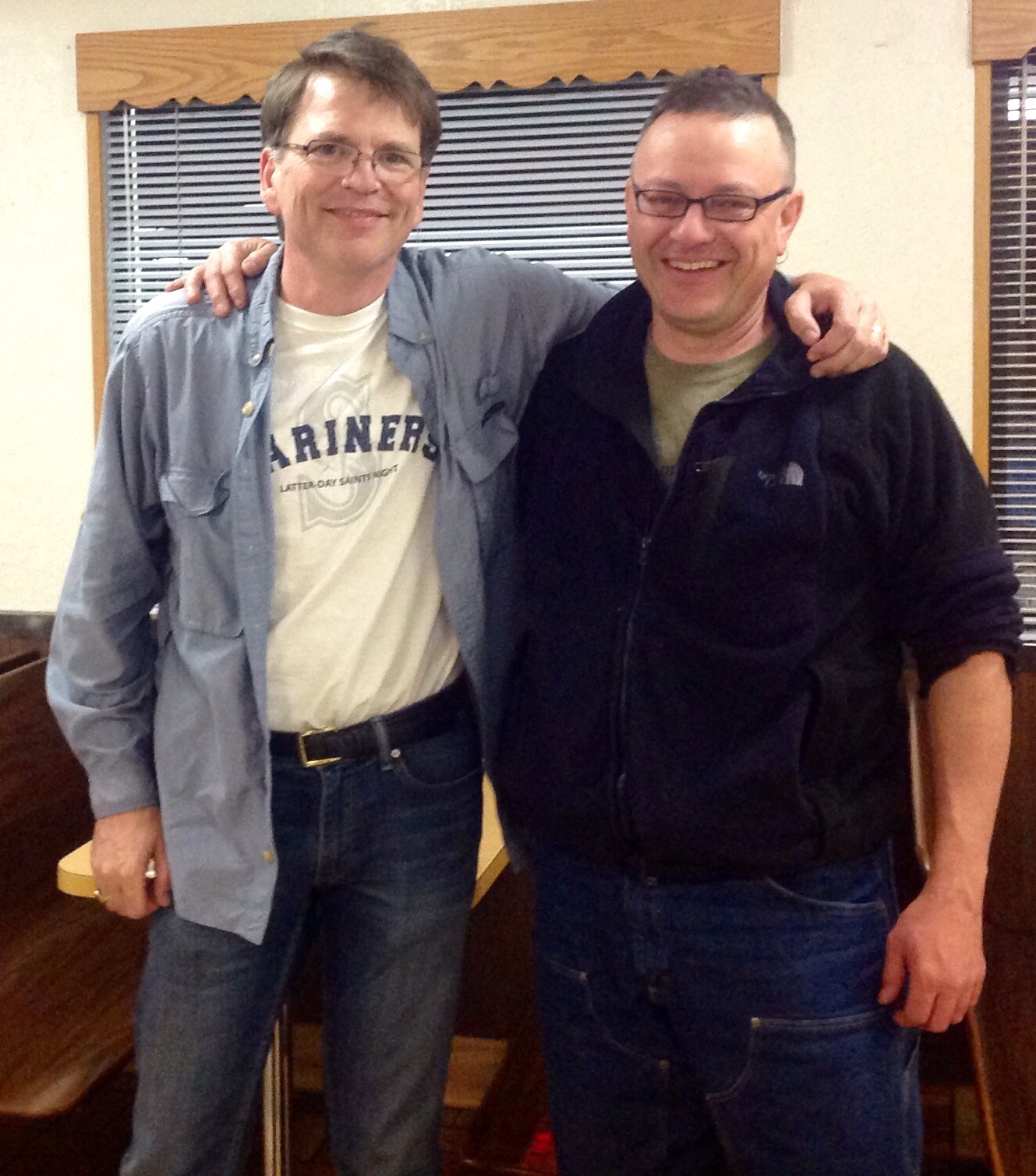 Me and Mark Whitaker, my oldest friend at a truckstop diner in Twin Falls, ID. 
Rodney M Bliss is an author, columnist and IT Consultant. His blog updates every weekday at 7:00 AM Mountain Time. He lives in Pleasant Grove, UT with his lovely wife, thirteen children and one grandchild.
Follow him on Twitter (@rodneymbliss)
Facebook (www.facebook.com/rbliss)
LinkedIn (www.LinkedIn.com/in/rbliss) or email him at rbliss at msn dot com