Road Trip! Going Home Again
It was not a typical trip. In fact, every aspect of it was different. I needed to get from Pleasant Grove, UT to Olympia, WA. It's about 900 miles. If this were a typical business trip, I'd drive to SLC airport, get on a plane and 90 minutes later get off the plane at SeaTac. Depending on traffic, I'd be in Olympia in about 2 hours. Door to door the trip would probably take about five hours.
Instead, I was driving. Google estimates that 906 miles takes 13 hours and 47 minutes. You can do it faster than that, if you are willing to dodge the highway patrol. The speed limit in Northern Utah and Southern Idaho is 80 mph. Go 9.5 MPH over the speed limit and your 89.5 MPH means you are going a mile every 40 seconds. It's eats up the distance pretty quickly. But, you have to slow down when you hit Oregon. The speed limit is 65 MPH and they really mean it.
The trip gave me plenty of time to think. I left beatiful Pleasant Grove, UT on a gorgeous Saturday afternoon. Mt Timpanogos doesn't have nearly as much snow as it should for mid March.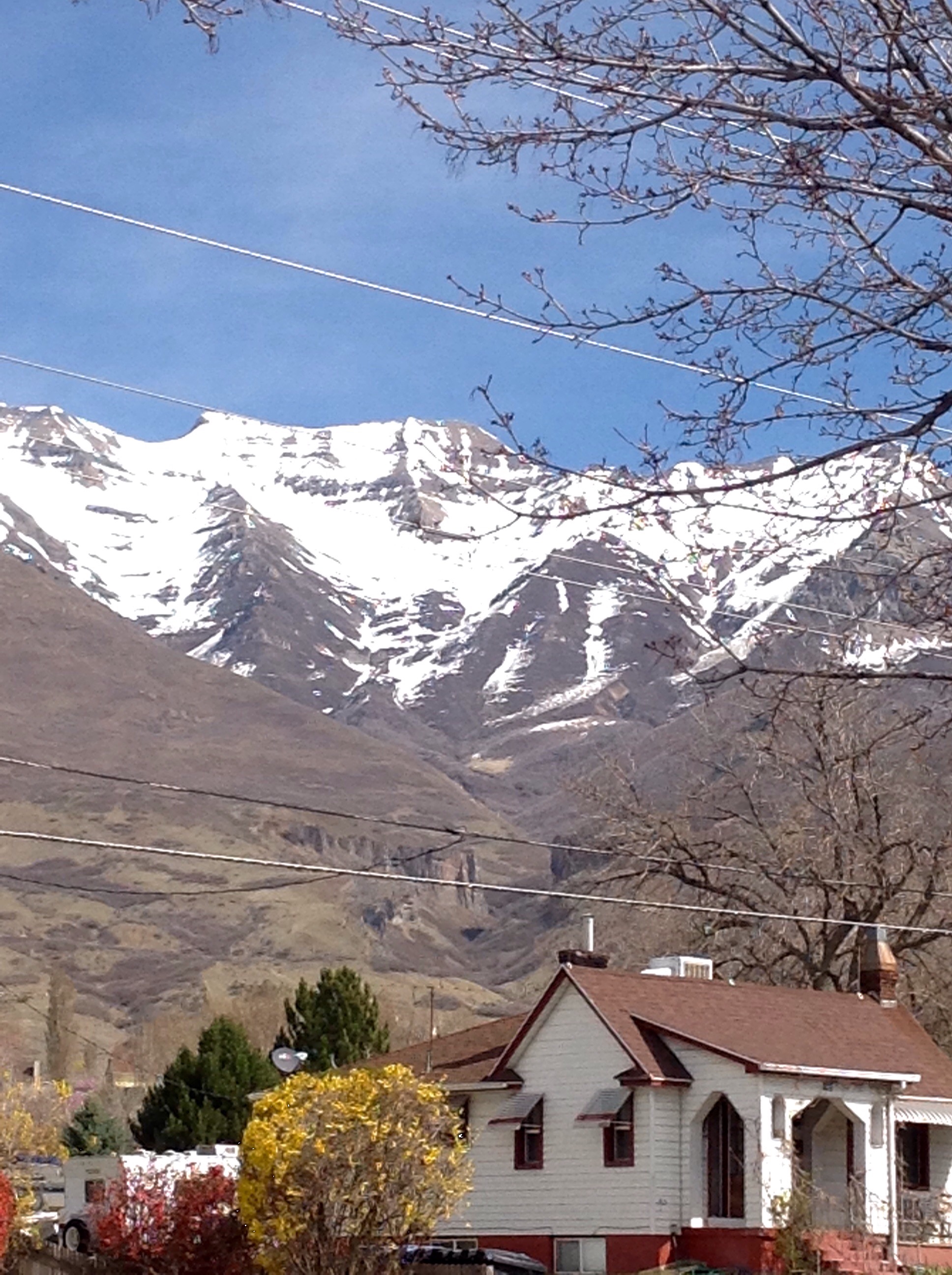 I first pointed my car East down Provo Canyon to Heber, UT. My 18 year old niece was going to ride with me. This is a picture of the backside of Mt Timpanogos. The mountain resembles a sleeping Native American princess. Her head is to the left and her feet are to the right.

I grew up in Olympia and went to college at BYU in Provo, UT. I've made this drive at least a dozen times, maybe more. Parts of it are incredibly beautiful, parts of it are incredibly ugly. But, It represents a couple of things to me.
First, even though I live in Utah and I love it here, Washington will always be home. Driving back, I became 22 years old again, headed home for the summer.
Second, I got to appreciate the beauty that is the American Mountain West and Pacific Northwest. We stopped for the night in Pendleton, OR. It's about 9 hours from PG to Pendleton. That would leave us a 4-5 hour drive for the next day. We had to be to Olympia by 5:00 PM. And breaking the trip up, meant that we got to enjoy the scenery.
Part of that scenery was the view from my table at breakfast. These are the rolling hills of Eastern Oregon before you get to the Blue Mountains.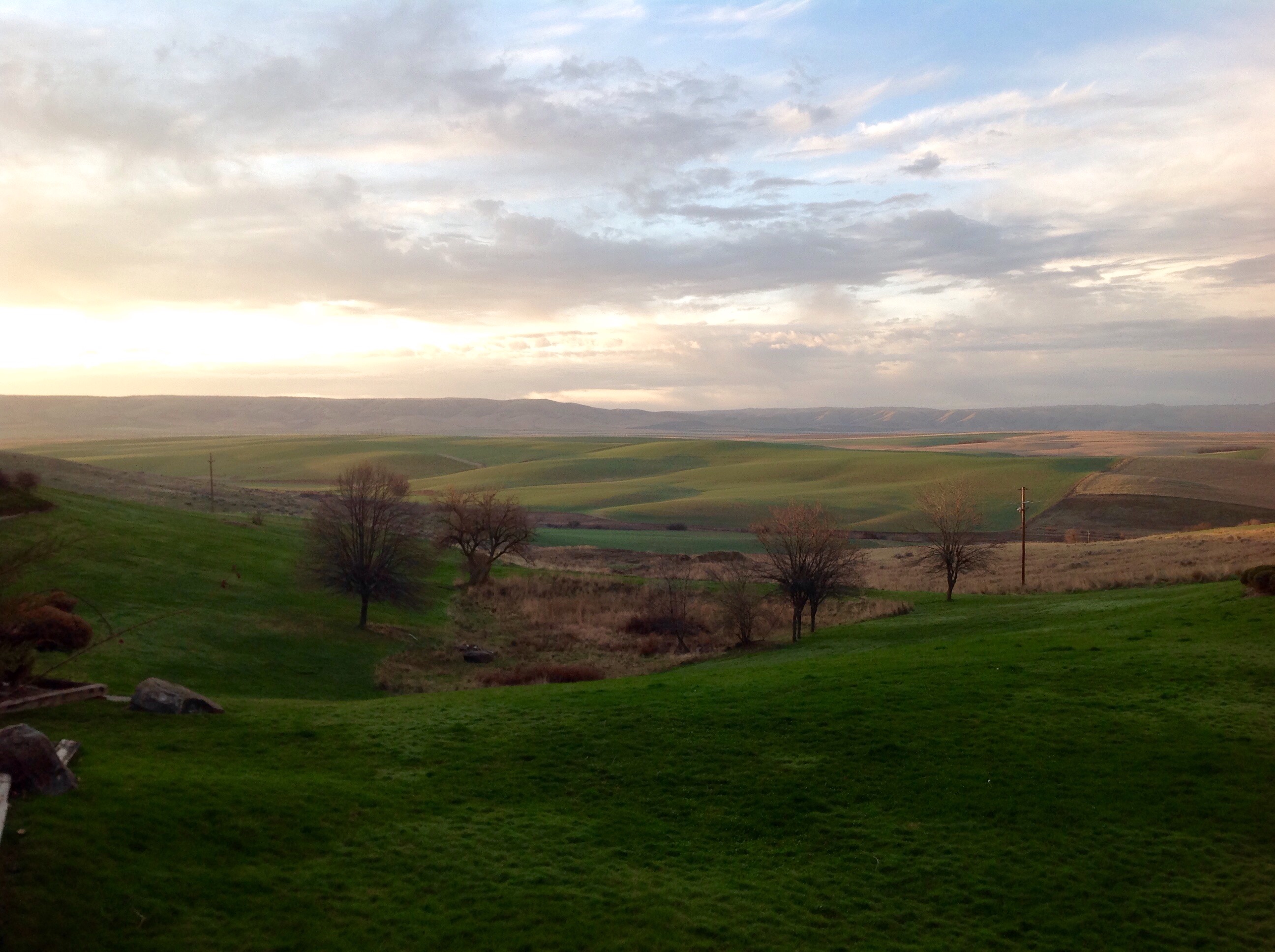 Walking to breakfast, I passed the exercise room and laughed at the layout. That's a stationary bike and right in front of it is a vending machine. I pictured a hamster running on his wheel to get to the carrot on a string.
Edit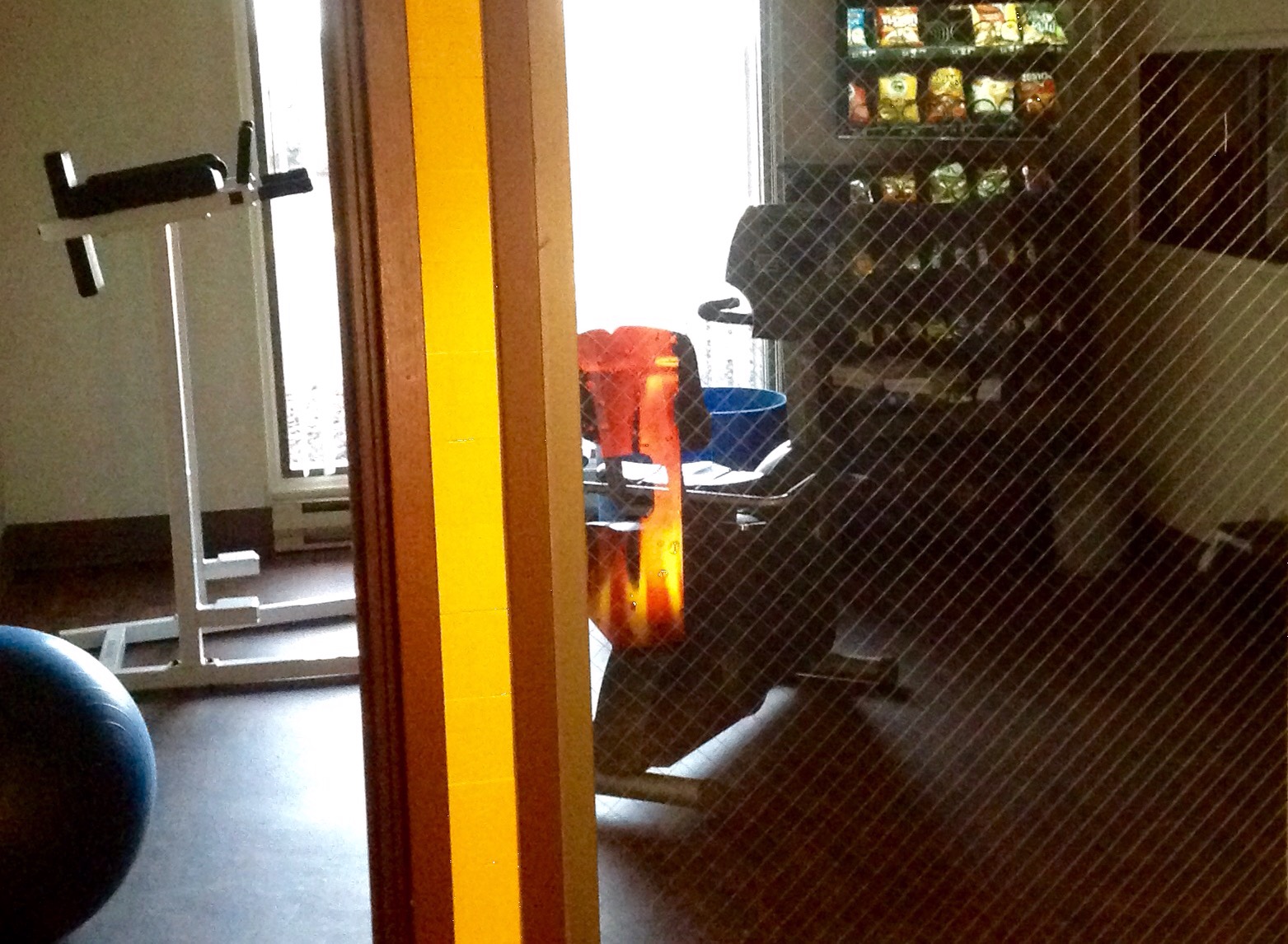 The picture is actual an optical illusion. A trick of the light made it appear the vending machine was inside the exercise room. It was actually across the hall. The red "flame" is a reflection from the Coke machine next to it. Still seems wrong to put the junk fook this close to the exercise equipment.
Breakfast was my standard fare. I eat the same thing for breakfast when I'm travelling: fresh fruit, orange juice and yogurt. I prefer peach, but my choices were strawberry or blueberry.
You can tell this wasn't a free continental breakfast because they had the good sense to add bacon. Yeah, the meal is better with bacon.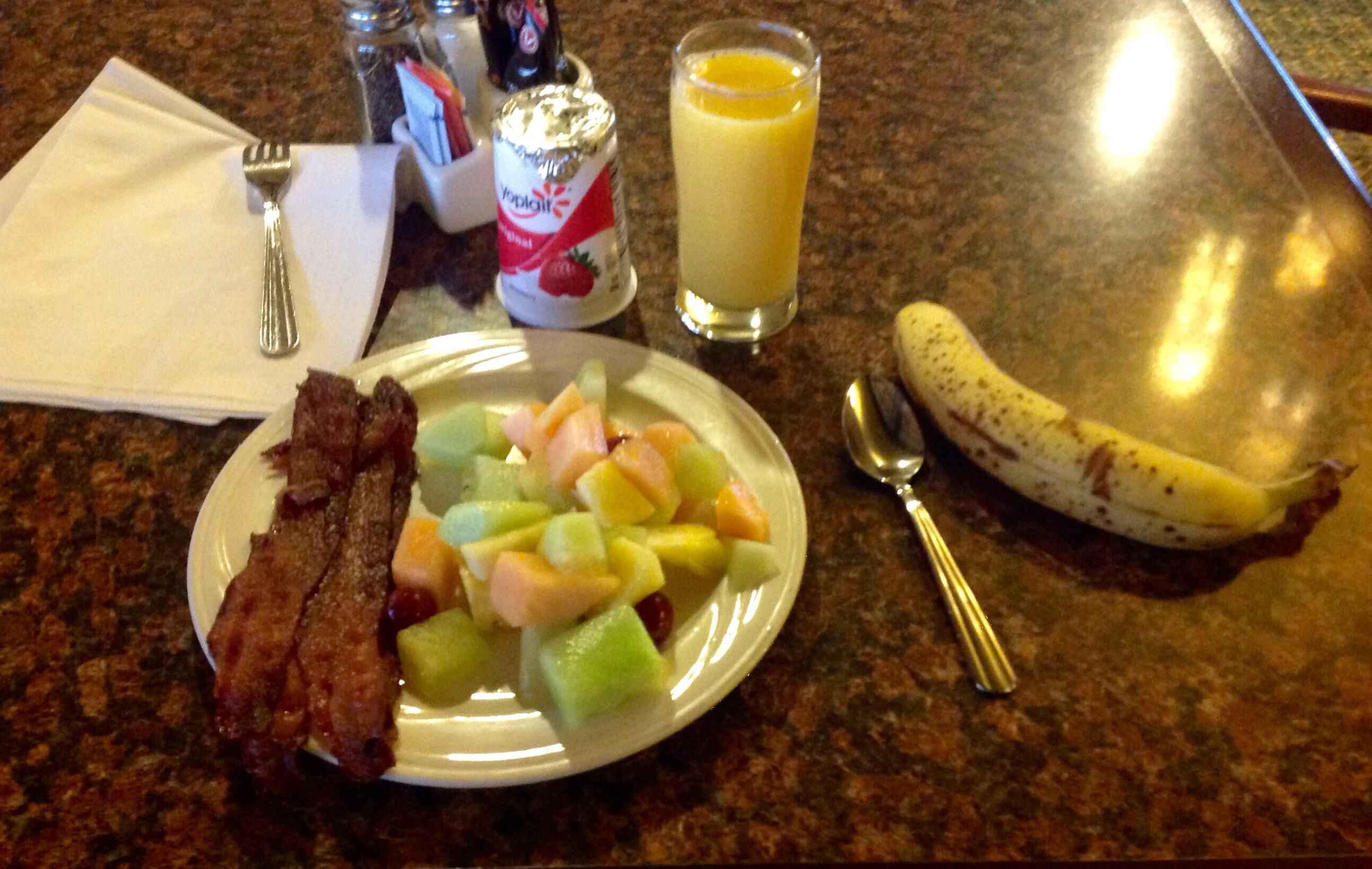 My visit in Olympia was incredibly short. We arrived in Olympia at 2:00 PM and I left the next morning at 9:30AM. Unlike the sunshine in Utah, Olympia was comfortingly cloudy and rainy. The feelings of home were complete with the drizzle.
Unlike many places, rain in the Northwest isn't an angry torrent. It's more a gentle mist. Gas prices as I fueled up for my return trip were a lot higher than Utah, so it wasn't completly a trip down memory lane. My car takes the midgrade fuel. It was the first time in a long time that I've paid over $3 / gallon for gas.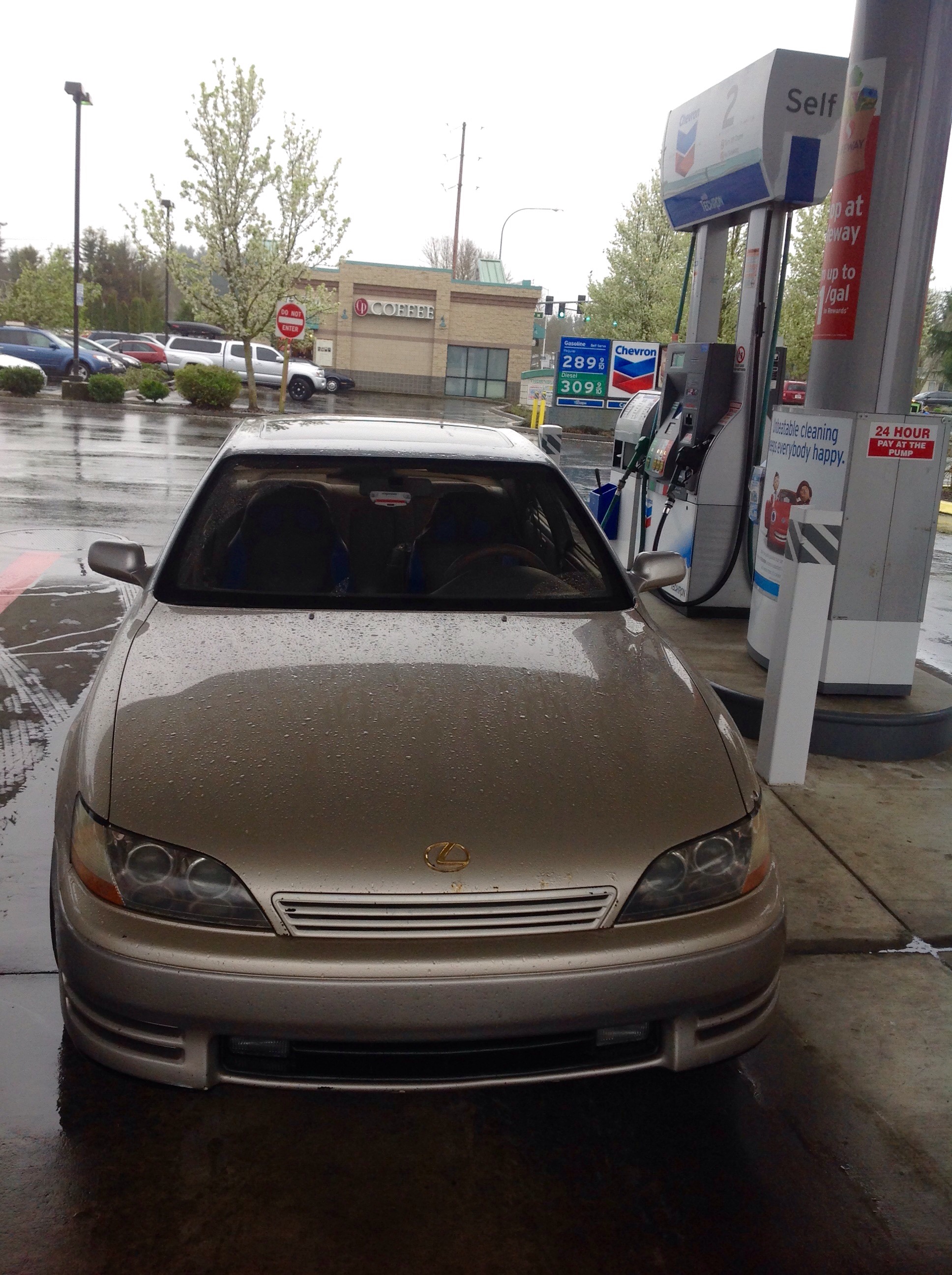 I drove South from Olympia and went over White Pass. I was tempted to take pictures every quarter mile. This is what the road looked like for 100 miles. Fog, evergreens, winding road. I even ran into snow at the summit. I can't remember the last time I drove through snow in Utah. Not nearly enough, that's for sure.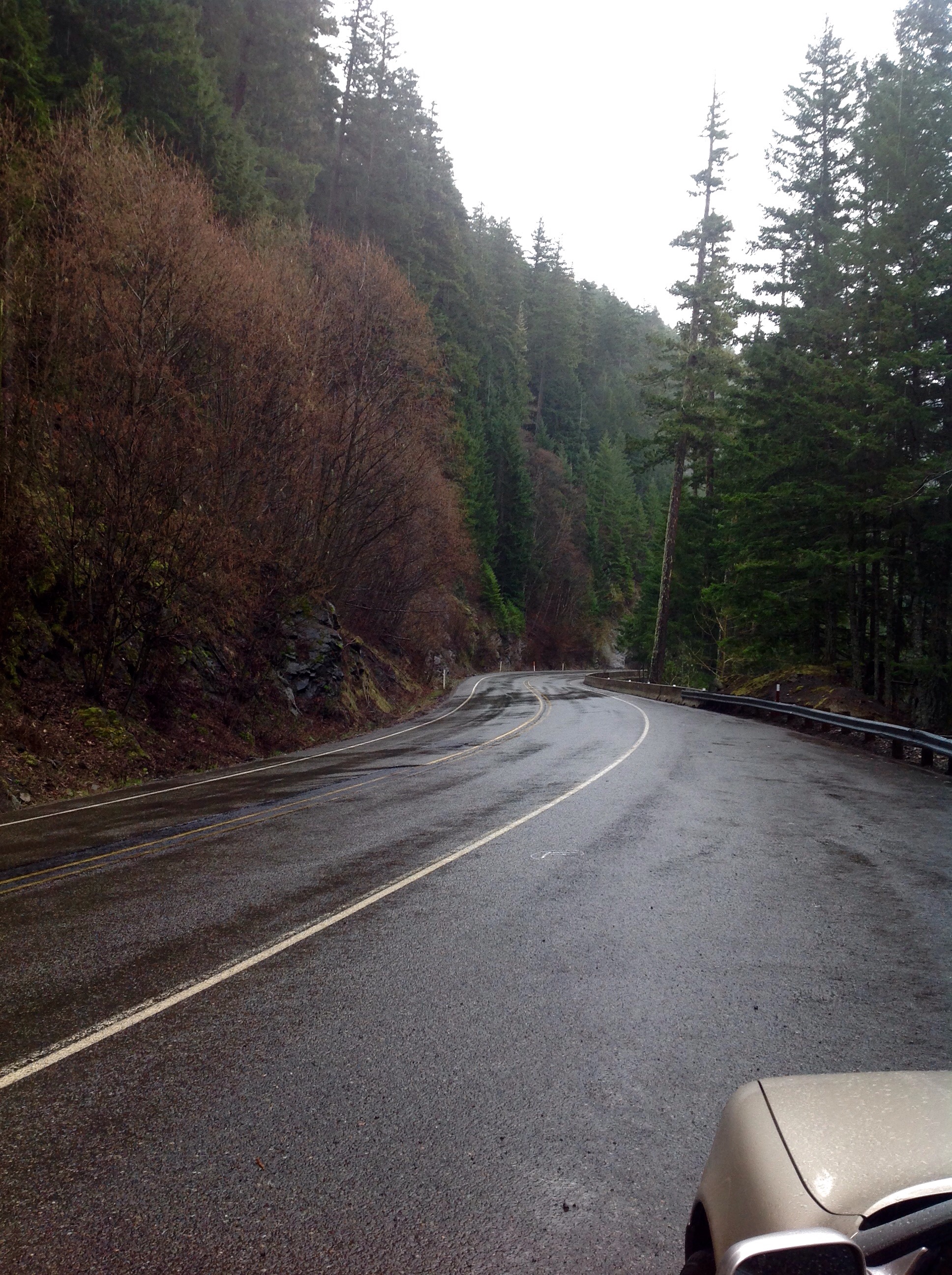 Driving back across central Oregon the wind was kicking up mile long ribbons of dust. It's hard to tell from this picture, but the wind is howling. That sign behind the car blew over shortly after I took this.
As the afternoon turned to evening, the setting sun painted moving pictures on the roadside.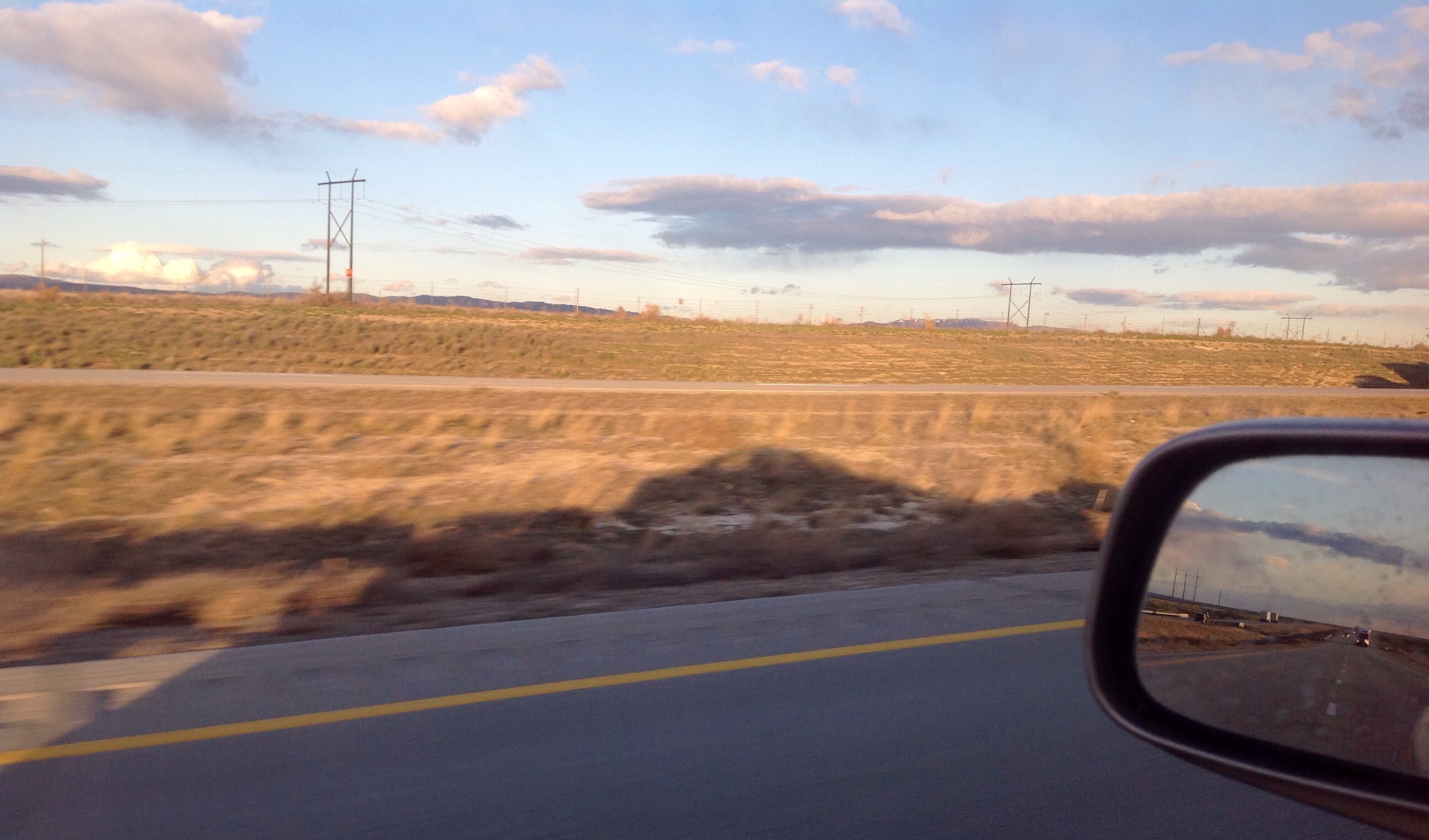 My late start meant a late arrival. I'm disappointed this picture was blurry. The highway sign is announcing this is the Bliss, ID exit. It's not a big town, but I have to admit my ego gets a shot every time I drive through a town that shares my name. It's last about 40 seconds. (It really is a small town.)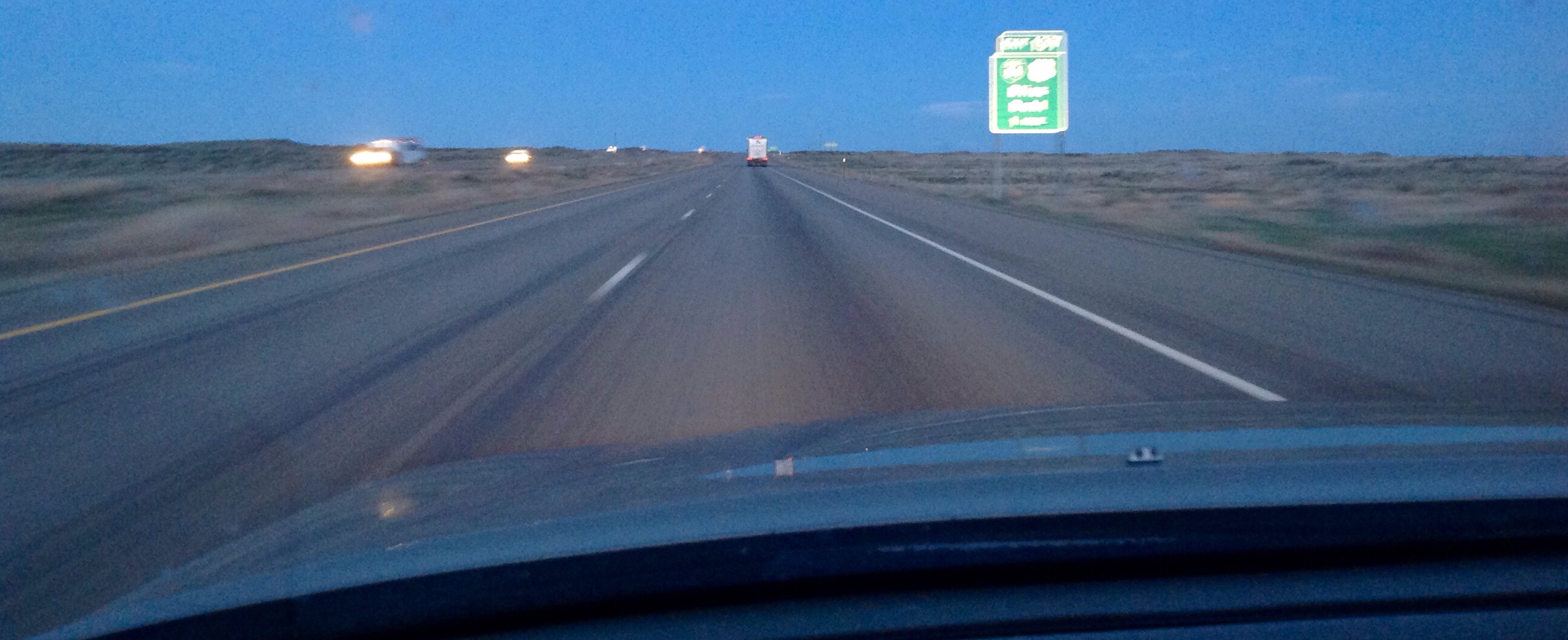 I finally pulled into my driveway about 2:00 AM. The time change and spending the morning with my mother took their toll. I'd spent about 28 of the previous 62 hours driving. I had gone 1800 miles. Taking a plane, I can get most of the way around the world in 28 hours of travel. A plane travels between 500 and 600 mph. I averaged, 64 MPH. The biggest difference is that planes fly above the clouds and miss all the scenery.
It was nice for once to drive below the clouds and take a few hours to enjoy a good old fashioned road trip.
Rodney M Bliss is an author, columnist and IT Consultant. His blog updates every weekday at 7:00 AM Mountain Time. He lives in Pleasant Grove, UT with his lovely wife, thirteen children and one grandchild.
Follow him on Twitter (@rodneymbliss)
Facebook (www.facebook.com/rbliss)
LinkedIn (www.LinkedIn.com/in/rbliss) or email him at rbliss at msn dot com