He Was Brilliant At Basketball. Computers? Not So Much.
Hey Rodney, you're good with computers, right?

I'm okay.

Well, you work for Microsoft don't you?

Yeah.

Could you come help me fix my computer?
My neighbor was pretty good at basketball. In fact, he was really good. He was selected #16 overall by the Seattle Sonics in the 2000 NBA draft.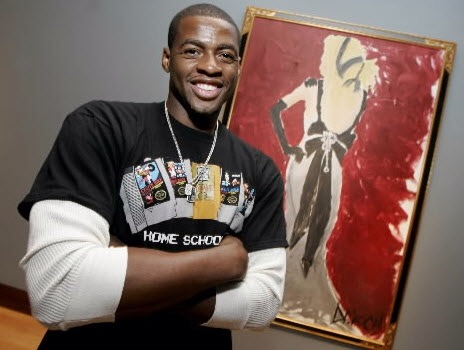 (Photo credit: exnba.com)
We lived in Maple Valley, a suburb of Seattle. He bought the house next to the lot where we built our dream house. (Neither one of us would be there a year later, but that is another story.)
I invited my friend CK to come help. He's much better at the hardware diagnoses than I am. And we were headed to Desmond's house because the computer was broken. He had already tried to upgrade it once.
Desmond, can you explain what you already tried to do?
Yes, I tried to ask it very diplomatically.
Well, my cousin came over to help me upgrade it to Windows XP.

Did you guys run the Migration Wizard?

The what?

A program that tells you what you need to change on your computer so that Windows XP will run?

Oh, yeah we did that. It's right here.

Desmond, this says that your modem isn't compatible with Windows XP. How were you going to get the files you need to make the modem work?

My cousin said that we would just download them after we upgraded.

Over your dial up phone connection?

Yeah, I know. That's when I decided to call you.
Desmond and I both thought we were going to be neighbors for a long time. Him because he'd been assured he was the future of the Sonics franchise, and me because we had just built our dream house.
I fell victim to a falling stock market, and Desmond ended up as trade bait.
Don't worry Desmond. We can fix this. But, you'll owe me.

Oh? Okay, what do you charge?

You misunderstand. I would never charge my neighbor for helping him. But, I'm going to ask for something in return.

What's that?

I bought a new basketball standard and I need a tall person to help attach the backboard.

Cool.

And my buddy Ck here wants a peanut butter sandwich.
Okay, so to fix Desmond's problem was actually fairly easy. His Gateway computer came with a "soft" modem. It was a modem that was configured completed through software rather than hardware. When he ran the upgrade, Windows XP wiped out the old software that was running the modem. And this was in the days before hi-speed modems. It was all dial up over the phone.
To fix his computer we simply bought a $15 modem and stuck it in one of the expansion slots on his computer. We could then connect to Microsoft.com and download the drivers for the other parts of his PC.
It was several weeks later when I was finally ready to install my basketball standard. I poured the concrete and mounted the base. Next, I attached the pole. I attached the hoop to the backboard and then we were ready to put up the backboard. I stood on a ladder and Desmond just stood on the driveway.
I was disappointed when Desmond explained that my $1000 basketball standard was not strong enough for him to dunk on. (Desmond won the 2001 NBA dunking contest his rookie year.)
See that little bolt right there holding the breakaway rim?

Yeah.

That would snap right in half if I dunked on this.

Huh. Thousand bucks and I could have just bought a $75 KMart special. Hey, where you going?

We're done. I have stuff to do.

Wait, wait. When do you think I'm ever going to have this chance again?

What do you mean?

You have to take the first shot.
After he missed two jumpers in a row…
Desmond, I don't care how close you stand.
He went on to a good career with Milwaukee Bucks, New Orleans Hornets, Sacramento Kings and eventually the Oklahoma Thunder, the former Seattle Sonics. He was a good neighbor. And like most good neighbors he was happy to trade favors. Of course, CK really did ask for a peanut butter sandwich. He never actually got it. And I think he's still bitter.
Rodney M Bliss is an author, columnist and IT Consultant. His blog updates every weekday at 7:00 AM Mountain Time. He lives in Pleasant Grove, UT with his lovely wife, thirteen children and one grandchild.
Follow him on
Twitter (@rodneymbliss)
Facebook (www.facebook.com/rbliss)
LinkedIn (www.LinkedIn.com/in/rbliss)
or email him at rbliss at msn dot com