That Task Should Not Be That Hard
I had a 1966 Ford Mustang fastback in college. The car was in need of quite a bit of work, but I loved that car. And I could do minor maintenance if needed. Here's a picture of a 1962 Ford Falcon, but the straight six engine was essentially the same for the Falcon and the Mustang.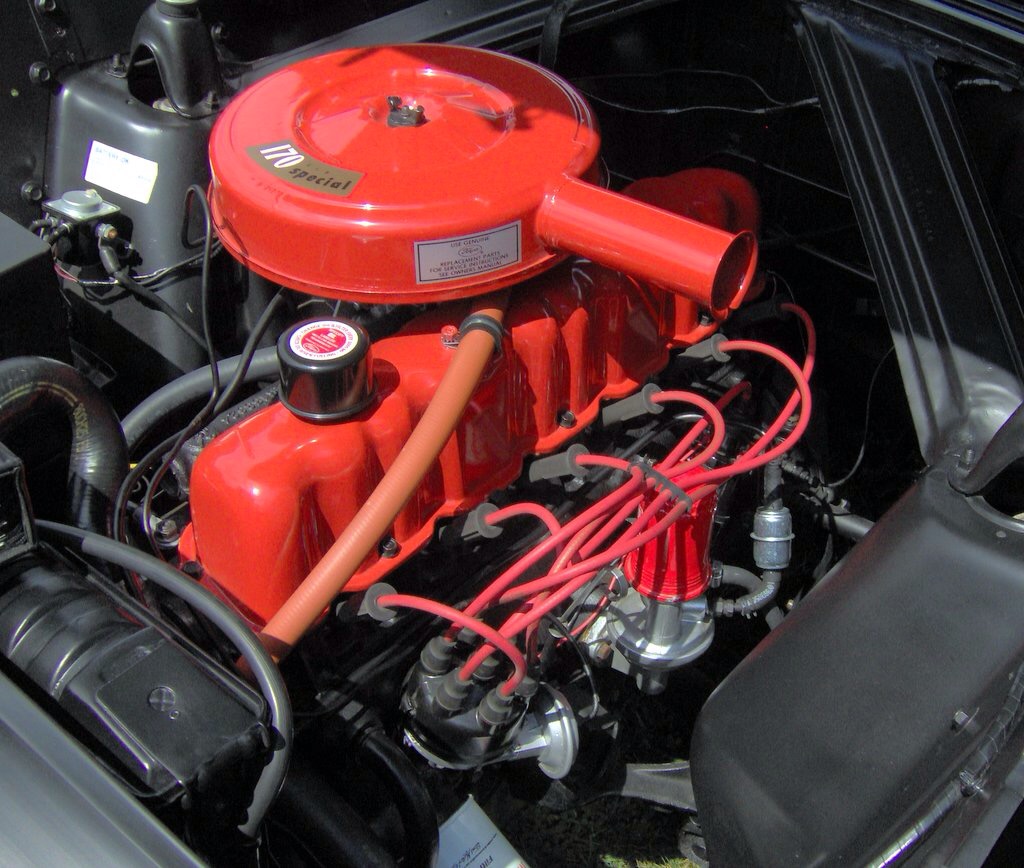 (Photo Credit: Wikipedia)
See those red wires? Those are spark plug ignition wires. They connect to a distributor and they deliver a spark to the spark plugs that are directly below them. Spark plugs, like any part of a car, get old and need to occasionally be replaced. Replacing the spark plugs in my old Mustang was about a 30 minute job.
My Mustang took a one-way trip to California a long time ago.
Today I drive a 1996 Lexus ES300. It also has a six cylinder engine. Last week the engine started running rough and my mechanic/neighbor suggested we start by replacing the spark plugs. The car has 250,000 miles and who knows when the spark plugs were last replaced.
When I went to buy the new plugs the guy at the parts store said that they range in price from $4.99 to $25.99. That' s per plug. I bought plugs that were about $7.00 each. $42.00 in parts. We decided the wires were probably okay.
I checked to see how much it would cost to have this work done at a Lexus dealership. According to repairpal.com the cost to replace spark plugs on a Lexus is $108 – $674.
That's outrageous, you might say. Less than fifty bucks in parts and up to 20 times that much in labor? No thanks, we'll do it ourselves!
Saturday we decided to replace the plugs. I did the front three. Here's a picture of where the front three spark plugs are in the Lexus.

The spark plugs are underneath those little black boxes. Well, the front three. . .also known as "the easy three." I did it myself and it took about 15 minutes. But, this is a six cylinder car. Where are the other three? They are right here.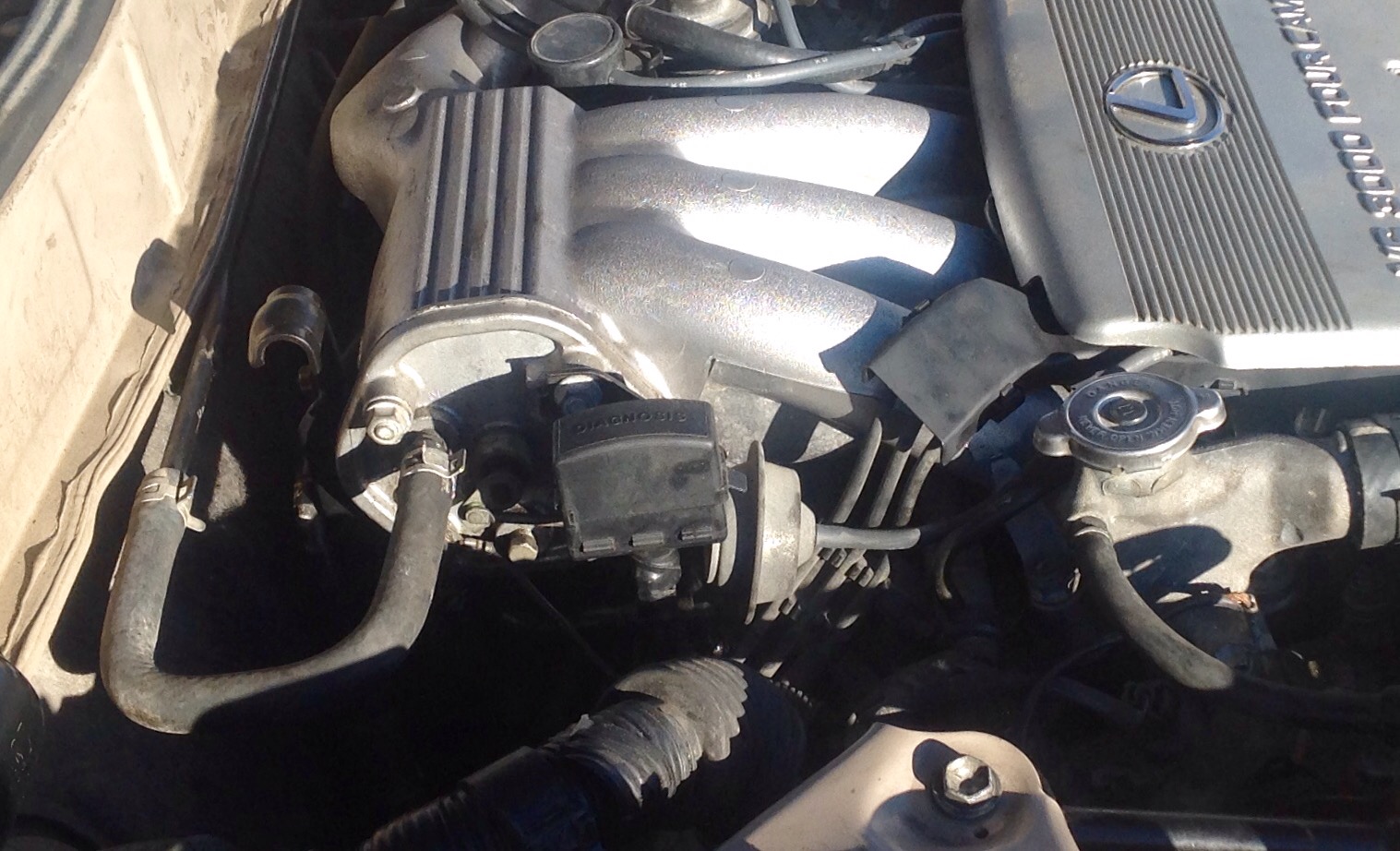 Well, you have to take off the air filter. . .and loosen the wiring harness. . .and remove the exhaust manifold . . .and remove the throttle. . .and unhook a whole bunch of hoses. My neighbor's 21 year old son is a very good mechanic. It took him from noon until 7:00PM. He tore the engine apart just to get access to the spark plugs.
In fairness the 7 hours included replacing the rear valve cover gasket because no way we want to pull this apart again just for the valve cover gasket.
What's my point?
It shouldn't be this hard. Back in college, my old '66 Mustang had plenty of room. My Lexus engine compartment is so full of computers and chips and sensors that doing nearly anything is difficult.
I started working in computers and IT around the same time I had that old '66 fastback. And I got my first job in computers because I could type. (Back Where It All Began.) Seriously, in 1988 that was one of the defining job skills to be a WordPerfect Support Operator.
During training on WordPerfect 4.2 word processor we had to download soft fonts to a laser printer. If you are younger than about 35, you have probably never even heard of this task, let alone attempted it. But, the fact is that way back in the dawn of the PC computer age, there was no Windows, there was no internet, there was no remote assistance where the support person watches your screen.
And if you wanted cool proportional fonts, you had to download the fonts yourself. You might ask, with there being no internet where were you downloading them from? They actually shipped with the WordPerfect product. The process was long and complicated and if you missed a single step you had to start all over. It was a bit of a "final exam" for our training.
A few months after I started, WordPerfect 5.0 was released. The big deal with WP 5.0 was WYSIWYG (wizzee wig), or "What You See Is What You Get." You could actually see on the screen what the printed document was going to look like.
I know some of you are laughing at us grandpa folks, but it was very cutting edge in 1990. One other thing that WP 5.0 introduced was a better printer feature. The program was able to automatically download soft fonts to a laser printer as needed. The entire agonizing process that we had committed to memory a few short months earlier was nwo obsolete.
And from what I can see, that's the difference between working on cars and computers. With cars, simple tasks have become increasingly complex. Many of my friends don't even attempt to do any work on their own cars anymore. And if I didn't have my neighbors, I wouldn't either.
Computers on the other hand, get less complicated to work on. More of the hard parts are automated and moved away from the user. That's why today, we can have a product as advanced as the iPad ship with no documentation. Apple expects you to open it and start using it. And you can.
To Program Managers and developers, remember that the goal should be to increase features while decreasing complexity.
If only the cars guys could figure that out.
Rodney M Bliss is an author, columnist and IT Consultant. His blog updates every weekday at 7:00 AM Mountain Time. He lives in Pleasant Grove, UT with his lovely wife, thirteen children and one grandchild.
Follow him on
Twitter (@rodneymbliss)
Facebook (www.facebook.com/rbliss)
LinkedIn (www.LinkedIn.com/in/rbliss)
or email him at rbliss at msn dot com