Book Review: Influencer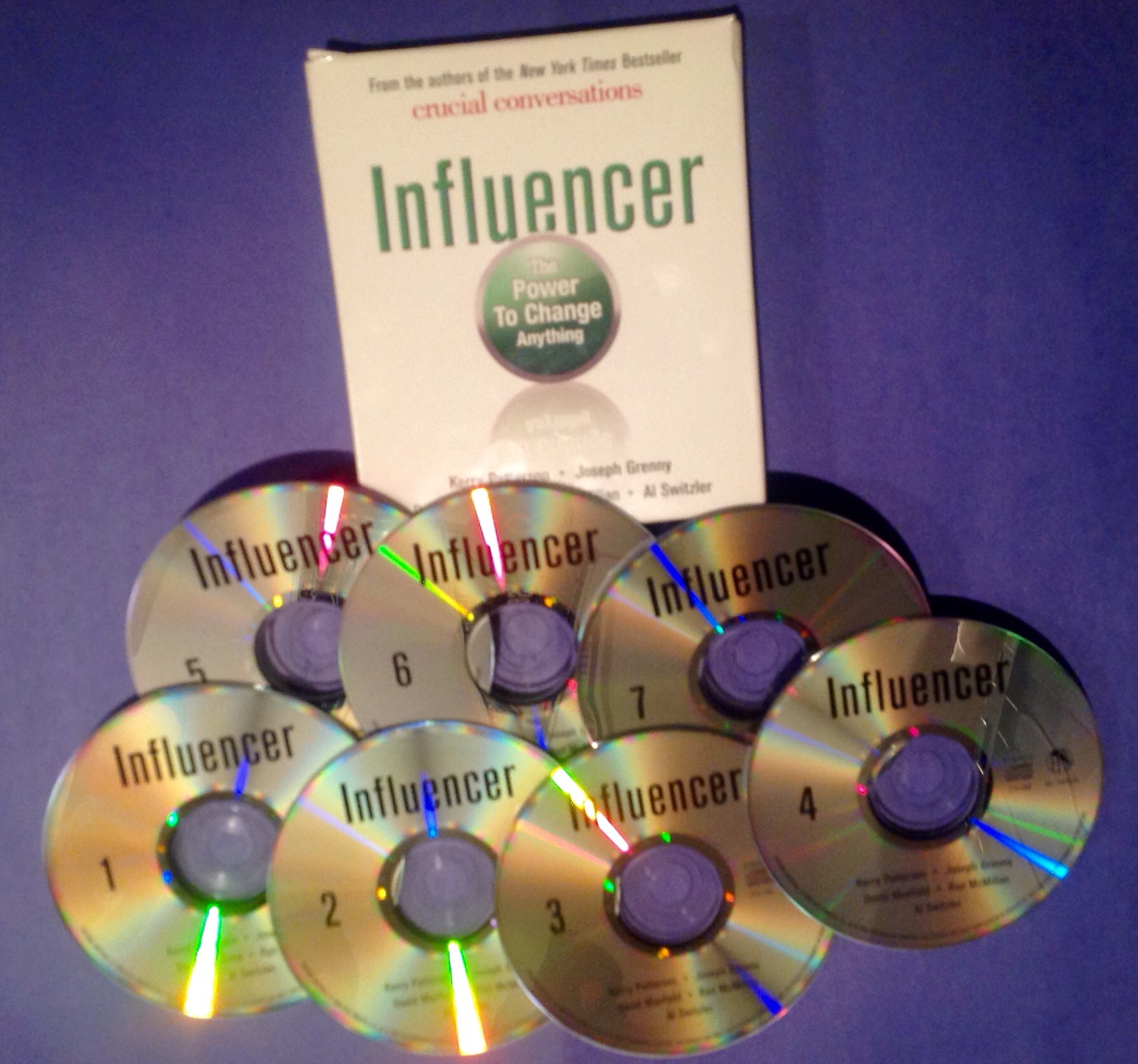 I enjoyed this book a lot. I've read it twice now. Well, actually, I read it once and I listened to it once. I'm continuing my trend of listening to books on CD. (Book Review: Primal Leadership) Spending 90 minutes in the car every day gives me plenty of time to listen. Ironically, my crazy travel schedule meant that it took me about a month to listen to the entire book.
Influencer is subtitled "The Power To Change Anything." And the book lives up to the title. The collection of authors, Kerry Patterson, Joseph Grenny, David Maxfield, Ron McMillan and Al Switzler range literally across the world to draw on examples of influencers. These are men and women who are literally changing the world. From eradicating the Guinea worm parasite in Africa to reducing incidents of HIV/AIDS in the Himalayas to rehabilitating career criminals in the United States. The influencers that the authors cite are an impressive group. The ancient Greek mathematician Archimedes said, give me a big enough lever and I will move the world. These people have found that lever.
At the heart of Influencer are six influence strategies, any one of which can exert influence, but the combination of some or all of which literally changes lives, countries and continents.
The six strategies are:
Make the Undesirable Desirable
Harness Peer Pressure
Design Rewards and Demand Accountability
Surpass Your Limits
Find Strength in Numbers
Change the Environment
Part of the reason this book resonated with me is that several of the areas of influence matched up nicely with my own 16 Management Rules that Make No Sense.
For example I believe that Money Is A Lousy Motivator and rewards can be both an incentive or a detriment. (They Switched To A Cash Prize and Totally Blew It.) But, where I had only my own experience to draw on, the authors of Influencer range far afield to find people of influence.
Listening to the book this past month, the ideas were as fresh as they were years ago when I read the book the first time. I appreciated the fact that the content didn't seem dated.
I rate this book as one of the five best business books I've ever read. I cannot recommend this book to you highly enough.
What it means to you
We are all influencers, parents, bosses, employees, church group members. I literally cannot think of anyone who does not exert influence. And this book will help you do it better.
What I liked
The flow was very engaging. The authors opened multiple threads and kept them active throughout the book. The examples were relatable. Even though I may not travel to Africa, the story of the Guinea Worm made perfect sense to me. The challenges and the methods for overcoming them were easily understandable and realistic. The authors return to certain concepts multiple times over the course of the book. Each time they build on the principals already established. Like building a house, they first lay the foundation, then add framing, electrical, plumbing, siding, roofing, lights, etc.
What I didn't
I really had to search for something to put here. While the authors described situations where failed influence methods were attempted, I would have liked to see more. For example, how did Dr Mimi Silbert figure out her method for rehabilitating convicts. She must have had some setbacks in the beginning. When we meet her, she is a master influencer who evidently has it all figured out. But, honestly the book is great without these examples. It's not a deficiency, simply something additional I'd like to see.
Rating 5 out of 5 stars
Rodney M Bliss is an author, columnist and IT Consultant. His blog updates every weekday at 7:00 AM Mountain Time. He lives in Pleasant Grove, UT with his lovely wife, thirteen children and one grandchild.
Follow him on
Twitter (@rodneymbliss)
Facebook (www.facebook.com/rbliss)
LinkedIn (www.LinkedIn.com/in/rbliss)
or email him at rbliss at msn dot com