Actually, We Are Very Different
You know, you can board at any time, right?

I don't mind waiting. I'm not any different than you.
Actually, he was. But, I respected him the more for refusing to acknowledge it.
In some ways, I'm a pretty emotional guy, especially when it comes to the flag, the military and old time country music. But, this story isn't really about Boxcar Willie or Hank Williams Sr.
I get a little misty eyed when I hear the Star-Spangled Banner. This summer we attended some local hometown rodeos. (Not My First Rodeo) At the beginning a young women comes out on a horse trailing the Stars and Stripes behind her. At one rodeo she raced around the arena fence. The flag stood straight out behind her as the horse's hooves kicked up a cloud of dust. She stopped in the center of the arena as a man sang the greatest national anthem in the world. Yep, I cried a little. I always do.
My five sons are all Boy Scouts. Each time one of them conducts a flag ceremony, I get choked up with pride in family and country all rolled into one.
My family, like many American families has a long history of military service. My father was a soldier because he was forced to. However, he served honorably. My brother was a captain in the Army Reserves and National Guard. Our Bliss line traces it's origins back to Captain Abdiel Bliss who fought at the battles of Lexington, Concord and Bunker Hill. (Abdeil Bliss Hero of the Revolution, But Was He Really A Captain?)
My second oldest daughter decided after September 11th that she wanted to join the fight to defend our country. She was eight at the time. She's an ROTC cadet and an Army reservist.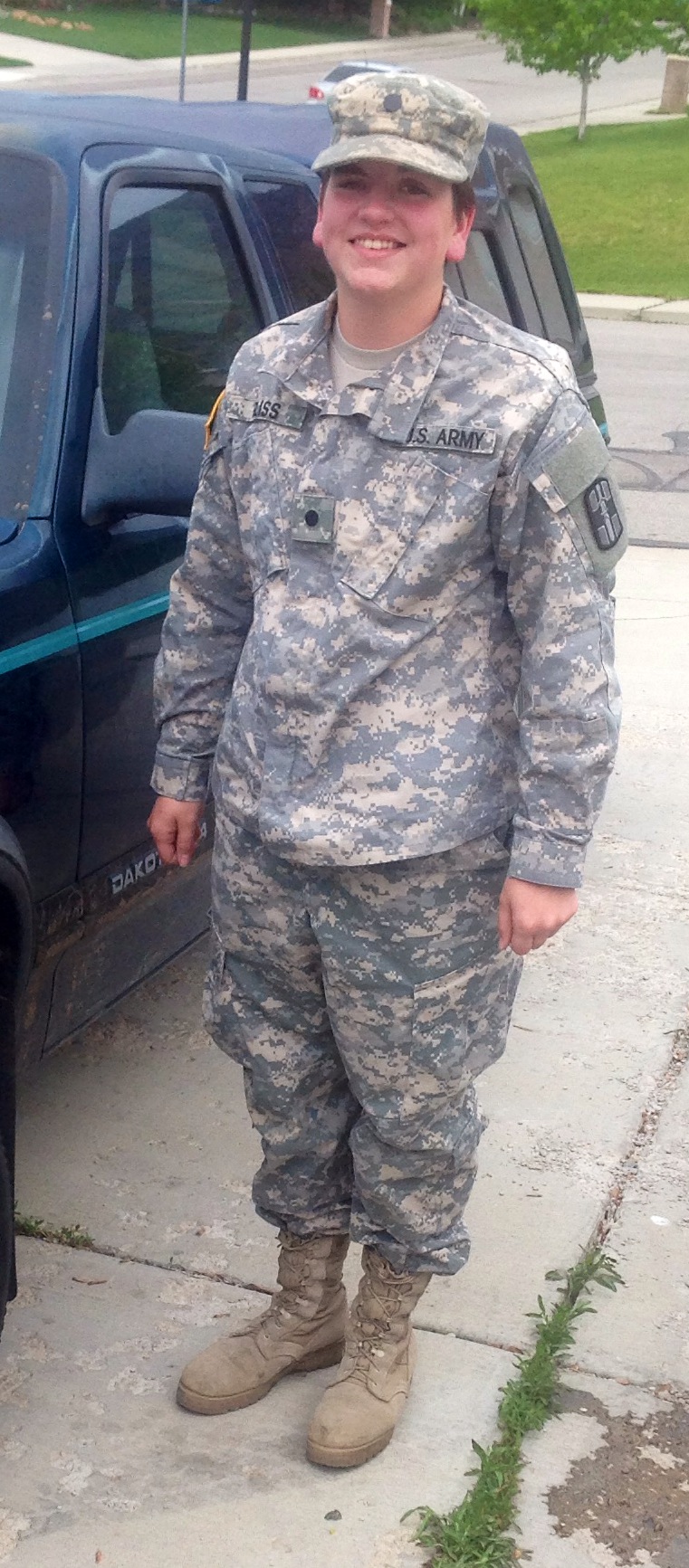 I couldn't be prouder to tell people my baby girl wears combat boots.
My current job is to work with our biggest client who, while not a military organization, exclusively serves the military community. It humbles me at times to get to play a role in making life a little less stressful for military families. One of the things you hear our call center agents say on every call is "Thank you for your service."
And that brings me back to the conversation I referenced at the beginning of this post. Yesterday I met a soldier named Shriver. He was waiting to board the same plane that would take us both back to Salt Lake City from Dallas Fort Worth gate A8.
By way of introduction I said,
I appreciate what your doing.

Thank you, sir.
We talked like the strangers we were. As they called for the next group to board, a ticket agent came up to him.
Can I see your boarding pass, please?
He handed her a well worn printout. She returned a moment later with a new pass marked FIRST CLASS. Shriver hardly looked at it, although he humbly thanked her.
I followed the ticket agent back to the desk.
Do you always do that?

Every time if we have openings. American is pretty military friendly. And my Dad was in the Navy. He raised us to appreciate their service.
I returned to the young soldier who was patiently watching the line of people getting on the plane.
You know, you can board any time you want, right?

Yeah, but I don't want to make them wait. I'm not any different than you.

Well, I have a job that pays me really well. You have a job that pays you pretty poorly.
He offered no objection to that point.
And no one shoots at me no matter how poorly I do my job.

I'm more likely to get blown up than shot.

Why, what do you do?

I drive the large transport trucks.

Like eighteen wheelers?

Yeah, but mostly we drive the big gun trucks that protect convoys.

How long have you been in?

Two years.

How old are you?

I'm eighteen, sir.

You joined at sixteen?

Well, I signed up as a junior in high school. I did basic between my junior and senior years. And then this summer I went to AIT.

Are you planning to make a career of it?

I'm hoping to be accepted to officer candidate training once I finish college. I'm going to be one of those cranky old guys that they have to kick out when they get too old.
The line was finally finishing up. I thanked him again and we headed down the jetway.
Yes soldier, in many ways you and I are very different. And I'm glad that we are. I'm grateful we have young people like you willing to drive trucks, and do a thousand other jobs in defense of our country, including those who volunteer to be the point of the spear.
The fact that you see no difference between us gives me great hope for the future of our youth and our country.
Thank you for your service.
Rodney M Bliss is an author, columnist and IT Consultant. He lives in Pleasant Grove, UT with his lovely wife and thirteen children and one grandchild.
Follow him on
Twitter (@rodneymbliss)
Facebook (www.facebook.com/rbliss)
LinkedIn (www.LinkedIn.com/in/rbliss)
or email him at rbliss at msn dot com