It's All About Second Chances
In a different setting they would be a scary looking bunch of kids. Forty-three teenagers with tattoos, piercings, long hair, and on many of the boys, beards. You might be tempted to make a guess at their background based on their looks, and for the most part you'd be right. These were the screw-ups. The ones that euphemistically could be described as "making other choices," "taking a different path." Many had police records; misdemeanors, but, more serious charges as well. There were several teen mothers. . .and fathers. They were all shapes and sizes, black, white, Latino, Polynesian, short, fat, tall, thin.
But, here they weren't dangerous looking. In this place, they were laughing and smiling. The girls hugging one another, the guys giving fist bumps and shoulder hugs.
Today was graduation day. These were the graduating seniors of Alpine Summit Programs. Or, as they all knew it "Summit High School."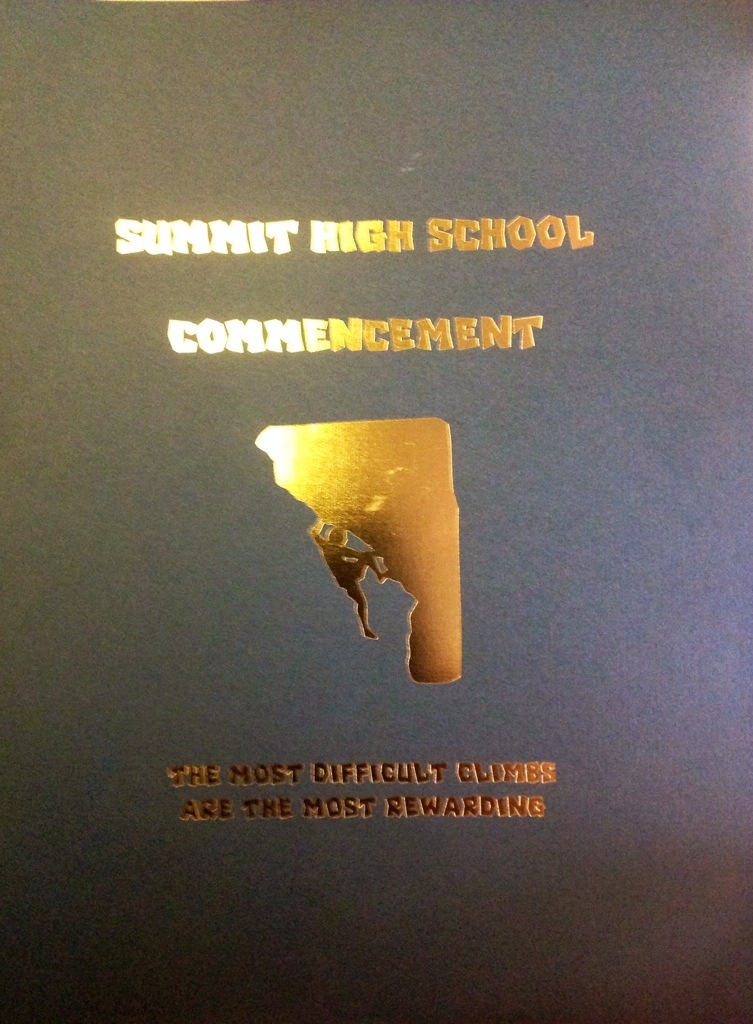 I admit I came with low expectations. Of course we need to give all kids a chance to be educated, but these were the kinds of kids who are typically keeping others from learning. If they were in state custody, chances were good that their study skills were poor. These are the ones who run through the system on autopilot, being passed off from one grade to the next until they are finally exited the educational system with a diploma earned by force of momentum.
The first surprise was the youth speakers. Well, after a totally cool drum line got the entire place jumping with energy. And a combination student/advisor rock band did a great cover of Tom Petty's "I Won't Back Down." The speakers talked about what the school meant to them. And they were really good speakers. They drew on personal experiences and personal challenges to express their appreciation for the staff and each other. These kids were not what I expected.
And then they started talking about the awards. Not special "at risk youth" type awards. The Presidential Award for Outstanding Academic Achievement requires a student maintain a 3.5 GPA, that they be nominated by a teacher, that they show a dedication to learning. Twenty of these prestigious awards were handed out.
The Presidential Award For Outstanding Academic Excellence requires a student be recommended by a teacher, they achieve 90% attendance, that they show leadership, and that they maintain a 3.8 GPA. Seventeen students earned this award.
Alpine Summit Programs serves kids of all ages in the Alpine school district. Many "summit kids" attend mainstream schools. Orem Middle School, in Orem Utah has over 1000 students. The student body each year votes to recognize one student in each discipline (English, science, history, etc.) as their student of the year. This year, the student voted as Orem Middle School Science student of the year wasn't even a student of Orem Middle School. He was a Summit kid.
Clearly I had underestimated them. . .a lot. Every student at Summit qualified for at least a partial college scholarship.
The emotional high point of the evening was the presentation of the Summit Awards. The Summit Award is the highest award and honor the school can bestow on one of it's students. The award isn't necessarily for academics. And it's not exactly a citizenship award. It might be called the "Overcoming" award.
The first recipient was one of the young women who had so impressively spoken earlier about her gratitude for the faculty. Turns out she grew up in a single parent home with a drug addicted mother. This young woman was responsible for parenting her younger siblings, for getting them fed and dressed and off to school, sometimes missing school herself because she had to fulfill duties beyond her years.
She tried keeping her family running while also trying, begging, her mother to get the help she needed. She came to summit not as a punishment, not as a screw-up, but as a child who's first chance had been spent helping others. Summit gave her a second chance and she grabbed it and ran with it.
The second recipient was born into a South American drug culture. From the earliest age she dealt with unimaginable abuse; physical, sexual, emotional and psychological. She had witnessed unimaginable horrors at an age when most little girls were only concerned with barbies and cartoons. Like the other recipient, this young woman found herself enlisted into a surrogate parental role before even becoming a teenager. Her path to Summit, while different than the first was not unlike many of other classmates.
I admit I cried many times throughout the evening. I had come to support graduates for whom I assumed high school graduation might represent the pinnacle of their life's accomplishments. I left with the realization that the graduates, many of them, already had accomplishments far beyond a mere high school diploma.
These are still at risk youth. Their odds of attending or completing college are still long. But, these are the survivors. These are the fighters, not in a physical sense, although many have a history of that. But these are the ones who didn't give up. One young woman described Summit as the school for second chances.
These kids are showing that given a second chance in life, they'll take it.
Best of luck and Godspeed to the 43 graduates who are the Summit High School class of 2014.
Rodney M Bliss is an author, columnist and IT Consultant. He lives in Pleasant Grove, UT with his lovely wife and thirteen children and one grandchild.
Follow him on
Twitter (@rodneymbliss)
Facebook (www.facebook.com/rbliss)
LinkedIn (www.LinkedIn.com/in/rbliss)
or email him at rbliss at msn dot com