Why I Hate First Class
June 17, 2014
We'd like to invite our First Class passengers to board at this time through the doorway marked G12.
I picked up my bags, showed the gate agent my boarding pass and made my way down the jetway. It was Saturday morning and I was leaving Richmond Virginia, and I was flying First Class, and I was not at all happy about it.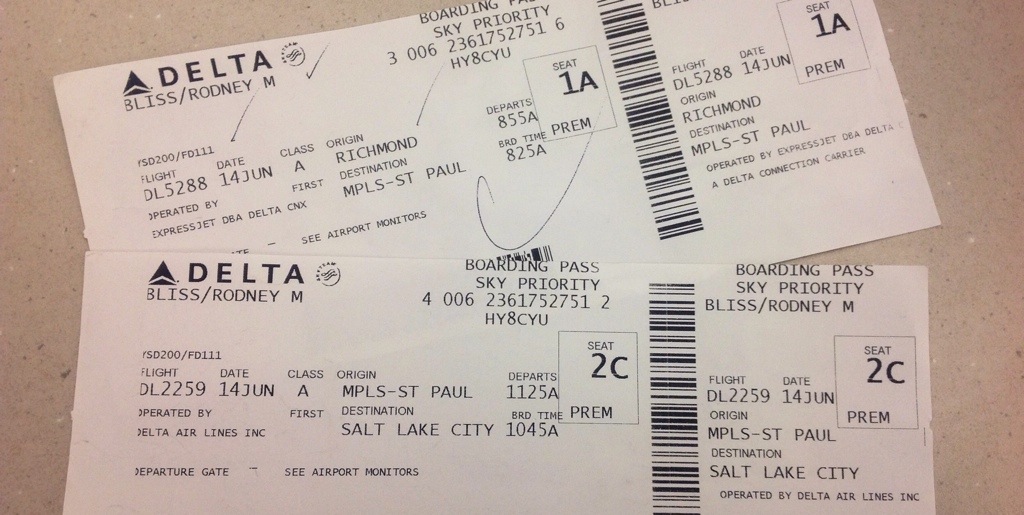 I spent last week in Richmond opening our new site. I flew out last Sunday. You cannot fly directly from Salt Lake City to Richmond, Virginia. My flight out went through Atlanta. Of course it did. It was on Delta (Dang, Everything Leaves Through Atlanta.) When you count in the two hour time difference, it takes all day to get from here to there.
Traveling isn't the exciting adventure it used to be. After September 11th it became more drudgery,, but I still don't mind it. And I was especially excited about this trip. I'm going to be managing the launch of our Richmond site. I've seen the blueprints, but as a people-person, I really enjoy being onsite and getting to know the people involved. It's not truly "real" until I've seen it for myself. (Yeah, I should probably get over that.)
It was a great week. Our client signed off on our training rooms on Monday. We brought new trainees in on Wednesday and officially started training on Thursday. There were ups and downs, but overall, a very successful trip. My return flight was Friday afternoon.
I returned my rental car and said good bye to my coworkers. One was headed to Ohio, the other headed back to Salt Lake, but their flights were not scheduled to leave until 6:00pm.
Oh, did I mention it was Friday the 13th, AND there was a full moon and my connecting flight did NOT leave through Atlanta? Yeah, that stuff apparently was important.
As I walked in I noticed my 4:00 pm departure had been delayed to 4:30. As I walked toward my gate, I noticed a lot of cancellations. It seemed like just about every flight into New York City's LaGuardia airport was cancelled. I wasn't flying into LaGuardia. I was flying into New York City's Kennedy airport.
As we were waiting our flight was pushed back another 20 minutes. I had been somewhat annoyed when our admin scheduled me for a two hour layover in New York. I was thinking I should send her a thank you card instead.
Of course there was a chance we wouldn't make it, but I figured if they hadn't cancelled it by this point, the odds were good we'd make it out tonight.
Finally, the suspense was broken as they called our flight. I was part of group 3, but at least I'd upgraded to a window seat with more legroom. We all crammed into the small jet and I gratefully collapsed into my seat. My plan was to sleep the entire way. I pulled out my headphones and iPod, arranged my neck pillow and waited for the chance to lean my seat back.
We taxied out onto the runway and waited for our turn to takeoff.
. . .and waited
. . .and waited
. . .and FINALLY. . .turned and taxied back to the terminal.
Air traffic control had decided it was too dangerous to fly. They were pushing our flight back to an 8:00pm departure.
We filed off the plane and got in line to reschedule. The woman in front of me was on her way to Europe to see her husband who was stationed in Germany. They'd been apart for four months. Wow. I REALLY hoped she would make it out.
Sure enough, the ticket agent assured her that her layover in NYC was long enough to catch her International flight.
You're not going to be be able to make me as happy as you just made her.

Well, let's see what we can do. . .Nope our flight will get to NYC too late for you to catch your connecting flight to Salt Lake. I'm afraid the best we can do is a flight tomorrow morning. It leaves at 9:00 am and connects through Minneapolis.

So, can I get a hotel voucher?

Well, since your flight was just delayed and not cancelled and it was weather related, we can't comp the hotel. But, tell them you are a "distressed passenger" and they'll give you a break on the price. However, I can upgrade you to First Class for both flights tomorrow.
A short cab ride later and I'm checking in at the Comfort Inn. I'm not particularly picky when it comes to hotels. It's a bed and a TV. But, as I checked in there was a man in a hospital gown in a wheelchair at the checkin desk. His "driver?" was pointing out to him where to sign to get checked in. . .Okaaay.
I decided if I had to spend an extra day, I was going to have a GREAT dinner. My choices within walking distance were Burger King, Taco Bell or a Mexican restaurant. Not exactly 5 star fare. Oh well. It's food.
As I came back from dinner there was a police car in front of the hotel and two cops were talking to someone on the first floor through the door. . .Okaaaay.
Anyway, all of that brought me to the airport on Saturday morning boarding a plane for Minnesota and sitting in seat 1A. And all I could think of was, I'd trade the first class seat for my rocking chair and my kids on my lap. The Minneapolis to Salt Lake flight served lunch. (I had no idea that they still served lunch in first class.) But, I would have much rather been eating a peanut butter and jelly sandwich with my family.
So, sure I was flying First Class, but I wasn't happy about it.
Rodney M Bliss is an author, columnist and IT Consultant. He lives in Pleasant Grove, UT with his lovely wife and thirteen children and one grandchild.
Follow him on
Twitter (@rodneymbliss)
Facebook (www.facebook.com/rbliss)
LinkedIn (www.LinkedIn.com/in/rbliss)
or email him at rbliss at msn dot com
Tell your friends about this!