How To Screw Up. . .And Win A Customer For Life
Mr Bliss, this is Jared Grotegut down at Rocky's. There's been a slight problem with your bill.
I had recently moved back to Utah after living in Washington for about 10 years. The two hardest things to find in a new town, are a good mechanic and a good dry cleaners. This story is about a mechanic.
Actually, Jared wasn't a mechanic. He was the manager of Rocky's American Car Care in Orem, Ut. And it was his job to talk to customers.
I went to Rocky's because it was in the same location as the mechanic I'd used ten years earlier. That sounds like a stupid reason to pick a mechanic, I know. But, the point is when you are new in town you have to start somewhere. I didn't know anyone in town. I figured this was as good as picking a name out of a phone book. Besides, the garage was close to our house.
I don't remember exactly what work I needed done. In fact, at the time the work was done, I didn't know exactly what I was having done. I'm not really a car guy. I can flush my radiator and change a tire, but I'd really just rather pay someone to work on my car.
In Washington, I'd found an excellent mechanic. Eric was the owner of a Chevron station that also did automotive repair. After ten years, I trusted him implicitly. I also think I ended up funding at least one of his kids' college education with my car and truck repairs.
I do remember that one thing Rocky's did was replace the calipers. I don't even know what a caliper does, but I know they are pretty pricy. The total bill was $1300 and the calipers were about half that.
This might be what a caliper looks like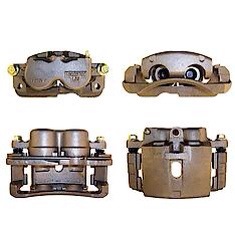 (Photo Credit: Advanced Auto Parts)
Because I don't know a caliper from a tie-rod, I paid the bill and then called my former mechanic.
Eric, I have a quick question for you.

Sure.

I'm going to read off the invoice for some repair work I had done and I'd appreciate it if you'd tell me if it sounds reasonable.
I read him the work order and the rates and prices.
So, what do you think?

It might be a little high. It's not totally out of the ballpark but probably on the high side.

Thanks.
Oh well. I figured I'd need to keep looking for a new mechanic. I didn't really expect to get lucky the first time. A few days later I got the phone call from Jared that I referenced above.
Mr Bliss, this is Jared Grotegut down at Rocky's. There's been a slight problem with your bill.

Oh?

Yeah. I apologize, but when I wrote up the bill I didn't realize that calipers come in a package of two. So, I ended up billing you twice for the calipers. It was completely my fault. You don't have to do anything, but there will be a $300 credit going back on your credit card. I just wanted you to understand why.
It was one of the most amazing phone calls I've ever received. As you might imagine I decided I'd found my new mechanic. Now, you might be thinking that this phone call was a great reason to NOT return to Rocky's. After all, they screwed up the bill. . .by a lot.
But, that's exactly why I was going back. Everyone makes mistakes. The key is what you do after the mistake. He didn't have to call me. If he'd wanted to cheat me, he could have just kept my $300. It's the power of admitting a mistake.
Eventually Jared left Rocky's. He moved to another shop in Provo, UT. It was about 15 miles further away, but a good mechanic is hard to find. We also changed our business and followed him. Another year went by and Jared went back to work for Rocky's at his Spanish Fork Store. This store is about 35 miles away. We followed him again, even though there were a lot of service places between Orem and Spanish Fork. I suggested him might be doing this on purpose.
You're just trying to see how far I'll drive to keep bringing my cars to you! Next you'll be moving South to Payson.
You are going to screw up in business. Everyone does. If you don't screw up, you aren't taking enough risks. In addition to giving your team permission to screw up (Managment Rules that Make No Sense #1: In the Absence of Orders, Attack!) you also need to decide what you are going to do as a company when you screw up.
I've talked often about my friend Howard Tayler, and his award winning web comic Schlock Mercenary. Howard has a unique attitude toward customer service. He not only values, he cherishes each customer.
Did the mailman crease the book we sent you? We'll send you another.
Did the delivery person leave your package on the porch and it got rained on? We'll send you another.
Are you ordering from a military base? We'll send you a couple extra.
I have literally never seen Howard, or Sandra, his business manager and wife, ever refuse to make an order right. No questions. No "ship us back the damaged one." Not even a "post a picture of the damage."
If you order from the Tayler corporation, they will ALWAYS make it right. Does that mean that sometimes they possibly get taken advantage of? Sure.
But, what is amazing are their results. They are very similar to the results Jared got by calling me and admitting a mistake. Their customers are loyal. I have spent far more with Jared over the years than those $300 calipers. Howard's fans come back year after year, buy his books, fund his kickstarter campaigns and volunteer to help him ship his products.
How do you handle customer complaints? How do you handle mistakes? If you handle them correctly, and by correctly, I mean you own up to your mistakes and make things right with customers, you will win their loyalty for life.
(Note: I often use pseudonyms in telling these stories. I want to tell my story, but not necessarily overly share someone else's information. Jared Grotegut is his real name. Rocky's is at 375 N Main St Spanish Fork, UT 84660 and at www.rockystirepros.com. Jared currently manages the Oil Change shop. If you live in Utah County, I highly recommend them. Ask for Jared and tell him that Rodney Bliss sent you.)
Rodney M Bliss is an author, columnist and IT Consultant. He lives in Pleasant Grove, UT with his lovely wife and thirteen children and one grandchild.
Follow him on
Twitter (@rodneymbliss)
Facebook (www.facebook.com/rbliss)
LinkedIn (www.LinkedIn.com/in/rbliss)
or email him at rbliss at msn dot com