Management Rules That Make No Sense #6: Remember Your Lines
Rodney, I don't get it.

What?

You said you have a reason for everything you do at work, right?

Yeah.

I don't understand why you give the employees free soda.
Russell was my office manager at RESMARK. We hadn't worked together for long. I explained that I had a reason for every decision I made. And I did. But, I wasn't surprised that Russell didn't understand. I had done some things that looked strange.
– I provided all employees free soda. (Discussed more in "The Biggest Raise I Ever Received".)
– I sent the employees off to buy their chairs (Let Them Pick Their Own Chairs.)
– I bought everyone remote control cars.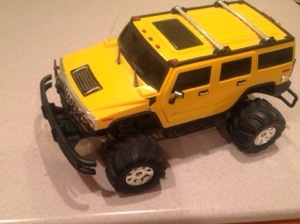 – I bought everyone a binary clock (It's About Time)
– I wore a sportcoat, slacks and a starched shirt everyday
There were also things I DIDN'T do.
– I didn't hang out in the "bull pen" where the programmers sat.
– I didn't buy MYSELF a binary clock.
– I never wore jeans
– I never played games at work
Employees really do take their clues from leadership. When I was asked to be president of RESMARK, I decided the image that I wanted the company to have, and by extension, the image that I needed to maintain.
Internally "image" is called Corporate Culture. I couldn't pay people the most, but I wanted to do as much as I could to make RESMARK a positive place to work. If I couldn't compete on benefits, I wanted to compete on culture.
As the face of the company, it was important for me to be consistent. Every time I met with customers they saw me in a jacket and slacks. It was odd working in the rafting industry and showing up in slacks. The rest of the people who showed up wore jeans if they wore pants. Many of them wore shorts and t-shirts.
But, my software cost $10,000 and I was trying to sell to people who didn't know much about software. They only thing they had to judge our software on was me. If I inspired trust, they would trust us. If they saw me goofing off or acting unprofessional, they would assume our software was not worthy of trust.
Similarly, my employees knew exactly what to expect from me. I developed these management rules while learning to lead a team. The key is decide on your strategy and then be consistent.
Oh, and the answer to Russell's question, why did I give them free drinks? Because they would stay at their desks and work longer.
You are always on stage. Don't forget your lines.
Rodney M Bliss is an author, columnist and IT Consultant. He lives in Pleasant Grove, UT with his lovely wife and thirteen children.
Follow him on
Twitter (@rodneymbliss)
Facebook (www.facebook.com/rbliss)
LinkedIn (www.LinkedIn.com/in/rbliss)
or email him at rbliss at msn dot com