Some Weirdo She Met On The Internet Showed Up At Her Wedding
You don't recognize me do you?

Ah. . .

I'm the weirdo you met on the internet.

Oh!
The scene was the receiving line at a wedding reception in Pomona, CA. Margit was getting married. Well, she'd just gotten married to Michael. Weddings are always a time of bringing groups together; her family, his family, his friends, her friends.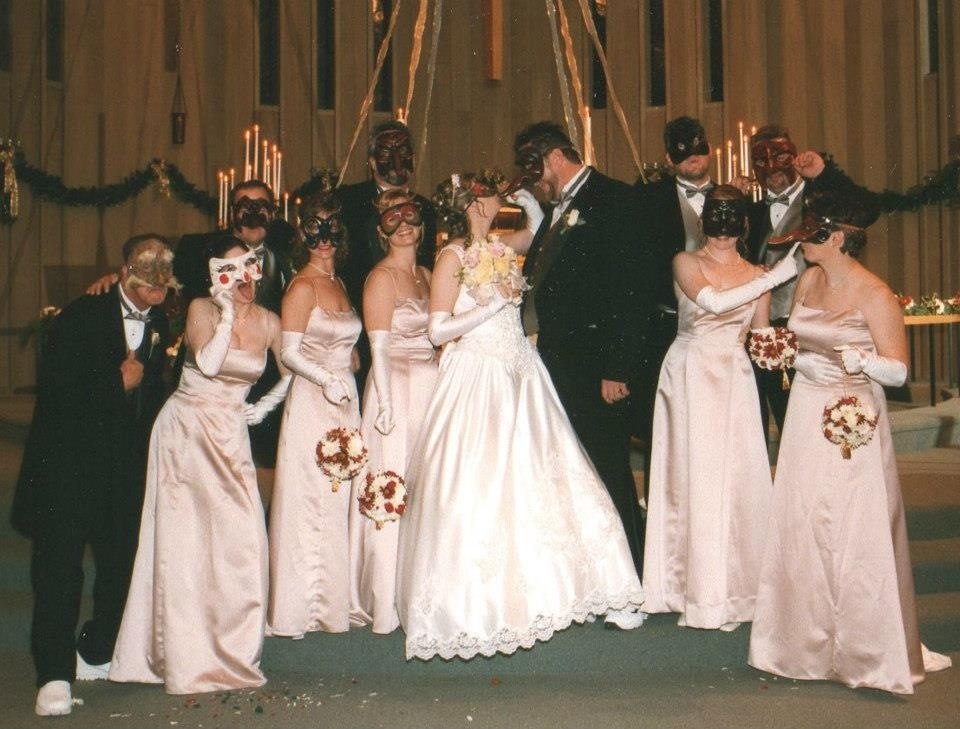 (Photo courtesy of Margit Elland Schmitt)
It's the perfect event to crash. If the party is big enough, and you avoid the bride and groom together, you can mingle pretty freely. Everyone assumes you must be part of the "others."
I was the "weirdo". . .and Margit was delighted to see me.
Rodney! You came! Where's your family?

It's just me. I wouldn't miss it.
I don't blame you if you are slightly confused at this point. See, Margit and I had never met. Well, not in person. And yet, she was and is one of my dearest friends. And I have Orson Scott Card to thank for it.
Yesterday I gave my conference report for Life, The Universe and Everything (LTUE) where I talked about attempting to meet the Guest of Honor, Orson Scott Card (That's a Fight You're Never Going to Win.) It got me thinking about my interactions with Mr Card.
Back in the 1990's, at the start of the internet. (Yes, I know Al Gore invented it long before that, but 1995 was when businesses started using it) Card had a website. (www. hatrack.com) The name comes from his collections of books about Alvin Maker in a fictitious place called Hatrack River. Except through the magic of the computer and the fertile mind of his readers, Hatrack River existed. It was a writing forum on Hatrack.com. The concept was part game and part collective writing experience.
To participate, you thought up a character that would fit in the Alvin Maker universe. You then wrote from your character's perspective as you interacted with other authors' characters. So, in a sense it was like World of Warcraft or any number of online games. The difference was it was all written, and we had a set of rules that prevented things like killing, or guns or "harming" other's characters.
Anyway, it was an amazing creative place to practice writing fiction, to practice writing dialogue, to practice the writer's mantra of "show don't tell." Most of the discussion took place in character, but there was also a location to go talk out of character.
Over the course of several years I met two very talented writers that complemented my own storytelling well. Margit was one, the other was a guy named Chasm. Like Margit, I became friends with Chasm without ever meeting him.
Chasm suffered from injuries from a severe car accident. Writing, especially the interactive writing we did, was his escape from the pain and the frustration of not being able to play with his kids, or hold a job or even sit up for long periods of time.
I decided to take a trip back East to his home of Yellville, AR. I was planning to surprise him. It was quite a trek from Seattle, but my wife and I thought we'd make a family vacation and take our kids to see the country for a couple weeks in the summer.
Chasm died in the Spring. It's been nearly 20 years and I still am disappointed that I never got to shake his hand, or buy him a drink.
I was determined not to suffer a similar fate with Margit. Her wedding was near San Francisco. I flew down from Seattle in the morning and rented a car. I bought a nice Shakespeare collection at Barnes & Noble. Both Margit and Michael were Shakespearian actors.
I inscribed it
Congratulations. Please enjoy this collection of Shakespeare's work. I tried to get you an autographed copy, but apparently he's too big an author to do that sort of thing any more. Kind of surprising considering this is apparently the only book he wrote.
It was one of the funniest weddings I ever witnessed. The entire wedding party were actors and comic actors at that. The groom entered to the strains of John Williams Star Wars March. The ceremony was truly a performance. And it was a delight to see my friend so thoroughly happy. It also felt slightly creepy hanging around the chapel during the pre-ceremony pictures. Yeah, just try to "blend."
But, like I told Margit, I wouldn't have missed it. The benefit of living in Seattle was that I could catch an evening flight back and make a day trip of it. I've met her only one additional time, but we remain dear friends.
What's this have to do with business?
Well, I could explain about the danger of putting off experiences like my failed trip to see Chasm. I could talk about the world of social media and how the norms of how we form and maintain friendships has changed and we need to realize that change is happening and prepare for it.
But, I really just wanted to remember the time I surprised one of my best friends whom I had never met by announcing I was that weirdo she met on the internet.
Rodney M Bliss is an author, columnist and IT Consultant. He lives in Pleasant Grove, UT with his lovely wife and thirteen children.
Follow him on
Twitter (@rodneymbliss)
Facebook (www.facebook.com/rbliss)
LinkedIn (www.LinkedIn.com/in/rbliss)
or email him at rbliss at msn dot com